DRAWN BY THE MAGIC WAND OF DIVINE LOVE

How the Eternal Entertainer enraptured the hearts of 'The Dharmic Clowns' from Italy who have taken upon themselves the mission of spreading His Love and Message through smiles, music, joy and laughter. 

In the Healing Touch section of this August 2009 issue, we have the fascinating story of how 'The Dharmic Clowns' from Italy invaded the Super Specialty Hospitals in Puttaparthi and Whitefield in January and March 2009 and created a magic that mesmerised every soul in these Divine Abodes of Healing. Read this story 'Love, Laughter And Happiness At The Temple Of Healing'.

In the present article, these charismatic Dharmic Clowns share how their souls were magically pulled by the mysterious call of the Master Charmer, Bhagavan Sri Sathya Sai Baba.
Mr. Riccardo Romagnoli – clown "Magic Richard": Just looking at the cover of the book "The Holy Man and the Psychiatrist" by Dr. Samuel Sandweiss, instinctively I felt that Sai Baba was my Divine Mother and Father. I was sixteen years old then.
After reading that book, I met several devotees of Baba, studied other books and began to see Him in my dreams. One night He told me that soon I would be departing for India along with my mother. And that is what happened.

I arrived at Whitefield and during Darshan, Swami blessed my japamala (rosary) and looking Him in the eyes I said, "Swami, I love You", and He responded, "Yes, so do I, just as I had dreamt. After that trip, everyone in my family became devotees of Swami.
I've also had the blessing of going to India with Sara, first my fiancée and then wife. And with great joy also taking Matilde, my five-year-old daughter. Swami is always present in my life as Teacher, Friend and Eternal Witness. Any action in my life is infused with my love for Him.

But what continues to surprise me, however, is the greatest magic of His Love - Love that transforms, inspires, and bares fruit.
An interesting fact about me is that since I was a child, I have been fascinated by the art of sleight-of-hand and at the age of 17 I became a professional conjurer. I've always believed that all the acts of Bhagavan are Divine actions, but at the same time I had a great curiosity constantly to see first-hand the materializations of Swami. The first manifestation of Vibhuti that I saw happened right in front of my eyes. 

Swami looked at me, then lifted the sleeve of His robe (to show me that His hand was 'empty') and finally moved His hand in circles to give Vibhuti to a devotee who was sitting next to me. I was bewildered, like the time that I saw Him materialize a golden ring with a green emerald in the interview room for an Indian doctor. But what continues to surprise me, however, is the greatest magic of His Love - Love that transforms, inspires, and bares fruit.
Mr. Claudio Giannini – clown "Piuma": I read about Sai Baba in a weekly magazine in 1979, but I wasn't particularly interested. Following that, some of our neighbours, who had already been to Puttaparthi, gave my wife and I the book "The Holy Man and the Psychiatrist" by Dr. Samuel Sandweiss. The book made me curious and in August 1988, we decided to experience Baba's Ashram.

I have to confess that, personally, at the beginning of our stay I felt a strong sense of rejection due to the uncomfortable lodging, the smells and tastes so different from those I was used to. Then, some days later, I tried to open my heart to Baba and during Darshan, He called me for an interview and entered my heart like a ram, capturing me completely - He has never left me since.

Subsequently, my life has been transformed and even though in our society it's not always easy, I try, as much as possible, to put His Divine Teachings into practice.
| | | |
| --- | --- | --- |
| | | |
Mr. Marino Marchi – clown "Squeaker": One day, it so happened that I overheard some people talking about Sai Baba. I didn't know of Him, but I was even more curious. So I got some books on Him and on Christmas Eve of 1991, I arrived at Prasanthi Nilayam.

It was my first Darshan right on Christmas Eve. Upon seeing Him, the emotions were such that I wept for joy.

Since then, Baba has always been present in my heart and at least once a year, I feel it necessary to be physically close to Him.


Ms. Tiziana Mitrano – clown "Biancospina": Whenever I visited the home of a friend, I often saw pictures of Baba, books that talked about Him and even some Vibhuti, but I didn't understand what it was. I was, however, very attracted by everything about India, but I didn't understand yet.

Then, in December 2003, I went with a group. Upon entering the Ashram, I began feeling moved, but I didn't comprehend anything yet. The next day, at 4 a.m., together with my group of women, I started towards Sai Kulwant Hall. We entered with the first row and I remember looking at the red carpet in front of me that was continuously being swept clean. Then, they began the mantras and Baba came out of His residence and walked towards us.

I was in the first line and finally, for the first time, He looked directly into my eyes, my heart, and my soul, with an infinite and strong sweetness. His Hand has never abandoned me since then, and finally, I began to understand.
Ms. Emma Marcolin – clown "Ugolina": My first approach towards Baba was mainly through the practice of devotional chanting, and later I gained a deeper knowledge through His Divine Teachings. And finally I found answers to all my existential doubts.

I went to Puttaparthi for the first time in July 2004 for the celebration of Guru Poornima, volunteering in the Western canteen. During my first Darshan I was very emotional and my heart was beating very hard. Upon seeing Him, tears began to pour.

I observed Him as He got closer, and standing in front of me, He looked directly into my eyes with His sweet and powerful gaze as if to say: "Welcome!" It was an extraordinary experience that changed my life.
Mr. Franco Borghetti – clown "Pepita": In the house of a couple of devotees, I saw a large picture of Sai Baba dressed in awhite robe and a rose in His Hands. Those friends began to talk about Him with such sweetness that it left me very inquisitive. It was the beginning of a grand adventure!
In January 1990, I arrived at Puttaparthi. During the first Darshan, I wasn't really aware of what was happening around me until  the buzzing of the people waiting calmed down and everyone pointed out that Baba was about to come out. Just then I felt a strong impulse to recite the most beautiful prayers that I knew: "The Magnificant" and the "Our Father".
Mr. Claude Macquet – clown "Bianchino": I became familiar with Baba through a friend who gave me the book by Dr. Samuel Sandweiss "The Holy Man and the Psychiatrist". I went to Puttaparthi for the first time in January 1995. During the first Darshan, upon seeing Baba, my curiosity was substituted by an overwhelming serenity of spirit and a strong sensation to have finally returned home!
Mr. Pino Madera – clown "Pipino": I was at the studio of a fashion designer doing business where I saw a life-size picture of Baba. Curious, I asked who was that "Man" and the reply I got was that He was God. My first reaction to such a reply was a scoff; however, when I left that studio something inside me began to move. I felt the constant presence of Baba and I began to intuit that my life was about to change.
I saw Baba in front of me Who, with an infinite sweetness, asked me to give Him the letters. I couldn't comprehend what was happening to me, but I felt like a child seeing his mother after a very long time.
After about a year, in July 1986, I felt a strong pull to Puttaparthi. I remember that, still groggy from the long trip, I found myself at the Ashram not knowing what to do in order to meet Swami. I was confused and tired, I felt like crying, asking myself what was I doing there! I got myself to Darshan but I was so tired I could hardly keep my eyes open. Shortly, Baba arrived and I had with me letters given to me by Italian devotees. I was still trying to acclimatize myself when, looking up, I saw Baba in front of me Who, with an infinite sweetness, asked me to give Him the letters. I couldn't comprehend what was happening to me, but I felt like a child seeing his mother after a very long time.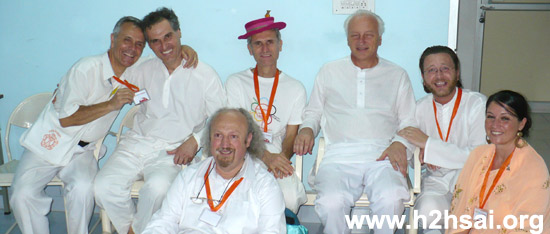 The dynamic dharmic clowns team - smiles is what they wear and share,
give and take, exude and inspire...

Mr. Mauro Contini – clown "Tritolo": I heard about Bhagavan Sri Sathya Sai Baba in 1990, when I saw short films that featured Him. Following that, I read some books that talked about Him, and one night I dreamt of Him. I understood that He was calling me. When I saw Him for the first time during Darshan, I felt such an emotion of love and peace as I had never felt until then. After that experience I have returned periodically to His Ashram and my faith has evolved.

One day I had the fortune of being able to hand Him a letter in which I expressed three wishes for my life: two have already been realized and the third has a long-term expiration date… above all it is in His hands. When I returned from that first trip, I cried at the thought of leaving that Abode of Supreme Peace, but in my heart I knew that He would always be with me.
Dear Reader, did this article inspire you in any way? Would you like more such stories from devotees who have been touched by His Love? Please write to us at [email protected] mentioning your name and country. Thank you for your time.