savouring THE SACRED STREAM OF LOVE
What makes Christmas in Prasanthi Nilayam so charismatic and magical?
Christmas in Prasanthi Nilayam is matchless. This is not because the holy hamlet acquires a completely new avatar, being decked gorgeously and gloriously with a multitude of sacred and sublime hues.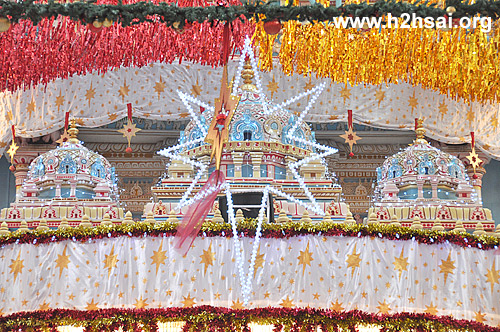 Stars shine respendently in the Sai Kulwant Hall. This is Christmas eve, 2009
Yes, Prasanthi Nilayam, the 'Abode of Supreme Peace' does really shine on this day and it is unquestionably beautiful. The parklands are strewn with stars and lights, with a holy manger scene laid out ever so beautifully in front of the Western canteen. The Sai Kulwant Hall is awash in Christmas colours and décor. The Yajur Mandir is delectably decked with angels, bells and Christmas trees, and of course with a big Santa Claus.

The nativity scene and the captivating Santa Claus in front of the Western Canteen in the
evening of December 24, 2009 capture everyone's attention
Look in any direction and there is a star glistening gleefully. Undoubtedly it is a joyous occasion; however, this is only a tiny and rather minor aspect of Christmas celebration in Prasanthi Nilayam.
The Unique Flavour of Christmas in Prasanthi
What is more fascinating is the ambience of amazing camaraderie that is witnessed during this occasion in this small spiritual destination. Thousands of pilgrims belonging to every faith - traditional Jews, Hindus, Muslims, Sikhs, Buddhists, free thinkers - and from every continent and country huddle in this little town to join hands with their Christian brothers and sisters to participate and sing to glorify Lord Jesus, the Christ.
In fact, it is perhaps the only sacred place on this planet where the idol of Lord Ganesha on this day is decorated with the traditional Christmas poinsettias and the statue of Lord Subramanya is adorned in Christmas holly.
In Prasanthi, devotees see Christ in Ganesha, Buddha, Subramanya and in every other diety. During Christmas everyone and everything is filled with Christmas Spirit.
All notions of individual affiliations of race, colour, region, caste and class just melt in the crucible of sincere Love pouring from every heart. It is one big family and this harmonious collective has only one focus – Bhagavan Sri Sathya Sai Baba.
carol
The devotees sing gleefully... - This is the afternoon of December 24, 2009
Baba Himself referred to this unique aspect of Christmas celebration in Prasanthi Nilayam way back in 1976 and said,
Is Religion Responsible for the Current Widespread Restlessness?
There might be some who would say, "Ok, so what difference does it make to the world if a few thousands from many faiths forget their differences in a spiritual town? The world is in deep trouble and for the most part, it is religion which is responsible for this. In the history of mankind, every other war, be it between communities or countries, has been fought in the name of religion. This variety of faiths is the sole reason for all the tensions in the present society."
According to them, the way to ensure peace in the world is to simply ignore religion. It is these different faiths which have convoluted our society to an extent that it is now almost on the verge of self-destruction, they would argue. But is this true? Is religion a boon or a bane?
Bhagavan Baba clarifies this in a divine discourse delivered in October 1, 1976.
Besides the fact that it is peoples' limited and skewed way of understanding and applying religion which is the real cause for all the conflicts, there is another actuality which needs to be considered which concerns conflicts and religion. And that is - are there no fights in the groups which profess and practice the same faith? Therefore, the problem definitely is much deeper. Bhagavan Baba clearly analyses this in a divine discourse He delivered on November 22, 1970. 
All Religions Have a Common Origin and Agenda
Bhagavan makes it amply clear that it is not the principle of different faiths but the poor and pathetic practice of their tenets, or the convenient understanding of their scriptures which is truly responsible for the restlessness that we see around us today. In fact, if absorbed in the correct manner, all the faiths actually sing the same song, offer the same message. And to drill in this significant message into the hearts of everybody, in a divine discourse delivered in 1970, Bhagavan actually laid down the family tree of world's important faiths and demonstrated how 'genetically' they are all same. He said,
Different religions create finite boundaries for the sole Infinite and Almighty Power of the Universe. And this is where they entirely miss the crucial characteristic about Divinity. Divinity was, is and will be; it is all pervasive and all inclusive. Explaining this in a divine discourse in June 19, 1974, Swami says,
The 'Sacred Stream' in Prasanthi Which Submerges All
Thousands gather in Prasanthi Nilayam every Christmas perhaps because it is here that they experience and swim in this single stream of Love; this tremendously 'sacred stream' which is the Source of all goodness and auspiciousness that pervades this creation. They eagerly assemble to be in the Presence of Bhagavan Baba because it is at His feet that they feel One not only with themselves, but also with their friends and foes, and ultimately with the Lord Himself. That is the magic of this 'sacred stream' that originates so serenely in this Divine Mountain of Prasanthi Nilayam and envelopes the whole world so amazingly. Everyone becomes One Family, and this heartening Unity gives them a taste of Divinity. This is exactly what Bhagavan said in His divine Birthday message in 1975. 
It is to celebrate this "Religion of Love" that masses from all corners of the globe congregate in Prasanthi Nilayam. They know Christmas in Prasanthi Nilayam is no ordinary Christmas. It is a celebration with the Colossus of Supreme Consciousness right in front of their eyes! It is truly a festival in the very presence of the Cosmic Christ. It is a golden opportunity to be in the Divine Company of the personification of the Commanding Conscience that resides within every individual of this planet.
And this is the precise reason why Christmas in Prasanthi Nilayam is simply incomparable.
Glimpses of the glorious Christmas Eve - December 24, 2009
darshan
Watch Bhagavan arriving for darshan at about 4.30 p.m. on Christmas Eve, 2009
When thousands flock to His lotus feet to seek His blessings and guidance, what is the message that Lord Sai gives to everyone? A very simple formula: "Be Like Jesus".
Bhagavan says,
"Be Like Jesus. Jesus was a Person whose only joy was in spreading Divine Love, offering Divine Love, receiving Divine Love and living on Divine Love. Try to be like Jesus."
Love. This has been Bhagavan's message be it Christmas or Buddha Poornima or Shivarathri. In His Christmas Message in 1979, Baba said,
Wherever we may be, let us not miss this unique opportunity to Love. Let our Love expand. Bhagavan once explained the true meaning of the word "Joy" and said, "Joy means Jesus First, Others Next, and You Last." Therefore, let us live not for ourselves but for others. That is what the Exalted Son of God did thousand years ago and now we see His father do it day in and day out. Just like the Sun which cannot exist without giving out warmth and light, the Divine too cannot but give Himself completely to others. And because He does this, He is ever in Bliss.
If we have to experience even an iota of that perennial peace, we have to learn to Love. Love not just ourselves but everyone around; practice a Love that is unconditional, sincere, selfless and relentless. Our life will then transform into a perennial celebration; a saga of Pure Joy just like it is with our beloved Sai.
- Heart2Heart Team
Dear Reader, what do you feel about this article? Would you like more such articles which focus mainly on the message of Bhagavan Baba? Do you have any other suggestions? Please write to us at [email protected] Thank you for your time and interest.