IT IS NOT EMPTINESS BUT A SUPER COSMIC FULLNESS
Special Musings by Prof. G. Venkataraman
This is the suitably adapted transcript of a special talk by Prof. G. Venkataraman recorded in the Radio Sai studio on April 29, 2011.
At the outset, I offer my loving Pranaams at the Lotus Feet of our Beloved Lord Sai.

This is an article that I never thought or dreamt I would ever have to write. In a sense, the events of the last one month or so have gone by like a surrealistic experience, and suddenly I feel bewildered. More explicitly I am wondering, as perhaps many readers are, whether the world as it existed before March 28 was real, or the world as it appears today without that Beautiful Form is real; the earlier experience being just a dream. Inevitably, this reminds me of a story that Swami used to narrate occasionally, back in the old days.

The story goes like this: One evening, after a rather tiring day at the royal court, Emperor Janaka returns late to his chamber. Welcoming the monarch, his Queen asks him to freshen up and get ready for dinner. Janaka nods as if to say yes but, overcome by exhaustion, slumps into a chair and dozes off. During his nap, he has a disturbing dream from which he later wakes up with a start. As he looks around, the scene is very different from what he was seeing just moments ago–no forest, no tiger chasing him, etc. Puzzled, Janaka begins to mutter, "Was that real, or is this real?" The Queen keeps on reminding the Emperor about dinner but the latter continues to remain in a stupor, constantly repeating the same question. Palace medics are summoned but they are unable to help. Ultimately, the assistance of Sage Vasishta is sought and when he arrives, Janaka is still asking the same question. With a smile on his face the Sage places his hand on Janaka's shoulder and gently observes, "O king, neither is real; you alone are!" Vasishta was of course referring to the Atma within, dismissing what is experienced both in the waking as well as in the dream state as illusory. In other words, Vasishta was telling Janaka that what is Real lies beyond the experience of the senses and the thoughts of the Mind, both of which are transient.

Alas, we have no Sage Vasishta to guide us out of our confusion but luckily, anticipating precisely the situation we face today, Swami has prepared us through innumerable Discourses in the past. Inevitably, I have to make references to them; however, all that would have to wait for the future; right now, I have just enough time for some reflections on recent events.
How the Events Unfolded till April 24 As I Saw Them

For me personally, this is the way it all started. Every evening during February and a good part of March of this year (2011), I along with a couple of others would go for Darshan a little after 6 PM or so. Swami's arrival could be anywhere from 7 o' clock to as late as 8.15 PM and occasionally even later. Devotees waited patiently, while the boys sang bhajans vigorously. By the way, bhajans would commence punctually at 5.30 PM; however, when Swami came out the tempo of singing would become really charged. For His part, Swami would just sit there quietly enjoying the bhajans, making everyone in the vast Sai Kulwant Hall forget about time. Bhagawan did have the magical power to make time disappear or lose meaning in His presence.
Devotees waited for hours in Sai Kulwant Hall for His divine Darshan eager to fill their eyes and hearts with His blissful form; it did not matter whether it was 7 p.m. or 8 p.m. or sometimes even 9.30 p.m.!
The Sai Kulwant Hall would always be packed to capacity, and not a soul moved when Swami gave Darshan, including the children from the local schools who came taking turns. Finally, around maybe 9 PM, sometimes even later, Swami would take arathi, linger for a while, raise both His hands in loving benediction, and slowly leave. For over a year, it used to be that Bhagawan would come in a mobile chair (popularly referred to as car-chair) and leave the same way. However, the routine began to change, almost imperceptibly. He would still come using the chair but return using the Porte chair-car. Still later, He started coming by car and returning the same way. Towards the end on some days, the car would come to the porch and halt, after which arathi would be offered almost immediately, without Swami even coming out of the car – all this on days He came out. There were also days on which Swami did not come out all, and I shall now briefly refer to that.

Basically, if Swami was rather tired, He would give an indication whereupon there would be a signal from Yajur Mandir and arathi would be given to the Chair. Initially, it was the morning Darshans that Swami started skipping but not very often. When that happened, I inevitably recalled the days when we used to rush around 6.15 AM for morning Darshan. In winter particularly, it would be still dark and yet, all the devotees would be there in Sai Kulwant Hall, waiting for Swami to come out. And He always did, gliding out of the Poorna Chandra Hall, even as the Sun came out in the East to herald a new day. By 7.30 AM or so Swami would have taken the first batch of devotees selected for Interview into the famous Interview Room, and all of us with work to do would rush back to our rooms to grab a bite of breakfast and go to college, office or whatever; that would be the case on week days. On Sundays, we would rush for breakfast while Swami was in the Interview Room, and be back in our seats by the time the Interview ended.
During earlier days, Swami used to be out for darshan at 6.30 in the morning and devotees queued up from 3 or 4 a.m. to occupy positions as close to the path as possible. During the darshan most often Swami picked up a few lucky ones for an interview.
Bhajans would start on the dot at 9 AM and around 9.20, it would be arathi! Swami would then go into the Interview Room and from there into the adjacent Dining Room, followed by the Trustees and have lunch with them. Swami would come out in about seven minutes, leaving His guests struggling to finish, wash their hands and come behind Him. Bhagawan would then take His leisurely walk back to the Poorna Chandra Hall making His way through the ladies section, picking up letters and chatting with various people on the way. By 9.35 AM or so, Swami would have entered the PC Hall as we refer to it here, and one more morning Darshan would have passed into history.

I am recalling all this just to drive home the point how the scene never remained the same with Swami; He always kept changing the script. Getting back to late February-early March period of this year (2011), on many evenings, Swami was rather tired to come out, and the signal would come to give arathi usually around 6.15 PM or so.

Let me now cut to Saturday, March 27, 2011, the day before Swami was admitted to the hospital. That evening arathi was given early, after which the current Vice Chancellor Prof. Prasad, former Vice Chancellor Prof. Pandit and I went to Swami's residence, as we often did. We were told Swami was not well, that two doctors whom Swami lately permitted to attend on Him were upstairs with Swami and that some monitoring equipment was being brought to keep a watch on His health condition. At that time, no one had the slightest indication whatsoever that a crisis was fast approaching.

Night passed and when I checked next morning, I was told that Swami had rested and spent an uneventful night. Around 3 O'clock or so in the afternoon, Prof. Pandit called me to say that an ambulance had come to Swami's residence, Yajur Mandir and there was some activity around there. It seemed as if Swami was being taken to the hospital, and so we both rushed there.



East-side entrance to the Super Specialty Hospital in Puttaparthi – a long shot.
It so happened that though we left a bit later, our car almost caught up with the Ambulance, not only because we took a short cut but also for the reason that the Ambulance was being driven slowly. Anyway, to get on with the narration, both of us managed to be there when Swami was helped out of the Ambulance at the entrance to the hospital. Although Swami went by an Ambulance, He was actually on a wheel chair and not on a stretcher as I had imagined. Prof. Pandit who was by my side all the time tells me that Swami gave him a gentle smile. Little did he know that that smile was going to become his most treasured memory.




A view of the eastern entrance to the Hospital. This is where the Ambulance came to a halt, and Swami who was
on a wheel chair was gently brought down and taken through the door into the main building.
Swami's wheel chair was whisked away to the special elevator meant for patients, and soon He disappeared from sight, having been taken to we did not know where.




A close-up view of the entrance to the lift/elevator for patients, as it appears in the ground floor, with its door partially open.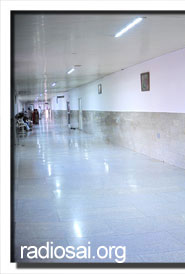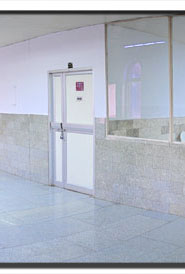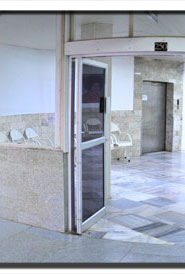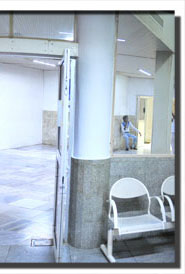 A view of the lift/elevator upstairs as seen from the main corridor, leading towards the rest of the building. Towards the far left are located the Cath Lab and the ICU where Swami received treatment.
Meanwhile, Prof. Pandit and I were both shown to a room upstairs where the operation theatres, the cardiac catheterisation lab and ICU's are located. We waited silently and anxiously in the room we were sent to, while the clock kept ticking. One hour passed and not surprisingly, both of us became somewhat restless.
A view of the corridor, as seen from near the ICU looking towards the East end of the building. The glass doors at the far end lead on to the Cardiac Operation Theatres. That is where Profs. Pandit and Venkataraman were waiting, along with a surgeon.
Coming out of the room where we were till then, we tried to see if there was any doctor nearby who could give us some information. There was a surgeon around and he was standing at the end of the long corridor, near to where the cardiac operation theatres are. He signalled to us to join him and told us that Swami was undergoing a procedure in the cardiac catheterisation lab which was further down the corridor. He did not elaborate on the procedure but, after some time, told us that the procedure was probably approaching the end, judging by the test equipment coming out of the lab.




A view of the first floor corridor from near the ICU. Barely visible on the left is the door leading to the Cath Lab.




This is the entrance to the Cath Lab.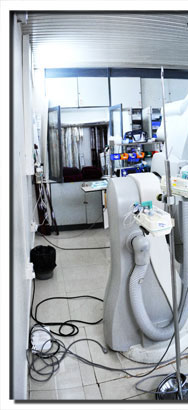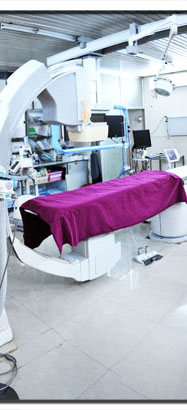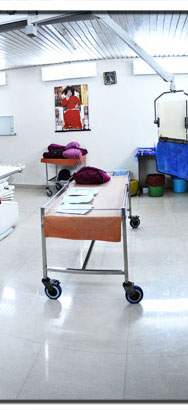 A wide-angle view of the Cath Lab. The patient table can be seen on the left, covered with a red cloth. That is where the Pacemaker was implanted.
Shortly thereafter, we saw the Chief Nurse of the Hospital standing in the corridor right close to the catheter lab (which, by the way, was more than 50 metres or so from where we were) giving strict instructions to some of the staff nearby. It looked like Swami was ready to be moved from the catheter lab to a special ICU, located across the corridor. Meanwhile, we saw many people disappearing from the corridor into what we presumed was the ICU by way of getting it ready. Roughly about two hours after Swami arrived at the hospital, we saw a hospital bed on wheels come out of the cath lab, with a lot of staff in surgical dress, walking along with the bed, one person holding a drip bottle while others wheeled along the monitoring equipment to which Swami had been connected.




A view of the door leading to the ICU as seen from close to the Cath Lab.




A view of the entrance to the corridor leading to the ICU. At the far end may be seen the
glass doors leading to the Cardiac OT's.
It seemed as if the crisis had been brought under control, and everything was looking good, at least for the moment. Swami having been transferred to the ICU, things began to settle down and we started getting a clearer picture of what actually happened. Apparently, Swami's heart-beat had become irregular and He needed a pacemaker implantation. That was why He had been taken to the Hospital, and the pacemaker duly installed. Thousands of people the world over walk around with pacemakers, and if you saw them you would never be aware of it. We thus thought, "OK, Swami now has a pacemaker and everything would be fine in a few days. After that He would be back in Yajur Mandir, and maybe, after resting for a few days, life would return to normal, possibly with a revised schedule to minimise physical strain to Swami."

By around 7 or maybe 7:30 PM or so, Prof. Pandit and I returned to the Ashram. All this, I remind you once more, happened on the evening of March 28. Next morning, I checked with one of the people who had access to minute by minute status of Swami's health, and the info I got was that the night seemed to have gone off well. Around 2 PM or so – remember, I am now talking of the day following the admission to the hospital, i.e., March 29 – Prof. Pandit called me to say there was hyper activity in the hospital and Swami's condition was causing anxiety. This scared me and so both of us rushed immediately to the hospital. Meanwhile, with the rumour factory was working overtime. On our way to the hospital, Prof. Pandit and I saw a helicopter parked in the Sri Sathya Sai Airport, and that said something.

When we reached the hospital, the Director, Dr. Safaya, who knew both Prof. Pandit and me quite well, showed us a good place where we could wait. This was quite close to the catheter lab and in a short while, we saw Swami being whisked into the lab, the trolley-bed being rolled along and guided by a battery of hospital attendants and doctors in surgical gowns. Though we were close, it was not possible to see Swami; there were so many doctors walking along with and around the trolley-bed. The doors of the cath lab were shut and we waited. After about forty minutes or so, there was quite a buzz outside and it seemed as if Swami was being taken back to the ICU.
Sure enough, the two specialist doctors who had come by helicopter from Bangalore, came out looking as if not only was what they had come to do had gone off well but also that they were ready to leave. Indeed, they had already removed their surgical gowns, slipped on their shoes, and walked away, presumably to be driven to the airport. A couple of minutes later, I saw the trolley-bed being moved back to the ICU. This time I was, thanks to Dr. Safaya, able to catch a momentary glimpse of Bhagawan's face from just about a couple of feet away; the rest of the body was of course covered by hospital sheet. That was the last time I saw Swami before He shed His mortal coil. Being under the influence of sedatives, His eyes were closed. That was no doubt to be expected; yet that sight was like a huge electric shock, considering that until not so long ago, on many days I would find Swami's face beaming and having an indescribable glow, even around 8:30 PM after a long and tiring day.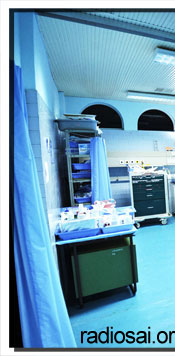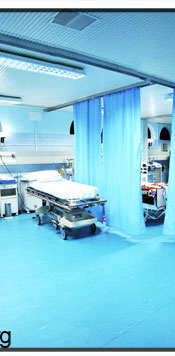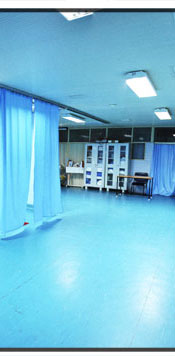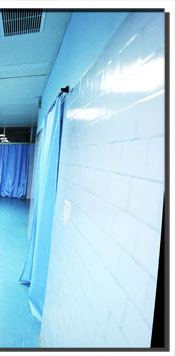 A long shot view of the ICU. The curtained region in the centre is where Swami's bed was located.
So why did they take Swami to the cath lab and what did they do there? And, what about the doctors who had flown in from Bangalore? I got all the answers about two hours later from Dr. Safaya. Looking quite tired but somewhat relieved, he dropped into a chair in the corridor next to me and Prof. Pandit and said, "Hey! You fellows are drinking tea! What about me?" We were sipping some tea from a paper cup, provided by some kindly soul doing seva there. We signalled once more to that person to give a cup of tea to Dr. Safaya. After taking a few much needed sips, Dr. Safaya told us that while Swami's heart was not damaged, it was weak and the pumping action inadequate. The doctors from Bangalore had therefore inserted what was known as a balloon pump. This would considerably lessen the burden on the heart since the balloon pump would take care of most of the pumping.

Six or so days later, the balloon pump was withdrawn. However, the procedure had to be done with enormous care and ever so slowly. For us anxious to hear the news that the pump had been safely withdrawn, it was a long wait, maybe ten hours, I cannot remember exactly how many. Shortly thereafter when Dr. Safaya came out he looked greatly relieved. He even smiled a bit and said to me, "Now He is on His own," meaning that Swami's heart was now functioning satisfactorily without any external assistance whatsoever. Obviously, that was great news, worth waiting for.
At that time, everyone was quite hopeful but soon started a roller-coaster ride of sorts. It turns out – so a specialist doctor explained to me – that beyond a certain age, when the heart gets affected, it impacts other organs also, most often, the lungs and the kidneys. If earlier the heart had to be given help from outside, it was now the turn of these two vital organs to receive such assistance. Although it is these two organs that were often in the news, as Dr. Narendra Reddy explained to us during the conversation that I had with him and which was broadcast by Radio Sai, all organs had to be watched carefully.
Thus it was that all kinds of experts had to be called in; some from within the hospital itself, some from other hospitals in the country, and some even from the United States of America. All that ground has been covered and I shall not go through it again. But this much I can say. Medically, the various parameters were sort of holding on with minor fluctuations here and there maybe; however, all this needed strong support from external systems.

| | | | |
| --- | --- | --- | --- |
| | | | |
| | | | |
| | | Ever beatific and beautiful Sai! | |
| | | | |
Slowly, the organs started showing signs that they might not be able to come back to normal; however, one could not be sure either. After all this was not a just a mortal patient but Swami, and almost everyone including the doctors had the faith that Swami would defy all the medical books and research papers written by man and bounce back.
In fact, one day I asked Dr. Safaya, "Doctor, how long would a normal patient and with a body age same as Swami have lasted with this multiple organ problem?" The doctor's reply was short, "Certainly not this long," which of course enormously boosted my confidence.
I should mention at this point that though from a biological point of view Swami's body was made up of the five elements just as all living bodies are, there were several exceptional aspects to it that came entirely from Purity rather than Divinity, as Swami Himself once explained to students. For example, not a single hair was grey. During the mid-nineties, Swami often complained about loss of hair but also said it would come back. Indeed, it did after some time, though not to its fullest extent as in earlier times.
And then there were His eyes. Not once did Swami have to ever wear spectacles, even for reading a piece of paper – not once. But everyone around Him needed at least one pair if not two, one for reading and another for distant vision. Thirdly, not once did Swami need the services of a dentist.

To get back to the main narrative, days passed while medical anxiety slowly began to mount silently. At the same time the confidence that Swami would not leave us also soared.
After all, said everyone including myself, "Just look at how many thousands if not millions are praying all over the world! There are Christians praying in Madras. There are Sikhs praying in Delhi, and there are the villagers of Puttaparthi who are praying for their own Swami.
"Bhagawan has therefore no choice but to sit up, walk away from His bed, freshen up and come out, exactly as He did at the time of the famous Goa appendicitis leela."
SPECIAL PRAYERS AT GURDWARA DAMDAMA SAHIB
Gurdwara Damdama Sahib is located near Humayun's Tomb on the Outer Ring Road, New Delhi. On April 23, 2011 a 48-hour continuous bhajan was performed in this historic Sikh shrine which had participants from all faiths.








Alas, that was not to be. There is absolutely no doubt that Swami could have done all that and more. However, He chose not to. He had, on many occasions given hints, both privately and even publicly, that He could go anytime He chose to, overriding all His earlier pronouncements. Further, He has explained clearly in many of His Discourses that while the Avatar is an Incarnation of God and comes down with His full compliment of Divine Powers when He manifests as a Poorna Avatar as it was in this case, He would, at the same time, not only respect the Laws of Nature as ordained by Him when it came to His own body, but also bow to Time, of which He was always the Absolute Master. Thus it was that Swami would sometimes get tired, catch a cold, get fever, etc. As He took care to explain, not all His body ailments were due to His taking on the sufferings of others.



The Sri Sathya Sai Poorna Avathar!
Around 7:30 on the morning of April 24, I received a phone call from a close friend who whispered, "Swami is in a critical condition." However, I was not alarmed since my confidence that Swami would go to the very edge and bounce back miraculously had soared to new heights. Twenty minutes later, I got another call. This was from one of the trustees who began: "Sad news. Swami passed away at 7.40 this morning. Now this is what we would like you to do….," and went on to give me my first assignment in the world where the Light was there but in a passive form, having risen to shine and guide from above. It was a silent signal that the time had finally come for all of us to look for Bhagawan beyond the Form for instructions and guidance, which then had to be followed meticulously. Along the line, we had to work harmoniously with each other, smashing every ego-built barrier. In short, we HAD to become one family, united under God and working for common good. It was not enough to merely chant: "May peace prevail in all the worlds," etc.; it was now our job to make that happen. The examination bell had rung and God, our coach as well as teacher, had now become the invigilator!

Oh yes, for a while we would all cry and swear we cannot live without Swami and so on. But that has happened before, several times in fact, after Rama, after Krishna and after Shirdi Sai. But soon, we must wake up to our new responsibilities, realising that it is for this test that Swami had been physically preparing us in diverse ways.

Swami Vivekananda is reported to have said, "Death of a near one always makes everybody very philosophical. However, that mood wears off in three days or even less, after which it is business as usual." That comment applies in the case of the death of an ordinary mortal. The present situation is totally different since there is no question of death. Swami has merely shed the Form to exclusively remain Formless, playing a different and more subtle role. Rising to the occasion, we need to, as Swami Himself had said in many Discourses "Wake up, arise, listen to the call of the Divine Master, and accept our new responsibility." The world is still out there, offering us more opportunities for service than ever before; all that is needed is to rise to the occasion.

I would like to close this talk with a brief recall of what Swami once said while bringing His Divine Discourse to an end. I do not recall the occasion but I do remember His message because of its depth, power and also for another reason that I shall mention shortly. Swami said in a powerful voice [and this is a paraphrase].
Dear students!

When you sing bhajans here, don't imagine that they would impact only the people currently assembled here in the Sai Kulwant Hall. True, the sound waves coming from the various loud speakers would be heard only by the devotees here. True, those sound waves would also be heard throughout the Ashram.

However, besides these sound waves, subtle waves are also generated. You cannot see them and in fact you do not even know about them. They are ripples in the Ocean of Consciousness. Those ripples can travel not only all over this planet but to the very edge of the physical Universe and beyond. They will never dampen nor dissipate but remain forever. They would penetrate everywhere, including the pillars, the structures and whatever you see around here.

Indeed, the vibrations from every bhajan that you sing would remain embedded in them forever. Further, every day, there would be fresh additions, as a result of which the intensity of the built-in spiritual vibrations would steadily grow. The more passionately you sing, the greater would be the stored sanctity. The more love you add to your feelings as you sing, the greater would be the enhancement of sanctity.

Thus, by having sacred thoughts while seated here and by singing bhajans with Pure Love in your Heart, each of you can leave behind an invaluable legacy."
That in brief was what Swami said. All of which reminds me very strongly of what the Headmaster of a school where I was studying in the late forties said one day after morning assembly and prayer. Those words are still ringing in my ears. He said, "Boys, some of you must be wondering why we go through this routine day after day. To some of you, this may even appear meaningless and a complete waste of time. But here is the reason why we make you come here day after day. While some of you might not, many of the boys that come here do pray and sing sincerely. The subtle vibrations from those prayers and songs remain forever bound in the walls of this assembly hall, saturating this place with sanctity that increases day by day. By spending some time here every day, you become at least a bit more spiritually purified. Why do you think people go in large numbers to some temples but not to others? That is because thousands of good people and many saints have worshipped in those temples earlier, conferring thereby the subtle fragrance of saanithyam." The word saanithyam might be loosely translated as eternal sanctity.

Getting back to our Headmaster, he continued, "When an ordinary person goes to such a temple, that very saanithyam spiritually cleanses that person to a certain extent. That also is the reason why people of this country want to bathe in sacred rivers. These are rivers where innumerable rishis and saints have had a dip, making that river that much sacred. If you and I bathe there, a bit of that sanctity seeps into us, making us better persons."

There is a particular reason why I am ending on this note. It you think about it carefully, you would realise that Prashanti Nilayam is THE place that has been the abode of the Avatar of the Age, from the time He moved out of the Paatha Mandiram in 1950. During the six decades that followed, how many Darshans has He given here! How many festivals has He celebrated here! How many plays and dramas has He seen here! And, how many Discourses has He delivered here! Just think of how much Pure and Divine Love He has personally poured out in the process, all those years! Have they all vanished into Time? At the worldly level, they have indeed become memories. But at the Subtle and Causal level, the Sai Kulwant Hall is the most Love-charged spot not only on the face of this planet but indeed the entire Universe. For, was this not where the Divine Chancellor, Swami to all of us, showered His Love non-stop, both at the individual and collective level?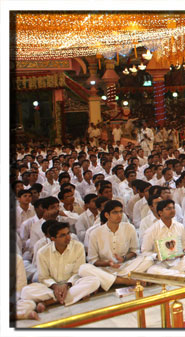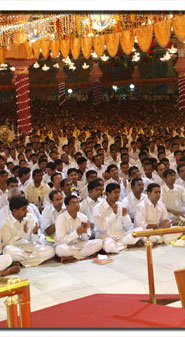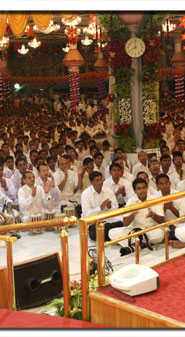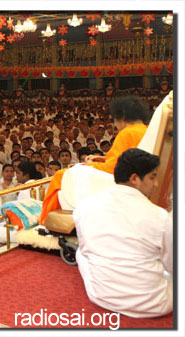 Sai Kulwant Hall - the most Love-charged spot on the planet, nay in the entire universe! It is here that the Lord spent hours and hours, day after day, listening to bhajans, watching the plays and performances of His students and devotees, and showering His unforgettable benedictions on all.
The Form would no longer be visible to our eyes. However, if we care to open the eye of our Heart, the Third Eye if you prefer to call it that way, we can have the grandest and the most blissful experience possible. Remember, even the best Steinway piano or the rarest Stradivarius violin cannot produce great music when it is not properly tuned! In other words, if we want to experience Eternity, we can do so only if our Hearts are properly tuned before going into the Sai Kulwant Hall. If we go in without tuning, all we would see is a physical emptiness that would make us cry instead of uplifting us.

Swami has not gone. He is very much here, there, above, below, around, etc., indeed everywhere. However, we need a new vision to see Him. That is the essence of the last part of my talk today.




Hrudaya Nivasi Sai - The Eternal Indweller of our Hearts
I think I shall end here. The new situation has, naturally, placed many new responsibilities on us, and I have many more things to say concerning these as also about Swami's teachings; however, those would have to wait for other occasions.

For now, I would, as always like to conclude by offering this talk at the Lotus Feet of our Beloved Swami.

Thank you and Jai Sai Ram.
Dear Reader, did this article help you in anyway? Please share your feelings with us by writing to h2h@radiosai.org mentioning your name and country. Thank you for your time.