| | | | | | | |
| --- | --- | --- | --- | --- | --- | --- |
| | 'Like' us on Facebook | Follow us: | | | | |
Posted on: June 09, 2017

Kab loge khabar more Ram

A prayer for acceptance
Dr Shamika Ghaisas
The author, Dr Shamika Ghaisas, as of June 2017, is a second year DNB Resident at the Department of Ophthalmology, Sri Sathya Sai Institute of Higher Medical Sciences, Prasanthigram (SSSIHMS-PG). She hails from Mumbai from where she completed her MBBS. She was drawn to Swami in 2011 when she was pursuing her MBBS. Deeply inspired by Swami's message of Love and Service, she began participating in the medical activities of the Sri Sathya Sai Seva Organisation, Maharashtra.


This is the story of my DNB admission (Diplomate of National Board) Post-Graduation course at Sri Sathya Sai Institute of Higher Medical Sciences, Prasanthigram (SSSIHMS-PG). For me it is not just a series of incidents or events but the love story of a devotee and the Lord that was fulfilled by intense yearning. It's a story of how the Lord in His infinite compassion taught His child that if God is all that you desire, then God is all that you need!

It was February 2015 while my post MBBS internship was still going on and I just started studying for the post graduate entrance exam which I would soon be appearing for. After a long standing dilemma about which specialty to select for my future post graduate education, I chose ophthalmology as my future branch. Internship ended in March and was followed by our convocation. It was only at the end of March that I started studying regularly. For the knowledge of those unaware, PG entrance exams are dreaded because of the cut throat competition there is for the meagre number of seats. Students usually take anything between 6 months to a few years to clear these.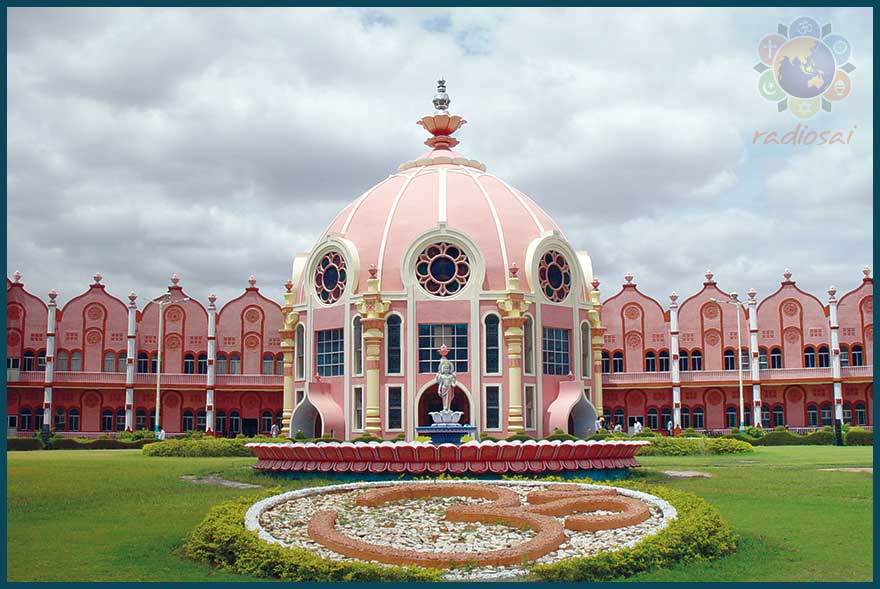 An Aspiration Becomes a Prayer
I had visited Swami's Super Specialty Hospital once before, but never thought of working here. One day I called my friend to ask her about ophthalmology as a subject as she was specialising in it, in SSSIHMS-PG. And soon I began thinking of SSSIHMS for my PG studies. I had assumed that the seats in SSSIHMS are open in the December session of the exam and I had 9 months to prepare. So I was studying slowly but steadily. It was in the month of May that I got to know from my friend that the seats were open in the June session of the exam itself!!! I was shattered!! I thought I had lost the chance to be a part of this dream institute! Because there was no way I could clear the exam with just two months of preparation. I was really broken!

The forms were out, and the exam was in July this year instead of the usual June. I did not plan to write the exam as I felt there was no chance at all, and so did not even fill the form till the end. But eventually I did fill the form half-heartedly with the idea of appearing for the exam just for 'practice'. My friend told me that to get a seat in ophthalmology in Parthi I needed an all India rank of at least 1400. Something inside me kept telling me to give one sincere attempt for Parthi. Simply because it was worth it. So I kept for myself a margin of safety and decided rank 1000 would be my target. and I began studying (and even more, praying). I set SSSIHMS hospital photo as my mobile wallpaper. And started visiting the hospital website again and again (till I knew most of the details there by heart). Thus began a beautiful period of pining. I struck a deal with Swami - that I will no more say my morning prayers or do any other sadhana till my exam, and that studying alone will be my sadhana. As Swami was the real goal, studying slowly became a pleasure. I began loving the entire process and developed keen interest in all the subjects. I would start studying early in the morning and would go on for most of the day.

As the days passed, my studies continued in full steam and my yearning kept increasing with each passing day. Prayers intensified too. It was for me, a most beautiful period of yearning. I almost felt like a Gopika pining for her Krishna. In the last 20-25 days Swami provided me so much energy that I put myself on house arrest and studied for more than 12 hours a day. I learnt then that if we consider every work as God's work, even the smallest of tasks becomes a sadhana and gives immense pleasure.  

Then a Blessing Leads to a Dilemma
On the day of the exam I invoked the presence of Swami and began. To my surprise I was able to answer more than 90% of the questions with ease. A month after the exam, it was a Thursday evening and I was chanting the Sai Gayatri as part of a group activity in Mumbai (the mantra is chanted 21 times for world peace). A friend called me then and told me that the DNB entrance results had been declared! The chanting of the Sai Gayatri became more intense (of course not for world peace anymore), and with it my limbs began trembling too. I then set out to see my results. I was expecting an All India rank between 2000-3000. I couldn't believe the rank I was seeing displayed against my name. It was 292! It was incredible. With just three to four months of preparation? I knew deep inside me that it was purely Swami's grace being showered so abundantly on me.
| | |
| --- | --- |
| | |
And then began a new dilemma. With this rank, I could even get into Aravind Eye Hospital (one of the leading institutions in the country for ophthalmology) or even get into Radiology in one of the hospitals in and around Mumbai (which is the most sought after branch now). Now began a 24/7-debate inside my head - whether to opt for Aravind (which is the best) or for Parthi (for which I prayed so hard). I knew Swami was really testing me. Would I be selfish in choosing Aravind or would I be 'foolish' in choosing Parthi. I felt two voices constantly debate in my head I had to do something! So I closed my eyes and thought of a solution, that if Swami were to come before me physically and I got a chance to ask him this question, what would Swami say? The answer I got was - Swami would want His child to go and study in the best place. And he would want me to be in Aravind as I would be in Parthi. Ohh!!! Swami was testing me a lot! Finally in the battle between heart and mind my heart won and I decided that I will opt for Parthi. And this time my decision was final.

Just when I thought that my path was clear, in came a new twist. On the day of the counselling which was in Delhi, I learnt that the Ophthalmology DNB seat at SSSIHMS-PG, Puttaparthi, was under the periodic renewal process and that the current seat was only provisional. Which meant that I would have to sign an undertaking stating that I am taking the seat at my own risk and if the accreditation doesn't happen within a stipulated time I will be left with no seat at all (and most probably would have to give the exam all over again). Ultimately I was to take the final call. And that too all alone (inside the final counselling room even mobile phones are not allowed). I still vividly remember the scene as if I am living it all over again. I was sitting on the hot seat in front of two officers who would allot me my seat within the next few minutes.
When the World Tempts You, the Lord Tests You
Before me on the screen were all the seats available to me.

1. Aravind (the best)
2. Another hospital in Pune (so close to home)
3. Parthi (provisional - so at your own risk).

I took a deep breath and in a flash came these lines narrated by a friend in a study circle - Krishna had told Arjuna that if you instil your absolute faith in Me and surrender completely, I will take care of your smallest needs. This was to be one such moment of surrender! I said in my mind, 'Lord I surrender', and signed the paper writing, SSSIHMS-PG.

Swami was still in a mood to teach me some more I guess. While all the others who attended counselling with me joined within a week, I was left waiting for the accreditation to happen. I began to get extremely worried as days passed. I felt like I have been foolish in choosing Parthi amongst the more obvious and practical choices that were available to me. I would wake up every morning with my heart pounding loudly. I would check my emails every few hours for a mail from the DNB board. Each morning I would wake up with palpitations and look at Swami smiling at me through a photo. I would automatically go into prayer mode every morning and ask my Lord from the depth of my heart - kab loge khabar more Ram? (when will you take notice of me, my beloved Ram?) My anxiety grew and finally after almost 15 days of waiting I started studying for the next exam (in case that was Swami's wish).
And then there was another twist in the story. In Maharashtra, Ganesh Chaturthi is a major festival. We bring idols of Ganesha home and worship. Not only worship, we feel and believe deep within our hearts that the Lord really comes to our house for those 2 days and gives us immeasurable joy. Since childhood Ganesh Chaturthi is very special. My grandmother was secretly wishing and praying that I be at home during the festival. If my admission was to happen immediately, I would not be a part of the festival at home. It was past 25 days and I did not receive any letter yet. It was high time and I was not able to bear the rising stress anymore. And one night I looked at Swami's photo, looking directly into His eyes I made a firm resolve, a sankalpa. I told Swami that this has to end! It was not my arrogance but a very firm resolve (of something that was not in my hands). I told Swami that before Swami leaves our house in the form of Ganesha (the day after Ganesh chaturthi), He has to give me a clear cut answer. Even if it means that I have lost the seat and have to repeat the exam. But it has to be decided once and for all!

Swami Plants the Desire, Fulfils it Too; But All in His Time

I realise now that as humans we are too short-sighted. But Swami has to answer the prayers of so many devotees. So He answered mine and my grandmother's prayer too. On the auspicious evening of Ganesh Chaturthi, I finally received the letter from the DNB board stating that the seats have been accredited and I should join within four days! As I offered arathi to my Sai Ganesha at home that evening, my human mind was numbed as I tried to understand the ways Swami chooses to teach us! Finally all said and done, I left for Parthi the day after Lord Ganesha left our home, with only gratitude filled in my heart.

I am so grateful to Swami for those beautiful days! It was during those days that my heart was purified in so many ways. The intense yearning that Swami allowed me to go through, was like the flame from which arises pure gold washed away from all impurities. Out of all the lessons I learnt, I learnt for sure that, if God is all you seek, then God is all you need!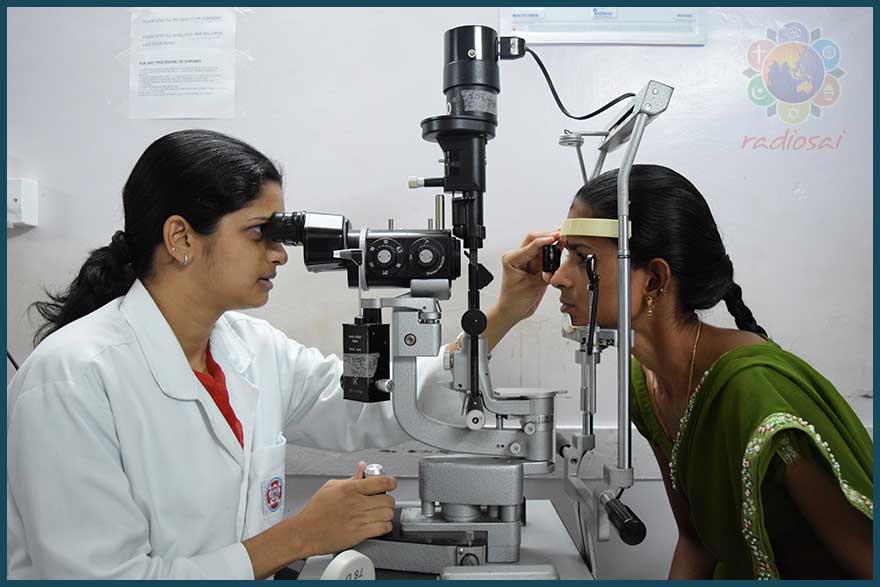 Dr Shamika Ghaisas at the Dept. of Ophthalmology, Sri Sathya Sai Institute of Higher Medical Sciences, Prasanthigram

Today, having completed over a year in SSSIHMS-PG and my love for the place increases with each passing day. Although Swami may have allowed me to play a role like that the squirrel played in Ramayana, I know that it is actually SSSIHMS that is playing a lion's role in transforming me every day. I pray to Swami that may I always be connected to Him and never forget that His relation with us is indeed very personal. My heart is filled with immense gratitude to Swami for His grace. I am filled with love and gratitude as I hear the bhajan - kab loge khabar more Ram, mujhe apna bana lo Ghanshyam…
- Radio Sai Team
(in association with SSSIHMS-PG)