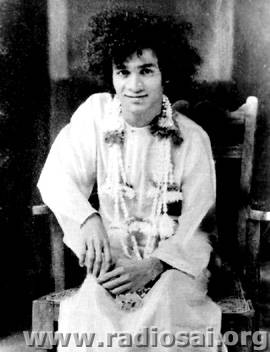 Let's go back in time … imagine our beloved Swami as a small boy of eight… playing with His friends on the sands of Chitravathi… going up the hillock in a jiffy and beckoning His playmates, His eyes twinkling and His looks enchanting… plucking out all kinds of fruits from the big tamarind tree, apples to avocadoes, grapes to gooseberries, and giving them to everybody and anybody, smilingly and selflessly, asked or unasked, …
Or, the young Sathya going to the school scout programme… a small little leader with His you-can-count-on-our-fingers classmate-followers ….or the little One teaching His tiny troupe dancing and singing, regaling and rekindling the innocent hearts of the village folk… and again in the garden of Sri Anjaneyulu…Sai is 14 now…sitting delightfully on a boulder and singing into the hearts of every soul present there "Manasa Bhajare Guru Charanam…" …only a handful of people around Him… all elated and ecstatic …the scene.. so special, so serene, soul-stirring...
Cut to 2005, when the Lord sings "Sai Bhajan Bina…", the scene is not only equally serene and stirring but also electrifying. For, it is no more a handful now…it's no more a small obscure stream in an unknown land, it is now a mighty river, nay, an avalanche unstoppable and enormous. What is visible is, in fact, only a fraction…there is so much that is not apparent and hence unseen just like an Antarctic iceberg.
The heartfelt following and thunderous clapping of a thousand hands during Swami's bhajan will now elevate you effortlessly. You cannot but be touched by that compelling divine vibration so suffused with positive energy.
The little Sathya, the darling of His mother and heartthrob of His few friends years ago, is now the centre of life for millions spread all over the globe, religion, culture, colour and creed notwithstanding, some who have never even seen Him physically, some who have only seen Him in photographs and some who have only felt His love and power miles away - they do not know who He is, what He is and where He resides ….that is His Love and Glory…so mystifying!
Sathya then and Sai Baba now, has never sent an invitation to anybody to come to Him. Does the flower need to send an invitation to the honeybee? Much water has flowed under the bridge of time since Sathya declared, "I am Sai Baba" on 20th Oct, 1940 and the innumerable lives that have been transformed since then, the hearts that have been changed, the minds that have been transmuted, the families that have been reunited, the grown-ups that have been timely guided, the children that have been adroitly redirected on the right path….all stand as a testimony to His all-powerful Love and Grace!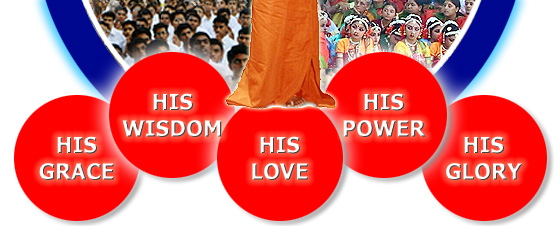 Click on the circles above to go to the sub parts of this cover story.

In His discourses, Baba generally addresses the vast assemblies as, "Divyathma-swarupulaaraa!" meaning, "Ye, Divine Atmic Realities!" He sees all as Himself; He calls upon all to see themselves as Him. This identity is the Truth.
Baba is all Love, all Wisdom, all Power, all Grace as Prof. Kasturi, His biographer, describes Him in Sathyam Shivam Sundaram. How else, do you think He can declare,
"The world is My mansion; even those who deny Me are Mine; call Me by any name I shall respond; picture Me in any Form, I shall present Myself before you.…I am in the least for you, as much as the best; do not slander or injure anyone, for, you are slandering and injuring Me who is in him".
Such is the universality of His majesty and His Love!
Beethoven has written in his own hand on a piece of paper preserved in the Royal College of Music, London, some of his seminal ideas. One of them is about God - "From what we are able to perceive in His works, we conclude that He is Eternal, Almighty, Omniscient, and Omnipresent."
How singularly appropriate are these lines when we think about our Baba!
We intend to deal with this magnificent and all-conquering Love and Grace, this all-knowing Wisdom and Power and this splendid all-encompassing Glory in this cover story. This is our prayerful offering at His Lotus Feet celebrating His eighty glorious years on this mother earth.
- Heart2Heart Team