Glorious Sai – Unprecedented and Unique
Is it not it unprecedented in the history of mankind? So much being said, so much being written, so much being sung in so many languages and in so many tunes by so many people from every corner of the globe about a diminutive personality from an obscure village who had little or no formal schooling!
Devotees worldwide want Him photographed in as many ways as possible, whilst in flesh and blood, walking, talking, singing, laughing, joking and guiding one and all.

Swami Himself said at a meeting in Prashanti Nilayam in 1965,

"No Avatar (incarnation) has acted like this before - going among the masses… seeking out the distressed, waking up the sleeping, quickening the dull, showering Grace on millions and counselling, consoling, guiding, uplifting them along the path of Sathya, Dharma, Shanti and Prema. I am neither Guru nor God. I am you! You are me! That is the Truth and you will realise it when you reach the goal. You are the waves and I am the Ocean."
He has come to repair the ancient highway of man to God and you can see that happening everyday. The divine bridge to God in the heart of every man that comes to Him gets resurrected, renovated or repaired. His charisma is inscrutable. The Sai Phenomenon is enigmatic and His mission is mind-boggling, as is evident from what He has done for humanity in the last few decades.
The Global Sai
If we look around, in almost every village and city of India, Baba is adored and worshipped. With His mission and message of love spread through Sai Organisations present in nearly 180 countries of the world, Baba has achieved a far-reaching revolution in the world today, all very silently but surely. No advertisements, no invitations, hardly any publicity and now there is a human chain that can tip the balance towards achieving a world characterized with peace and harmony.
He has never called anyone, but the who's who from every discipline – scientists, administrators, politicians, musicians, artists, doctors, lawyers, presidents and prime ministers – all have flocked to His Lotus Feet and if Puttaparthi, a remote obscure village hidden in the barren lands of Andhra Pradesh is today the epicenter of a spiritual revolution enveloping the whole global community, it is a testimony to His indomitable Will and infinite Power. Power that does not defy, but transcends, all science, logic and human reasoning.

Millions continue to get drawn to His Lotus Feet, every hour devotees multiply. And why not? If there is one person in this world who has only loved people unconditionally right from day one and spent every second of His earthly existence trying to bring a smile on the distressed and deprived and never known what is to be selfish, it is our beloved Bhagawan.
The Essential Sai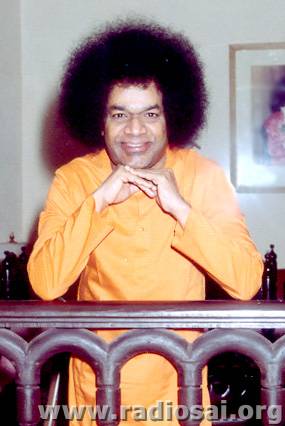 Take away the divine power and the glory…the essential Sai is a simple and straightforward person who just practises what He preaches. He is a loving teacher, a firm father, a compassionate mother, all rolled into one. Intensely concerned with the moral upliftment of mortal beings, He is the embodiment of humanity, love, goodness, self-abnegation and soul power.
Millions may come to Him, poets may compose soul-stirring poetry on Him, authors may fill page after page glorifying Him, photographers may try to capture His physical form in all its moods, film and stage producers may use His life story, musicians may sing praises of Him, researchers may analyse the various aspects of His personality and His works, scientists may be startled at the ceaseless flow of miracles, but Sai is essentially the same simple, humble and full of sweetness.
In fact, you cannot miss the childlike innocence on His face and His activities. He touches the very inner core of your heart with His matchless purity and unexpected and unsophisticated pure love.
Missionary Sai – With a Grand Mission
No ordinary man can remain so calm, so composed and unimpressed with so much glory. He is an example for Humanity and unequivocally declares, "My life is My message." He shows us how spirituality can be a way of life and how every man is inherently divine.
We find in Baba the integral manifestation that combines three significant roles. He is the great teacher, far-famed for His simple and sweet exposition of the highest philosophies in the world today. He is the great dispenser of love – love that is selfless and unconditional. Finally, He is the great restorer of the essence of spirituality to mankind.
We may say of Baba what Prof. P. Shankaranarayanan says in his book 'Sri Ramachandra': "For man to receive God's stimulus and to make the responses, God must become a person in flesh and blood, Human in His Divinity, and yet Divine in His Humanity. To infinitise man, God has to finitise Himself."