Sharing Liquid love Down Under
- Inspiring blood donation service by the Sathya Sai Service Organisation of New Zealand, Auckland Region.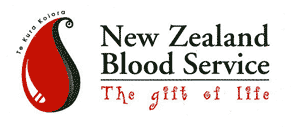 Every year for a number of years, the Sathya Sai Service Organisation in the Auckland Region has organized blood donations from its members as part of Swami's Birthday Celebrations service week, and during Guru Poornima in the month of June-July.
Until the year 2000, the number of members attending the days that were planned was fairly erratic, in fact early records show only 27 members gave blood in 1997. Then, a concerted effort was made by the Service Wing members to promote the programme more efficiently by the way of coloured brochures issued by the New Zealand Blood Service, and also by talks at Sai centre devotional singing nights on the importance of giving blood, the many benefits from giving and also how Swami Himself describes giving blood as sharing "Liquid Love".
Sai Organization's organized blood drive,
Auckland, New Zealand

It's so wonderful to give the 'gift of life'
In 2001 the New Zealand Blood Service in Auckland offered to open their facilities especially for the Sathya Sai Service Organisation of New Zealand, on the proviso that they could provide enough donors to make it worth their while. They had never done this before for any other organization as Saturday is normally a holiday, so this was a major breakthrough that needed to be taken advantage of, so, the Sai Organisation in Auckland swung into action and plans were formulated to have at least two major organized blood drives per year to coincide with Guru Poornima and Swami's Birthday.
The first to be held on a Saturday at New Zealand Blood Service's rooms was in 2001 during Guru Poornima which was a major success – approximately 145 members of the Sai Organisation from the Auckland area gave blood on that day. This made the New Zealand Blood Service extremely happy, as it vindicated their decision to open their facilities on a Saturday for the Sai Organisation.

During the years since 2001 the number of donors from the Sai Organisation have steadily increased at each session culminating in 170 giving blood in July 2006 which helped the Blood Service tremendously, as at this time, New Zealand was beginning to experience a very severe winter which was playing havoc with people's health.
By this time the Youth Wing had become involved and it was through their efforts - working together with the Regional Service Wing – that everything went so smoothly. One of the Youth members said on behalf of the rest:
"By getting involved in this project has made us very happy and we have realized just how some service programmes may seem small but actually have enormous benefits for many people that we don't realize at the time until we become part of it. We are so happy that we have been asked to participate in this and will now make it a permanent part of our Youth activities."
| | | |
| --- | --- | --- |
| | | |
| These little gifts have enormous benefits... | | ...like love shared by volunteer and donor |
The following is an extract from a letter sent to the Sai Organisation in New Zealand by Martin Francis, of the New Zealand Blood Services.
"Now is the winter of our discontent' this quotation from William Shakespeare's play Richard III was very much the theme for New Zealand Blood Service this winter of 2006 here in Auckland, as this year was considered the most severe winter experienced in New Zealand for many years, and Auckland was no exception. These adverse weather conditions played havoc with peoples' health with large numbers falling ill with colds or the 'flu. This had a serious impact on our blood donors in the Auckland region as a high portion of them were either sick or recovering. This means that a sick donor is not allowed to donate until they have recovered completely which includes the course of antibiotics as well as any symptoms. This could be over a six to eight week period. Almost two months! Our stocks of blood were running low. What were we to do?
Our Sathya Sai Organisation of New Zealand came to the rescue. On Saturday the 16th of July, 161 wonderful members came to our rooms in Epsom and lovingly donated, in the words of Sai Baba Himself, 'Liquid Love'. This large donation was just the boost we needed. Each unit of blood, 370ml has the potential of saving the lives of three people.

The dedicated volunteers who save lives -
one drop at a time

Mention must be made about the highly organized manner in which these drives are conducted. Due to the large number of donors expected, the New Zealand Blood Service in Auckland opens the Blood Bank rooms in Epsom on a Saturday especially for the Sathya Sai group. The kitchen area is efficiently run by a group of Sai devotee ladies who serve the donors with hot drinks, juices and snacks with a smile. They are caring, happy and always have nice word to say to all.

There is a saying that imitation is the best form of flattery. Since the Sathya Sai Organisation of New Zealand has been involved in donating blood as a large group, other cultural and community organizations have heard about it and now they too wish to contribute and are in the final stages of planning to do so. So, the Sathya Sai Organisation of New Zealand continues to lead by example through an attitude of enthusiasm, caring, and most of all, love for humanity."

We have found that this service activity, even though only done twice a year at this stage, has proved to be an excellent introduction to service for new devotees, and also for families who attend as a family unit and who feel extremely happy that they can contribute in some way. Also run at the same time in rooms given to them to use, are free medical clinics with Doctors from the Sai Organisation involved.
Thanks to Swami's Grace and Love, this service programme in Auckland has become an example to other community groups to follow and can only add to the good name that Sai's name and the Sathya Sai Organisation in New Zealand already has. Blood donations are also done by the New Zealand Sai Organisation in other areas as well, notably Hamilton and the Wellington regions.
- Doug Saunders, New Zealand.