pioneering sai medical camp in alike

Alike in the state of Karnataka, South India

Alike is a picturesque village in the coastal district of Dakshina Kannada (also called as South Kanara) in the southern Indian state of Karnataka. This tiny hamlet, about 50 kms from the city of Mangalore, is nestled in the lap of nature. Surrounded by hills and covered with greenery and beautiful flora, Alike is amazingly serene.

But it is not for this reason why it has caught everybody's attention. What was moved eyeballs here are striking blossoms of a different kind – the shining students of the Sathya Sai School of Alike. It is a wonderful school and we will bring you a comprehensive story on this later this year, but for now here is the account of a riveting medical camp that was organized in the Primary Health Centre attached to this school in January 2007.

Between January 28 to 31, more than 11000 poor people were served and treated – all for free, in this school. While many doctors came from UK, and nurses and other support staff joined from local medical colleges, the bulk of the work was done by the students who acted as volunteers. It was a grand show of love in action, where Bhagavan's grace was very evident.

We interviewed four professionals who participated in this camp and are happy to share their experiences with you, which were recorded in the studio of Radio Sai in February 2007. The interviewees were:

Dr S K Upadhyay, MBBS, MRCOphthal Honorary Professor of Ophthalmology, who works as a Consultant Ophthalmologist in London. He leads teams of doctors, nurses and volunteers in medical camps around the world.

Dr Suresh, a neurosurgeon serving in Swami's Super Specialty hospital in Bangalore, who was instrumental in organizing this medical camp and liaising between the chairman of Alike and Dr Upadhyay.

Dr. Deepak Shah, a professional photographer and a key member of Dr. Upadhaya's team who has arranged equipment and done the groundwork for many medical camps all over the world.

Mr. Sergey Korchagin, a professional optician from Voronez, Russia who has worked with Dr Upadhyay for the last five years at medical camps in Russia and India, carrying out eye-care service.
H2H: Can you tell us how you were able to organize this pioneering medical camp in remote Alike?
Dr. Suresh: Sai Ram to everyone. I was in UK for some time and during that time I had participated along with Dr Upadhyay going to a couple of countries on medical camps. Somehow, I developed a feeling for Alike. It is in a remote place and the hospital has been started only a few years ago.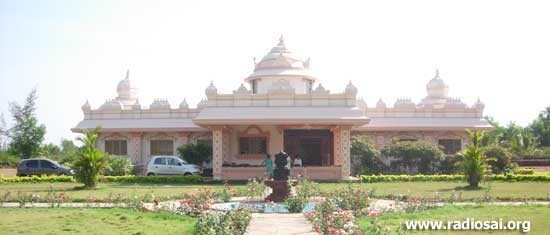 The Primary Health Centre in Alike - filled with serene vibrations
I thought it would be a very good idea to have the Medical Camp in Alike because it has a good infrastructure. The only missing thing was a link between Dr Upadhyay and Alike, and I thought I could play that role. As you know Swami took over Alike in 1977 (which was started originally in 1963 by Sri M Narayana Bhat, a visionary educationist and great devotee of Swami) and the Sathya Sai Hospital there started only a few years ago which has three doctors working there now.
Sri Gangadhar Bhat with the camp organising committee
When I initially proposed to the Chairman of Alike, Shri Gangadhar Bhat (whom we affectionately call Gangadhar Anna), about the camp, he was a bit shocked. I proposed this a couple of years ago and I don't know how serious he was about it. I was in UK then.

Later, I mentioned this to Dr Upadhyay in passing. We wanted to take this up last year, but I was coming to India to take up a job in Swami's Hospital in Bangalore, so I was very occupied. Someone was needed to be a link and organize the local aspect like transport, and reassuring other participants. It is easy talking it over phone; doing it locally is a different ball game, and initially people were a bit perturbed and not convinced.
In fact, one of the local surgeons who was a guest at the valedictory function had said, "You won't get even 200 or 300 patients." After the camp was over, he remarked, "I am sorry. I take back my words."
To get started, we had a preliminary meeting about four months ago for which we invited a couple of local doctors as well as a few old students of Alike who are working in a Medical School and Hospital in Mangalore. Eventually, there were around 20 of us in the organizing team.
We decided that the specialties would be: General Medicine, Surgery, Gynecology, Pediatrics and Radiology. We already had in the hospital the basic laboratory, Pharmacy, Ophthalmology, ENT, and Dentistry.
We contacted all the old students of the Alike School, distributed in the various parts of Karnataka. Some of them said they can come for four days, some said they can come for one day and so on. So we prepared a database and formed a timetable for doctors' availability.
| | |
| --- | --- |
| | |
| | |
A local well-wisher, who runs a Nursing College and is in very good terms with Shri Gangadhar Bhat, said he will send a full bus load of nurses who will work for the four days freely. The Chairman of the Medical School in nearby Mangalore offered to send the required number of doctors for the Camp. So, the doctors comprised of old students, friends of doctors working in Alike, as well as the doctors who had come from different parts of Karnataka, apart from the many Doctors from the Medical School. The total strength was 18 from UK. The minimum number of doctors we had was 73 and the maximum number was 102 serving on each day. The entire support structure needed was organized: Doctors, Pharmacists, Nurses and 1,000 students from the campus who served as volunteers.

For a villager going to a big city means fear; he doesn't know the place; he has to pay for auto rickshaw; there are many other problems including language barriers. But here, as many specialists could speak the local language, the villagers were very happy. The next thing is the referral and surgery. Usually when a Medical Camp is done, it runs for one week, and the last day when everything is over, there is no more contact with the patients. This was not the case here.
We are running another four Sundays for the refraction and prescription of glasses and then we have listed around 1000 patients for further consultation, investigations and surgery. I think that is a unique feature of this camp. We have a register where all the addresses and details are for us to contact them and batch by batch they will be processed.
Dr Upadhyay: Dr. Suresh had become the link for the Alike camp. They had been preparing for it for quite some time. I was not sure what we are going to do in Alike. I had a small team and I was very worried when they told me there will be 3,000 patients every day. That was beyond my imagination. I kept telling him "Swami wants quality, not quantity". And he kept telling me "Dr Upadhyay, there is a need for this." When Swami's instruments are working, it is their faith in Swami. Swami is working through you. If you just keep the ego away, Swami's love flows through you.
H2H: What were your first impressions when you saw the camp?
Dr Upadhyay: When we went there, I was taken aback. I had never seen a camp of that magnitude, and it was done in such a grand manner. They had thought of everything. There was a huge board for people as they walked in to guide them where they were going to.

The School was converted into a temporary make shift hospital. They had ECG, blood testing and a pharmacy and we brought some equipment from Sri Sathya Sai General Hospital. We had with us a pharmacist whom we brought from London. She runs a huge hospital called Barnet General Hospital - it is one of the biggest in London. She was amazed when she saw the layout of the pharmacy. It was designed to cater to 11,000-12,000 people.

| | | |
| --- | --- | --- |
| | | |
The most important factor is the service that they gave. It was real Madhava Seva (Serving God in man). The students were sitting under the trees and waiting with nice cold water for patients who came there in the hot sun. When the people got down from the bus, every 100 yards there was a water point and the students were sitting there happily serving water. Thousands of patients were fed every day with breakfast, not just sambar and rice, but five types of different dishes.

Swami says that one should see no difference between a patient and a doctor. The patient should be treated like God. The students of Alike opened our eyes! They were really like Hanumans (valorous devotee of Lord Rama), doing everything so beautifully with such great love! 11,000 people were seen in the four days.
Mr. Sergei Korchagin: After an hour's journey through the narrow and curving mountain roads in the night, the amazingly beautiful Sathya Sai Hospital of Alike appeared in front of us among the palm trees.
In the morning out of our guesthouse window we could see the Sai School for boys which was surrounded by nature and mountains. After getting to know the team of doctors from England over breakfast, we entered the treatment room and began to work.
As usual we would hand out ready-made glasses to the patients after Dr Upadhyay and his team had checked their sight. The first problem we had was the language barrier. The local people speak four dialects. Here the students of the Sai School came to our aid. Five or six boys grouped around each doctor and gave all the necessary translations and any other help. Their little hearts radiated so much love!
They were a clear example of the divine tenderness and care inspired by Bhagavan's love. Deeply absorbed in their service, the boys quickly got to know all the techniques of selecting the right glasses. After only one day they were able to read out the prescriptions written by the doctors, choose the right glasses, check how the patients reacted to the glasses, and correct them, if necessary. The elder boys even learnt how to check people's eye-sight and relieved the work of the doctors.
H2H: How did you feel as the camp progressed? What struck you about the quality of service and patient care that you saw?
Dr Suresh: There was Narayan Seva and more than 12,000 meals were served and as Dr Upadhyay said, the dishes were similar to what we ate.

On the first day we had 2,595 patients registered. The maximum was 2,750 on the third day. On the last day, we restricted the registration because we realized that may not be able to see them.
In fact, for the next four Sundays after the camp concluded, local people came for screening and examination only for the eyes, not other specialties. We have already seen 11,141 - now another 300-400 were seen in the month of February.

Out of the 11,141, nearly 10% (1,112 patients) have been registered for outside referrals and surgery. So these will be worked on further and they will be sent to local private medical schools for further tests and surgery. For the patient, everything is free of cost.
Until now, the overall cost of the camp, including surgery, is nearly 23 lakhs of rupees. On an average we spent about 2000 rupees per person. 90% of the glasses procured from Bangalore were brand new. They were in fact, imported from Korea via Chennai. Swami says that what you give to people should be of good standard; quality is most important and we were always mindful of this.
Dr Deepak Shah (camp photographer and cameraman): I reached the camp on the second day at 10:15 a.m. I went straight to Dr Upadhyay's desk and asked for my duties to be allocated. He simply said, "Try and cover everything." It means that A to Z, nothing to be missed. So, I first went around, had a general view of how to conduct the shooting and how to make a documentary to share it with everybody. So I was going through all the departments, interviewing the doctors, get their inputs, and then I approached all the local people. Without the knowledge of Kannada, it was getting difficult.
At this time, we had the golden angels with us – the student volunteers. I got very attached to them, there are no words to express my appreciation. I think 80% of the work was successful, thanks to the students. It wouldn't have been a success without them. That is the first thing I observed.

The doctors were doing fantastic job. We were going from place to place, just looking through the camera, looking at the people waiting patiently for their turn to come - everywhere you saw only peace and happiness!

We saw the joy in the eyes of the people as they were treated; the proficiency in the way they collected their medicines; everybody being guided to the right place and we felt happy that they received so much already without taking any medicines! Why? Because the whole atmosphere was so serene, there was love everywhere.
Food was being distributed, medicine was being served and the doctors were viewing or screening the patient with such humbleness and politeness.
As soon as I entered the camp I saw a queue which was at least a quarter of a mile, right from the hilltop to where they were enrolling the patients. After about hour and half, the queue was all finished! You could see with what great efficiency they must be working. They had a row of computers there, taking all the medical histories and the students taking them to the right places, and by four o'clock, the mass which had come had almost gone home. That was very surprising!
It could not have happened without such efficient work by allthe people involved in the camp. They knew exactly what is to be done. They knew exactly where to send the patient next and I take my hat off, this was one of the most wonderful Medical Camps which I have seen.
Mr. Sergei Korchagin: My best experience from this camp, was working with the boys. I felt that these boys are, truly, our teachers. They teach us Bhakthi, devotion to God, and Karma, good action. I don't know how many lives they must have prayed in their heart! How they shared His love with every patient was moving. They were excellent volunteers.
In the last day, we worked until 4 pm and then went to the valedictory function. We didn't say good bye to the boys. After the meeting, we had dinner and my wife, Galina said, "I am sorry, I didn't say good bye to our small children." After 2-3 seconds, these boys ran to us and were saying goodbye with tears in their eyes - we were deeply touched. It was a wonderful experience of love.
And this was not all. Each evening, the boys performed a cultural programme such as a drama or gymnastics or bhajans for the local people and camp participants. There were also talks on spiritual matters. We were given this incredible blessing of participating at this great Seva Yagna (sacrifice) through Swami's grace.
H2H: Were the patients from the nearby area? What was their economic background? And did they have any medical facilities to help them back home?
Dr. Upadhyay: The majority of them were from 30-40 km distances, who actually wanted to have a second or third opinion. Some of them knew their medical condition but could not afford the surgery. Because this was advertised in newspapers and radio they came purely for surgery. Some had come for Cardiac and Neuro specialties and we gave the address of Swami's Bangalore Hospital for further work.
I would say the majority of them were from very poor social backgrounds. Many of them who could not see anything, could not afford to buy glasses. In the camp, we distributed almost 2,000 glasses. We may have to distribute another 2,000 in this month of February.
And these cases that are listed for surgery have been classified into urgent, early and elective. Urgent will be worked on first. They have been again classified into Pediatrics, Gynaecology, General surgery, Orthopaedics and the like. Although the camp is over, the work will continue for another 3 or 4 months.
H2H: Did you get any chance to speak to any of the patients who came to the camp?
Dr Deepak Shah:Yes we did, we talked with many patients who came there. We could feel the love and joy they experienced to be seen by such professional doctors. That you should experience to believe it! It is not easily conveyed in words.
Dr. Suresh: Let me share one anecdote: one man had just received his food, but he was not eating, he was crying looking at the food. I asked him what happened. He said, "My son or my family could never serve such dishes and I have been given this with such great love." A student was standing near the old man with buttermilk because his hand was full of food, and asking him to sit down and eat comfortably.
The sun was hot and swelling. Each and every inch was covered with a shamiana (a large cover to give shade) so that people are comfortable. What happens during Swami's birthday (large Narayana Sevas), it was duplicated here. Everybody could feel that it was Swami's love which was flowing. In that man's words, "My own son would not have done this for me." And 12,000 people were fed the same breakfast and lunch.
H2H: Did you get a chance to talk to the old students of Alike?
Dr. Suresh: Lots of old students have never been connected to Alike. One student came from Canada to be in the camp for a day. He was completely taken aback. Like this, lots of people came to Alike for the first time after leaving the school. They were stunned to see the new buildings, to meet old friends. Whenever I met them, I requested them to make a sort of an annual commitment for this camp, because we want to run this annually and it could be something like a homecoming for them.

H2H: Did you get to speak with Mr Gangadhar Bhat, the Chairman?
Dr. Deepak Shah: Yes, I had a small interview with him. "Baba is even more with you in England than there with us here," He said and mentioned that it was an honour for him to serve in the medical camp. He was absolutely thrilled the way the camp went.

Dr Suresh: I want to add two things to what Dr Deepak said. Everyone appreciated the Doctors. First of all, I would like to comment on the Chairman, Sri Gangadhar Bhat. I spoke to him after the camp concluded and he said that the villagers are extremely happy because they haven't received so much care from specialists at one place. He also stated that it was a unique experience for the whole campus, where the teachers, staff and various workers felt very delighted. For students, it was a undoubtedly a 'only one of its kind' experience.
| | |
| --- | --- |
| | |
Dr. Upadhayay: When the camp started, I was worried about the number of the people coming everyday. He noticed that I was tensed about a number of things, so he called me and said, "Nothing will go wrong, because Bhagavan called me before the camp and gave something in my hand and then closed my palm. He said everything will go fine." So, Dr Upadhyay, do not worry. "If God has said, you do not have to worry," he strengthened me. Instantly, all my worries disappeared.
Last day he asked me again the same thing. He was great source of support and inspiration. He really is realized that we were just nimithas (instruments). Swami showed that even without us He could have done all this. He just wanted to give the credit.
Second thing that I want to say is that - In many of the countries where we work, we cannot close until 11 or 12 o'clock midnight. People come from long distances and no way could we not see them. And this is, generally, very taxing for the doctors, but this was not the case here. Everything happened with so much precision and efficiency; we were able to see greater number of patients than we usually do, in less time.
H2H: You have shared so much with us. Are there any concluding thoughts?
Dr. Upadhyay: Swami has given so many opportunities to travel from East to West, North to South. What you see is so much joy in the medical camps - joy, love, it is wonderful!
H2H: Please come back and share with us your experiences serving in Russia and other countries. We would very much enjoy them. Sai Ram and thank you very much.
- Heart2Heart Team
---
Dear Reader, did you like this article? Would you like more such stories? Do you have similar stories to share? Please write to us at [email protected]