Swapan Sees Anew and Celebrates Life
As SSSIHMS Pioneers Cutting-Edge Research on Brain Tumours
---
To access all the previous issues of Healing Touch, please click
here.
There he is, sitting on his bed next to a window, looking out at the lush-green lawns in front of the Hospital. He is dressed in the green hospital clothes, his head is shaven, and he has a two-day stubble. As he notices you approach him, he immediately gets up, smiles invitingly, greets you lovingly and offers you a seat. He is extremely happy, you can see, and is 'at home' in the post-operative ward.
Swapan Garai,
green and glad
Swapan Garai's world, in a matter few days, has changed from absolute dejection to complete joy. A young man who had left his native town of Calcutta in search of success and work, and traveled north-west to New Delhi, the capital city of India, found a small-time job in a factory making bicycle helmets which fetched him a meager Rs. 4,500 a month (approximately US $ 110). But just when he thought he had made a start and hoped to build a new life with hard work, the glimmer of hope that had begun to shine at the end of the tunnel seemed to fade away. His vision started playing tricks on him. He ignored it at first, then self-medicated, but finally when he went to a doctor in New Delhi, the verdict from the physician shattered him: His fading eyesight was due to a kind of brain tumour. He was advised to carry out more diagnostic tests but each one cost the equivalent of his entire month's gross wages.
Swapan Garai was faced with his life's worst nightmare, and true to his Bengali upbringing, he surrendered to his divine mother, Goddess Kali. There was no way he could afford treatment in any of the city's hospitals. Not only that, the government hospitals did not have the required equipment and expertise for the kind of surgery it demanded. But thanks to the Sri Sathya Sai Institute of Higher Medical Sciences, Bangalore, and the high-quality research being carried out here in the area of tumours, Swapan today is a picture of bliss. And what is more important, he did not have to pay even a penny. How was all this possible?
Prestigious Institutes Seek Hospital's Collaboration
Advanced Research in SSSIHMS, Whitefield

The Hospital has been chosen as the key participant in a research study initiated by the Council for Scientific and Industrial Research (CSIR), a Government body, to find out the correlation between the genetic makeup of gliomas (a type of Central Nervous System tumour) and their WHO Grade (the four grades of gliomas classified by the World Health Organisation), and to further determine the efficacy of certain drugs in preventing the recurrence of the gliomas. The Project is a collaborative effort between the Indian Institute of Sciences, Bangalore, which validates the genes involved, Dabur India, which has locally developed the chemo-therapy drug Temozolomide, and the Sri Sathya Sai Institute of Higher Medical Sciences (SSSIHMS). Dr. A.S. Hegde, the Director of the SSSIHMS has been leading this high-profile project as the Principal Investigator.
Bhagavan Baba's Hospital, the Sri Sathya Sai Institute of Higher Medical Sciences in Bangalore, continues to blaze new trails each day in providing the best of care to the poorest of poor, but most of the world, unfortunately, continues to be absolutely unaware of it.
According to Prof. Hegde, "This research would lend us valuable information, which could one day change the way we treat gliomas.
The Institute is proud not only to provide totally free healthcare but also participate in cutting-edge research, with far-reaching benefits to the patients. It is ultimately Bhagavan Baba's Love and Grace that we have been chosen by the Government for collaboration in this Project."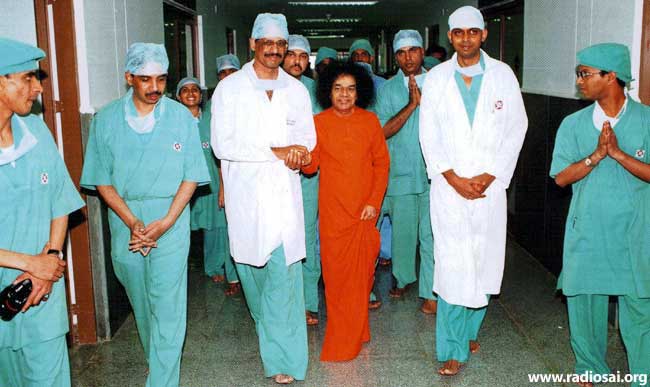 Sai in the Neuro Surgery section - He is the sole inspiration and inner motivator of every staff in the Hospital
Cutting Edge Research and Compassionate Care - In Tandem
The Threat of Glioma

Cancer is a global disease that poses severe challenges in the healthcare management of all societies. Although the incidence of various types of cancers is relatively higher in developed countries, recent lifestyle changes in developing countries are expected to result in increases of cancer incidence in these countries.

The international research efforts on the fight against cancer resulted in better understanding of the initiation and progression of various types of cancers and identification of several target molecules. Despite these positive outcomes, in many types of cancers the available prognostic markers and therapeutic options have been limited.

One such cancer type is the glioma, the most common brain tumour with an incidence of 12 per 100,000 people. The WHO grading system classifies gliomas into Grades 1 to 4, based on their biological behaviour and histopathological evaluation.

Among gliomas, astrocytomas are the commonest comprising of more than 60% of all gliomas. Astrocytomas are subdivided into four grades based on histological criteria and certain marker expressions. Grade 4 astrocytomas or glioblastoma multiforme (GBM) are the most aggressive and invasive tumour, with the mean survival period from the time diagnosed as GBM being approximately 12 months, even after chemotherapy and radiation therapy. [Swapan, whose story is discussed in the main article, had this condition].

The immediate need in the management of GBM's is the prediction of the treatment outcome. This is because of the diverse results of patients in the response to radiotherapy/chemotherapy. A possible reason for this could be the difference in the gene expression patterns, which the CSIR Project will seek to reveal.
The SSSIHMS, Whitefield had been selected for the Project as the medical team from the Neuro-Sciences department there had already done some work on gliomas. Glioma is the most malignant form of cancer, with the highest chances of recurrence. As a follow-up after surgery, to curb the recurrence of the tumour, the SSSIHMS refers its patients to other centers for chemo-therapy and radiation therapy.
| | |
| --- | --- |
| | |
| Dr. A S Hegde, Director of SSSIHMS, Whitefield | |
Dr. A.S. Hegde further elucidates, "Presently, under the CSIR Project, the patients operated at our Institute under the Project are eligible for free chemo-therapy and radiation therapy in other centers. Under the Project Grant, a private Hospital provides the chemo-therapy and radiotherapy free of cost to the patients who undergo surgery at SSSIHMS. Elsewhere, the patient would have had to spend upto Rs.3 lakhs (approximately US $ 7,500) for the follow-up therapies, apart from the surgery costs, which can range between Rs.2 lakhs -Rs.4 lakhs (US $5,000 - $10,000). Imagine what a boon it is to a patient, unable to pay for one MRI scan receiving treatment worth almost Rs.6 lakhs, ($15,000) absolutely free.
"It is not that once the surgery is performed and the course of chemo and radiotherapy is done, the treatment ends. On the other hand, all the patients treated under the Project come every three months to the Hospital for follow-up MRI/CT scans and other diagnostic tests necessary to track their progress and study the patient for the likely recurrence of the tumour. All the follow-up tests are also done free of cost to the patients. Up to now, over a one and a half year period, we have operated on 23 patients with glioblastoma multiforme (GBM) in our center."
Dr. Prasanna, Project Officer, Ms. Cini, Project Assistant and Mr. Chandrasekhar, Lab Technician comprise the team, which assists Dr. Hegde in screening the patients, and coordinating between the histopathology department of the Institute (histopathology is the study of the microscopic anatomical changes in diseased tissue) which does the grading of the tumours, and the other collaborators, especially the Indian Institute of Science. Explaining the background work of the Project, Dr. Prasanna, says,
"The CSIR Project has two prominent phases. In Phase I, which is now completed, we had collected 380 samples of gliomas belonging to all four WHO Grades, ranging from WHO Grade 1 to 4. The histopathology evaluation was done and these samples were sent to the IISc for a large-scale validation of genes.
"Phase II is a prospective study with GBM to establish the expression profile of short-listed genes from Phase I and correlate with clinical outcome following standardized therapeutic protocol," adds Ms. Cini. From governments across the globe to research foundations, NGO's and think tanks of various political hues, all are unanimous in recognizing the Sri Sathya Sai Healthcare system for its unique feature as facilities that cater to the poorest of the poor. The distinctive clientele of the Hospital make it a preferred choice for this research.
Given the economic disadvantages of its patients, most of them tend to have neglected their symptoms for a long time or spent months and years seeking free medical attention elsewhere in vain before finally coming to the Hospital, by when in most cases the condition has deteriorated very badly. "There are therefore high-risks involved in these surgeries," Prof. Hegde further adds.
Given the mission of the Hospital, its highly trained doctors spring into action to do everything that can be done to serve, treat and assist such patients with love and consideration.
How My Ultimate Dream Came True: Swapan Garai
Swapan Garai was no exception, rather just one of the many who have stepped into this Hospital and found new hope, life and happiness. Ask Swapan to share his experiences about his visit and stay in the hospital, and his instant enthusiasm is a sight to see. A former patient of glioblastoma multiforme (GBM – the most virulent form of glioma with an average life expectancy of 12 months), Swapan, in unmistakable sincerity, expresses his utmost reverence for Bhagavan Baba and gratitude to all the doctors, nurses and staff at the Hospital, who have all contributed to his healing process. Narrating the story of his life, which transformed from a tragic tale to a story symbolizing the triumph of faith and pure love, he says:
| | |
| --- | --- |
| | |
| | Swapan's story is stirring...now he is ready to relish life |
"I hail from Calcutta, West Bengal. My parents, younger brother and two younger sisters live at Calcutta, where my father has a Government job. I work in New Delhi, in a private company which makes bike helmets. I earn around Rs.4,500/- per month. My problem started early January this year (2007) when I started having bouts of severe headache and nausea. Thinking it was a minor problem I took some tablets for headache and nausea, and the symptoms disappeared for a while. However, they never really went away.
"After a few days I noticed the vision in my left eye become hazy. Slowly, but surely I started losing my sight. Only then did I begin to take it more seriously. At this time I was living alone in Delhi. I had not told my family anything about this. I went to many eye hospitals, thinking it was a problem with the eye.
"The doctors' findings were inconclusive. I finally came to a government-run hospital. I can't forget the lady doctor who, by a mere examination told me that I had a brain tumour. She advised me to get an MRI scan done to help confirm its existence and also plan for the treatment. The scan would cost me Rs.4,500. I was not prepared to pay such a large sum, which is my one-month's salary, towards the scan. I was the eldest in the family and both my sisters were yet to get married. Every rupee was important to me and I thought if, in a Government hospital, we have to pay such large sums of money, what use are they? Compare this to the situation here at Baba's Hospital, where so much is given totally free!
"I was alone in Delhi without any family support when I was diagnosed with the tumour. Luckily for me, I had immense faith in Kali Ma (the divine Goddess) and believed in the universal law that good actions beget good results and bad actions beget bad results.
"I called up my father to inform him about my malady. By this time my vision was down to 50% in the left eye. I then went to Calcutta, where I got the CT scan done, which confirmed the existence of the brain tumour.
"The search for a hospital to get the treatment done began. We went to many hospitals in Calcutta and New Delhi. Some Government hospitals did not have the doctors and equipment to do the surgery, whereas we did not have the money to afford treatment in private hospitals. It was a tough time for us. As a family, we were devastated. We did not know where to go and whom to ask for help. We felt lost and helpless but held on to our prayers and surrendered our situation to Kali Ma, praying each day for Her Divine Mercy.
"Hope was restored in our lives by a teacher in the school where my youngest sister studied. He was a seva dal member, who used to come regularly to Puttaparthi for volunteer service. He was also aware of Baba's Hospitals and used to regularly guide patients to this unique facility.
"He was so convincing in his tone about the quality of the treatment being given here. Though he mentioned it was completely free, we had our own doubts. Most of our life experiences have taught us that if something is too good to be true, it probably is a con. It is hard to shake off that cynicism at once. Who would really offer all this at no cost! We suspected a catch in the offer. However, it was hard to ignore this man's confidence. He even said that if I could not be treated here, I would not have hope at any other hospital in the country. It was that man's faith in Baba's Hospital that finally brought us here."

The Sri Sathya Sai Institute of Higher Medical Sciences, Whitefield
Swapan came with his father, younger brother and a sister in May, 2007. Ask him about his initial impressions of the Hospital, and he says, "Words escape me if you want me to describe how I felt when I saw the Hospital for the first time. To me, it looked like a palace, or the Rashtrapathi Bhavan (residence of the Indian President in New Delhi), or a temple. The ambience resembled that of a temple more than anything else. While running from pillar to post due to my health situation, my family and I had visited any number of hospitals, but once we entered this 'Temple of Love', the peace we experienced was indescribable.
"I could sense genuine concern amongst the doctors about my condition. There was obviously not a penny being charged either for the registration or for the tests and consultation. We were all completely moved. The teacher from my sister's school was right after all, we thought, and we reprimanded ourselves for doubting his claims about Sathya Sai Baba's Hospitals.
"He had also assured us that once admitted we wouldn't have to worry about anything at all. We found it so true! We have seen outside hospitals and the contrast is too glaring. You're in a constant state of tension of - arranging for this, paying for that, filling up dozens of forms. Here we don't even have the tension of arranging for blood. It is such a boon to be a patient here!" Swapan eyes light up.
A Delicate Operation
| | |
| --- | --- |
| | |
| | "Swapan is a survivor " - Dr. A.S. Hegde |
The rest of Swapan's story is, as they say, history. In June of this year (2007), Swapan underwent two surgeries to remove the tumour. Prof. A.S. Hegde, Director of SSSIHMS, Whitefield and Chairman of the Neurosciences Department, comments, "In Swapan's case, the glioma was found in the occipital region of the brain (back part of the skull) and was about 48 cubic cms in size, and this was causing visual field defects in Swapan.
"An occipital craniotomy was performed when we tried to excise the complete tumour. We were able to only partially decompress the tumour and excise only 25% of it. There was substantial blood loss during this procedure, due to which we had to plan for a second procedure.
"The second surgery was successfully completed and we were able to excise the entire tumour and the decompression was complete. The bone flap was replaced and the scalp was stitched back. The first surgery lasted six hours and the second eight hours. We had to also deal with a lot of blood loss, which is common in such procedures. Finally, at the end of both surgeries, Swapan regained much of the vision in the affected eye."
Swapan with his sister -
strong and smiling
As Swapan gets ready to leave the Hospital, he is oozing with happiness, contentment and gratitude. It is hard to recognize him, now that he has changed out of the green hospital clothes and the two-day stubble is also gone. Clean-shaven, wearing a bright-red shirt, he has covered his head with a scarf.
The Divine, in His own way, has taken care of the brain of this worker from the helmet factory who has been working hard to protect others' heads from injury! And Swapan today has undergone a transformation of not only the head, but also the heart and the vision. Reflecting the altruism of the environment, he says: "When I first came to this Hospital, I used to pray, 'Baba, please cure me'. During the course of my stay here, after seeing so many of my fellow patients suffering, I now say, 'Baba, please cure everybody'." In his own way, he recites the universal peace prayer: "Loka Samastha Sukhino Bhavanthu" (Let all the people in all the worlds be happy).
"Swapan has been very fortunate and has the signs of a survivor. After two months of surgery, he has not shown any signs of recurrence. With His Grace, he should be able to go back to work, and live an absolutely normal life," Prof. Hegde assures.
Sai Hospitals – Running on Love
Currently, two Sathya Sai Super Specialty Hospitals in Prashanthi Gram (Andhra Pradesh) and in Whitefield (Karnataka), along with another in Rajkot (Gujarat), and dozens of other general hospitals and hundreds of medical, dental and eye camps are delivering free treatment and alleviating the suffering and pain of thousands of patients every single day.
Swapan Speaks

"When I first came to this Hospital, I used to pray, 'Baba, please cure me'. During the course of my stay here, after seeing so many of my fellow patients suffering, I now say, 'Baba, please cure everybody'."
This silent medical renaissance initiated and inspired solely by Bhagavan Baba has been growing each day, to take on greater responsibilities, including the latest medical research studies, seeking long term cures and treatments of diseases, while lovingly relieving the pain of the poor and the sick along the way.
Combining its social responsibilities to the medical fraternity with its focus on holistic treatment, the Sathya Sai Healthcare system continues to carve a niche for itself by keeping its doors and heart open to the neglected and the downtrodden and by offering every single patient the care and treatment fit for a king!
It is the only system that trades exclusively in the currency of selfless love, treating all who step into its embrace (symbolized by its two wide wings on either side) as equals of the supreme Godhead. Like Swapan Garai, thousands have been blessed with good health and along with it, more importantly, a good attitude, because they have received warmth, care and treatment at these 'Temples of Heavenly Healing'.
To access all the previous issues of Healing Touch, please click
here.
- By B Satish Chandra
and the H2H Team
---
Dear Reader, did this article inspire you in any way? Would you like sharing your feelings with us? Please write to us at [email protected] mentioning your name and country. Thank you for your time.