---
To access all the previous issues of Healing Touch, please click
here.
In this month's issue we bring you a patient story written by the patient herself - a student of literature, who pours her heart out and shares her life's experiences, of being tossed between agony and ecstasy, culminating in the precise moment when she stepped into Sri Sathya Sai Institute of Higher Medical Sciences, Whitefield. Reading her life-altering experience, you will never again take your life's blessings for granted.
I shall call myself Shweta; but this is not my real name. I ask you to understand my desire to remain anonymous. It may come as a surprise to you that this story is written in the first person. Well! That is so because I wrote it myself. In fact I requested Heart2Heart to have it as it is, with some editing, if needed, but without changing the essence. I want the world to know what I have received - the greatest gift of all…the gift of Life.
I don't know where to begin…with thanksgiving and gratitude which is my present state of mind or from when I was diagnosed with a heart ailment. Let's keep things straight - I will do what the 'King of Hearts' said in Lewis Carroll's 'Alice in Wonderland ': "Start at the beginning, go on till you come to the end and then stop".
Doctor's Dreaded Diagnosis
It all began six years ago. I was still in high school in Grade ten, when I began falling ill often. Persistent coughs, colds and breathlessness put a full stop to my sports and extracurricular activities. I was forced to be a spectator at events where I had excelled earlier. It was disappointing and since the problems were longstanding – my family decided to take me to a specialist.
My family and I approached a local specialist who immediately suspected cardiac disease and prescribed a series of tests. We got them done and the clincher was the Echo/Doppler test which showed that I had a valve problem. It was the mitral valve. I was advised immediate surgery and was told to get admitted. My parents suggested that we go home, think it over, and return. The doctor felt it is his bound duty to drive the final nail into the coffin – he pegged the cost of surgery at Rs. 300,000 (about US $ 8000). And that was just the beginning. I was also told that I was to take medication for the rest of my life.
A Daughter's Despondence
Imagine my condition. I am the only daughter of my parents, studying, dependent on them for everything and suddenly this shocking news and the exorbitant price tag…I just could not take it. I was so disturbed that I broke down in the clinic. My parents too were shaken but they held a stiff upper lip. We came back home and I asked to be left alone.
I sat in silence and brooded over my situation. My parents had done everything for me. Given me a good education, treated me as a friend when I grew to my teens. And here I was hanging like a millstone round their neck, instead of being a help to them…On my study table I have a figurine of Mother Saraswathi, the Goddess of Learning. I began to pour out my feelings to Her – after all, prayer is talking to God and I was literally doing so. As student of Literature, I had a good collection of books and was enamoured by Khalil Gibran…I reached out and opened "The Prophet"…and the words sprang out at me.
"When love beckons to you, follow him,

Though his ways are hard and steep.

And when his wings enfold you, yield to him,

Though the sword hidden among his pinions may wound you.

And when he speaks to you, believe him,

Though his voice may shatter your dreams as the north wind lays waste the garden.

For even as love crowns you, so shall he crucify you. Even as he is for your growth, so is he for your pruning.
I looked up at Mother Saraswathi and my eyes brimmed with tears. The oft repeated words of my grandparents came to me "everything that happens, happens for the good. God does not give us suffering that we cannot endure". I lowered my eyes to the page and continued to read.
"Even as he ascends to your height and caresses your tenderest branches that quiver in the sun,

So shall he descend to your roots and shake them in their clinging to the earth.

Like the sheaves of corn he gathers you unto himself.

He threshes you to make you naked.

He sifts you to free you from your husks.

He grinds you to whiteness.

He kneads you until you are plain;

And then he assigns you to his sacred fire, that you may become sacred bread for God's sacred feast."
Pangs and Pain of Introspection
After reading this I was even more at odds with God. Why me? What had I done to deserve this? And all the other questions that tear at one's being at such a stark moment rose up in me. It is said that books are one's best friends. I turned back to my bookshelf and my eyes landed on "The Diary of Anne Frank". I did not reach out to take it or read it. I had gone through it at least ten times. A voice in me said, "This is not the end… you are still alive. Anne knew she was going to die but she did not lose faith in humanity. And here you are losing faith in yourself?" I dried my tears.
I will not lie that my mood was suddenly uplifted and I felt the warm glow of sunshine on my shoulders. It sounds so good in poetry and prose, but real life was way too different. I had to face the facts – Rs. 300,000 (US $8000) of my parents hard-earned money, and then an uncertain future…after all I was young. And as any young heart would rebel…I felt I was too young to die.
I surfed the net and got to know more about the mitral valve disease. My father met some of his friends who suggested a second opinion. This time, the doctor was not so brutally frank; he suggested that we "medically manage the condition" and leave surgery as a last resort. He did not raise any false hopes that the condition would rectify itself. He was just postponing the inevitable to reduce the impact on my growing body.
I accepted my condition and arranged my life around it. I started my medication and over time it came to include the painful injection of Penidure. My literary oriented mind broke the name into "pain – endure". I didn't mean to be philosophical, but there was not much else to distract or console myself with. Periodically we would go to the diagnostic center only to be told that the disease was progressing. My parents were saving up for my operation, without upsetting the apple cart. They had great plans for me and not once did they allow me to feel I was different.
By now I was sufficiently knowledgeable about my condition and did not demur. We prepared for the process of admission and then surgery. The money was not yet available and my family decided to take a loan to foot the medical expenses.
In the midst of such uncertainty, when all seems lost, there remains hope. It is hope which keeps us alive. I was still hoping that there could be some way to dent the impact of this situation on our lives. God allows us to struggle till we give up and then He takes over.
The Miracle of Faith
One evening, my father returned home excited and without talking to us headed for the prayer room. He prostrated to the Lord and then after a few silent moments, told us, "We are going to Bangalore." Before we could react he continued,
"My friend and I were at the hospital today asking about the valve surgery packages, when a stranger accosted us. He is no longer a stranger", he smiled. Incidentally, I was seeing a genuine smile on my father's face after a long time that day. He continued: "He overheard our conversation and came to us. He told us about this Hospital in Bangalore, the Sri Sathya Sai Institute of Higher Medical Sciences (SSSIHMS), a Hospital that offers medical care in Cardiac and Neuro Sciences totally free of charge. We are going there and the rest is up to God."
Needless to say, we came to Bangalore and I got my preliminary checkup done. The results were the same and we were told to come back after receiving the intimation from the Hospital for a surgery date. I am cutting a long story short here…I got the call letter and came over to the Hospital. My surgery was uneventful and here I am writing this piece, seated on the bed in the post-operative ward of the Sri Sathya Sai Institute of Higher Medical Sciences, in Whitefield, near the city of Bangalore, India.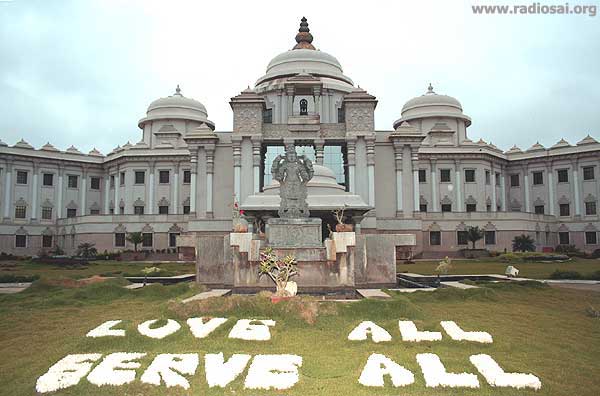 Sri Sathya Sai Institute of Higher Medical Sciences, Bangalore
It is true that the disease changed my outlook towards life. It is also true that the cure changed me for the better. I am not referring to the cure of the physical ailment alone. I am referring to a deeper cure that the SSSIHMS experience confers.
Cosmic Cure That Pervades the Air
I don't know for certain what subliminal power the Hospital exudes, but to me it was the temple from which God answered my prayers. I was awestruck by the grandeur of the hall and the dome. The resplendent, reassuring presence of Lord Ganesha in the central hall, the wide lawns outside the window, the expansive balconies, long corridors…vastness everywhere. The architecture lends itself the opening of the spiritual heart, allowing the soul to seek and soar higher.
Here, my mind was at rest and my heart, at peace. In fact, I actually felt happy that I was in this Hospital. There was no fear of the unknown. The doctors and nurses were frank, but so gentle. I was always told that truth is bitter, but here I found that it is possible to speak the truth without hurting. It was during my stay at SSSIHMS that I have found the true meaning of service, loving and selfless service.
I can go on about what I feel now and how I was before, but as my benefactor Bhagavan Sri Sathya Sai Baba says, past is past, forget the past, future is uncertain, live in the present, it is the gift of God. That is why it is referred to as a "present". Bhagavan Baba further says our present is not an ordinary one but it is "omnipresent" for in it lies dormant the future of each of us.
Seize the Now
Today, I believe in "the power of now". I am currently in the final year of my Bachelor's degree, and have no doubt that I am going to achieve whatever I will. Each of us has a purpose in life and it is for us to find it.
To paraphrase Mario Puzo in his famous novel The Godfather: 'every man has but one destiny and some spend a lifetime in search of it'. I drew one meaning from this aphorism, "live life by the moment, for the present, for, it is precious." I realized the value of "now".
One must live life as though there is no tomorrow. Do all the good you can every moment, for, the next instant, life may be a 'past'.
Words are insufficient to express what I feel, but were I to succeed in conveying my idea of the value of time, the power of now and the gift of life to even a few…I will consider myself lucky. To all those lucky 'normal' people out there, congratulations, you have the greatest gift – LIFE!
To access all the previous issues of Healing Touch, please click
here.
---
Dear Reader, did this article inspire you in any way? Would you like sharing your feelings with us? Please write to us at [email protected] mentioning your name and country. Thank you for your time.