Precious Association

By Mr. Subhash Subramaniam
---
This is the transcript of a talk delivered by Mr. Subhash Subramaniam, a research scholar in Bhagavan's University, on the occasion of the 21st anniversary of the School of Business Management, Accounting and Finance, Prasanthi Nilayam, on August 21, 2007 in the Divine Presence of Bhagavan Baba.
With Love and Humility, I offer myself at the Lotus feet of our most Beloved Bhagavan, revered elders, my dear brothers and sisters, Sai Ram to one and all.
Having been at Prashanthi Nilayam for quite a while, I often wondered if the management students of our University could possibly have an impact on the corporate world outside. I wondered if the definition of 'Manager' (it starts with 'M' for 'Mind of man' and ends with 'R' for 'Role of rules'), as given by Bhagavan, could be applicable in today's fiercely competitive business world. I had to wait for my answers.
"Sai Baba's students are unique" – A Top Financial Executive
| | |
| --- | --- |
| | |
| | Mr. Subhash Subramaniam |
Previous year (2006), I had the opportunity to present a couple of research papers at a Premier Conference called the "Capital Markets Conference", organized by the Indian Institute of Capital Markets at Mumbai. The paper presentations went well and were received with acclaim by the galaxy of academicians and practitioners from the corporate world. Incidentally, the paper from our Business School was adjudged the outstanding paper. I was naturally thrilled at this recognition, but what happened later during the day filled me with joy unspeakable, with a feeling that I cannot express.
There was a coffee and tea finale after this ceremony and during this, one very senior executive from one of the big financial majors of this country came up to me and said, "Mr Subramaniam, I noted that you come from Sai Baba's University. And I have come here to tell you that I have two of the students of your Management School working with my company. The way these two students look at problems and the way they conduct themselves, I can only tell you, that Sai Baba's students are unique. I wish to tell you that I want more and more students from your Institute. Please convey this to your Institute authorities."
Mind you, this gentleman was not a devotee of Bhagavan. He knew nothing about Swami or about Prashanthi Nilayam or for that matter about the Institute and its Philosophy, except for the titbits that he had gathered from the two students working with him in the company.
But the impression that these two students had left on him was there to see that day on his face. As I travelled back from the venue of the conference to my home, the words of this gentleman kept ringing in my ears…and I was wondering within myself what it was that made the students of Bhagavan unique?
Living with God is True Education
Was it the quality of education? Was it the skill-sets? Was it the routine in the hostel, at the Institute and in the playground? Or was it the infrastructure of the University?
And I reasoned within myself that "yes, these are factors that do significantly influence the integrated personality development of a Sai Student. But if there is one single factor that distinguishes a Sai Student, it is the 'Association with Bhagavan'". It is the Association with God. Living with God is true education!
We are living with a God who does not reside in some far off heaven or Vaikuntam. We are living with a God who sits right before us, each day of our lives at Prasanthi Nilayam. And that is our life's gift!
Kanula mundhara Kadhali Aade
Karuna Roopamu Neevu
Pilachi Nanthare Paluka Rinche Prema Bhavamu Neevu
Neeve Maa Sarvam, Neeve Maa Praanam.
Neeve Maa Sarvam, Neeve Maa Praanam.
Dearest Lord, you are right before our eyes,
You are the embodiment of Compassion,
You are Our Loving God who responds to our call instantly,
Swami, You are everything to us, You are our very life-breath.
The literature of management given by the various gurus and theorists envisaged several roles for a Manager. Here we see Bhagavan embodying each one of these roles to perfection.
All-Embracing Mother
He is the Mother, the affectionate Mother, who walks up to the kid on the Primary School block, questioning him, "What did you have for breakfast today" or "How many idlis did you eat" or for that matter, "Why did you eat only 2 idlis today" and then walks back to the senior most students of the post graduate classes, asking the very same question!
He is the Mother, who enquires after not just our physical well-being, but also our mental and spiritual well-being. To such a mother I have a little song.
M is for Mother, Most Marvellous Mother to Me.
O for the One and Only Good Thing that ever happened to me.
T is for the Tender Love, You've given me since birth.
H is for the Heaven that all Mothers represent on Earth.
E is for an ever-loving Swami, who else can that be?
R is for the Reassuring Comfort Sai Brings to Me.

Mother, Dearest Mother, without you - where would I be?
Could I have been where I am today, had it not been for Thee?
Your greatest gift to me .. Sai Dearest, that's You.
Thank You Lord for this precious gift,
Your Love so sweet, so true.
Thank You Lord for blessing me with Your love, so sweet, so true!
Thank You Lord for blessing me for Your love, so sweet, so true!
An Electric Experience
During the olden days, the decoration in the Mandir would be done by the students during the festive occasions. And on one such occasion, the students were putting up serial bulbs as part of the decoration. And it so happened that they needed to use a live wire to complete this particular task. A part of this live wire was bare, exposed and un-insulated. Somebody had very thoughtfully placed a stool, where the exposed part of the wire lay, so that no harm would occur to any of the students accidentally through an electric shock. But in the hurry that ensued, during the decoration, somebody moved the stool away from its position.
Swami was watching. He saw the stool being moved away and He quietly moved to the area where the exposed bare wire lay and stood with His legs across on both the sides, so that, the exposed part of the wire was right under Him and so that no harm would befall on any of His students.
From there, He continued supervising the work and giving directions. Till the entire decoration was over, Swami stood right there, in that very same place and exact posture, and finally, when the decoration was over, and there was no necessity for this wire, only then did He move away. And it was at this moment that the students too realized what Bhagavan had taken upon Himself to prevent any suffering to His students. The Lord voluntarily takes up the suffering of His devotees.
If a friend or a colleague commits an error, we know how we react in such a situation. But here was the Lord, who did not utter a word, but volunteered to take away the sufferings and avoid the harm to His devotees, saving the mistake of His devotee.
Har pal har kshan bhool kare ham,
Pag pag thokkar khayen,
Ek pag aage, do pag peeche,
Tum tak kaise aayen?
Karuna Sagar, Parama Dayalu Sai.

Dearest Loving Sai,
We make mistakes every second, every moment;
We stumble again and again at every step;
When we take one step forward, we have already moved two steps behind.
How can we ever reach You, Lord?
The Dearest Lord, the Ocean of Mercy and Compassion.
Our Joy is His Bliss
In one of the summer trips at Ooty on one morning, Swami was distributing blankets to the poor and the needy. And after the blankets have been distributed to all the poor assembled there, there were still many that were left. So the students who were helping with the distribution proceeded to the store room to put the blankets away. But Bhagavan called the students and told them to load all of them in the van, got into His car ahead of the van and went on a drive on the road.
He stopped by each poor and each needy man, woman, or child, and personally handed over the blankets to each one of them. He did not ask any of the students or the teachers to do this, but chose to do it Himself, personally.
Later when Swami came back, one of the senior Professors mustered up courage to ask Bhagavan why He did not let them do this? Then Swami said, "Bangaru , Ala Kaadhu, Aa Beedhavaluku nenu isthe, valu chaala aanandistharu." "My dear, it's not like that. If I distribute the blankets to those poor people, they will truly rejoice."
That is the love of Bhagavan for the poor and to the needy.
Daya ku prema ku roopu dhachina daivama Sai Dhaivama?

Dikku leni Deena Janula Brova Ochina Dhaivama?

Naa Dhaivama, Sai Dhaivama? Naa Dhaivama, Sai Dhaivama?

Daya Ku, Premaku Roopu Dhaachina Dhaivama Sai Dhaivama?

Dearest Sai, did Love and Compassion take an Earthly Form as You?

Have You come down to protect the distressed and unfortunate?

My dear lord, God, my dearest Sai
Way back in 1947, Swami had written in a letter to His elder brother Sri Seshamma Raju, "I have a task – to foster all mankind and to fill their lives full of bliss. I have a vow, to lead all who stray away from the paths of goodness and lead them to the right path. I have a work that I am attached to. That I love to remove the sufferings of the poor and the needy and to grant them what they lack."
Even before that, as the young Sathya, He had given three promises to Mother Eshwaramma. To establish a little school for the children of the village of Puttaparthi; to establish a little dispensary for the villages of Puttaparthi and the nearby villages; and for making arrangements for drinking water.
Today, the magnitude of fulfilment of these words is there for all of us to see. The rest is history! The rest is His story! It is a story of His Glory. It is a story of His Grandeur. It is a story that is wrapped in the deepest of mysteries. It is a story without a beginning. It is a story without an end.
The Pencil Preaches…
Long ago, the pencil maker made a beautiful pencil. Gave it a beautiful form and told the pencil, "My dear Pencil, in order to be useful for the purpose for which you have been created by me, you have to always remember these five lessons:
To be useful, you have to allow yourself to be in the hands of someone else to be used.
From time to time, you may have to undergo a sharpening, a painful sharpening, but the sharpening is good for you.
The most important part of you lies inside you.
You will always have the opportunity to correct your mistakes, to correct your errors, and
Come what may, you will have to keep writing. You will have to keep going on and on...non-stop..
Dear Lord, allow us to be a pencil, to be an instrument in Your hands – that can write, if not an episode, an alphabet in the Divine Saga of Your Life!
Lead us, guide us, for You are our only hope, our Beacon Light.
Thum Aasha, Vishwas Hamare.
Thum Aasha, Vishwas Hamare.
Thum Dharthi, Aakash Hamare.
Thum Dharthi, Aakash Hamare Rama.
Thum Aasha, Vishwas Hamare.
You are our only Hope, You are our Beacon Light.
You are verily our Earth and Sky.
Dearest Lord, You are verily our only Hope and Beacon Light.
The Opportunity Unparalleled
As we celebrate the 21st Anniversary of the School of Business Management, Accounting and Finance, let me take this opportunity to remind each one of us gathered here in this Sai Kulwant Hall, and each one of us who has had this opportunity to be associated with Bhagavan:
"To be contemporaries of this Avatar, living at the same time as He, to be walking on the same ground as He, and to be breathing the same air as He - it is our single most good fortune!"
Could we ever possibly count our blessings?"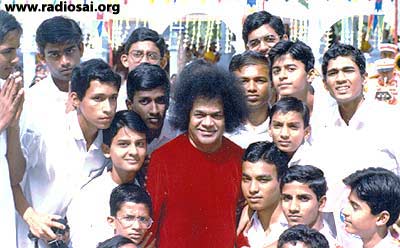 Kya kush naseeb jo Sai ko pale,
Use paakar dukh dardh mitale
Sahara vahi hai, kinara vahi hai, yaara vahi hai,
Oho.. Yaara vahi hai!
What great good fortune it is for the one who has got Sai?
Once you have got Him, all pains and agonies disappear;
He is the support, He is the destination, He is the true friend;
The only true friend!
---
Dear Reader, did this article inspire you in any way? Would you like to share you feelings with us? Please write to us at h2h@radiosai.org mentioning your name and country. Thank you for your time.
---