---
To access all the previous issues of Healing Touch, please click
here.
This is the story of a bubbly four-year old, Harsh, who was fun and frolic personified, but at the same time, to his parents' horror, harbouring within himself a heart which had many 'holes'. How and when did the trials of his parents end? Read this touching account to find out.
The paper plane glided silently over the beds and made a belly-flop landing on the nurse's head. Apparently, the parting between her tresses was the perfect air strip for that voyage of imagination. Engrossed in recording some notes in the patient's file, she was caught unawares and with a mix of surprise, irritation and curiosity, turned to glare at the bunch of children occupying the Pediatrics cubicle.
The wordless giggle, joyful clapping of the hands and the excitement in his eyes at having obtained a perfect landing were a total giveaway… unmistakably it was Harsh again! One look at him and the nurse's irritation drained away from her face and was replaced with a warm affectionate smile. Harsh was not being naughty. He was being… well! He was just being himself. In his four-and-a-half years, Harsh seemed to have learnt the knack of getting away with mischief, thanks to his endearing smile and those sparkling eyes. It would take a stretch of imagination to guess that those eyes were windows opaque to the ravages within; the fact that his little body suffered from multiple congenital malformations.
Rather philosophically, the Syrian poet Khalil Gibran said:
"Your children are not your children.

They are the sons and daughters of Life's longing for itself.

They come through you but not from you,

And though they are with you they belong not to you."
Beautiful words, poetry to the ears but hard to imbibe in a real life crisis! A seer, detached from the world and its apparent vagaries, is at peace with himself, in a stage of evolution far beyond that of a father knowing the plight of his first born. Yet, destiny is not harsh on all. With the power of prayers, when one door closes, a hundred new ones can open – one only has to search for the right door. The Sri Sathya Sai Institute of Higher Medical Sciences was the anvil that sealed the fate of little Harsh and his father Mr. Chhagan Lal.
The Father Shares His Story
| | |
| --- | --- |
| | |
| | Little Harsh and his father, Mr. Chhagan Lal |
When the heart is full, words are few, but then when happiness is shared it multiplies, while sorrow when shared is halved. Chhagan Lal was only too happy to share his pursuit of happiness with Heart2Heart readers. He said:
| | |
| --- | --- |
| "Though the surgery was complex, the doctors and the attending team have vast experience in dealing with such complex problems. The surgery was completed in a relatively short time and Harsh was shifted to the ICU. The ICU is equipped with state-of-the-art technology where he was monitored round the clock for 24 hours by an expert team of doctors and nurses. He had an uneventful recovery and was discharged soon." | |
"We hail from the Udaipur District of Rajasthan, but have been living in the Pandapura town of Mandya district, about 120 kilometers south-west of Bangalore, along with 25 other families from Rajasthan, all of whom are engaged in business. We have a daily-provision store in Udaipur, which I was helping my father manage. About four or five years ago, I decided to come down to Bangalore and help my brother, who was running a jewelery business in Pandapura.
"Harsh was our very first child, born in July, 2003 in Rajasthan. At the time of his birth itself, we noticed that he had a deformity in the roof of his mouth. The doctors suggested us to wait for a few months before taking him to a plastic surgeon to fix this deformity, which in medical parlance is referred to as a cleft palate. We brought Harsh back to Pandapura when he was 6 months old, and took him to a plastic surgeon when he was one year and three months of age. After taking a look at him, he referred us to a Pediatric surgeon for some more tests and evaluation. Suddenly, it seemed that this was not a simple problem as we had imagined. My wife Manju and I had a trying time during those days.
"From our side it only seemed that Harsh's speech wasn't that clear, and that he was not picking up language very fast, but we had not expected anything more serious than that. It turned out to be a really stressful time for us when the Pediatric surgeon listed out the multiple problems Harsh was diagnosed with and then mentioned that Harsh first needed cardiac surgery, and only after that would they correct the cleft palate. He referred us to a Cardiologist. As parents, we were not prepared for such a bleak prognosis. It was all too much to take in at once.
"The cardiologist put Harsh through a battery of tests and diagnosed Harsh's problem as PDA, Patent Ductus Arteriosus along with a VSD, Ventricular Septal Defect (An anomaly between two vessels of the heart and also a defect between two heart chambers)."
| | | |
| --- | --- | --- |
| | | |
| A Normal Heart | Patent Ductus Arteriosus | Ventricular Septal Defect |
Their Hope Finds An Answer
The immediate reaction of the parents predictably was of shock and despair. Like the dark cloud that comes with its own silver lining, the parents soon found a ray of hope. "We were very distraught at first, but somewhere in our hearts we knew our little son would be saved. Soon after visiting the Cardiologist, a relative living in Pandapura, told us about Baba's Hospital in Bangalore, which offers free surgery. Given the gravity of our situation, we rushed to the Hospital right away and within a month, Harsh was admitted in the pre-operative ward.
"In our desperation, there was no scope to consider various options. We just had to take the leap of faith to approach the Sri Sathya Sai Hospital for help. We had absolutely no idea how the Hospital would be, and what kind of treatment we could expect from a free Hospital. Never could we have imagined that this totally free of cost medical facility would turn out to be such a wonderful set-up. The doctors and the staff put us at total ease and all this gave us the trust that this is the place where Harsh could be safely treated and cured of his heart ailment. As parents, this is the ultimate relief we could ever have wished for."
The Sri Sathya Sai Institute of Higher Medical Sciences, Bangalore
Harsh underwent two consecutive surgeries, one to tie off the PDA, an abnormal connection between the aorta and the pulmonary artery, and the next to close the hole between the ventricles of his heart, a VSD Ventricular Septal Defect closure.
The Dedicated Doctor Explains
Dr. Hari Kumar, who was part of the surgical team, says, "Harsh had two defects — one in the heart between the right and left chambers and the other between the two great vessels, which supply blood to the lungs and the body. As a result, there was increased pressure in the lungs (pulmonary hypertension). Patients with these complex defects usually die of heart failure or infections. When not treated early, the disease becomes incurable due to permanent changes in the lungs.
"The sternum was opened and Harsh's heart was connected to a Cardio Pulmonary Bypass machine (CPB). The CPB machine allows an advanced machine pump and an artificial lung to take over the function of the heart and lungs during the surgery. The heart was then opened and the defect was closed with a patch. Next, the defect between the two great vessels was also closed.
"Though the surgery was complex, the doctors and the attending team have vast experience in dealing with such complex problems. The surgery was completed in a relatively short time and Harsh was shifted to the ICU. The ICU is equipped with state-of-the-art technology where he was monitored round the clock for 24 hours by an expert team of doctors and nurses. He had an uneventful recovery and was discharged soon."
After cardiac surgery, Harsh underwent successful plastic surgery, thanks to a helpful doctor who was also a Sai devotee. He returned to Bhagavan's Hospital early November for a minor procedure. This was to avoid any future surgery related complications.
A Family Transformed
Prior to this life altering experience at the Sri Sathya Sai Hospital in Whitefield, Harsh's father Mr. Lal had only heard about Bhagavan Sri Sathya Sai Baba and His Mission of spreading Love through His unique healthcare and educational institutions. After the first surgery, Baba's picture given to Lal and Harsh by the Counseling staff, started to adorn Lal's shrine at Pandapura. "Very soon, we are all planning to visit Puttaparthi, to have Baba's Darshan, and express our gratitude to Him, who has given our son a new lease of life," he says gratefully.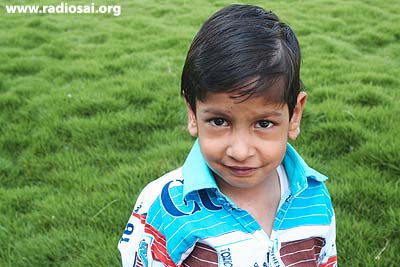 The ever happy and upbeat Harsh
The ward is well lit and warm and even as Chhagan Lal is narrating his story, little Harsh is busily revising the English alphabet and proudly shows it to his father. He has even mastered the Kannada alphabet and quickly scribbles it on a piece of paper. His father's face glows with a smile tempered with pride, satisfaction and relief. The moment is just perfect, for it lacks nothing, thanks purely to the Advent on earth of the Purest form of Love, Sri Sathya Sai Baba. Had it not been for Him, Chhagan Lal and Manju would never have had their little son's precarious health restored through such complicated and advanced surgeries done with love, patience and caring ….. without even a mention of the word 'money'. Only in the realm of the Divine can such concerns be ever assuaged.
- By B. Satish Chandra and
the Heart2Heart Team
To access all the previous issues of Healing Touch, please click
here.
---
Dear Reader, did this article inspire you in any way? Would you like sharing your feelings with us? Please write to us at [email protected] mentioning your name and country. Thank you for your time.