healed by his love
When Bhagavan Baba announced in 1990 that He would set up a Super Speciality Hospital which would offer the best possible tertiary treatment completely free of cost to the rich and poor alike, many sceptics dismissed it. It would be a miracle, if it happened, they said. In fact, this is what has exactly happened. More than a million miracles have occurred in these institutions, which are officially called Sri Sathya Sai Institutes of Higher Medical Sciences (SSSIHMS), but to anyone who has stepped into these premises, they are the ' Temples of healing'. In this H2H issue, we bring one more such miracle – a miracle of pure love.

When his dear wife, Shamshad Begum, who is also the mother of his two daughters, was diagnosed with a life-threatening cardiac ailment, Chand Mohammed had only God to look to. And Allah did come to the rescue of this beleaguered fifty-five–year-old tailor with very limited means. The Good Lord even assured Chand that all will be well even before Shamshad was on the road to recovery. And now Chand's joy is beyond words. How did this story of agony to ecstasy unfold? Read this touching tale.
| | |
| --- | --- |
| | |
| Shamshad Begum, anxious to receive treatment for her heart | |
Chand Mohammad walked nervously, his left hand clutching the edge of the white stretcher, as his wife lay on it looking at him anxiously. Chand's jittery right hand held his wife's left hand.
The stretcher slipped effortlessly on the gleaming granite floor as the ward boy gently pushed it into the most sterile zone of the hospital. Chand had been summoned early that morning to remain alongside his wife, just for those few moments till the stretcher slid into the huge operation theatre.
A martial arts expert, Chand had seldom felt so edgy in his life as he felt in those few tense moments. The only other occasion he had been so tense was when a doctor in his home town, Jamshedpur, in India's eastern state of Jharkhand, had diagnosed Shamshad Begum with a diseased heart valve.
A few paces more…he knew he would not be allowed to go any further. The huge glass doors in front of him declared, 'No Entry'. All that he could see through the glass door was another glass door, and beyond that another. He wished he could stay with his wife through out the operation, but knew it was not possible.
It was time.
The ward boy stood waiting patiently. He knew how relatives became anxious, when they accompanied the patients till the glass doors leading to the operation theatre.
"My husband bent down and whispered in my ear to keep repeating the words of the holy Darood Sharif. Repeating Darood Sharif makes a person fearless," Shamshad said later.
| | |
| --- | --- |
| | |
| | Shamshad recieved a Mitral Valve Replacement (MVR) |
She was wheeled out of the operation theatre around three hours later. Chand did not mind the three hours of separation from his ailing wife, because it was those 180 minutes which brought his dying wife back to him and their two children.
It was a new lease of life given to Shamshad by the surgeons of the Sri Sathya Sai Institute of Higher Medical Sciences (SSSIHMS), Prashantigram, through a Mitral Valve Replacement (MVR) carried out on Shamshad's diseased heart. The operation, like all the other surgeries being performed at the hospital, was performed totally free of cost.
Called for a re-visit three months after her surgery in May 2008, Shamshad Begum and Chand Mohammad arrived at SSSIHMS, Prashantigram, in the first week of September this year (2008).
Fifty-five-year-old Chand, a short, stout man with a muscular body, closely cropped greying hair, a trimmed beard and a zebiba mark on the forehead exudes the enthusiasm of a child when he speaks. Forty-year-old Shamshad on the other hand, dressed in a green Punjabi suit has the unassuming demeanour of a saint. When she speaks, it is with a calm dignity, punctured with pauses.
The Trials and Tribulations
Chand said he had noticed his wife getting fatigued easily and gasping for breath on several occasions. According to Shamshad, apart from the persistent fatigue, she also felt her hands and feet going cold on several occasions, and used to cough badly. "I also felt as if somebody had dropped a boulder on my chest. It used to pain that terribly," Shamshad said recollecting her hoary days.
"We consulted a doctor in Jamshedpur; he checked her and told us that something was wrong with my wife's heart," Chand said. The doctor told him that the surgery will cost around Rs. 3 lakh (US $ 7500), which left Chand and his wife in a state of shock. "I am a tailor by profession, and have two school-going daughters. I was at my wits end when I heard that I will have to pay so much for my wife's operation.
"A doctor, to whom we had gone to consult, then suggested that there was a hospital in a remote corner of Andhra Pradesh, which conducted even the most expensive heart surgeries absolutely free."
Chand and his wife Shamshad then made enquiries about the hospital and found that it was located in Anantapur district and was called the Sri Sathya Sai Institute of Higher Medical Sciences. The couple soon boarded a train and reached the hospital.
"There is not even a billing counter anywhere in the hospital"- Chand Mohammad
The Sri Sathya Sai Institute of Higher Medical Sciences, Prasanthi Nilayam
"The doctors here told me that there was indeed a problem with my heart and I was asked to come in May 2008 for surgery. Both of us were amazed to find that nothing, absolutely nothing is charged from the patients here. Since the moment they step into the hospital to the moment they go out, every service is provided free. Be it the surgery, be it the food…," Shamshad went on, ecstatically sharing about her new discovery.
Inside the entrance dome, SSSIHMS,
Prasanthi Nilayam
"The hospital is so huge, it looks like a palace," she said and added, "Even in our imagination had we ever thought that such a big hospital can exist here! We don't feel as if we are entering a hospital at all. It is kept so clean, the doctors and nurses speak to us so lovingly. Though I was away from home in an alien land, this hospital felt like home," Shamshad's excitement seemed to have no end. For one moment it seemed as though Chand's enthusiasm had entered his wife. Chand then added, "I found out, there is not even a billing counter anywhere in the hospital!"
Constructed in a record time of a year, SSSIHMS, Prashantigram began functioning in 1991. The hospital is one of the two super-speciality hospitals started by Bhagavan Sri Sathya Sai Baba as a part of His health mission to provide highly specialised health care to the needy. The second super-speciality hospital started work in 2001, and is located on the outskirts of Bangalore at Whitefield.
The best of medical care is provided absolutely free of cost to anybody who visits the hospitals. Apart from cardiology, SSSIHMS, Prashantigram, also has specialities on ophthalmology, urology, orthopaedics, plastic surgery and gastroenterology. On the other hand SSSIHMS, Whitefield has the cardiology, neurology and neurosurgery departments.
During their September visit, the doctors checked Shamshad and told her to take adequate care just as she had been instructed in the post-operation counselling sessions, and with instructions to visit the hospital again the next year.
The Malignant Mitral Value Problem
| | |
| --- | --- |
| | |
| Mitral Valve Stenosis caused a narrowing of Shamshad's mitral valve... | |
According to Dr. Trushar Gajjar, one of the surgeons who operated upon Shamshad Begum at SSSIHMS, her heart's mitral valve had become diseased and had to be replaced with an artificial valve. The operation was conducted at 8:30 am in the morning of May 27 this year (2008).
The surgeon added that Shamshad, in her childhood, might have suffered from rheumatic fever. This disease, if neglected for a long period of time, affects the heart's valves. The mitral valve, which has two leaflets, opens only in one direction making sure that the oxygenated blood received from the lungs flows into the heart and does not return into the lungs. This blood is then pumped to the various parts of the body. In Shamshad's case, the opening in this valve had begun to reduce.
Moreover, some of the blood which flowed through the valve started flowing back. Her ailment was therefore described as Mitral Stenosis — narrowing of the mitral valve orifice, and Mitral Regurgitation — flowing of the blood back into the left atrium from the left ventricle. In Shamshad's case, around 50 per cent of the blood entering her left ventricle was flowing back into the right atrium. In simple words, hers was a condition of an obstructed and a leaking valve.
| | |
| --- | --- |
| | |
| | ...Mitral Regurgitation caused her blood to flow back into the left atrium |
When this fault occurs in a valve, the heart starts dilating (grows larger), and its walls thin out and eventually the heart fails. Due to obstruction in the valve, the pressure on the lungs increases. This is the reason why Shamshad was coughing terribly and breathing heavily. As enough blood was not reaching even to her limbs, her hands and feet also began growing cold.
After being wheeled into the operation theatre, Shamshad was given general anaesthesia. Recollecting that moment, Shamshad said, "A mask was put on my face, and afterwards they connected a tube to my hand. While doing so, a nurse asked me how many children I had, how they fared at school, in which class they studied… and suddenly there was darkness." The anaesthesia had taken effect.
"I got a new life" – Shamshad Begum
"I opened my eyes in the Intensive Care Unit and saw the doctors looking at me. They asked me how I felt. I told them I was fine. They smiled. I had got a new life," Shamshad said, a smile erupting on her gentle face.
Shamshad's two daughters had been praying the whole day for the success of the operation. Eventually, when Chand called them up, their happiness knew no bounds. "They were ecstatic. I could hear their shouts of joy over the phone," he said.
Chand confided that he was quietly confident that the operation would be a success and went on to explain the reason. "When I had come to the hospital for the first time, I had gone to visit Prashanti Nilayam.
"I sat in the darshan line and wanted to meet the person who had got this hospital constructed and was providing the treatment free of cost," he said referring to Bhagavan Sri Sathya Sai Baba.
"Baba said all that I wished would be done" – Chand Mohammad
| | |
| --- | --- |
| | |
| A greateful Chand Mohammad and his wife, Shamshad Begum | |
"I sat in the Sai Kulwant Hall far away from where Baba was, but I wanted to meet Him personally and tell Him about the plight of my wife. So, I just started walking towards Him. He was there standing on the portico in the large hall. The people with blue scarves (sevadal) did not allow me to go near Him.
"But Baba saw me and directed them to let me go. I went to Him and told him about my wife. He looked at me very lovingly and said all that I wished would be done." Chand revealed his most memorable encounter, and then added, "My wish has been fulfilled. The operation has been a success, and my wife is now free of the disease."
Shamshad now needs not come again all the way to the hospital from Jamshedpur for a check-up. SSSIHMS has now set-up a Telemedicine Centre at Sri Sathya Sai Seva Kendra, Barrackpore in the Eastern Indian state of West Bengal. Consultants at SSSIHMS, Prashantigram can now directly interact with patients such as Shamshad Begum, and advise accordingly. How the new telemedicine initiative in SSSIHMS has made lives of so many patients from the far corners of India easy is another moving story. Pure love knows no limitations; it's incessant, unconditional and perennial.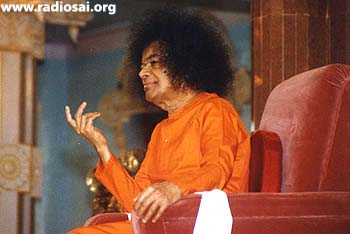 "He looked at me very lovingly and said all that I wished would be done" - Chand Mohammad
- Heart2Heart Team
in association with SSSIHMS