THE REVIVIFIED RAVINDER
-

A Story of Despair turned into Delight
In a medical breakthrough, a team of highly specialized Cardiovascular surgeons at the SSSIHMS, Puttaparthi recently performed a rare procedure, using state-of-the-art equipment to restore the functioning of a man's arm that had lost its blood supply because of an accident. The grateful patient, Ravinder, a young man of modest means from Ludhiana in the northern state of Punjab, is finally ready to return with both his arms healthy enough to pursue his dream of driving a private taxi to make an honest living. The only currency that was traded in the entire saga of selflessness combined with the highest possible professionalism was that of Pure Love. Driven by the Avatar's personal example, Sai medical professionals continue to make medical history every day, while raising their dedication to the highest levels of spirituality.
August 11, 2008 was the fateful day; it could make or mar his life forever. Understandably, Ravinder was slightly nervous. Yes, the 23-year-old had gone through it earlier; but going through it all over again for the third time was making him edgy.
| | |
| --- | --- |
| | |
| The youthful Ravinder | |
First, it is the chill of the large room, with all the machines and tubes, which get to you. Soon after, a mask is put on and everything before the eyes turns liquid and floats around as in a psychedelic dream. Then it is all quiet.
Ravinder's mother was not with him; she was in his hometown Ludhiana, a city in the Indian state of Punjab in North India. Though she was physically not with her son, in all other ways – emotionally and psychologically – her heart was with him. She was observing a complete fast on August 11, praying fervently for Ravinder's well being and the success of the operation. Though her sister was there to comfort her son, it was but natural for the mother to worry about her youngest child. Ravinder had five older siblings.
"After the surgery, when I phoned Ravinder's mother and told her that the operation had been successful, she wept in relief. She told me that none in the family felt like eating anything on the day of the operation," Ravinder's maternal aunt, Mrs. Sundari Devi said. "It is our good fortune that we came to Baba's Super Speciality Hospital in Puttaparthi. Ravinder's family had already spent a fortune on two earlier surgeries performed on him elsewhere, and his family was in no position to pay anymore for his treatment. But here the operation was done absolutely free of cost. We did not even spend a rupee for the treatment," she said joyfully.
Sitting on his bed in the Cardiovascular Thoracic ward of the Sri Sathya Sai Institute of Higher Medical Sciences (SSSIHMS), Puttaparthi, Ravinder, who had undergone an axillary to axillary bypass, reminiscences how a small bruise under his left collar bone, later incapacitated his left arm and how he was even on the verge of losing this vital limb.
Temple of Healing that Feels Just Like Home: Ravinder
A rare surgery performed by the surgeons of the SSSIHMS has now given him new hope. "I have not seen a Hospital like this. Everybody speaks so lovingly here. It is like home," he said. "Just like home," he added. Ravinder is now to be discharged in a few days.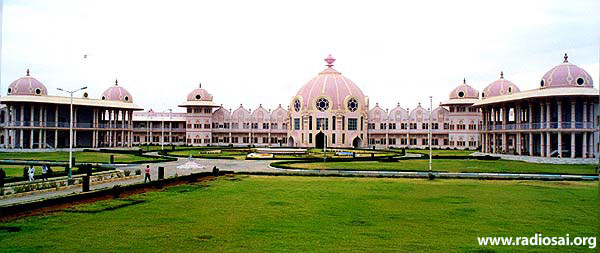 Sri Sathya Sai Institute of Higher Medical Sciences (SSSIHMS), Prasanthi Nilayam
He is young, has a broad unshaven face, a welcoming smile and sports a T-shirt with red horizontal stripes. His dark eyes look at you with a lot of enthusiasm, and have a serenity, which seems to say, "Ah, finally it is over".
| | | |
| --- | --- | --- |
| | | |
| Entrance atrium, SSSIHMS | | A snapshot of the recovery ward, SSSIHMS |
With his short, sturdy body, one would seldom associate any illness with him. "Look how thin my left arm has become," he said comparing both his arms. "Doctors said not enough blood was reaching it; but after the operation I could feel the blood flowing into my left arm," he added.
Serious Consequence of Minor Accident
In 2001, on a visit to Sirsa in the neighbouring state of Haryana, Ravinder unfortunately met with a road accident and sustained just a bruise under the left collar bone. "I was accompanying my uncle, who was on a visit to Sirsa to meet his guru. He wanted me to accompany him, so I went along," Ravinder explained recalling that ill-fated day.
| | |
| --- | --- |
| | |
| An aneurysm had blocked off the flow of blood to Ravinder's arm, causing it to wither | |
Though on surface there was a small mark and little pain, internally, the injury had obstructed the main blood vessel that supplies blood from the heart to the left arm. Owing to the lack of blood supply, Ravinder's left arm had started withering.
The obstruction had also actually resulted in an aneurysm (blood-filled bulge of a blood vessel) under his left collar bone. In simple terms, the accident had caused a permanent injury to the nerves of his left arm and Ravinder was completely unaware of this.
Two years after he met with the accident, Ravinder felt a swelling forming under his collar bone. "Not only did a lump form, but my left arm also started getting constricted in winters. I could not use it the way I could use my right hand; it was growing thin as days passed."
Mercenary Hospitals Misdiagnose, Charge Exorbitantly
Ravinder panicked and visited a private hospital in New Delhi, where a doctor looked at the bump and told him that he was suffering from tuberculosis. Ravinder was now shattered; nevertheless he picked up courage and started the prescribed medication. But after a while, he, however, grew suspicious of the diagnosis as the medicines produced no positive effect.
"I don't belong to a rich family. My father and mother work in the hosiery industry in Ludhiana. I have two elder brothers, who also work in the same industry; they make woollens. As the demand for woollens diminishes during summers, our family income takes a hit. I wanted to contribute to the family income by driving a private taxi, but with such a pitiable condition, I could do nothing. In fact, I ended up adding to my family's misery." Ravinder recalled those hoary days with a deep sense of sadness, and continued, "However, my family wanted me cured, whatever be the cost."
Artifically closing the rent in the artery
using a stent was no success
Once he was back in Ludhiana, after his brief stay in Delhi, Ravinder now visited a local hospital. The doctors of the hospital out rightly rejected the diagnosis of the private hospital in Delhi. "These doctors confirmed that it was an internal injury and removed the lump," Ravinder recalled, but his problems did not come to an end. "However, soon after I was operated, the lump returned," he added.
Family's Finances Run Dry
With no relief in sight, Ravinder's family now arranged for the money and sent him to New Delhi once again. This time he went to another hospital and the doctors, after diagnosis, performed on him an angioplasty (the technique of mechanically widening an obstructed blood vessel) at a cost of Rs. 150,000, (US $ 3750).
The doctors, in this procedure, used a stent to close the rent in the artery. However, for some reason, after a while the stent became blocked. Ravinder's family was now told to pay up another Rs. 10,000 for the operation.
"At this point, I lost hope," Ravinder said. "I refused to undergo the operation. My family had already spent all that they had, and now the doctors were demanding another Rs. 10,000!"
God Intervenes Through Caring Aunt
| | |
| --- | --- |
| | |
| Ravinder's aunt, Mrs. Sundari Devi, offers him reassurance and faith | |
Ravinder's maternal aunt, Mrs. Sundari Devi has been a devotee of Bhagavan Sri Sathya Sai Baba for more than a decade. She used to visit Prasanthi Nilayam every year to render selfless service. It was through her, that Ravinder was first introduced to Swami.
Sitting in a chair beside his bed at SSSIHMS, Sundari Devi was a personification of joy. "Ravinder used to watch programmes on the television about Baba and His mission. He used to ask me about Him, and told me that he wanted to visit Prasanthi Nilayam himself," she recalled with delight.
"I was planning to visit Prasanthi for my annual seva, so I told him to come along, because I wanted him to see the doctors in the Super Speciality Hospital in Puttaparthi," Sundari Devi said.
"Ravinder was initially against the idea, not because he did not want to see Baba but because he thought his family would incur a heavy expenditure in the process," she explained and continued, "Ravinder and his family could not believe their ears when I told them that in Baba's Hospital even complex surgeries are done absolutely free of cost!".
Complex Operation Restores His Arm
The financial situation in Ravinder's home was truly very discouraging. The family actually took a loan to pay for Ravinder's train tickets and food to enable him to visit Puttaparthi. Once Ravinder and his aunt arrived at the Hospital, the doctors examined his case carefully and after taking into consideration the severity of the ailment and the age of Ravinder, they advised him to get admitted immediately. And soon, the surgery was performed. This happened on August 11, 2008. In the surgery, the doctors inserted a graft and connected the blood vessel, which supplies blood to the right arm to a portion of the blood vessel on the left side, beyond the obstructed portion, thereby ensuring that the required quantity of blood flowed to his left arm.
The main arteries to the
head and arm
According to Dr. Chaudhury Voleti, Chairman, Cardiac Sciences, SSSIHMS, who was a part of the operating team, the pulse on Ravinder's left hand, which was too feeble to be read before the operation, jumped to 95 soon after the surgery.
Elaborating more on the procedure, Dr. Voleti said that during the meeting of surgeons before the operation various options were discussed. "One of the alternatives was to connect the carotid artery (that takes blood to the left side of the brain) to the axillary artery on the left side (the vessel carrying blood to the left arm). But taking into consideration the effect it may have on the brain; it was later decided to connect the axillary blood vessel on the right side to the one on the left side of the body."
Before the operation, Ravinder was counselled about the surgery and its possible outcomes. "We told him, that functional capability would return to his left arm, but the damage caused to the nerves in the accident could not be reversed. Then, Ravinder said 'If I can use my hand after the operation, I have no problems going ahead with the procedure,'" explained Dr. Tushar Gajjar, one of the surgeons who took part in the surgery.
At 7:45 a.m. on August 11, Ravinder was wheeled into the operation theatre on the first floor of the Hospital. After anaesthesia took effect, the specific area of Ravinder's body, which was required for surgery, was cleaned with an antiseptic. The muscle under the right collar bone was split open and the axillary artery was found. Then, a 3-4 cm of the artery was cleaned of the adjoining tissue. This process took the surgeons about 20 minutes.
The same process was repeated on the left side. Later, a tunnel was made under the skin, which would accommodate the tube that would carry blood from the artery on the right side to the left side. This tube is called a graft. Next, the right length of ringed Gortex graft was measured and cut.
Best Equipment, Seasoned Doctors, Highest Service, Loving Care Define Sai Healthcare
"Though several times more expensive than the cheaper variety of graft, we use the ringed Gortex in Bhagavan's hospitals, as He insists on only the best quality of service and facilities be provided to the patients, and as always, absolutely free of cost," Dr. Voleti emphasised.
After making incisions on the axillary artery on the right side and the left side, both arteries were connected using the graft to ensure supply of blood to the right arm. The entire procedure took a good two-and-a-half hours.
Ravinder's discharge papers had been lying on a table next to him. He looked at them, and asked the nurse, "Sister, where do I need to sign?"
"Here," the sister replied. Ravinder put down his signature in neat Devanagiri script.
Joy and Relief Fill the Family After So Long
| | |
| --- | --- |
| | |
| "My mother shed tears of happiness" - Ravinder | |
"I will now go and have Baba's darshan. In a week I will return to Ludhiana. I have been told by the doctors to take specific precautions for a few months. Afterwards, I want to drive a private taxi, and earn money for the family," he said jubilantly and continued, "My aunt called up home after the operation was successful. My mother shed tears of happiness… after a while, regaining composure my mother said she will now break her fast. She had not eaten all day."
Anyone who looked at Ravinder and sensed his emotions at this moment would have found it impossible to stop their eyes getting wet. It was as if he had not only regained all that he had lost…his health, his mother's joy, his family's peace and harmony, his future… but also had found in his life a new hope, a novel beginning, a grand opportunity to celebrate life knowing that there is Someone who will always stand by him, even if the whole world turns a blind eye towards him in his times of travail.
The God that His mother turned to while observing a strict fast for his sake, was indeed his only true friend. The sense of relief and a hope of a bright future are hard to miss in Ravinder's smile.
When Ravinder returns home healthy and whole, an entire family and community rejoices in the generosity of the Sai healthcare system in distant Prasanthi Nilayam that provided him with treatment of the highest international standards, steeped in spiritual love… a love so sacred that money has no place in it, proving once again that Bhagavan Baba's Love truly has no boundaries.
- By the PR Dept., SSSIHMS, PG
and the Heart2Heart Team