God Helps Those Who Help Others
"Do you know God?" once asked a religious preacher when addressing a group of people gathered to listen to his discourse.

A simple looking man stood up and said, "It is not important that I know God. What is important, God knows me. And He looks after me."

The preacher kept quiet, stepped away from the podium, and walked away.

If you have the faith that in sun and shower God is with you, you know all that you need to know. That is enough to call forth His power to restructure your life. In fact it is now His responsibility to remake you for His work. No wonder the preacher had little else to say. Only when we experience darkness, do we know the value of light. But sometimes adversity strikes the most unexpected.

Here is the story of a simple looking M.D. from the state of Orissa who knew that God is looking after him, and He would do whatever was good for him. And what did God do for him? He pushed back death, filled his life with His love and the light of a new dawn.

Before we have Dr. Kar narrate his experience, here are a few words by Dr. Dash, Head of the Department, Cardiology, Sri Sathya Sai Institute of Higher Medical Sciences, Whitefield, on the clinical condition of the patient, a medical doctor himself, Dr. Rajender Kar.
Dr. Dash: Dr. Rajender Kar is a young paediatrician from Orissa (a state in the east of India). He developed Dilated Cardio Myopathy (DCM), a disease where the main chamber of the heart is dilated, and has poor functioning. The condition is a progressive disease and is a rapid progressive disorder culminating in death. If unchecked, it will lead to ventricular arrhythmia. To prevent progressive heart failure and sudden cardiac death, a device which contains anti-heart failure functions with inbuilt defibrillator is required. Such a device costs around Rupees 7 to 8 lakhs or US $ 18 to 20 thousand.
| | |
| --- | --- |
| | |
| | Degenerative Dilated Cardio Myopathy |
His financial condition did not allow him to afford such a treatment through any outside means. So he got information that we are performing all such procedures here, totally free of cost. He came over and we were able to implant that a very expensive device in his heart.
He came over three to six months later when we did a follow-up check and found it functioning well. His clinical condition has improved significantly, his clinical functioning and volume of work has gone up. He and his family are very much satisfied and very much grateful to Swami.
In the first place he is the only earning member of the family. And his mother, sister, wife and child depend on him. He is a very honest paediatrician and accepts whatever the patient gives; he doesn't demand any money from the patients.
Such being his financial condition, he could not believe or dream that he could have such an expensive device in his heart. He was advised to go to AIIMS and was very much perturbed because of his financial condition.
Finally he came to us and with Swami's grace we were able to implant the device in his heart. We do ten such cases a year the average cost of the ICD being Rs.5,00,000/- (ranging from 2.5 to 10 lakhs INR) totally free of charge. One can imagine the magnitude of the contribution being made by Swami's hospitals to society.
The following conversation between the H2H team and Dr. Kar may sound familiar to many, for there are few that have not felt the hand of God in their lives.
| | |
| --- | --- |
| | |
| Dr. Rajender Kar | |
Dr. Kar: "You have been doing so much for my poor patients, and I can not do this much for you? Do not go to Delhi for surgery, come to my Super Speciality Hospital, I will get it done free", Sai Baba told him in a dream three days before Dr. Rajendra Kumar Kar, a paediatrician from Khuntuni, about 35 kilometres from the city of Cuttack in Orissa, was to board the train for Delhi for a complex and risky heart surgery that would end up costing him around 10 lakhs rupees or US $50,000.
"When Sai Baba appeared in my dream, and spoke to me in Oriya, my mother tongue, and asked me to come to His Super hospital, I knew it was God speaking. Suddenly I had no worries. I was not thinking whether I would live through it, or not; I was thinking I was in God's hands", says Dr.Kar.
H2H: Did you know Sai Baba earlier?
Dr. Kar: I generally knew Him, and His many welfare projects. I had seen His pictures at my place, at Bhubaneswar, Cuttack, and many other places. But I never had any direct experience of Him earlier. I never spoke with anyone about Him, nor read any book about Him. But I had profound respect for Him, and did namaskar to His picture whenever I saw one.
I worshipped Mother Sarala, and Lord Jagannath. Maa Sarala, in particular, was my favourite. I used to visit her temple few times a year, whenever I could. She was a living mother for me. Whenever I thought of her, tears came to my eyes, and I liked it for tears always made me feel relieved, and light. Somehow I always knew she was taking care of me, and would do whatever is good for me. Therefore I never asked her for anything, not even to cure me when my heart problem was diagnosed.
H2H: How was your heart problem diagnosed?
Dr. Kar: I never had any serious health problem. I have a private clinic at Khuntuni. It was April 4th, 2008. My wife had gone to her parents at Cuttack, along with our son, and I was alone at home. I returned home from my clinic at about 9.30 pm, boiled milk, made some vegetable curry for dinner. Suddenly I experienced severe dyspnoea. I thought I had difficulty in breathing probably because the doors and windows had remained closed for a long time.
So I opened all windows and doors. But it was no better. So I climbed to the terrace for open air. When I climbed down, it was the same. Disponea became worse; I felt I was choking. I thought it was my last day, and prayed to Maa Sarala to do whatever she thought best. Then suddenly I heard a voice, probably it was hers, asking me to breathe through the nose, not mouth. I obeyed it. I stood near the window the whole night struggling to breathe through nose. If for a moment I tried to lie down on bed, I felt like bursting.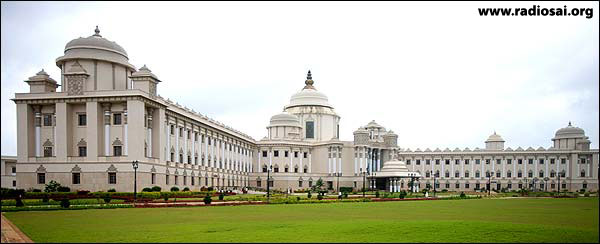 Sri Sathya Sai Institute of Higher Medical Sciences, Bangalore
Later, at the OPD of Swami's Super Speciality Hospital at Bangalore, doctors confirmed that breathing through nose saved my life. If I had breathed through mouth, I would have vomited blood, and died before the day dawned. I will come to that later.
In the morning I had a bath, and performed my daily prayers to Maa Sarala and Lord Jagannath. Not that I was feeling better, but I forced myself not to drop my daily prayer routine. . Then I called a taxi and went to Cuttack for check up. I knew some ECG centres there. When they examined me, they wondered how I was still living ! It was severe DCM, Dialated Cardiac Myopathy. My left ventricle had been greatly enlarged. I was asked to get myself admitted to ICU immediately.
I called my Professorof Cardiology at the medical college, and told him my problem. He asked me to come over for a test. As soon as he checked me, he asked if I had been drinking for long! Such problems generally occur with people addicted to drinking and smoking. I did not even chew a pan, let alone drink or smoke.
I stayed in the ICU for about 2 weeks, and then was discharged with a strong advice to my in-laws to take me to AIIMs, Delhi, ( India's premier healthcare facility in the national capital) for an immediate surgery. Something called a combo device was to be planted in my heart, and it would cost anywhere between Rupees 8 to 10 lakhs (about US $ 20,000). I had already spent more than a hundred thousand rupees (US $ 2500) by now.
Mother's Call
Dr. Kar: My father was a mid-range farmer, my elder brother had a small tailoring workshop. I had got a sister married recently. Where would I get rupees 10 lakhs from? But my in-laws assured me to provide the required finance, and asked me to make arrangements to proceed on to Delhi. I was unwilling to take so much money from them though they were eager to give unasked. I was forced to buy tickets and prepare to go to AIIMS. I gave myself up to my good kind Lord, and told Him to do whatever He thought proper.
| | |
| --- | --- |
| | |
| | "Come to My Super Speciality Hospital, I will get your surgery done free" |
Three days before boarding the train, I had a dream around midnight. Swami was sitting by my bed and caressing my head. He was saying, "Why do you think so much? You have been doing so much for my poor patients, and I can not do this much for you? Do not go to Delhi. Come to my Super Speciality Hospital, I will get your surgery done free." I woke up with a jerk, my body drenched in sweat. I woke up the whole household, and told them about my dream.
My in-laws laughed under their breath, and said since I did not have the money, I was talking about a stupid dream. Only my wife believed it. I told her I knew Sai Baba has a hospital at Puttaparthi. So we should go there. But my in-laws would not allow me to reschedule my surgery. So next morning I went to the station quietly, got my Delhi tickets cancelled, and booked for Puttaparthi.
A day before my journey Baba again came in my dream, and told me, "I have a Hospital at Puttaparthi, but if you go there you will have to be in queue, and it might take months for the surgery. Instead go to Bangalore." I asked, "You have a Super Speciality hospital in Bangalore too Baba ? Where?" He looked into my eyes, and said, "You stay in a village, and do not read anything about Me, how will you know?"
But this time my wife also did not believe in my dream. So I boarded the train for Puttaparthi. An hour or two before arrival at Puttaparthi, I accosted the TTE or the train ticket examiner and requested him to extend our tickets to Bangalore. My wife, my son and my sister were with me in the 1st class compartment, and were sleeping at that time. They got up only after the train had crossed Puttaparthi railway station! I pleaded innocence, and told them, I was a patient. So I was sleeping. They should have woken me up at right time. Then my wife reconciled to the idea of going to Bangalore.
Three days before boarding the train, I had a dream around midnight. Swami was sitting by my bed and caressing my head. He was saying, "Why do you think so much? You have been doing so much for my poor patients, and I can not do this much for you? Do not go to Delhi. Come to my Super Speciality Hospital, I will get your surgery done free."
I met the consulting doctor at the cardiology department of Baba's Super Speciality hospital in Kadugodi, Bangalore on April 18th. He examined me and my medical papers, and asked how had I lived through. This I have told you earlier. Then I was asked to meet Dr. Dash of cardiology department for deciding the next step, for the doctor told me they hadn't yet done a case like mine. Dr. Dash spoke with me very kindly, and asked me to come back on June 21st for a surgery. Though they hadn't done a surgery like mine till then, they would do it for me, he said. It was surely divine intervention.
H2H: Was it first time the divine intervened in your life?
Dr.Kar: No. I have always felt my life has been in the hands of the Divine Mother. It is not just a subjective feeling. She has demonstrated it very vividly at least once. I will tell you how. I chose to study medicine for I loved to serve people, and who can do better service than a doctor? I have a clinic in a rural area where many people live under the poverty line. So when I opened my clinic there in 1999 August, I charged only 5 rupees or about 12 cents as my consultation fee.
I stored in my chamber some commonly used, and some life saving drugs too. They could call on me at any time of day and night. I never demurred going to the patient's house if it was a serious case. Since I knew all the people there and they knew me, they could pay for the medicine at their convenience. My purpose was not to make money, but to help them. But I need money to do that, so I charged the minimum.
But as always some people took advantage of it. Once a person in his fifties came to my clinic for chronic asthma. He slumped into the chair and could hardly talk. I administered an injection for immediate relief. After he was relieved of his pain, I told him he could send me the price of the injection with his son. He did not. Months later he had another attack. I was called home in the evening. I went to his house, examined him, and advised his son to shift him to cardiac department at Cuttack hospital immediately.
But he insisted I administer the injection to relieve him of his severe pain. I did so and came away. This person was however removed to the hospital early next morning, where he breathed his last a week later. After the death of his father, the son accused me of doing nothing to save his father, and refused to pay the outstanding bill.
Some days later a patient walked into my clinic late at night when I was going to close it. He had a certain ailment for which an injection was needed. I had it with me. But since I knew he was not paying for it immediately, and I had a bad experience with the asthma patient, I told him that if he got the injection I would administer it, but I did not have it with me. He walked away, but I walked into trouble.
That night Maa Sarala came in my dream. Though she was loving like a mother, she was a little cross too. She stood by me, and said, "Why did you send back that patient ?"
"Mother, you know the asthma patient did not pay for the treatment, on top of it, his son blamed me for his father's death', I replied.
"So what if he blamed you? What did you lose? But this man was going to lose his life", she retorted. "You refused to treat him, but I cured him" she said with a chuckle.
"I am sorry Mother. Please forgive me", I said.
"Look, this is not why I made you a doctor. Promise me that you shall not refuse help to anyone who comes to you at night. During the day you can. You can ask them to go and get the medication."
I fell at her feet, and promised. Since that day till today I have never refused help to any patient who comes to me at night, fees or no fees. I don't even ask for the price of the drugs.
"Look, this is not why I made you a doctor. Promise me that you shall not refuse help to anyone who comes to you at night. During the day you can. You can ask them to go and get the medication."
I fell at her feet, and promised. Since that day till today I have never refused help to any patient who comes to me at night, fees or no fees. I don't even ask for the price of the drugs.
H2H: How and why did you choose to become a doctor?
Dr.Kar: From my childhood I was attracted towards the profession of a doctor. I always thought they perform a very noble job. I always thought the hands that drive away a disease, and bring a smile in people's lives, are holy hands. So since I was a student in 5th or 6th class, I wanted to be a doctor. But my father was only a mid-range farmer. Though they all supported my ambition, how would they pay for this expensive course?
| | |
| --- | --- |
| | |
| | |
I studied hard, and obtained a high percentage of marks in my 12th class exam. I did not take any coaching. But my school teachers helped me to prepare for the qualifying test. I got through, and joined the medical course. My first dream was fulfilled. First year my father somehow arranged my expenses.
But second year I was at the rock-bottom. My father fell sick. Elder brother had to run the family. I could not ask even one rupee from them. But I was determined not to quit. I took some lower class school students for private coaching, and made 5 to 6 hundred rupees per month. With that I managed. I never wanted more than bare necessities. A couple of sets of clothes, lunch and dinner, some note books were all that I needed to complete my course.
I never asked anyone for help, nor let anyone know my condition. I continued to support myself like this through all 4 years of my MBBS. During my last year of medicine I thought I was going to open a clinic after my graduation and start my practice. But unless I had some experience in dealing with the practical aspects of practice I would be at sea. It might take me a year to get the professional support, which I could not afford.
So I decided to join one of my professor's consultation chamber to learn prescribing. I would just be there handy for any work until he decides to teach me. I spent all available evenings of my final year and the year-and-half residency with him. More than two years later he called me and asked me why I was doing that. I told him I wanted to be a successful doctor like him. He was obviously pleased and started teaching me the art of prescribing.
One day, after my residency, he asked me to join the post-graduate course of my choice. When he knew I was not in a position to finance it, he offered to help me. I wanted to specialise as a paediatrician. To diagnose a child who can not tell the physician anything about how it feels is certainly a bigger challenge, and a bigger challenge offers the physician greater utility. After my specialised course was over, I was offered a government job, but I preferred to remain at large to plan my service the way I wanted.
H2H: When did you have your first darshan of Swami?
Dr.Kar: On April 18, 2008 I was examined and asked to come back for surgery on June 21st. I decided to return to Orissa the next day, for I had lost many working days in the mean time. But I was again asked to report at the hospital on 22nd.
Though I had to cancel my Tatkal booking at a huge loss, I had the additional blessing of Baba's darshan. Baba had come to His Kadugodi abode on 19th. When we were standing by the side of the road, his car passed us by.
My wife later asked me if I had darshan. She was sad that she could see only Baba's head for He was sitting inside the car. 'But I saw His whole self, His head, His body and feet too', I said. 'How could you? He was sitting in the car, and the door was not open' she protested. I suddenly realised the improbability of my statement; but that was the truth ! 'That must be a loving prank of my divine mother' I said to myself.
We came back on June 21 st for the surgery. I was wheeled into the operation theatre on 24 th, and after a lengthy operation came out a new man. On 30 th my stitches were opened, and the same day we went back to Orissa. I was asked to report for a check up in six months. So I have come now in December, and have the good fortune of meeting you all.
H2H: Has this healing of heart affected you in any other way?
| | |
| --- | --- |
| | |
| Dr. Kar with his happy family | |
Dr.Kar: You have put it rightly, healing of heart, in more ways than one this has been. This life is now a gift of God. I want to use it fully for Him. What do I need?
Some food to sustain the body for His service; some clothes to protect it in different weathers; a roof over our heads; and some money to raise our son. I am a doctor, coming from the grass roots of a hard life. I have never aspired for wealth and luxury. When my fellow doctors were charging 50/60 rupees as consultation fee, I kept it at only rupees 5.
When someone referred to me as a 'poor man's doctor' I felt happy. At least they can come to me, and I can help them. God has looked after me very well. He has given me an understanding wife, a beautiful son, a good house to live in, and this opportunity to serve the poor. Now if anyone does not pay for the treatment, I don't ask. The good kind Lord knows it all.
Now I have only one desire: to spend more and more of this lifetime in His service. I want to come here or to the Brindavan Hospital, and plunge into service with all my heart and soul.
~ Heart2Heart Team