Posted on : Oct 29, 2011
Women of Glory

– Dr. Wangari Muta Maathai
Leaving behind an Evergreen legacy
As a 85th birthday tribute to their divine Chancellor, His university students from the Anantapur Campus presented a special series 'Women of Glory' on Radio Sai in the fall of 2010. Every week, they highlighted a distinguished woman of the world.

Among them was Dr. Wangari Muta Maathai, the first African woman to win a Nobel Peace Prize, who died on September 25, 2011. A biologist by training, she founded the Greenbelt Movement and made visible the links between trees and soil, war and peace, and the human body and spirit. An unparalleled environmentalist, an untiring activist for women's rights, a crusader of trees for 45 years, a pioneering academic, a voice of hope and courage to everyone in Africa, a critic against deforestation, the UN's messenger of peace – all of these are but a few of the epithets that can be ascribed to Dr. Maathai. In memory of her exemplary life and in appreciation of her contribution to our planet, we present this special feature on her and replay the Sri Sathya Sai Institute of Higher Learning, Anantapur team's programme on this Woman of Glory.

| | |
| --- | --- |
| | |
This edition of 'Women of Glory', is a panel discussion between four environmental science experts – Ms. Nandini (N), Ms. Lalitha (L), Ms. Shweta (Sh) and Ms. Sushma (Su), and it is lead by moderator Ms. Parvathy (P).
P: Lalitha, could you please tell us what gave Dr. Wangari Maathai the drive to pursue her vocation?
L: Prof. Maathai has said and I quote, "According to the Bible, God created the universe from Monday to Friday. On Saturday, he created man. The truth of the matter is - if man had been created on Tuesday, he would have been dead by Wednesday as there would have been no essential elements for his survival."
Man is Forgetting That He is a Limb of Society

It is undoubtedly true that man has forgotten the importance of nature and the nurturing of human life by Mother Earth. Our exploitation of natural resources has surpassed its limits. We enjoy materialistic comforts through devastating our surroundings. Bhagavan Sri Sathya Sai Baba has also emphasized on man's misconduct towards nature.
N: You are right Lalitha. It was in a discourse delivered by Swami during one of the summer course sessions. It was in the year 2000 and He said:
Dr. Wangari planting trees in the degraded
Aberdare Forest, Kenya.
"It is because of man's misconduct and immoral behaviour, that there is pollution everywhere – in air, water, land, and food. All the five elements have been severely contaminated because of man's unbecoming behaviour. If mankind conducts itself properly, pollution of the elements could have been avoided. It is all due to the extensive prevalence of immoral feelings. The sharp decline of virtues like love, compassion, and forbearance is directly responsible for the widespread pollution that one sees today. In fact, one might even say that the five elements are afraid of man! The five elements, as created by God are all pure and sacred. There is nothing wrong with them whatsoever. It is man's misconduct that has caused them all to become polluted. Impurity within gets reflected as pollution without. Good conduct should be the real basis for life. However, modern man is totally lacking in character and virtues. No wonder both peace and happiness elude him."
Sh: As Swami remarked, man is the direct cause for all calamities. We should realize that we have not inherited this earth from our forefathers; we have borrowed it from future generations. As Gandhiji has rightly said, "We belong to the earth. The earth does not belong to us."

In the novel, Life of Pi, the author Yann Martel mentions a zoo that has a note saying, 'The deadliest animal'. This note is placed above a mirror. Truly, we human beings are proving to be the planet's most dangerous animals, devastating the very environment that sustains and nurtures us.

However despite our recklessness with which we plunder our resources to satiate our greed, it is the strong voices of people such as Prof. Maathai that force the world to stop and take notice.
P: You are right, Shweta. Kenyan environmentalist, activist and global champion of peace, Wangari Maathai is a pioneer who made the world sit up and take stock of its destructive traits.

Born on April 1, 1940 at Nyeri in Kenya, she was the first woman in East and Central Africa to earn a doctorate degree in biological science. She was also the first woman to introduce the idea of community-based tree planting during the mid-1970s.

A Mission to Leave Behind a Greener Planet
Her inspiration partly came from her childhood experiences and observations of nature in rural Kenya. During her childhood years, she witnessed the forest being cleared and replaced by commercial plantations. Her awareness was also influenced and shaped by the formal education she was privileged to receive in Kenya, the US and Germany.
L: Heeding to her inner call, Dr. Maathai returned to her homeland and dedicated herself to reshaping and improving the physical and social landscapes of Africa. Indeed, she was a true patriot. Her decision was exactly in accordance with what Bhagawan Baba has said, janani janmabhoomischa swargadapi gariyasi
Voice of Wangari Maathai :
P: Did she have a concrete action plan, Sushma?
Su: Her strategy was to safeguard and strengthen the foundations of sustainable development. For this, she adopted a holistic approach that embraced democracy, human rights and women's rights in particular. Her singular goal was to protect God's work and make the Earth the Garden of Eden that God created.
P: That was definitely unique…but how did she go about it?
| | |
| --- | --- |
| | |
| Wangari confronted by askaris (local armed guards) at Karura Forest. | |
Sh: She thought globally and acted locally. In her own country, she urged the public not to use plastic bags that could not be recycled, as these bags clogged waste dumps and blighted the landscape in Kenya and other countries, besides serving as breeding grounds for mosquitoes. She also insisted on the 4R's – Reduce, Reuse, Recycle and Repair.
L: And what began as a simple idea later blossomed into a world movement. Prof. Maathai's internationally recognized program - the Green Belt Movement - focused primarily on environmental conservation through tree planting, and in the process created employment opportunities for the poor. The movement drew the participation of several leaders of other African countries too.
N: Dr. Wangari Maathai's initiatives included protecting the Congo basin rainforest ecosystem. She was the roving ambassador for the Congo basin which is a global hotspot for biodiversity and one of the world's two remaining forest "lungs". The rainforests in Central Africa play an important role in absorbing carbon dioxide and providing the world with oxygen.

Yet, the Congo basin forest ecosystem is threatened by illegal logging, mineral exploration, poaching and bushmeat trade; all of which placed the trees, the animals and the people who depend on them at risk. In building up her crusade to protect the forests, Prof. Maathai learnt of a government plan to privatise large areas of land in the Karura forest. She protested against this plan through letters to the government and the press. In addition, she went with the members of the Green Belt Movement to the forest, planting trees to fight against the destruction of these forests.
P: Prof. Maathai's life itself was flowing wave of values that are worthy of adopting. She has said, "We cannot develop our countries if we are going to continue corruption on both sides. We must trust them .We do need transparency, accountability, honesty, and a sense of responsibility." She had remarkable tolerance, patience, and perseverance for she took huge personal risks to fight for justice, as well as human and environmental rights. She considered problems to be purposeful road blocks that offer beneficial lessons and enhance mental strength.

She also believed in human partnership and the happiness found in togetherness.
L: Another cause close to her heart was the upliftment of poor rural women. Prof. Wangari Maathai believed in the immense feminine strength and worked hard to mobilize poor women for the Green Belt Movement.

Her belief is beautifully idealized in the poem titled, 'The Women is Planting' by the Norwegian poet Halldis Moren Vesaas. The poem goes:
Dr. Wangari Maathai inspired the younger generation too,
to take up the cause of environmental restoration
The woman is planting a tree in the world.
On her knees, like someone in prayer,
Among the remains of the many trees
That the storm has broken down.
She must try again, perhaps one at last
Will be left to grow in peace.
She sees the hands outspread on the earth
As if trying to impose her calm
On its threatening tremors.Oh! Earth, be still,
Be still, so my tree can grow.
Dr. Maathai encouraged women to plant trees. During her lifetime, over 30 million trees were planted. This activity created employment, through which women gained a degree of importance in their family, especially on the social and economic fronts. She always wished to pay a special tribute and express special support for the woman in the world.
P: What was the secret of her interminable inspiration?
N: Prof. Maathai portrayed love in every action of hers. Love was her very breath that tied the knot of natural attachment with the green progeny of the Lord. Every struggle she underwent highlights the pure, unconditional and unsullied love that formed the basis of her selfless deeds. Her life and work epitomizes the phrase "Love is selflessness and the self is lovelessness'.

Dr. Maathai receiving her Nobel Prize from Ole Danbolt Mjøs, Chairman of the Norwegian Nobel Committee, 10 Dec 2004
She was the First Africa Women to Receive a Nobel Prize
P: Her service to humanity did not go unacknowledged. Prof. Maathai is the recipient of numerous awards, including:

• The Woman of The World Award, 1989
• The Golden Environmental Prize, 1991
• Outstanding Vision and Commitment Award, 2002
• Nobel Peace Prize, 2004

She also received the Jawaharlal Nehru award at a special function at Rashtrapati Bhavan in New Delhi. The award was given to her on 22 March 2007 for her outstanding contribution to the promotion of international understanding, goodwill and friendship.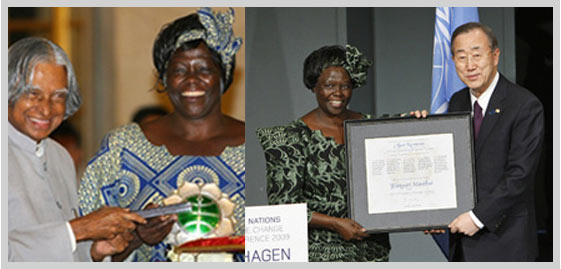 (Left) She receives the prestigious Jawaharlal Nehru Award for International Understanding from
then Indian President A P J Abdul Kalam, March 2007. (Right) Secretary-General Ban Ki-moon
inducted Wangari Maathai as a UN Messenger of Peace at the UN Climate Change
Conferencein Copenhagen on 15 December 2009
Su: With indomitable spirit, she strived to make her dream a reality, probably because of the deep impact of her childhood days. She has often narrated her childhood experience about visiting a stream next to her house to fetch water for her mother. She would drink the water straight from the stream. Playing among the arrowroot leaves, she would spend hours trying to pick the strands of frog eggs believing them to be beads, but every time she puts her little fingers under them, they would break.
Wangari Maathai, a noble daughter of Africa who gave mankind the
clarion call - "Let us plant for the planet"
L: One day, she saw thousands of tadpoles: black, energetic and wriggling through the muddy water against the background of the brown earth. That was the world she inherited from her parents. Today, over 50 years later, that same stream has dried up, women walk long distances for water that is always not clean and children will never know what they have lost.

P: The challenge is to restore the home of tadpoles and give back to our children a world of beauty and wonder. One of the hallmarks of visionary leadership lies in the translation of positive intentions into tangible results. Dr. Wangari Muta Maathai has been one of the most powerful motivators in the world who helped draw out people's potential for a compelling cause – 'Saving the Mother Earth'.

To conclude, the purpose of life is not only to be happy but also to be useful, to be responsible, to be compassionate and above all to matter, to count, to stand for something, to have made some difference. Dr. Wangari Muta Maathai is a true achiever whose lifetime crusade to bring about change changed the lives of many. Her fearless strength in adversity, her creative approach to building a peaceful, healthy planet and her hard work to empower women will continue to inspire several future generations. Simply said, her work lives on.
- Radio Sai team