| | | | | | | |
| --- | --- | --- | --- | --- | --- | --- |
| | 'Like' us on Facebook | Follow us: | | | | |
Posted on : Dec 22, 2012
LIVING THE DIVINE PRESENCE

Reflections on Prof. N. Kasturi, venerated Biographer of Bhagawan Sri Sathya Sai Baba
The December 25 is celebrated the world over as Christmas. Prasanthi Nilayam also has its unique way celebrating this festival, and over the decades the number of overseas devotees coming to the divine feet to celebrate this festival has ever been on the rise. But December 25 is special for another reason for the Sai fraternity; for it happens to be the birthday of an eminent, distinguished and most lovable devotee of Baba - Prof. N. Kasturi. He was much more than a mere biographer of the Avatar or translator of His discourses. Though a Professor and scholar, he was a humble student of this 'school dropout'. Though a good thirty years older than Baba, he was a child to this Divine Mother, a friend in mischief. His life itself is an illustration of a sincere aspirant's journey with Bhagawan. So to revisit the life of this eminent servant of the Lord, and remember him on his birthday, we present you an article by late Prof. Kasturi's grandson, Mr. Rameesh Kasturi and his wife, Mrs. Ananda Kasturi.
Bhagawan Sri Sathya Sai Baba who is dearly addressed by millions as 'Swami', was most dear to Prof. N. Kasturi, whose devotion is enshrined in his autobiography, 'Loving God,'.
Swami entered N. Kasturi's heart 63 years ago, while he was serving as Professor of History at Mysore University. A small picture of Baba, which had been acquired but kept hidden till then, suddenly came to be enshrined with a beautiful frame, decorated with fragrant flowers and installed at the centre of the private altar at home. What brought about this momentous change in the life of this much loved Professor and famous author of more than forty books in Kannada language? This moment defined his and wife Rajamma's life; turning it on to a new path, a  shared journey towards eternal joy that was saturated with spiritual wisdom, and blessed with living the Divine Presence. But how did all this happen?
People Instrumental In Leading Kasturi to Sai:
Before this moment of joy, Prof. Kasturi and Mrs. Rajamma had lost their nineteen year old second son, Atri, the darling of their hearts. A dedicated freedom fighter and a devoted soul to his parents, Atri succumbed to typhoid, just nine days after India attained freedom in 1947. Because of this intense sorrow, they gave away all pictures worshipped at their home altar. Gold and silver icons of various gods and goddesses were handed over to a passing monk, with the words, "God has taken away our dear son, therefore God has no place in our hearts or home."
| | |
| --- | --- |
| | |
| | Prof. Kasturi would hold aloft a rosewood pot from which torrents of Vibhuthi would flow, when Swami put His hand inside. Swami performed Vibhuti abhishekam to the Shirdi idol this way |
But very soon Bhagawan Sri Sathya Sai Baba would open up and prepare their hearts. It happened when my father, late Mr. T.P. Balachandran, came to study Indian History in Bangalore under the guidance of Prof. Kasturi, as part of preparing for admission into the 'Indian Administrative Services' (IAS). My father was among those chosen few, who were devoted to young Sathya Sai Baba in the early years, and had great faith in Him as the reincarnation of Shirdi Sai Baba. The rosewood vessel from which Bhagawan would later create streams of sacred ash (Vibhuti) and which Prof. Kasturi was blessed to hold on several occasions, had been brought from Burma by my father`s parents and presented humbly as a gift at the Divine Lotus feet of young Sathya Sai Baba.
Mr. Balachandran, in his youthful zest started sharing his experiences and feelings about the charming Sathya Sai Baba with his teacher. But Prof. Kasturi who was impressed by his brilliant academic outlook, developed a great liking for this young student and wondered about a possibility to have him as a son-in-law. Through Bhagawan's divine Leela and interference, this would materialize and Prof. Kasturi jokingly mentioned that Swami had created a son-in-law just as He would create Vibhuti by rotating His divine hand!
Prof. Kasturi was once invited by his young student's parents to join them in a visit to their guru, Sathya Sai Baba. The day Prof. Kasturi met Sai Baba in Bangalore, he met the Divine in form. Baba spoke to him, consoled him, accepted him and blessed him in this very first meeting to be His future Biographer. Sathya Sai Baba spoke to Prof. Kasturi about many hidden thoughts that were lingering in his mind and burdening the depths of his heart.
The immense joy of this meeting was such that Prof. Kasturi and his wife recovered the hidden picture of Swami, dusted and framed it, and installed it in the center of the altar, which had been empty for long. This was the moment Swami entered their hearts as Divine light and their lives began anew, filled with the Divine Presence of Bhagawan Sri Sathya Sai Baba.
Later on when they had settled in Prasanthi Nilayam ashram, every morning at dawn Mrs. Rajamma would gather small, fresh flowers from the surrounding bushes and, hand them reverentially to her husband. Prof. Kasturi then would go to Swami's room upstairs in the mandir, and would adorn Baba's feet with the fragrant offerings. In the true Indian Brahmin tradition, Prof. Kasturi and his wife considered themselves as two halves of one life. And their combined worship of Bhagawan's sacred feet on this planet Earth went on for 25 years. She was the silent support of her husband and shared every occasion of Divine revelations with him as soon as he returned from the Divine Presence of Bhagawan.
Living in Puttaparthi, the tiny dot on the 20th century world map, a tucked away hamlet in South-India, softened by the divine footprints of Sathya Sai, Prof. Kasturi moved his pen. Scribbling down and collecting many drops of loving messages from Baba, be it of intimate compassion, or thundering thoughts delivered to eager but ignorant people. The 'Sathya Sai Speaks' series as well as the 'Vahini' series of Bhagawan's discourses and articles were, for several decades, under Prof. Kasturi's able pen growing (He translated into English, most of these works). Each sentence that he noted, he could go up to Bhagawan Himself and verify.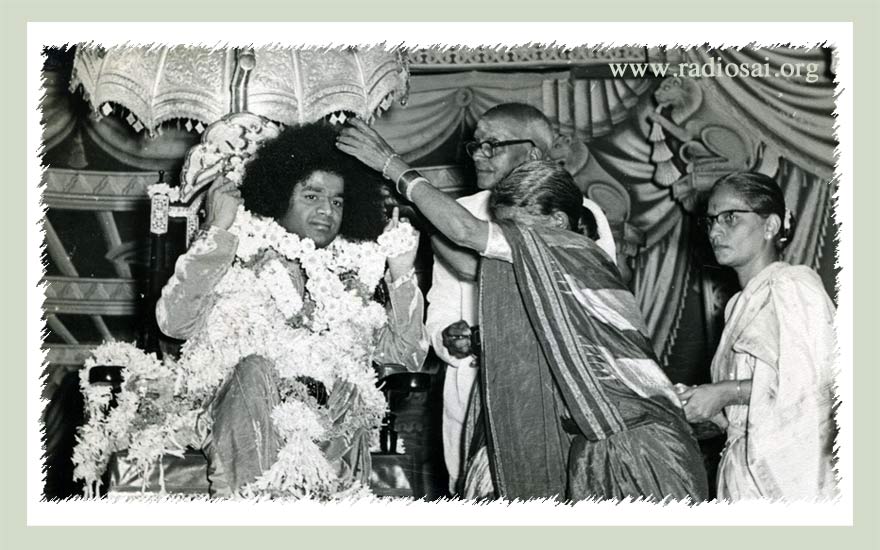 Prof. Kasturi and his better half, Mrs Rajamma spent 25 blissful years, worshipping together, the Lord of their hearts. The couple is seen here performing the anointment ritual on Bhagawan's Birthday
He unravelled the magnificence of Baba's miracles, defining the Divine and defying the mundane. For example, Baba created a stunning diamond and gave it to a devotee, while pronouncing the inspiring message, "Die-mind," whence only we could receive the marvel of the dimensionless Divine. Prof. Kasturi who was a witness to this incident and revelation, seized the 'Diamond message.'
From Death to Immortality

During one of their early visits, when Prof. Kasturi and Mrs. Rajamma arrived in Puttaparthi, a young family member of Swami had passed away due to a dog bite. Everyone gathered, mourned and cried and Prof. Kasturi too was moved to tears by the painful incident. Swami approached him, but did not show any sign of distress. Prof. Kasturi took a chance and asked Bhagawan,"Why is Swami alone not affected by the feelings of suffering?"
Swami revealed the highest Truth in one simple sentence, which later Prof. Kasturi mentioned as the defining occasion, realizing that Swami is really Bhagawan, truly God. Swami said, "How am I to spend time, if there is no birth and death?!" For Prof. Kasturi, till then, death was a biological inevitability, understood as material or elemental disintegration, nothing but an intellectual explanation. But at this moment the message of Swami was the nectar of immortality, and eternal wisdom poured into his starving heart. The painful memory of the death of his own son Atri was erased at that very instant and Prof. Kasturi and his wife had a conscious glimpse of the true nature of Bhagawan Sri Sathya Sai Baba. Rishis, Saints and holy people of ancient Bharat spent their lives in penance to receive such powerful insights, and here it was granted by the Divine Incarnation Himself. In his last book, "Prasanthi - Pathway to Peace," published by the Sri Sathya Sai Books and Publications Trust, Prof. Kasturi referred to Bhagawan as `It`, the Divine entity incarnated in a most charming form, but is actually formless and nameless.
'Go and Dance!'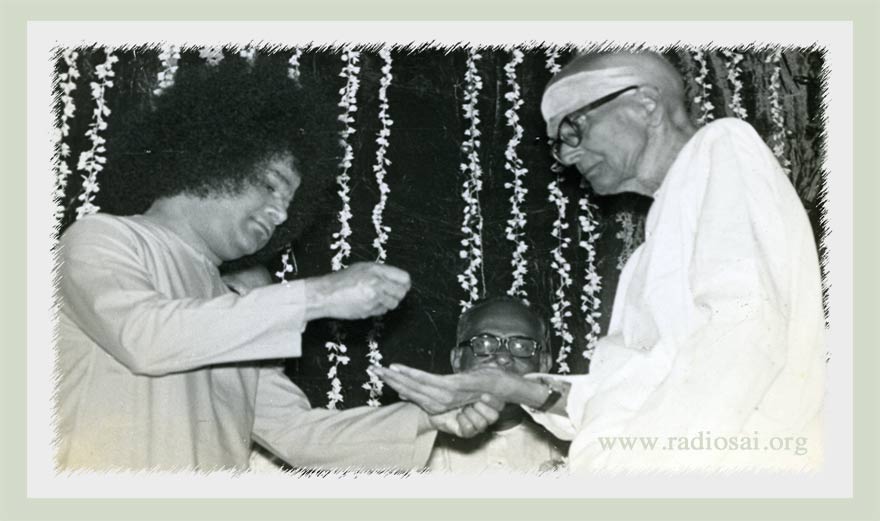 Swami revealing His divinity to the people around, made Prof. Kasturi busy with his pen, his own soul dipping into the Divine. Prof. Kasturi drank the nectar Divine in Baba's presence and shared the sweetness with thousands of devotees through his writings and narrations. Every time he was invited to speak to a group of people about Bhagawan, Swami told him, chuckling, "Go and dance." The listeners would sway to the happy explanations of the divine stories of Baba. 'Srimad Bhagavatam,' an epic of yore, revered and enjoyed by millions of devotees in India, had the power to console and conquer the cycle of life. Prof. Kasturi wrote a 'Sai Bhagavatam,' a poem of the same effect, describing the joy of his living in the Divine Presence. This poem he translated into seven languages and recited several hundred times. During many performances, Prof. Kasturi was accompanied by his first son Murthy, who was an ardent devotee and had spread Bhagawan's message in the North-Eastern part of India during the 1960-70s.
Like any other true Indian couple, Prof Kasturi and his wife, considered
themselves as two halves of the same whole, and they lived and
shared the joy of Divine company thus
Prof. Kasturi represented three linguistic regions of southern India and was prolific and humorous in his writings. Entertaining and guiding subtly in an India under British rule, he canvassed for a free India in his own unique style as teacher, lecturer and guide to his students. He used his wit and wisdom to keep the heart of Bharat throbbing to the songs of godly grandeur by, for example, staging educative dramas with his students in villages around Mysore. Human values were naturally imbibed by the simple village folks, and his linguistic marvels were widely appreciated.
Poorna Means Fullness:

Prof. Kasturi was born 25 December 1897 as Narayana Kasturiranganathan Sharma in Tripunithura, Kerala. His parents offered the little baby in front of a sacred deity, called Poorna-thresa, the full incarnation of the three deities Brahma, Vishnu and Maheshwara. His family hailed from Tamil Nadu, belonging to the well versed, sanskritised culture of ancient Bharat. Prof. Kasturi would later settle in Karnataka and finally reach Puttaparthi in Andhra Pradesh, safely ensconced at the Lotus feet of the Poorna-avatar, the full Incarnation of the above mentioned Godheads. On the way, he dropped his long name, to be known worldwide as Prof. N. Kasturi, a name that carries the beautiful, spiritual meaning of, 'The sacred musk dot adoring the forehead of Lord Vishnu.'
Prof. Kasturi was drawn to Baba by His magnetic power and divine love. Like a bee to the flower, or an ant to the sweetness of a sugar cube. He found his heart singing the glory of Baba, carrying the song to many people across the country. Prof. Kasturi travelled far and wide all over India to spread the message of his loving God and also became the willing pen in the hands of his beloved Bhagawan, transcribing tirelessly Swami's discourses, articles and Divine revelations. Till the end of his life, Prof. Kasturi was busy picking up the gems from his Master's words. And through the 'Sanathana Sarathi,' the monthly magazine of the Prasanthi Nilayam ashram, of which he was the editor, he would share these treasures with all.

For many years Prof. Kasturi played the role of an able instrument, connecting the devotees to their lord, as the editor of the Sanathana Sarathi.

The Real Sai Beckons
When he had settled in Puttaparthi, a small group of Prof. Kasturi's old friends and admirers came to visit him. They were dismayed at having lost such a prolific writer and narrator to a young guru by name Sai. Prof. Kasturi was very happy to introduce them to Baba and, because of his intimate proximity to Baba, he suggested having a divine session on the banks of the Chitravathi, hoping for a transformative effect on his friends. But Baba innocently posed a question, "Why Chitravathi? It is a long way to go!" Prof. Kasturi corrected his stance and said, "There is nearby the mandir a mound of sand, sufficient space for the group to sit in a circle around Swami." Baba queried, "Why on the sand?" drawing the enlightenment nearer. Prof. Kasturi joined the dialogue with the Divine, "Would it be ok to sit in the verandah of the mandir? Just a wave of Your hand, or even the turning of Your palm could dispel the darkness, doom and dismay of these people." Bhagawan Sri Sathya Sai Baba, the Divine master and redeemer, found the moment to light the lamp of wisdom in the mind of Prof. Kasturi. He revealed, "Why the need of a hand movement, or the palm being circled? The Will of God is enough blessings. Thereby His creation receives transformation!"
Puttaparthi was aglow with such Divine revelations and Prof. Kasturi's heart was now the willing recipient of these Divine sparks. He and his wife lived the Divine Presence every moment of their blessed togetherness.
Shiva Shakthi Swaroopa:
Prof. Kasturi's most defining point in time came when he realized the triviality of the world of elemental compositions. He was the closest attendant and witness throughout the death-defying happenings during Gurupoornima, 1963. It is chronicled in detail in his book, 'Shiva Shakthi Swaroopa'. Bhagawan Sri Sathya Sai Baba demonstrated to the awe of thousands of devotees that the Divine energy of Shiva-Shakthi, which integrates and disintegrates behind the universal, visible and invisible existence, is manifested in Him.
For a period of seven days, Baba's body suffered a paralytic stroke along with four heart attacks. Thousands of people around Him mourned, watching the thirty-six year old Baba, the hope of the world for spiritual regeneration, at the brink of departure from this hopeless world. But Baba was not the physical body, as everyone thought! When He threw off his severe sickness and calamitous condition with a sprinkle of water, He reminded the world that He is the eternal, everlasting, never-ending Divine power of Shiva-Shakthi, beyond the sensibility and far beyond even the imagination of anyone present at that event. He is the Power of cohesion of universal existence, the Sustainer of every being.
Merging with the Divine

Having lived a long and blessed life together, Mrs. Rajamma passed away in 1985 in Prasanthi Nilayam. Prof. Kasturi, as well as his daughter Padmamma (Mrs. Padma Kasturi) had cared for her and Swami made sure she had a grand farewell. He sent a special silk sari for her and asked all the ladies of the ashram to join the funeral procession from the Sri Sathya Sai General Hospital to the Chitravathi river bank. In 1987, when Prof. Kasturi neared the end of his life's sojourn, he was nearest to Baba's presence and every footstep outside his room made him think that Swami was visiting him, as the beloved Sai had done on so many occasions. Nearing the embrace into the arms of His Divine Lord and loving God, Prof. Kasturi was whispering to himself, "Within and within….as we spread ….thinner and thinner….and our thoughts….become His creation….and He…"

This Prof. Kasturi wrote on 24.06.1987, his last words in a book of a Sai brother, Mr. Jagadeeshan from Malaysia. The book's title was, of course, 'The Journey Within.'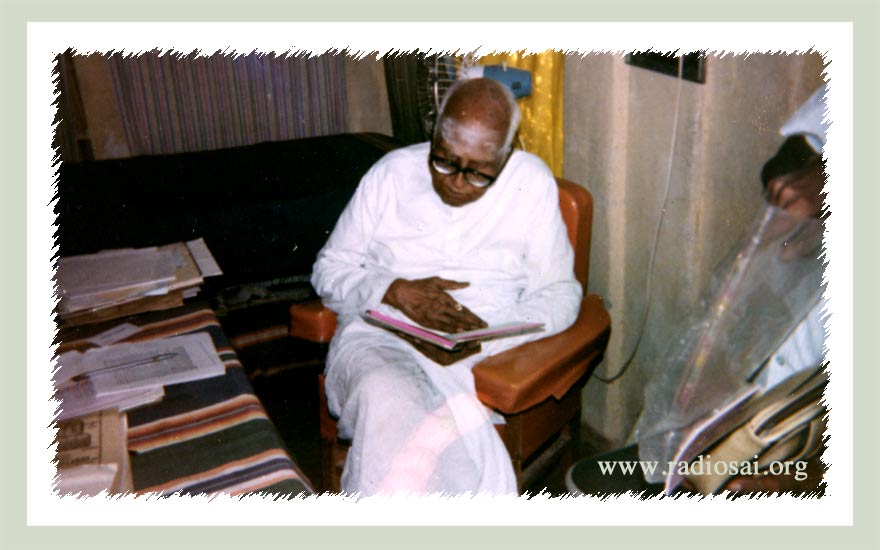 His last day on the blessed planet earth was 14 August 1987 and, having lost consciousness, he regained it when Swami entered his hospital room, calling out softly, "Kasturi, Kasturi." Only Bhagawan, Prof. Kasturi's daughter Padmamma (my mother) and myself were present at that time. Swami tenderly bent over His Kasturi and stroked his fragile bodily frame. Bhagawan then lovingly closed Kasturi's eyes with his own Divine hand. Swami next ordered both of us to take padanamaskaram, and we gently touched His divine Lotus feet. He commanded that no one should touch Prof. Kasturi's body anymore. Opening the door and letting the doctors and nurses enter, He advised that Namasmarana should commence. When Swami left, He quietly announced that it would take one more hour and, true to His word, after one hour Prof. Kasturi followed into the Divine Presence forever. His funeral was watched by Swami, standing on the balcony of the Prasanthi Nilayam mandir.
Jai Sai Ram.
With humble Pranams at the Divine Lotus feet of our most beloved Bhagawan Sri Sathya Sai Baba.
- Rameesh and Ananda Kasturi
Have you read the Jan 2008 Cover Story on Prof. N. Kasturi? - SAI'S KASTURI... A Phantasmagoric Fragrance Forever