'Like' us on Facebook
Follow us:
Story goes that a habitual drunkard approached Swami Vivekananda, full of remorse. He asked him, "Master, is there redemption for me in life?"

"Did you ever glimpse at Sri Ramakrishna Paramahamsa, my Guru and Master?" was the question that Swami Vivekananda asked in return.

"Not exactly from close quarters," the man replied thoughtfully, "but I remember seeing him on one occasion, for a fraction of a moment as I was passing by a gathering in his presence."

"Go happily your way my friend, for your life is indeed redeemed," said Swami Vivekananda before adding emphatically, "You have seen the great one. Why do you even have a doubt whether you are redeemed or not?"
When it comes to a life with the Divine, numbers and quantities go out of the window. It does not matter whether one was in the Divine presence for a few moments or for a few years – just the fact that one was IN THE DIVINE PRESENCE is enough to redeem. In this context, the life of Sathya Geeta is one that is sure to arouse envy even in the angels of highest heavens.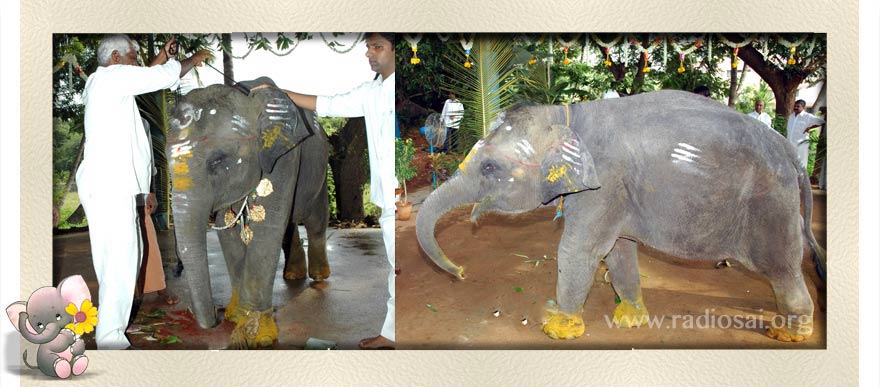 It was a short life indeed – only about 9 earthly years. But in those years she attained what many souls do not get in hundreds, nay thousands of years of great penance, an opportunity to spend Divine time at the lotus feet of Bhagawan Sri Sathya Sai Baba. Swami's little elephant shed her mortal coil in the early hours of 22 January, 2013. The precise time was 4:20am and the very auspicious Brahma Muhurtam, a time that is best utilized in spiritual pursuits, had just begun. The day was the first Ekadasi (eleventh day) of Uttarayana (a period which is considered very spiritual and holy as per Bharatiya traditions). Even the grandsire of the epic Mahabharatha, Bheeshma, who had the boon to give up his life whenever he chooses, picked the Uttarayana period to shed the mortal coil. If the manner and circumstances in which one dies is supposed to speak about how one lived, Sathya Geeta's passing indeed tells a lot about how blessed her life was.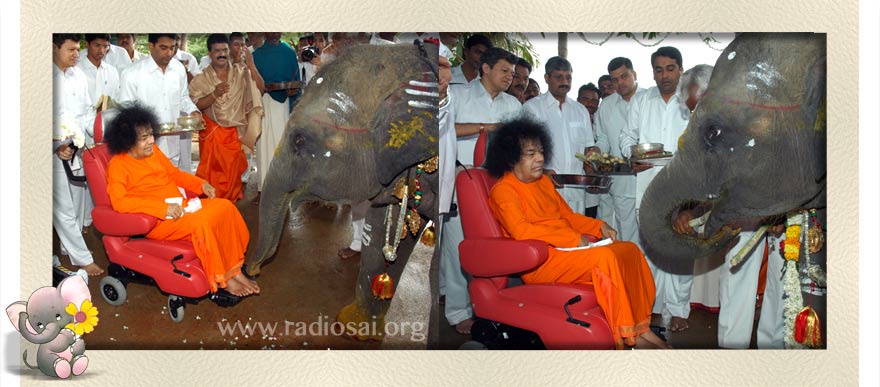 She arrived at Puttaparthi in 2007, as a 3.5 feet bundle, just a few years old. Even with her arrival, she faced mighty expectations from the devotees of Baba who saw in her the spirit of Sai Geeta, Swami's pet elephant who had passed away a few months earlier. Her's had been a life of unmatched love for Swami and everyone was desperate to have her back in some way. Sathya Geeta seemed to be the answer.
That was not her name. As a cub, she had been christened Lakshmi. But when Swami visited the shed behind the planetarium to see the new baby elephant, He longingly and lovingly addressed her, "Geeta... Geeta...". Thus, it was that the naming ceremony happened spontaneously as Lakshmi took on the name of 'her Lord', Sathya with the 'surname' Geeta which seemed like the perfect one for any elephant that belonged to the Lord! Swami visited the calf on July 21, feeding her sugarcane pieces and fruits. And after that, little Geeta took up the mantle that had been carried thus far by Sai Geeta, leading all the processions on all occasions.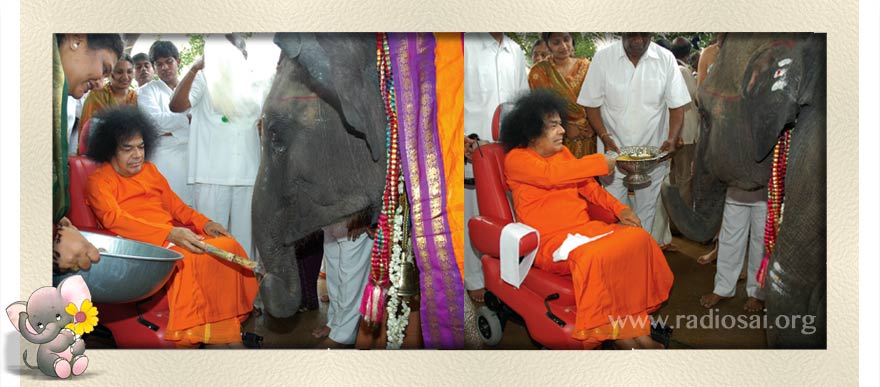 Swami visits the little elephant for the first time, 21 July 2007
Mr. M. G. Nandagopal, librarian at the Brindavan campus and a member of the Vedam group fondly recalls, "I have a very special memory granted by Sathya Geeta for all our vedam boys. It was a festive occasion at Prasanthi Nilayam. But, we were told that the procession would consist only of the band-boys leading Swami from Yajur Mandir. Always with a hope, I had asked if there was any chance for Vedam boys also to join the procession, and got a negative reply. At 10 pm that night, I got a call saying that Swami wanted Sathya Geeta to lead the procession. And so, the Vedam boys also should be there to escort Her. WOW! We thanked Sathya Geeta profusely for getting us this bonus chance from Swami."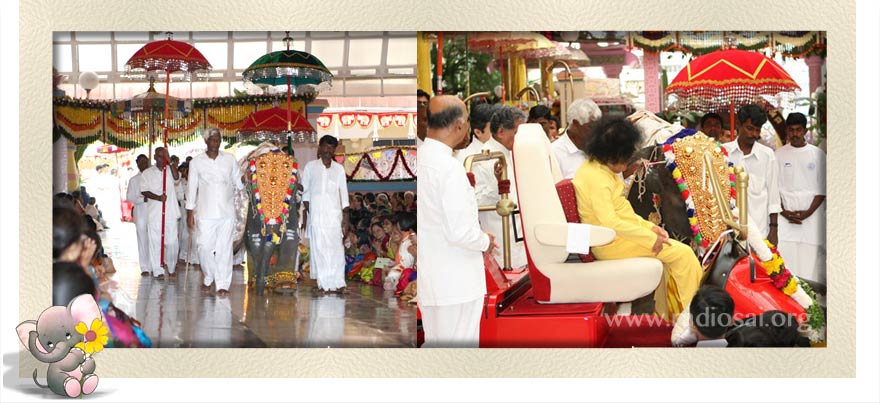 Just like Swami's children in the Primary School, little Geeta had a very sweet, innocent and childlike nature and it was evident from her routine that began every morning at the Brahma Muhurtam. The routine included exercise, praying and playing apart from eating, drinking and resting. And by her side, throughout the day was Mr. Pedda Reddy, who had dedicated his life to caring for Swami's elephants - Sai Geeta and now Sathya Geeta. Radiosai had prepared a short video on the daily routine of the little Sathya Geeta. The video was watched by our dear Swami at His Yajur Mandir with rapt attention. A smile played on His lips as He watched His '4-legged Primary School student'!
A real bundle of energy she was and she brought a whiff of youth in her aged caretaker too! Mr. Pedda Reddy would be often seen running on the road alongside the mischievous Sathya Geeta, trying to discipline her by holding her ears. And so, when, one day, she started to walk with a limp, the caretaker got worried for her. Had she got some injury?
He examined her and found nothing. And yet, she limped. His previous experience with Sai Geeta had taught him that whenever there was a problem, he should rush to Swami. But it was during a time, when Swami's accessibility was on an all-time low. He wondered as to what to do. That was when Mr. Rathnakar, currently Trustee of the Central Trust, came to him. He told him, "Swami told me that Sathya Geeta is not fine and that she was walking with a limp. He has given money to get her treated by the best of doctors."
Ah! When they say that the Lord listens to the call of a devotee, it surely includes those in the animal kingdom as well! Sathya Geeta was suffering from the initial stages of juvenile arthritis! And the timely action got her back on her feet, in no time. Soon after that, almost every fortnight, on a Thursday, Sathya Geeta was given the privilege of having Swami's darshan from inside the compound walls of Yajur Mandir. In fact, she was one of those blessed few devotees who had darshan of Swami before He was taken to the hospital.
On that day, Swami had fed her fruits and goodies. He had patted her and given vibhuti for her. He knew and maybe she knew too that it would be the last time that they would be seeing each other physically.
And today, Sathya Geeta seems to have been in a great hurry to join her beloved Swami. The physical reason which was the cause for her to shed the body was a block in the gastro-intestinal tract because of which she had no bowel movement for almost 24 days. The vets from Hyderabad and Chennai did their best to locate the block. They searched from the oral cavity and also from the aboral end. They did not have much success and as they were debating on a surgery, Sathya Geeta seemed to smile at them.
One of the doctors said that an elephant is capable of living for more than 30 days without dropping dung. So, medically it was still possible to treat her. However, like the great Bheeshma, it seemed that the little Geeta too had decided to leave at the auspicious hour on the auspicious day.
We can only celebrate the merger of this soul with its Lord. Blessed indeed is this life that seemed to have been created only to give company to the Lord. The fact that she had won many hearts even in her short life is evident from the scores of people who gathered with flowers and fruits in their hands, and devotion in their hearts to catch a last glimpse of the little Geeta who will forever remain that - Sai's little Geeta.
- Radio Sai Team