| | | | | | | |
| --- | --- | --- | --- | --- | --- | --- |
| | 'Like' us on Facebook | Follow us: | | | | |
Posted on: Aug 18, 2014

Look Within to Understand the Actions of an Avatar
The Avatar of Krishna is one of the most beautiful descents ever. Nevertheless it is the most misunderstood. But the problem lies in the way we look at the personality of Krishna. The lessons that He taught were cryptically wrapped in His actions and words, and they would appear trivial, unreasonable or downright unacceptable for a common man. Bhagawan in a discourse delivered on 4 Sep 1996, on the occasion of Krishna Janmashtami spoke of this very predicament many find themselves in and taught us how we must look at the life and actions of Lord Krishna. Through this, Swami also explains how we must accept and apply the message of the scriptures in general. We now present you a few excerpts from that beautiful discourse.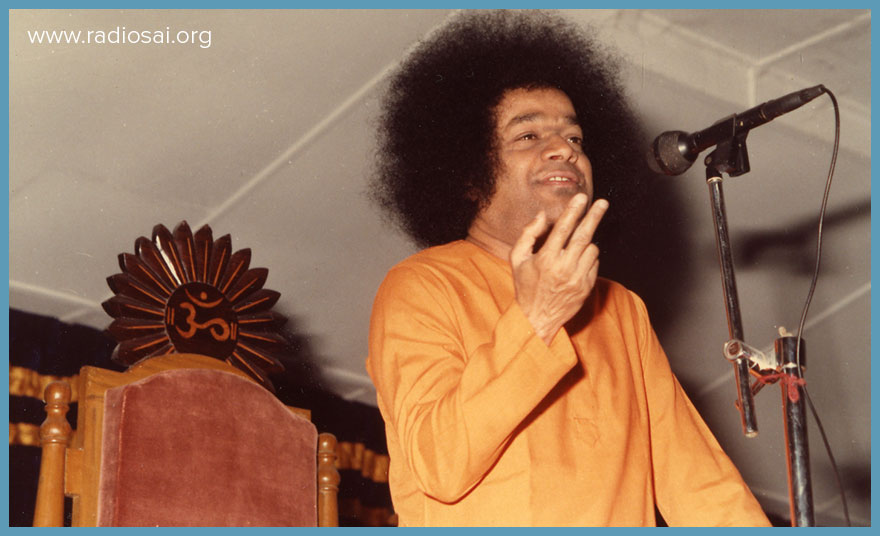 1. Sweeter than sugar,
tastier than curds,
Even sweeter than honey,
Is the chanting of the Divine Name!
Recite, oh mind, the nectarine name
of Shri Krishna forever.


2. EMBODIMENTS of love! It is easy to criticize or belittle the Leelas or infinite potencies of God. But it is very difficult to comprehend the true essence of Divinity. The omnipresent Divine is present both in truth and untruth. He is present both in Dharma (righteousness) and Adharma (unrighteousness). He is present in good and evil. With regard to such an all-pervading divine, how can anyone determine His actions as good and bad? From time immemorial people have been experimenting and investigating about spirituality and spiritual experiences. On the basis of that they have tried to proclaim to the world the nature of the Divine. They concluded and explained that Divine has such and such a form, and possesses innumerable auspicious qualities and so forth.

You may point out to someone, the Dhruva Nakshathra (Pole Star) saying it is just above the branch of a particular tree. In reality, the star is not near the branch. But we can recognise the star that is crores of miles away, through the reference of the branch. Likewise, though the Vedas, shastras and itihasas do not directly prove the presence and nature of the Divine Principle, they reveal the path that can lead you to the Divine.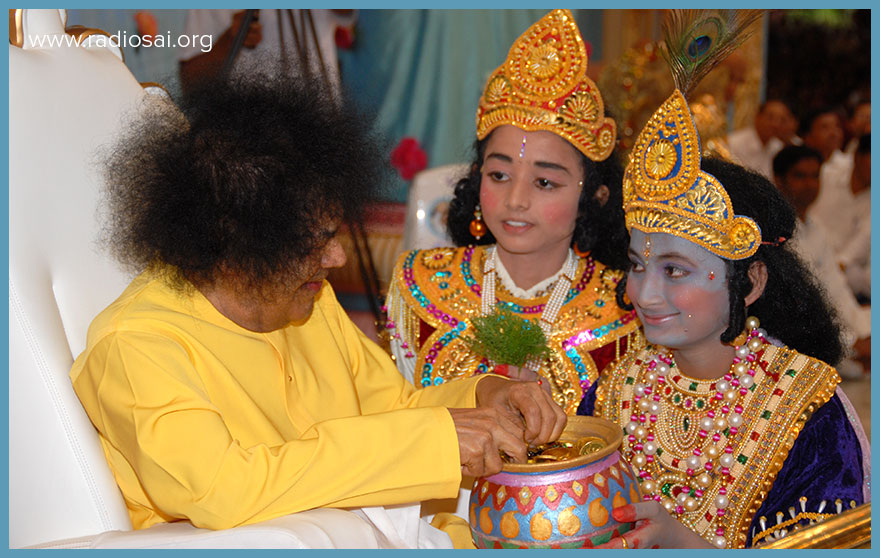 3. God reclines in every heart. That is His dwelling place. When Balarama complained about little Krishna to mother Yashodha, she felt sad. Balarama said, "Mother, does He not have milk and curd to eat at home? He is eating the mud from the streets." God's words are mysterious and also hold in them a deep inner significance.

Mother held His hand and said, "Don't you find these things at home, why do you have to steal from other homes and eat mud from the streets?"

Krishna smiled and replied in a manner that would reveal the essence of Vedanta: "Mother, am I a mere child, or a silly brat, or a crazy fool to eat mud?" In this way Krishna, even though He was a child, was affirming His Divinity indirectly. God teaches profound lessons to mankind in this indirect manner. When God instructs man directly, man doesn't understand these things, as his thoughts and thinking are restricted to the worldly pleasures and worldly way of thinking. Hence man cannot understand the transcendental. God's actions are always related to the inner realm (nivrithi). Moreover, many transformations in the ordinary ways of living are necessary to understand the inner significance of the ways of God.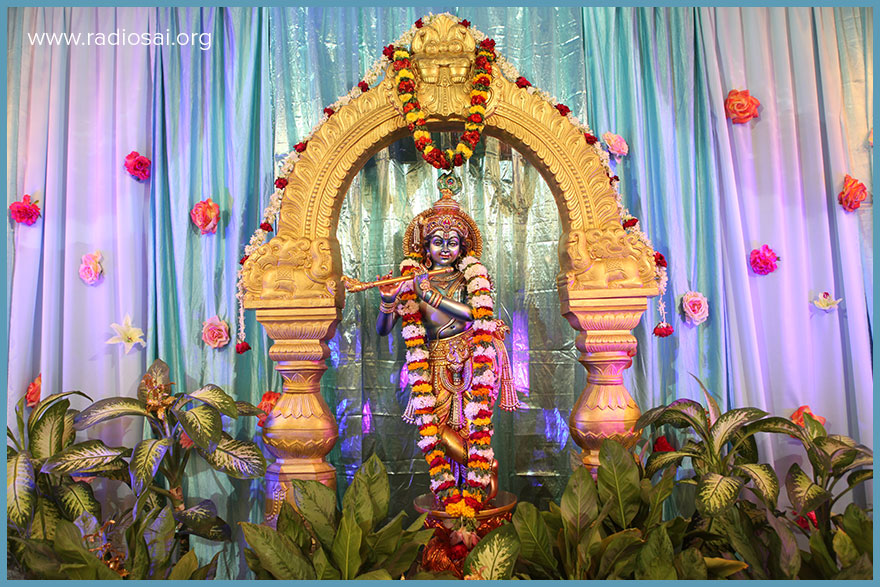 4. Where was Krishna born? In a prison! What were His possessions? Nothing! Born in a prison, He was taken to the house of Nanda and then He went to Mathura. What property did He have? He owned nothing. He doesn't even have a piece of land. He had no bank balance also! But He became the greatest personality in the world. What does this show? Worldly wealth is not His real wealth. He treated all the wealth and possessions as mere passing clouds. Krishna's greatness consisted in His permanent state of Ananda (bliss).

If you recognise the distinction, between Krishna and Rama; you will appreciate better the nature of Krishna. Krishna always smiled at the outset and then carried out His task. For Rama, the deed came first and then the smile. Krishna made women cry. Rama wept for the sake of a woman. Rama went into the battle only after having a strong cause for it. Krishna first provoked the conflict and then determined its outcome. In fact Krishna provoked and fought with many. These are the differences one can find between these two Yugas. The Krishna principle revels in delight. The Rama principle is based on the concept of Baadhyatha (obligation).

The Ramayana is intended to promote the reign of Truth and Righteousness on earth. The Krishna Avatar was intended to give a perennial message to the world. He sought nothing for Himself. He kept nothing for Himself. He gave away everything to the people. He killed His maternal uncle, Kamsa. He installed on the throne Kamsa's father Ugrasena. He did not covet the Kingdom. He befriended the Pandavas, defeated the Kauravas and crowned Dharmaja as the emperor. He did not make Himself king. He was a king without a crown. He was the King of kings. He had no kingdom of His own. But He ruled over the hearts of millions. It is this profound truth that is proclaimed by the Krishna-tatva (Krishna principle). If you enquire deeply, you will find that every Avatar has incarnated to convey a special message and carry out a particular mission.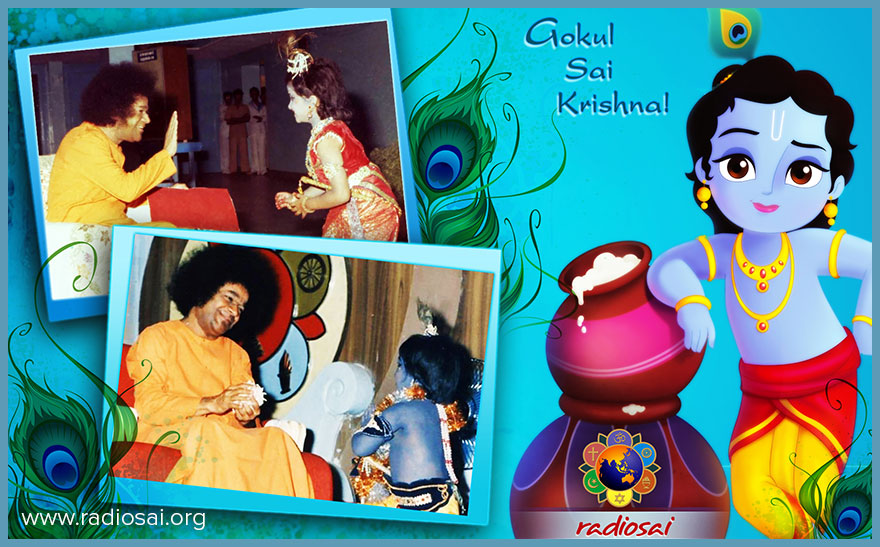 5. Those who consider Bhagavatha and the principle of Divinity portrayed in it as mere fun and frolic, for them it appears and remains so. Different heads will indeed have different thoughts. Bhagavatha means the story of the Divine. The best way to understand the stories of the Divine is through Krishna Leelas. Krishna climbed the tree. He wasn't responding to their pleas. They too were not able to come out of the river. So eventually they started praying. (Swami is referring to the episode of Krishna taking away the clothes of the Gopikas while they were bathing.) What is the inner significance here? Attachment is a vesture (that covers the soul). Give up this vesture of attachment, then the Lord will enter you as the Spirit. In this manner the Bhagavatha propounded such deep spiritual lessons. So these stories of Krishna are not to be treated in a spirit of levity or profanity.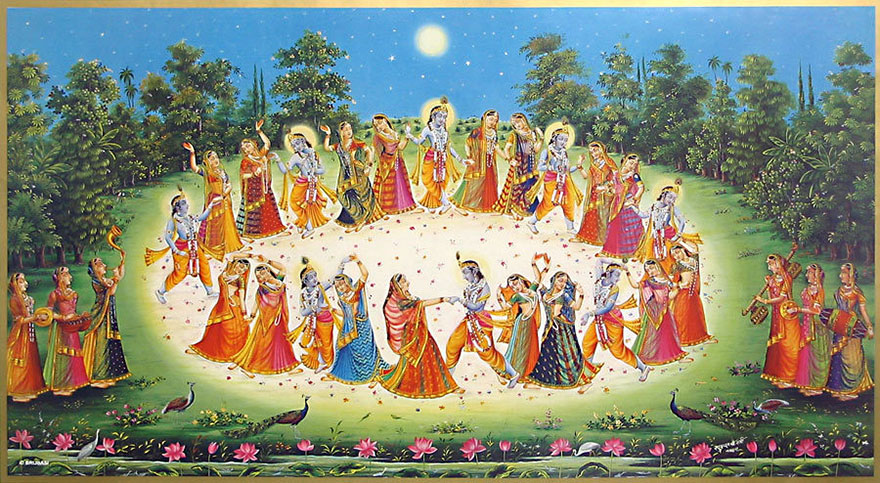 6. In the case of Radha too, Krishna churned her heart and gave her the nectar of true devotion and divine bliss. Radha had no attachment to any of her kith and kin and she never depended on anyone.

There is no refuge for me, but I still am living my life for You Krishna,
My mind ceases to exist without Your beautiful smile,
Oh Krishna! Show Yourself at least in my dreams,
How can I stay without You, please grant me Your darshan.

Krishna then manifested before Radha, as she was about to give up her life and blessed her. God will give anything for the devotee, including Himself. He will give His very life. One cannot find in this world any individual, friend or relative who can equal Him in the sacrifice. Radha was losing all the vitality in her when Krishna manifested before her. He asked, "Radha, what do you want at this last moment of your life?" Radha said: "I don't want anything Krishna. Just once let me listen to the music of Your flute".
"(Song) Sing a song, oh Krishna, as sweet as flowing nectar; Speak to me oh Mukunda, to my heart's content. Drawing the essence of the Vedas and turning it into music divine, make it flow through your flute and give it to us as a beautiful song."
"My body is Your flute. This body has nine holes like the flute. Let Your nectarous music flow through this body and bring the essence of Vedas (namely Rig, Yajur, Sama and Atharvana) and Upanishads to me. Krishna took out His flute and played, after which He threw it away. He never touched it again. He dedicated the flute to give delight to Radha.

7. Krishna's mystery and miracles are beyond words. He was all things to all people. Among men, He is a man. Among women, He is a woman, among children He is a child. Among elders, He is an elder. He is omnipresent and He is the indweller of everyone's heart. Do not have any doubts on Divinity. There is only one and there is no room for duality. Call by any name, Buddha, Jesus, Allah, Zoroastra, Rama or Krishna, there is no difference among all. There is only one religion, religion of Humanity. Our Mathi (mind) is getting polluted, not the Matham (religion). So, correct our Mathis. Do not give any scope for religious hatred. Students should resolve themselves to restore the pristine glory of Bharath by leading ideal lives.
Students! Proclaim the message of unity to the whole world. Do not give any scope for differences. This is the true education. Imbibe this education.
8. Today is Gokulashtami, the day celebrated as Krishna's birthday. What do we mean by Krishna's birth? It is the physical body of Krishna which has taken birth. It is important to adhere to the teachings of Krishna and follow His commands. There is no difference between Krishna and His teachings. There is no difference between Swami and His teachings. The Gita is Krishna and Krishna is Gita. Do not differentiate between the two.
[Bhagawan concludes with the Bhajan, 'Govinda Krishna Jai, Gopala Krishna Jai']
- Radio Sai Team



What do you think about this article? Please let us know by writing in to

[email protected]

. Do not forget to mention your name and country.