| | | | | | | |
| --- | --- | --- | --- | --- | --- | --- |
| | 'Like' us on Facebook | Follow us: | | | | |
Posted on: Dec 25, 2014
To Be Thy Love n' Light
A Christmas 2014 Audio offering

In the Silent Night... The Stars are Shining Bright
We can see the Holy Light... in Everybody's Heart...
And so on goes our sublime and new, special and fresh Christmas audio special offering! Just close your eyes, imagine the light of the Lord shining bright within you, glowing in you, comforting you, caressing you... and then begin to listen to this.

Vocals: Vidya G  |  Lyrics & Composition: Sai Kaustuv Dasgupta  |
  Music Arrangement & Keyboard: Anirudh S

In the silent night
Stars are shining bright

We can see the holy light
In everybody's heart

We will keep Thy holy light
Every moment day n night

Every soul will feel Thy light
Thy love n light

Sing Thy glory to praise the Lord
Sing Thy story to spread His love

Sing Thy glory to feel Thy love
To be Thy love
Isn't this offering beautiful? Now what will add more beauty to this when you hear it once again is the story of how this came about. The lyrics and tune were by Sai Kaustuv Dasgupta, and here is his Christmas tale of joy:
The story of how my Sai blessed me with this gift last year is beautiful. I had finished doing a special wallpaper for Christmas. It was a collage of myriad expressions of Swami – smiling, surprise, silent, gazing, glowing, gentle... and on top of all this I placed the characteristic Santa Claus' red cap. Beside this was another picture of Swami interacting with a little one dressed in Christmas red and white, and now below this there was little space and here I wanted to write one line... something which will summarise this entire art. I did think long and hard about it that night but nothing that I like surfaced in my mind. So I let it go... I prayed to Him and quit the day.


The next morning the first thought that enveloped me were these words "Joy to the World... the Lord Is Come". I was so happy! I changed it a bit and made it "Joy to the World... Our Sai Has Come". I felt they were the exact words that would make my creation complete. So I quickly put those words in and it looked perfect now. Glad that it was done, I now shared this with my brothers in Radio Sai so that we could post it on Radio Sai's Facebook page.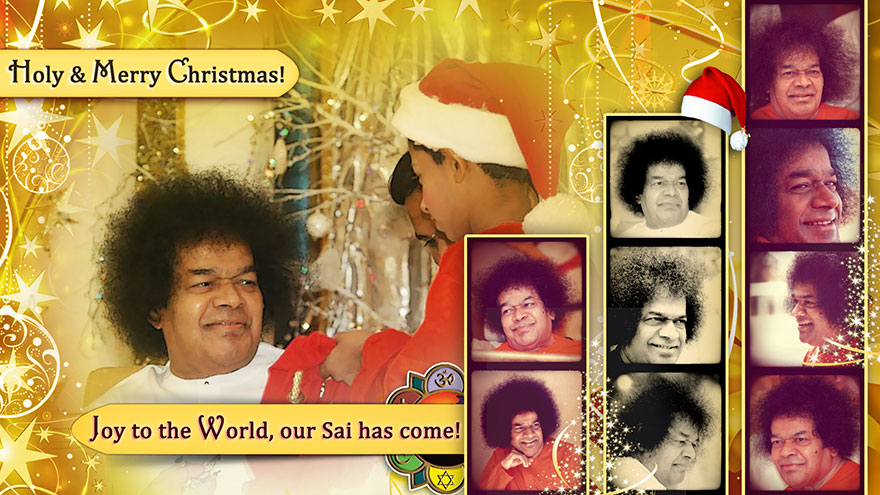 The moment I sent this, one of them immediately wrote back saying "Oh! So you knew the theme of this year's Christmas Decoration in advance!" I said, "I had no clue... even now I have no clue!" And then he revealed to me how on top of the stage in Sai Kulwant Hall were the words in big, white and bright - "Joy to the World... The Lord Is Come". I was speechless. I had only tears in my eyes. How else can I express my Love to my Beloved! How else can I thank my sweet Lord for suffusing me with His palpable presence so powerfully yet so silently!

I was so filled with His love that morning that I just started singing... and after five minutes I realised that the Ever Merciful Lord has now blessed me again – this time a song! A lovely one! A much cherished Christmas gift.


This Christmas gift is not for me alone, it is for everyone. And as Christmas 2014 approached, with great joy I shared this with my Radio Sai brothers and now they have given it such a fantastic shape! The Lord never ceases to amaze you!

Let us bask in the bliss of His music. Let us lose ourselves in this superlative Joy of His Love.

This song is His! This music is His! Infact this life is His!
- Radio Sai Team
What do you think about this Audio Special? Please let us know by writing in to 

[email protected]

 or you may leave your thoughts in the comments section. Do not forget to mention your name and country.