| | | | | | | |
| --- | --- | --- | --- | --- | --- | --- |
| | 'Like' us on Facebook | Follow us: | | | | |
Posted on: Jan 08, 2014

HISTORIC BAL VIKAS ALUMNI MEET AND CONVOCATION 2014

- a glimpse of the glory the future holds




Sitting and witnessing a historic Convocation ceremony in the holy precincts of what could possibly be the spiritual capital of the world, Prasanthi Nilayam, one cannot help but marvel at the magic and Divinity immanent in the children of the world. January 5, 2014 saw the first ever Convocation of the Bal Vikas movement and the graduands honoured spanned people in their twenties to people in their seventies! But before going into that, it becomes necessary to introduce ourselves to the concept of 'Bal Vikas'.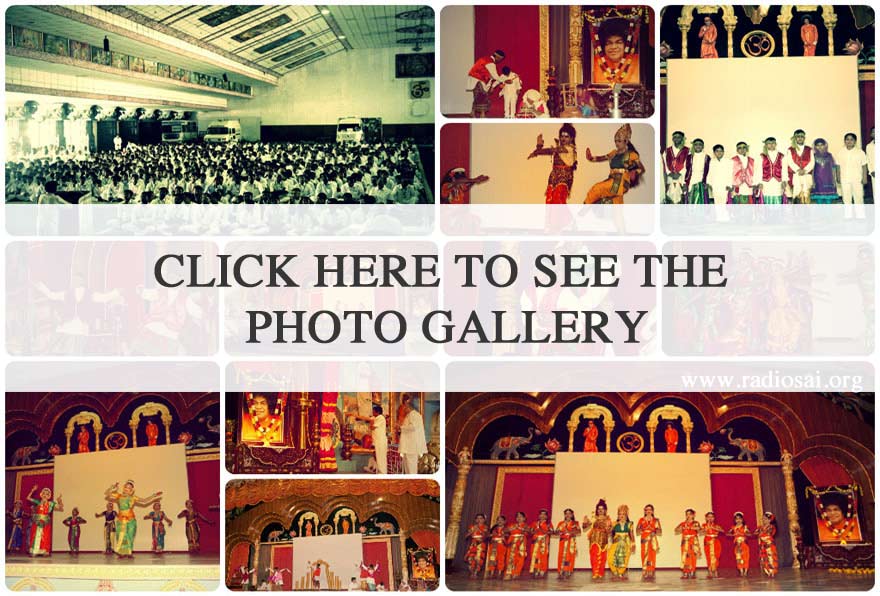 A gallery offering a quick and comprehensive view of all the proceedings on 4th and 5th January.
In his famous ode to nature via the poem, The Rainbow, William Wordsworth proclaims,
"The child is father of the man". Though his reference is definitely about his love for Nature which he developed as a child, the line carries far greater implications. It strongly advocates that what we think as children will determine how we think as adults. That was the firm conviction with which Bhagawan Sri Sathya Sai Baba launched the Sri Sathya Sai Bal Vikas movement.

Way back in 1969, even before the founding of the magnificent temples of learning that now dot the Puttaparthi landscape, Swami had His vision clear on two points regarding the transformation of the world. He has reiterated these two points on several occasions. Given below are these two points with a sample of a discourse in which He mentioned them.
Individual transformation is the way for world transformation.
The word SAI spells out to the world the significance of transformation at three levels. The letter S stands for transformation at spiritual level, A for transformation at association (social) level, and I for transformation at the individual level. Individual transformation is the basis for the other two.
Therefore, this is the first step. (Discourse 28 April 1999, Kodaikanal)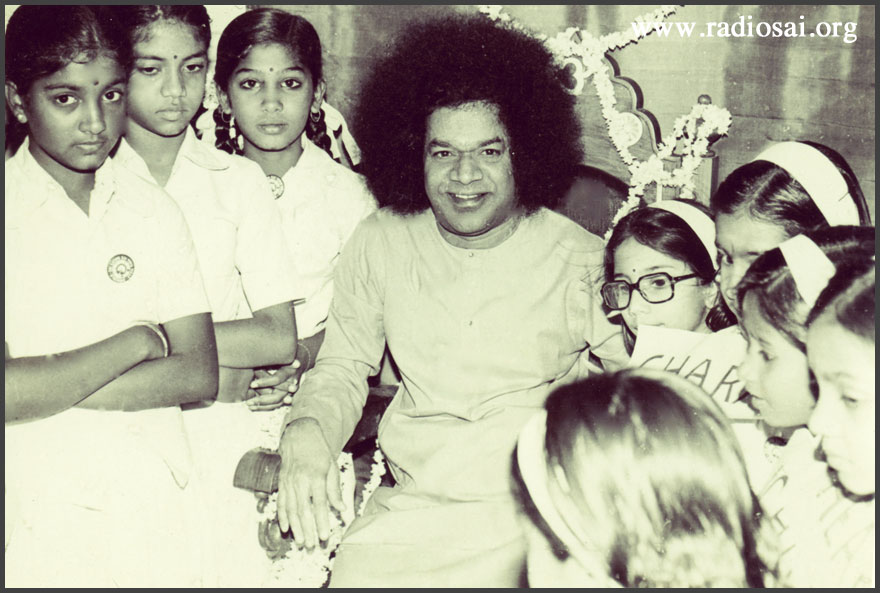 Swami has always been the tending 'Divine Gardener', nourishing and taking care of tender 'saplings'.
Among individuals too, transformation of the children is the way forward.
The magnificent mansion that was created by the sages of the past, for the peaceful and prosperous existence of their succeeding generations, the mansion called Sanathana Dharma has crumbled through the wanton neglect of the sons and daughters of Bharath Matha (Mother India). Now, peace and joy are to be found only among these little children; the elders have lost the art and the discipline of regaining them and retaining them.
Even as children, they must learn the glory of God who is their Inner Reality; they must understand that they are not the body, but they are the one dehi (indweller), who is the dehi in all. Through bhajan (singing devotional songs) and through shravana (listening to tales of God's Glory), these elevating truths can be handed over to them by teachers and parents who are themselves aware of these and practising them in daily life. Learn the A B C and D of your own alphabet and then, you will be better able to guide others, in their learning and life. Discourse on 19-1-1969 )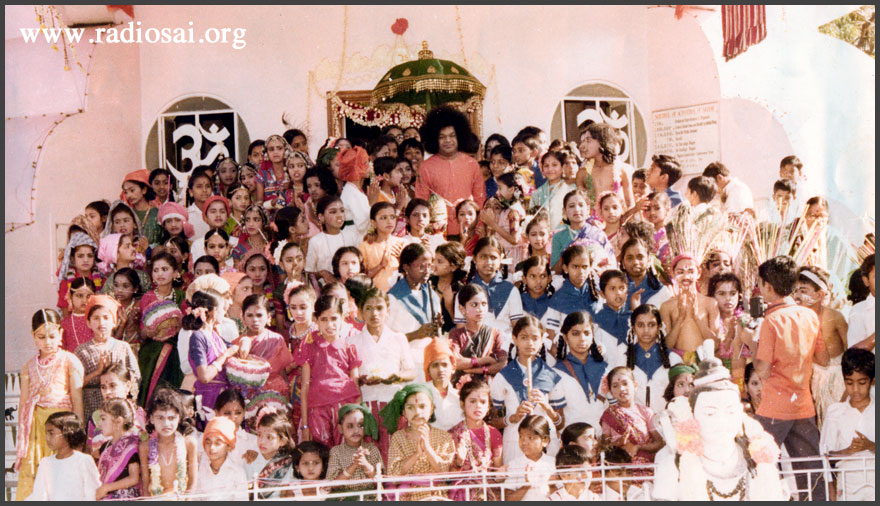 At the entrance of "Shivam" mandir in Hyderabad.
Thus began the Bala Vihar movement which soon was renamed as the Bal Vikas movement and it has a beautiful History of Swami's involvement to date. And today, even as the Convocation of this movement took place in Prasanthi Nilayam with the promise of becoming an annual event, one could only stand back and look at the mighty tree that the sapling of Bala Vihar movement has grown into.

The child is definitely the father of man if one is to judge from the sample of beautiful and God-touched children in the movement today.

Three Superstars

First there was the little champ, 7-year old Truptraj Atul Pandya, who already holds the Guinness World Record for being the youngest tabla player on the planet, playing the instrument when he was merely 3 years of age.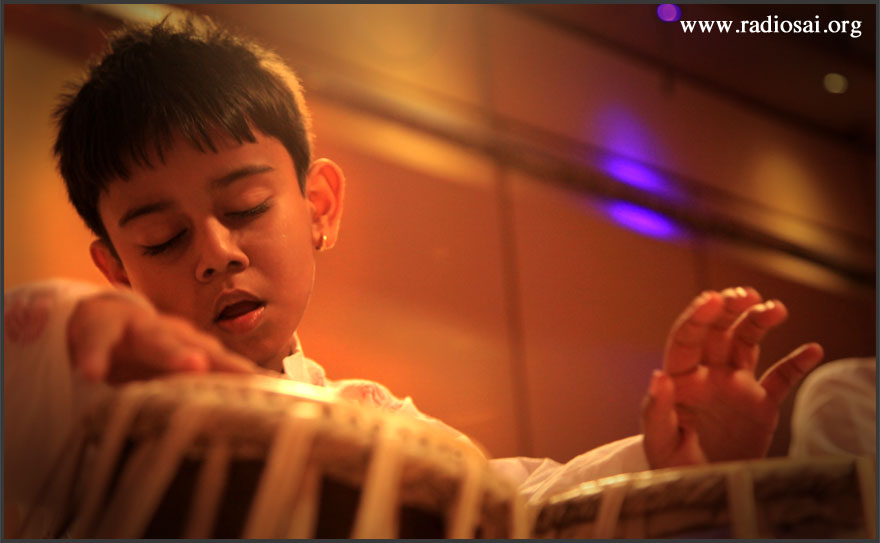 Truptraj in a tabla trance...
"But," his mother says, "he played the tabla even when he was just 18 months old. He could not speak but he could catch the beat and rhythms in the music. He used to convert everything into a percussion instrument - his bed, the vessels, the table. I am sure he was born with this vidya (knowledge)."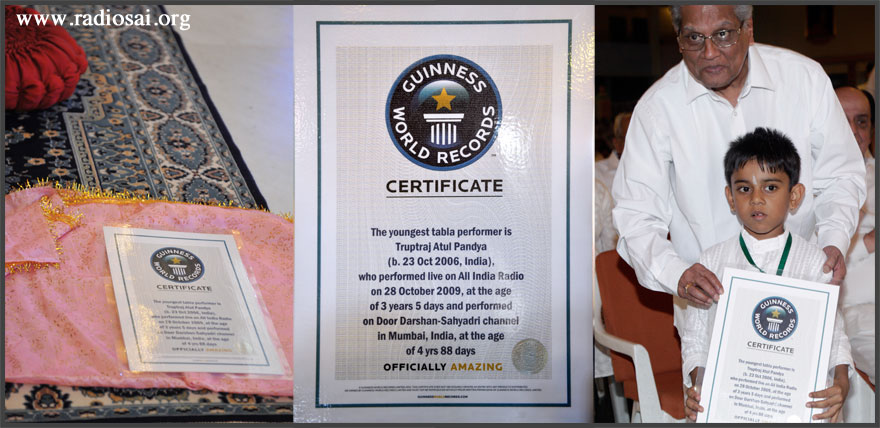 The Guinness World record certificate which Truptraj happily offered to his Swami.
The story of how he became recognised is captured in a Times of India article. However, what is not captured there is why his mother wanted her darling superstar to join Bal Vikas.

"You see there is more to life than just becoming great. I want my son to be a good human being and I saw that Swamiji's Bal Vikas gurus are so full of motherly love. They also help in shaping children into people of good character."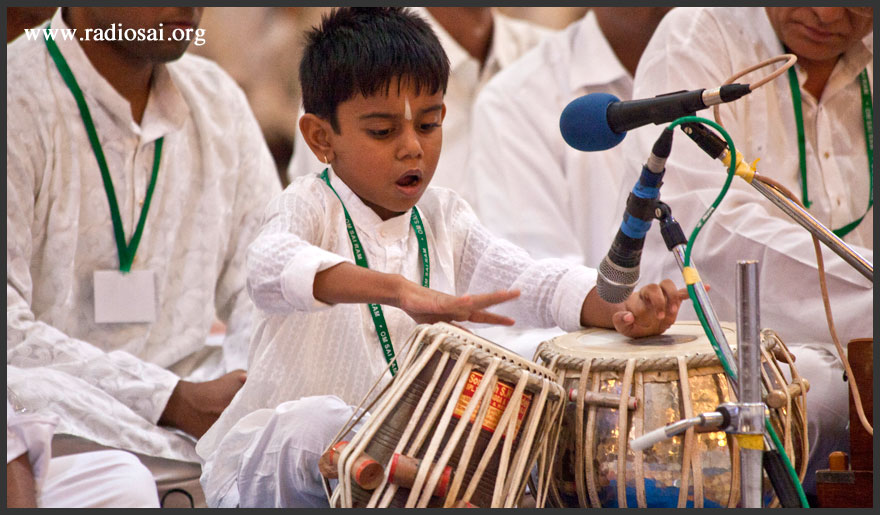 In concert at Prasanthi Nilayam in the Divine Presence.
"I love Bal Vikas because I get to hear so many nice stories. I also like the shlokas and stotras that are taught there," said a smiling Truptraj who was hoisted to the level of the standing mike by Mr. Nimish Pandya at the end of the little maestro's concert. Having been in Bal Vikas for more than two years now, he and his parents consider it his great chance to have performed in Sai Sannidhi, Sai's proximity, at Prasanthi Nilayam. They respectfully offered the Guinness record at Swami's lotus feet.

And then there was little Pooja Alan who mesmerised one and all with her skilful dance. Anyone having any doubts about who will be the future torchbearers of Sri Sathya Sai, would have stood and applauded as little Pooja literally held aloft flames while striking impressive stances of various dance mudras. She danced on a plate, on two copper pots and finally on the two copper pots in the plate - all the while keeping the flame steadily burning. One could not help but think that children with such dexterity and such determination will surely keep Sai's flame alive in spite of what the world and life throws at them. And that is because as Pooja spoke in her speech of few words. This time, the mikes were lowered to her level by the same Mr. Nimish Pandya.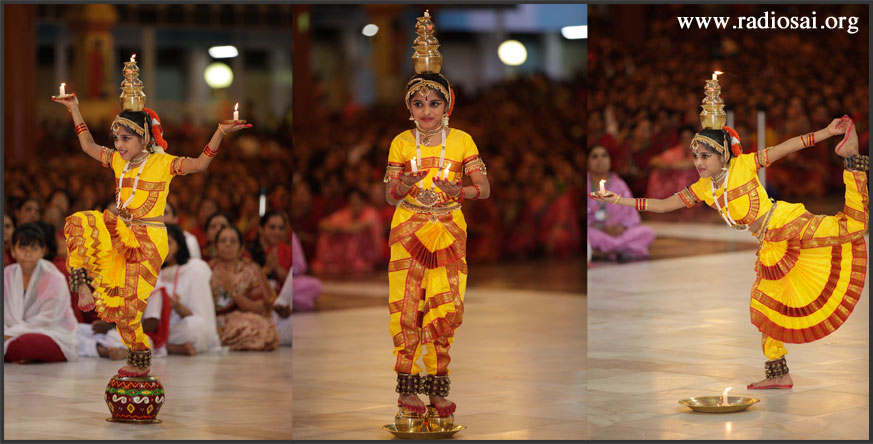 The different delicacies of dance as served by the maestro, little Pooja Alan.
"I like it in Bal Vikas. I like it a lot. My Guru teaches me a lot.

Even as this wonderful event was taking place in Prasanthi, another phenomenal little achiever and Bal Vikas student was present on Prasanthi soil during the meet. She was the little champion, Ms. Rakshitta Ravi.

"Her thirst for Swami's stories is unquenchable. She loves Swami and wants to become His child," says her mother.
It was actually this thirst that led little Rakshitta to Radio Sai as she sought Swami's stories. Even as she sought her soul's longing, the members of Radio Sai team discovered the prodigious talent she is. Ms. Rakshitta Ravi is the current Girls' Under-8 Blitz Chess World Champion with a string of victories at the recently concluded World Youth Chess Championship where India figured on the top of the medals tally. Her mother, Sai Meera, an International Woman's Master herself, is her guru. But she is also her guru in the game called life.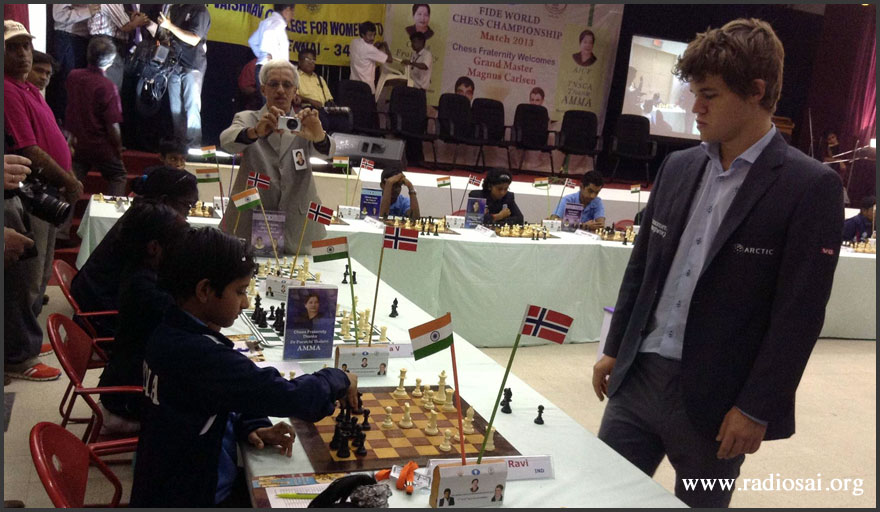 Rakshitta got a chance to be one among the several little champs who played against the World Champion Norwegian grandmaster Magnus Carlsen.
"Before every game of the championship, Rakshi would tell me - 'Mother, it is Swami's game. I am just playing it.' I felt so happy and grateful to Swami for her equanimity. Every night, she pesters me to tell her a story about Swami and His leelas."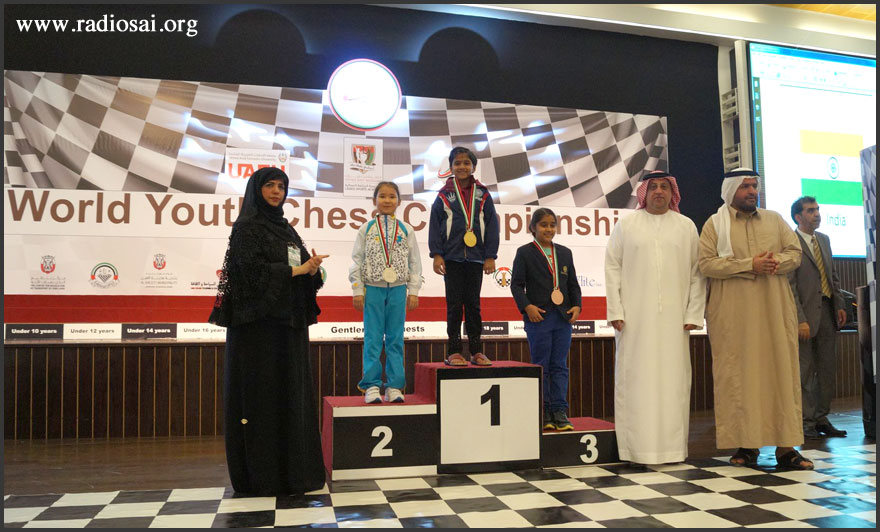 A gold finish on the podium at the World Youth Chess Championships, 2013.
By the way, her father is an International Master himself who sacrificed his career for his daughter.

Her mother is her teacher, her father is her inspiration; Grand Master Vishwanathan Anand her idol and Bhagawan Baba her everything, her God!
Rakshitta was at Prasanthi to offer all her medals to Swami and seek His blessings. Her love and attachment towards Swami is clearly visible as she says that she does not want to celebrate her birthday anymore because it falls on April 24!

Superstars of Another Kind

Anyone who thought that this article is going to be about glorious achievers alone was perfectly right for, in Swami's perspective, glory is not only about worldly achievements but also about achievements in the spirit. And one such spirited performer was little Munish Sharma from Punjab. He was part of the Bhangra dance troupe. Though he was suffering from a serious kidney ailment, he insisted,

"I will go to Prasanthi and I will do my dance. Nothing will happen to me. Swami is there and there are so many who will be praying for me."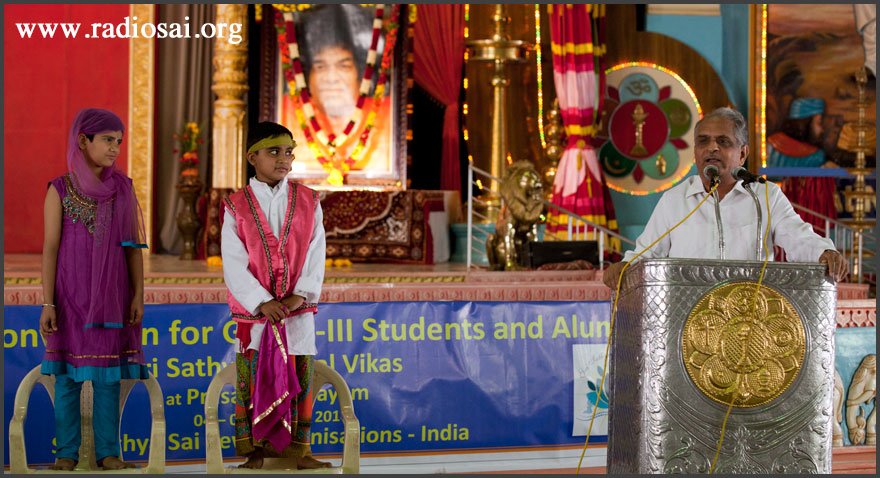 Nimish Pandya, Vice President of Sri Sathya Sai Seva Organisations, India, is awestruck at the conviction which Munish and
his friend Ishant (in girl costume) have.
Wonderstruck, when one asked the little boy as to the source of his confidence and faith, Munish immediately pointed to a little girl. That 'little girl' turned out to be his good friend, Ishant, who had instilled this faith in him. She had told him one day,
"Munish, don't worry about anything. My mother was very sick and doctors had said that she would die. But she too went to Puttaparthi to do seva (service). Everyone prayed for her. Now, even though years have passed, she is alive, hale and hearty. The same will happen to you too."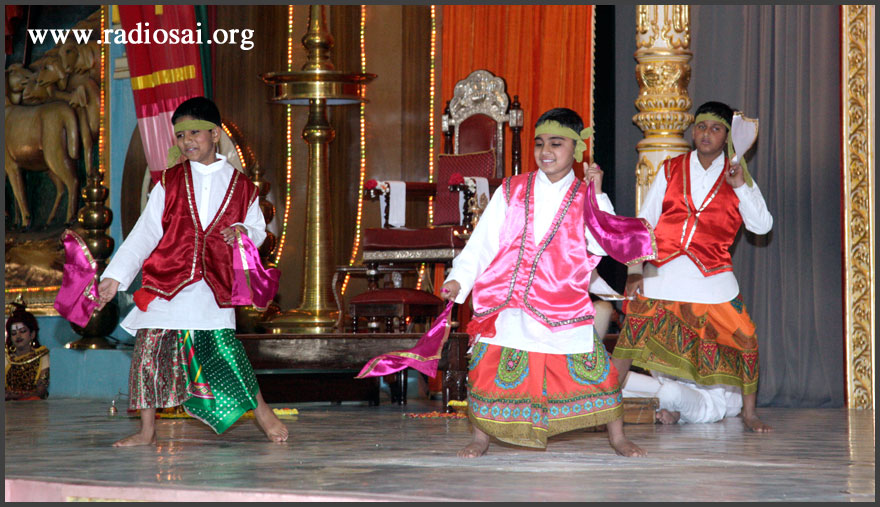 Munish's inspirational dance performance on the stage of Poornachandra Auditorium in front of a 2000+ audience.
The conviction of one little boy rubbed on to another little boy and, hopefully, to the thousands who sat applauding with teary eyes in the hall that day! These two boys gave samples of superstars of another kind in the making in the Bal Vikas movement
A Surging Movement

The very fact that Swami has started the Bal Vikas movement should be enough to convince us that it will grow, surge and swell in its numbers and impact. It is bound to be a quantitative and, more importantly, a qualitative one. This too was clearly seen, as the felicitated alumni of Bal Vikas had among their ranks people holding authoritative posts in the IAS (Indian Administrative Services), in Multi-National Corporations, people serving as bankers, engineers, doctors, scientists, agriculturists, etc. And all of them, in their own way were bringing in human values into work. Some of the alumni included those that are working in the various Sathya Sai Trusts as well.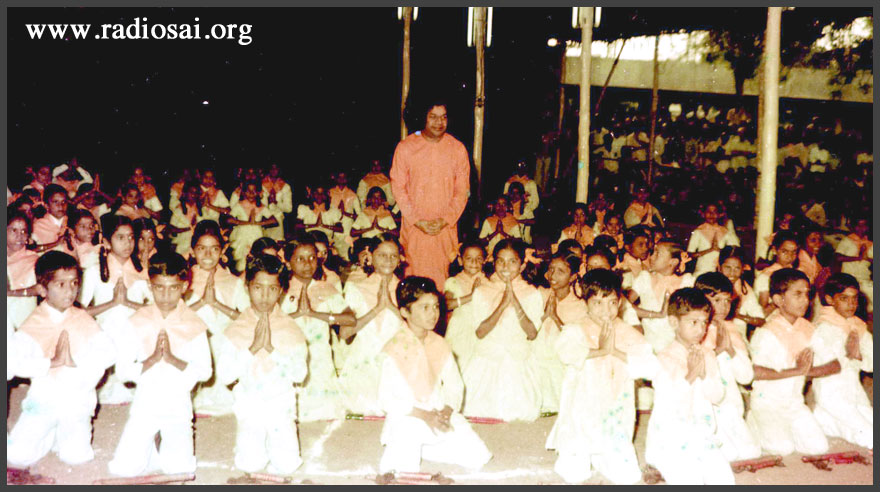 Change a child's world and changing the world becomes child's play.
On the whole, the convocation of Bal Vikas had a very uplifting and hope-filling feel to it. Any naysayer or prophet of doom would get turned into a messenger of hope witnessing the silent revolution that has been going on. It is said that one need not taste the whole ocean to experience it. One drop will suffice. If that analogy holds true in the case of the Bal Vikas, the drops that are being churned are very promising and liberating indeed!
By: Aravind Balasubramanya (Radio Sai Team)



What do you think about this Article? Please let us know by writing in to

[email protected]

. Do not forget to mention your name and country.