| | | | | | | |
| --- | --- | --- | --- | --- | --- | --- |
| | 'Like' us on Facebook | Follow us: | | | | |
Posted on: May 06, 2014

A Living Scripture on Ideal Womanhood
Two distinguished devotees from yesteryears, Mrs. Ratanlal and Mr. Ramana Rao, reminisce the sacred memories of The Mother as they saw her. As we celebrate Easwaramma Day on May 6, let us ponder on the ideas and ideals that the Lord communicates to us through the blessed life of His Chosen Mother.
"What is the most fascinating aspect of the relationship between Swami and His mother that you had the chance to personally witness?"

We asked Mrs. Ratanlal who is now 93; she was drawn to the divine fold in 1960s and since then was blessed to serve the Lord at close quarters, especially looking after His kitchen, all through her life.
The Jolly Relationship

"I saw The Mother for the first time in 1965," she started. Her speech was slow but very measured, and her every word clear.

"As I come from North India," she continued, "Then I did not understand even a word of Telugu and The Mother did not speak Hindi, so I could not interact much with her initially. Nevertheless I would always pay my respects to her with folded hands but she never allowed me, or anybody for that matter, to go near her and touch her feet. She in fact repelled at such adoration.

"With time as Swami gave me the privilege to take food for Him, I had the chance to go upstairs and into His dining room, and it is there that I saw the lovely interaction between The Mother and her Divine Son."

Mrs. Ratanlal now paused, and a bright smile blossomed; maybe she was reminded of a beautiful scene.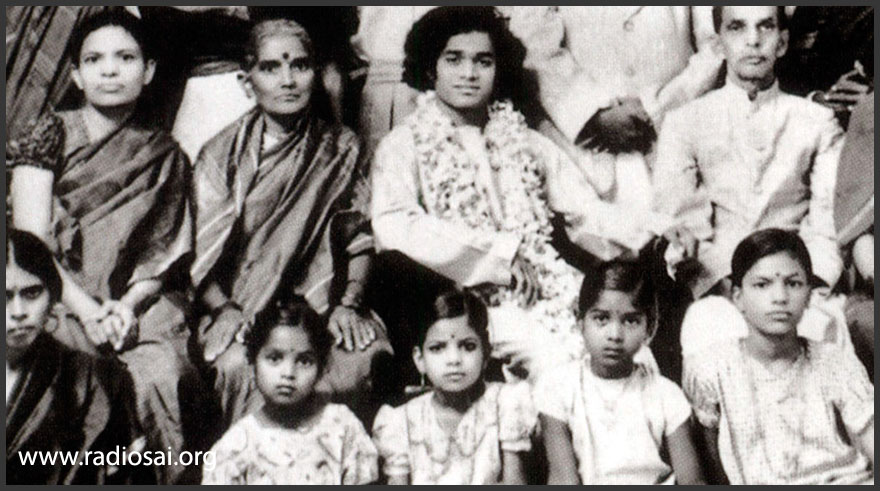 To Bhagawan's right is Mother Easwaramma
"You know...," she resumed, a childlike joy so evident on her affable face, "Swami used to be 'naughty' with her; He loved playing with her. So He would tease her and make some curious remarks, and she too, sensing her Son's mood, would smartly retort. And as this went on, at some point she would be no match for Swami's quick-witted comments, and so seemingly disappointed she would return to her room in the Mandir. As we climbed down the staircase she would be repeatedly saying, 'He is now a Pedda Devudu (Big God), still He is my son too!'"

Like every mother, she was possessive of her Son, and even though her Son had now risen to such heights that she was always left baffled and bewildered, she could never let go of Him. Same with Swami too, He also always loved her dearly and regaled in her company.

"Once when we were traveling, Mr. Raja Reddy was driving and Swami was sitting next to him in the front," Mrs. Ratanlal recalled a specific instance, "Mother Easwaramma and three other ladies were sitting behind. The Mother was seated right behind Swami and her hands were stretched, holding on to Swami's seat. On this occasion, after a while the charming Swami started playing with His mother's bangles and exclaimed, 'Oh! Golden bangles! Who gave them to you?!'

"The mother too riposted, 'Your father, who else?' And Swami had a hearty laugh, sending everyone else in the car too into ripples of smiles because everyone knew that by no means her husband could have given her golden bangles as the family during Swami's childhood struggled to make both ends meet. Still, the Mother intentionally did not want to give the credit to Swami just like Bhagawan too never praised her qualities but always liked to 'tickle' her. This always had a better and beautiful effect!" Mrs. Ratanlal reminisced with glee.
A Character as Clear as Crystal

"Oh! Swami was very fond of her," she went on, "He respected her a lot, probably because she was a repository of virtues. Sterling qualities studded her personality. She never asked anybody for anything. Often devotees would bring something for her but she always refused to accept, no matter whoever he or she is. Even when Swami said to the devotee 'Give it to her' she would not take it. She would say 'You give it to Swami'. She would accept it only when Swami gave it to her.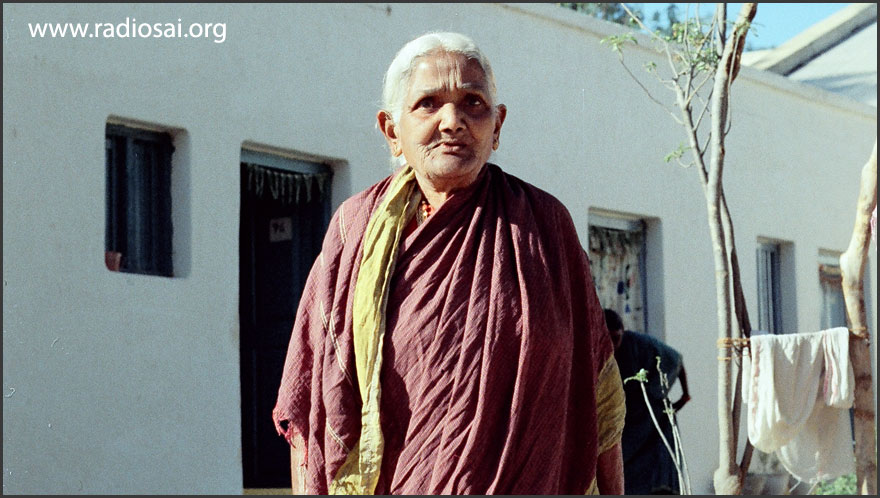 "Not only this, she would be extremely careful about her dealings with public. Even though she was brought up in a rustic village with little education, she was very sensible and highly observant. She would keenly watch Swami's interactions with different devotees and accordingly maintain her distance.

"Besides she would never do anything without consulting Swami. Let alone going out, she would not visit the houses of her relatives or children in the village itself without telling Swami. Even though she had all access to Swami and could say anything to Him at anytime, she would always wait patiently for a moment when Bhagawan is relatively free, to speak to Him. Such was her love for Swami that she would never do anything which could upset Swami.

"On His part, Bhagawan would do everything that would make her happy. For example, whenever Swami went to Bengaluru He would always take her along. While there, knowing her weakness for her grandchildren, Swami would often send her along with them to the city giving her sufficient money so that she could buy things and feed her dear ones to her heart's content. But more than this, what gave her maximum satisfaction is when heeding to her request Swami alleviated the suffering of a devotee."

This facet of The Mother is what every devotee of that era vouches for. Like Mrs. Ratanlal, Mr. B. V. Ramana Rao too came to the lotus feet in the sixties and had the opportunity to serve Bhagawan in His close proximity in various capacities all through his life. He is now 89 but exudes the energy of someone who is 49!
A Heart of Gold

When we asked him about his recollections of The Mother, he said, "She was more or less the mouthpiece of so many troubled hearts. Those devotees who could not get Swami's attention for some reason and were desperate to find a solution to their maladies would go to her. She would somehow present their pitiable conditions to Swami, and even though Bhagawan would appear disinclined to take recommendations from her, He would always give her His ear.

"In these situations Swami had to do tight-rope-walking because He never wanted the world to feel that the easiest way to get across to Him is through The Mother (else she becomes His secretary!). At the same time, He did not ever want to displease her. So more often than not He would bless everyone The Mother brought but pretend as if He was doing it reluctantly. I have been a personal witness to many such incidents when The Mother pleaded on a devotee's behalf, and Swami in response said, 'Alright, ask them to sit here.'
"In fact, that is perhaps the reason why she was so much loved by everyone in Puttaparthi and in the surrounding villages. I had no clue how much she meant to the local population of this area until the day she left her mortal coil.
The Revealing and Riveting Final Journey
"I was indeed there in Brindavan (Bengaluru) when she passed away on May 6, 1972. The Summer Course in Indian Culture and Spirituality was going on in the ashram; youth from all over the country had come to participate in this one-month programme. At about 6 that morning Smt. Parvathamma (one of Swami's sisters) cried out 'Swami! Swami! Mother has fallen down!' That is when Mr. Rama Brahmam, the caretaker of the Brindavan ashram, rushed to the scene and he asked me to call Dr. Hegde (a close devotee of Bhagawan).

"Meanwhile Mr. Rama Brahmam went upstairs but Swami, apparently, did not open the door of His room. Restless, he went up again after a short while, but now he was surprised to see Swami Himself coming down with a silk saree in His hand. Bhagawan went straight to The Mother's room and told Smt. Venkamma (His other sister), 'She achieved what she had sought for – a painless passover. She is extremely fortunate.' And then Swami covered her body with the silk saree He had brought with Him. All along Sri Kamavadhani, the renowned Vedic scholar who was around, was chanting Vedic hymns, and during this time, Swami perhaps also poured holy tulsi water into her mouth.

"What we do not know about this episode is the exact moment when The Mother called out 'Swami!... Swami!' about which Prof. Kasturi writes in the book 'Easwaramma – The Chosen Mother'. 'I am coming... I am coming...' is how Swami responds. I think that was the call of the soul which only Swami heard and immediately answered. No one needed to inform Him about this event. When He came down with the silk saree He was calm, composed and absolutely in control of everything, like always.

"In fact, within a minute of draping her body with the new cloth, He called me and said, 'Start immediately for the city market in our van. Purchase flowers from there as there will be no flowers in Puttaparthi at this time. All the rural folk would like to place flowers on her body. From the market proceed directly to Puttaparthi.' Saying this He thrust five 100-rupee notes onto my hand.

"I felt embarrassed to accept money from Swami but there was no time or space to tell Him anything; He asked me to rush. So I went to the city market but my mind was a muddle as I had no clue what sort of flowers should I be buying, should it be loose ones or garlands, how much should I purchase, what is the quantity I can get for Rs. 500, and so on.

"Once I reached there I went to the owner of one shop and presented my demand. He asked me the reason for my purchase and when I mentioned to him 'Mother Easwaramma passed away this morning' he instantly broke down and started crying inconsolably. I was shocked. I never thought he would know The Mother, and even have this much love for her!

"Soon many other flower shop owners gathered there and then a barrage of questions followed 'How did this happen? When did this happen? How was she yesterday? What did Swami say?' and so on. Then, within ten minutes they filled the entire van with all kinds of flowers and garlands. And all of them refused money. But I insisted that they accept at least Rs. 500 which Swami has given, else I might get reprimanded by Swami. So they took it as prasadam.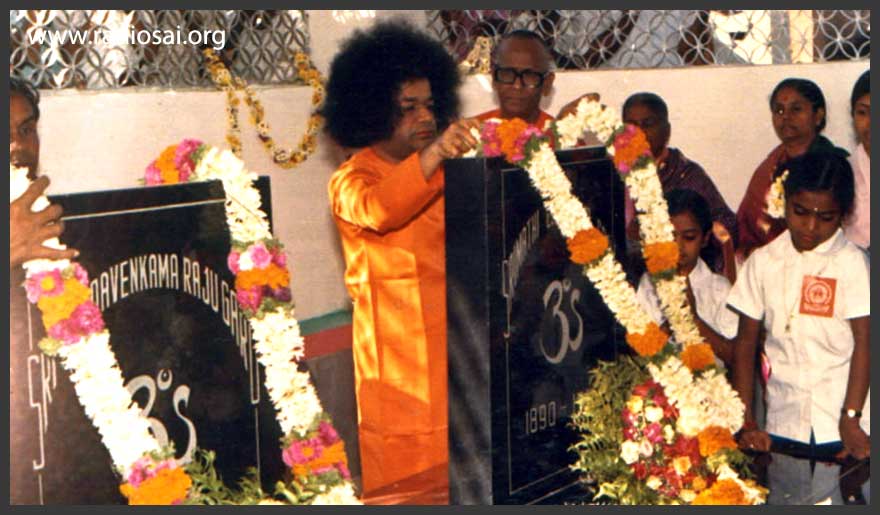 "While this was an eye-opener for me, a greater revelation awaited me when I reached Puttaparthi. It was simply unbelievable. In those days 200-300 people assembling for an event is a good number but on this day thousands had gathered. Mr. Rama Brahmam, along with Swami's sisters Parvathamma and Venkamma accompanied the sacred remains of Mother Easwaramma and reached the house of Bhagawan's brother, Sri Janakiramaiyya at Puttaparthi by 10.30 am itself.

"It was 12 noon by the time I arrived. In those couple of hours, the news had spread like wildfire and many had flocked in large numbers from all surrounding villages. The hamlet was packed with people. And hundreds of them were literally crying and wailing loudly 'Now, who will take care of us!', 'Now, to whom shall we tell our problems!' 'Why have you left us so suddenly Amma?!' and so on.

"I could not believe what I saw. I never had imagined that she was virtually the mother of so many! That she was their strength, their support and their solace! I had thought it would be a simple burial with a few known devotees and Swami's family members. But this was a stunning surprise.

"I figured this is because she always was concerned about others' welfare. Even when Swami gave her money, especially on some festival days like Dasara or His birthday, she would give it to the poor and needy. She knew this is what will make Swami proud and happy.

"No wonder on so many occasions Swami has mentioned that it was The Mother's prayer which prompted Him to launch the mammoth missions in the field of education, healthcare and sociocare. Having seen the Mother, I can fully relate to this. Of course ultimately it is the Divine Will to uplift the lives of thousands through these mega projects but the chosen instrument for all these was The Divine Mother.

"I had the fortune to be one of the pall bearers of the sacred body as it was being taken in a procession from Sri Janakiramaiyya's house to the place of the Samadhi, and also had the chance to lower the body into the pit. The sacred spot was overflowing with flowers and garlands. More than that, it was drenched with the tears of teeming thousands; she was accorded all due honours that would befit a queen. She indeed was a queen of hearts."
When we asked Mrs. Ratanlal, what is the one virtue of Mother Easwaramma that she would want every woman in this world to cultivate, she said, "You are asking me about one virtue... whatever is written in our shastras (holy scriptures) about the right conduct and character of the woman of the house, she had it in her. She was a living scripture on ideal womanhood!"

That pretty well sums up what Mother Easwaramma is, why the Lord chose her and loves her, and also why the very mention of her name in His physical presence always made the eyes of the Lord moist with emotion.

Even for the Lord, The Mother's place is at the highest pedestal and her principles most precious. If we call ourselves devotees of such a Lord, it is worthwhile for us to reflect on where our relationship with our mothers stand. That would be a fruitful contemplation as we celebrate Easwaramma Day.
- Bishu Prusty
Radio Sai Team

What do you think about this article? Please let us know by writing in to

[email protected]

. Do not forget to mention your name and country.