| | | | | | | |
| --- | --- | --- | --- | --- | --- | --- |
| | 'Like' us on Facebook | Follow us: | | | | |
Posted on: Sept 20, 2014
A Maestro, His Mandolin and His Modesty
- A Tribute to Mandolin U. Shrinivas
When the noble devotee and unmatched musician, Uppalapu Shrinivas, popularly known as Mandolin Shrinivas, concluded his earthly sojourn there was a shock, too sudden to realize and a pain too deep to understand immediately. Mandolin Shrinivas passed away on the morning of 19 September, 2014, in a private hospital in Chennai due to a liver complication. He was a child prodigy who retained his childlike innocence, inborn genius and awe-inspiring humility till the very end, which unfortunately arrived when he was just 45 years of age. We at Radio Sai too are deeply pained like many across the globe. He lent his music to us, guided with his vast experience and touched each one of us with his simplicity, devotion and genuineness. On behalf of all of us, Prof. G. Venkataraman offers this heartfelt tribute to our dear, Mandolin Shrinivas sir.
There is something very unique about Mandolin Shrinivas from a historical perspective of Carnatic music - that he introduced an instrument least likely to be chosen to expound South Indian classical music.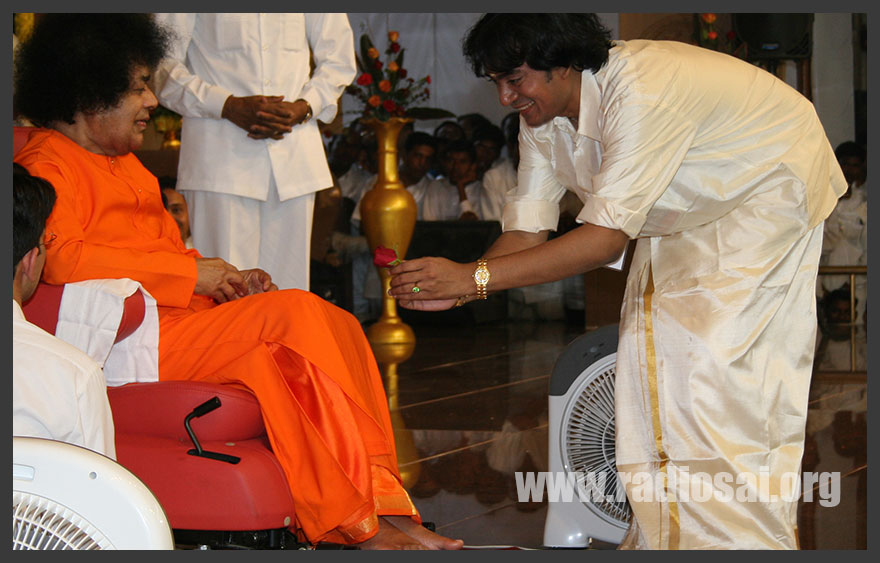 One wonders who's joy is greater, the devotee's on seeing the Lord, or the Lord's on seeing the devotee - Offering a flower before his performance during the Athi Rudra Maha Yajna celebrated at Chennai, 2007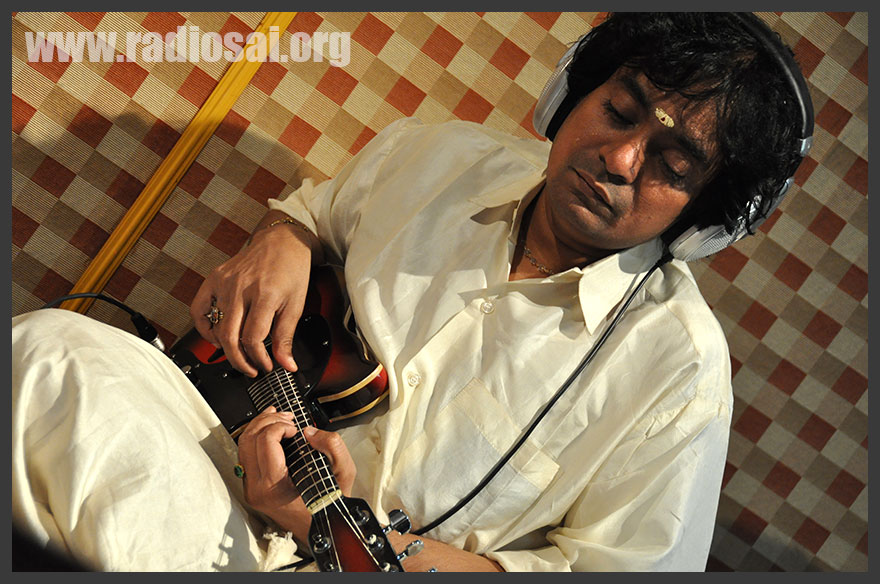 Mandolin Shrinivas in the studios of Radio Sai
He was a genius in music - such a genius that the name of the instrument he played got embedded in his name. His departure will be an irreparable loss to music. While the mandolin got him all the name, fame and glory, it will not be an overstatement to say that it was 'Shrinivas' that brought name, fame and glory to the mandolin too. That can be seen from the brief history of the mandolin and Shrinivas' tryst and romance with it. What the world mostly does not know is the fact that Shrinivas had no formal Guru; he was a 'Self'-taught musician. In his case, it was literally the 'Self' or God who inspired and taught him.
Music can enchant us all; it heals and elevates and touches the heart of the Lord Himself. When that music comes from a heart that is humble and loving, it conquers the Lord. Such was this legend's music, such was his devotion. He came to Swami when as a tender teenager, and ever since, he was always ready to offer his music at Bhagawan's feet.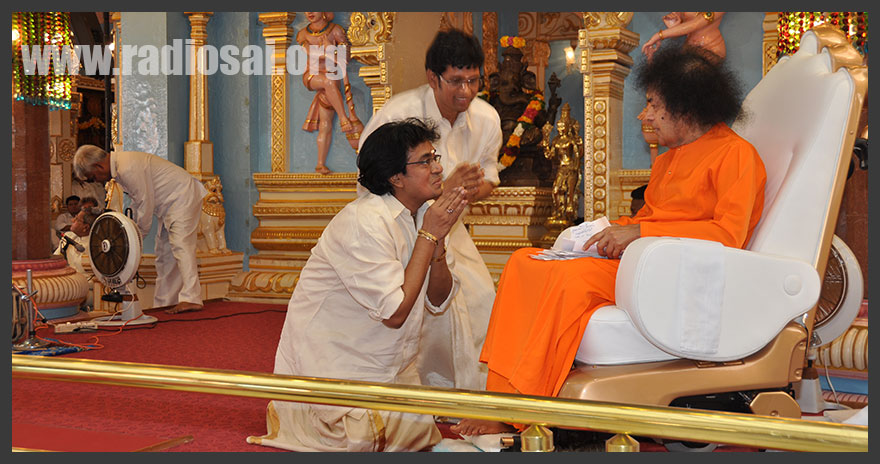 Mandolin Shrinivas offering pranams before his last concert in the Divine Presence, Aug 2010
At Radiosai, we fondly remember Mandolin Shrinivas. Of course, we cannot forget those beautiful moments when our ears were filled with his nectarous music and our eyes feasted on Bhagawan's beautiful form swaying to his music. But more than that, we cannot forget how he would never hesitate to tell those who appreciated him, that all his talent was a gift from his Lord. He was such an epitome of humility that he made every aspiring musician who came in his presence feel like an accomplished musician! This will be an irreplaceable loss to humanity. Little wonder that everyone - from the common man to the maestros of music have condoled his sudden demise.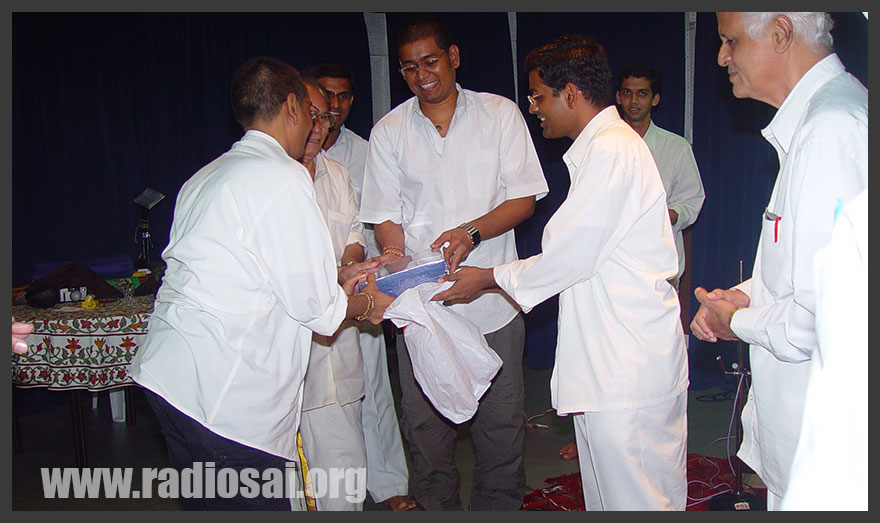 We fondly remember the many precious moments we shared with this legend
On that note, we would also like to fondly remember and pay our grateful homage to another artist who concluded his earthly sojourn in recent times. 'Kamalesh sir', as we called him, has been a bastion of support for Radiosai with his brilliant sketching skills. His commitment and involvement in several projects starting from the Prema Jyoti exhibition to the Message Of Pure Love book has been one of professional excellence and inspiring dedication.

Mandolin Shrinivas and his brother Mandolin Rajesh (left) with Bhagawan after their concert at the Sai Kulwant Hall, Aug 2010
It was a wise man who once said, "When you die, seek not a place in the bowels of earth but in the hearts of men." That is the 'real' estate that both these artists have won through their ability coupled with nobility. The sweet scent of their fragrant lives will stay with us forever.

Here is a portion of the instrumental piece rendered by Mandolin Shrinivas for the documentary, 'The Advent'.

Mandolin Shrinivas

Of this world he never belonged,
A saint in the truest sense,
God loaned him to this world,
For a brief spell, 
To dispel as much pain and suffering
With his smile as much as with his music,
This void will remain deep and bare,
This question, an answer none can dare,
God's own Child has merged in Him,
A state of purity completely out-worldly  
We  who remain behind,
Will never know the heavenly symphony his soul will find.
- C. G. Sai Prakash
- Radio Sai Team



What do you think about this article? Please let us know by writing in to

[email protected]

. Do not forget to mention your name and country.