| | | | | | | |
| --- | --- | --- | --- | --- | --- | --- |
| | 'Like' us on Facebook | Follow us: | | | | |
Posted on: Dec 23, 2015


The Cathedral of Christmas Joy
Awe-inspiring decorations in Prasanthi Nilayam

Christmas Celebrations Program Schedule at Prasanthi Nilayam (2015) - Click Here
The whole of 2015 has seen a series of spectacular programmes in the Sai Kulwant Hall. Now it looks like Christmas is going to be a fantabulous finale of this year long 90th Birthday celebrations of our Beloved Bhagawan.

All you have to do is step into Sai Kulwant Hall and you can see the difference! The entire arena now looks like a glorious cathedral! Never before this magnificent hall resembled a resplendent church like it is now.

"This is indeed a dream come true," says Mr. Kiran Patel, the Chairperson of Sri Sathya Sai Organisation, UK. "One evening, almost a year ago, sitting in the Sai Kulwant Hall I was reminiscing my days as a student at Bhagawan's lotus feet. Brother Veeru was with me. And as we were lost in that beautiful satsangh suddenly a thought arose 'How will it be to see this most sacred space on earth shining splendidly like a church?' Brother Veeru was too excited to even say anything. His eyes said it all.

"Serving the Lord in the UK and organising several programmes for especially western devotees had made us to always think of creating ambiences where people of all faiths feel at home. So, yes, it was a great idea. But that was it. We didn't think about it again.

"A few weeks later one fine day Mr. John Behner, the Chairman of the Christmas Committee approached us and said, "Would the devotees in UK like to do the decorations for Christmas 2015?"

"Wow. We were excited. We had never done this before. Still, we told him that we will talk to our brothers and sisters and get back.

"Believe me, everyone we talked to was more enthusiastic than the other. This is something the devotees from England had never been blessed with.

"The immediate next thought was 'Can we do a Cathedral design?' Again, it was wholehearted huge yes from everyone including the authorities in the Ashram.

"So it is all His doing. He gave the thought when we were sitting here in His lap in Sai Kulwant Hall and it is He who is making all this happen.

"What else can I say. I am only humbled by this entire experience. We can only bow down and touch His feet in gratitude."

Truly, words are insufficient. One has to be personally physically present in Prasanthi Nilayam to witness and experience how fresh and fragrant this hamlet is with this exceptional Sai love from UK.

The planning for this gigantic endeavour started more than 9 months ago. Several trips were made to Prasanthi by different teams to draw up the designs and freeze on the final structure, colour and finish. Teams were formed in India too to source certain materials locally as well as to coordinate this entire effort.

A group of 215 volunteers from UK decided to be in Prasanthi Nilayam in turns from December 4 onwards just to ensure that everything happens as planned. The fabrication of the huge walls took nearly two months. Plus of course there are a million other things – tiny bells to huge stars, tall christmas trees to golden and yellow drapes and balls, angels, christmas folly, paintings, pictures and so on.

Joining the UK Sai devotees were Sai brothers and sisters from South Africa who have taken up the decoration of entire Prasanthi Nilayam ashram with all its buildings, trees and corners.

There are still two more days to go and we have no clue how heavenly this Abode of our Divine Father is going look like! The theme everywhere is the same: "I and My Father are One".

Just to give you a glimpse, there are a few beautiful snaps.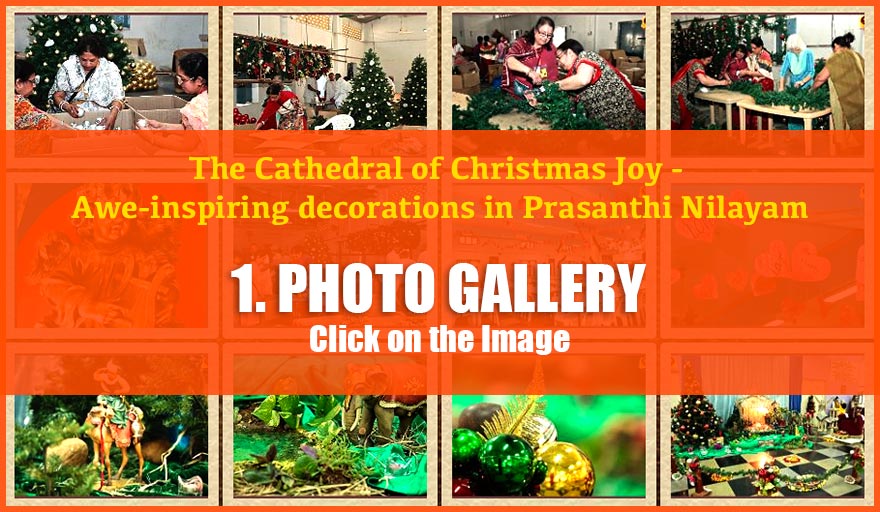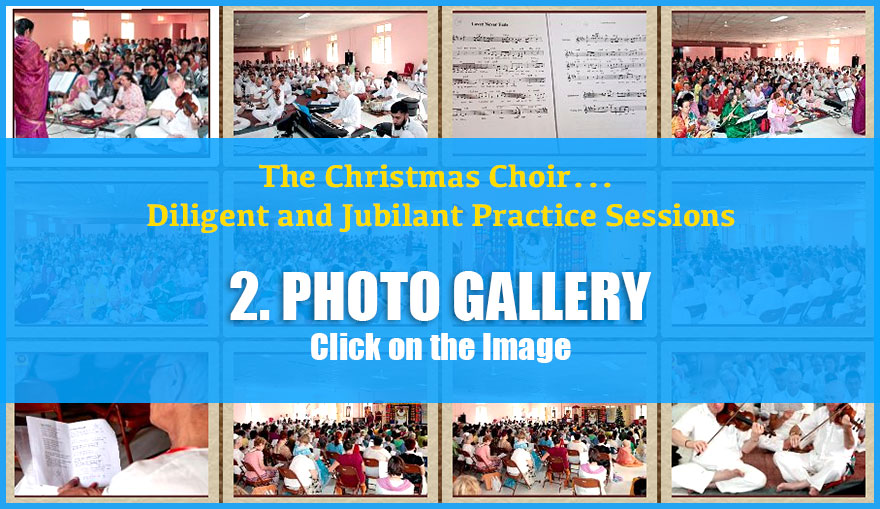 Christmas at Prasanthi Nilayam, Puttaparthi 2015 - Lighting & Decoration - A Short Video
- Radio Sai Team
What do you think about this article? Please let us know by writing in to [email protected] or you may leave your thoughts in the comments section. Do not forget to mention your name and country.