| | | | | | | |
| --- | --- | --- | --- | --- | --- | --- |
| | 'Like' us on Facebook | Follow us: | | | | |
Posted on: Feb 07, 2015
'Joyful' Videos

Radio Sai Video Competition Results
We are pleased to announce the results of the Video Competition we held a while ago.


First Place     - Sreenesh Tokala, India

Second Place - Ashwini and Pavan (Region 7, USA)

Third Place   - Shantha Ram R. S. (Deepa Academy), Bangalore

We called this competition 'Joyful Videos', but after seeing the entries it is difficult to say if we were more joyous or inspired or humbled. We take this opportunity to thank all the participants; we hope to share their videos with you all soon. We begin by offering you the video that won the hearts of all our judges, the entry that clinched the first place. The subject of the video is truly inspiring no doubt, but the way it was dealt with and presented is commendable too. Congratulations to Sreenesh Tokala and our heartfelt appreciation to the beautiful souls in the Angel's Care Team!

First Place     - Sreenesh Tokala, India
Sreenesh Tokala:

This video has been made solely for the purpose of this competition. Its a story of unconditional love by a couple for a group of disabled children. They made us believe love heals everything, all the time. I happened to meet this fantastic couple when one of my friends went to visit them for donating his music system and those moments with the couple have greatly influenced my outlook towards life.

I thought they should be seen by every beautiful heart. Hence, this is for you and Radio Sai team. Hope you like it.

Second Place - Ashwini and Pavan (Region 7, USA)

- Ashwini and Pavan (Devotees of Region 7, USA)

With Swami's Blessings and Guidance, volunteers from Sathya Sai Baba Centers  of Northern California and Nevada (Region 7), USA conducted a literacy program to help the Hispanic farm workers and children living in the Morgan Hill, California. The program was designed to assist the adult farm workers with Conversational English and kids in the age group of 4 to 12 yrs with Math, Reading and Character Building.

A team of dedicated volunteers conducted a 16 week coursework from June 28 2014 through October 11 2014. The classes were conducted on Saturdays with a graduation ceremony on the last week during which all students presented their learning's and received course participation certificates.

The Hispanic community in the region is in need of more such programs. We pray to Swami to give us more such opportunities to serve HIM and guide us through any future undertakings.


Members of the Radio Sai Team offering the card containing the DVD of all the videos submitted on 14 Jan 2015. (Below) A look at the card that was offered.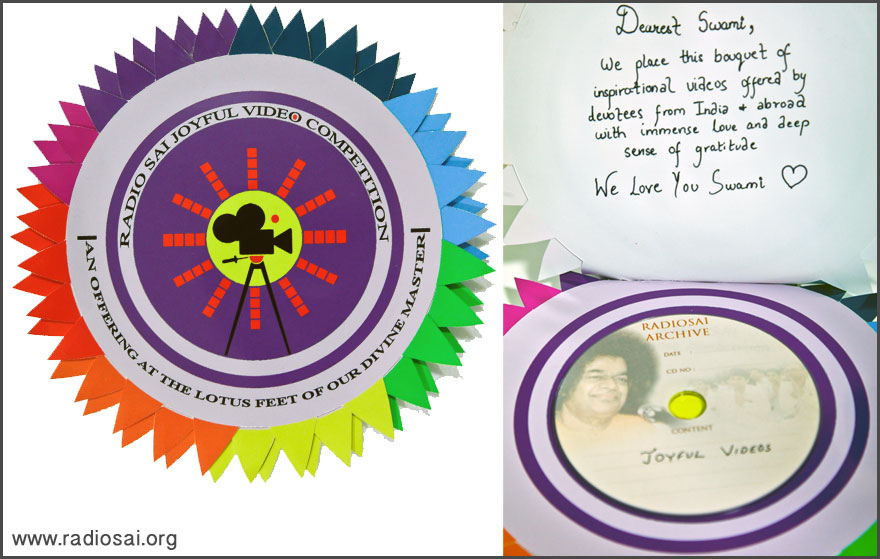 Loving regards
Radio Sai Team
What do you think about this Initiative? Please let us know by writing in to 

[email protected]

 or you may leave your thoughts in the comments section. Do not forget to mention your name and country.