| | | | | | | |
| --- | --- | --- | --- | --- | --- | --- |
| | 'Like' us on Facebook | Follow us: | | | | |
Posted on: June 30, 2015
How An Elephant and Her Caretaker
Rose to Shine Like Saints
Part 03
Prophetic and Profound Blessings on the Final Day
"In the early years, when I had just arrived in Puttaparthi, way back in 1972, Swami had said 'I will look after you in every way'. But He has done much more than I could ever imagine. I have experienced His love in abundance!
"To give you another instance, on March 25, 2011, during His last darshan, I was standing by His residence with Sathya Geetha (the new elephant after Sai Geetha passed away in 2007). Before going up to the devotees, when Swami spotted me with the baby elephant, His chair turned and He came near us. That day He personally wanted to feed Sathya Geetha. He put a few apples in her mouth even though His physical frame was so weak, and then He looked at me and said, 'Take Namaskar'. So I immediately prostrated at His feet. When I rose He said, 'This is the last, this is the last'. I had no clue then what that meant. I thought maybe Swami did not want me to get Sathya Geetha anymore to Mandir. Sai Geetha used to come only on festival occasions. So I surmised that was the tradition we would follow from now on with Sathya Geetha too. I had no idea that it was indeed the last time I would be seeing my Swami.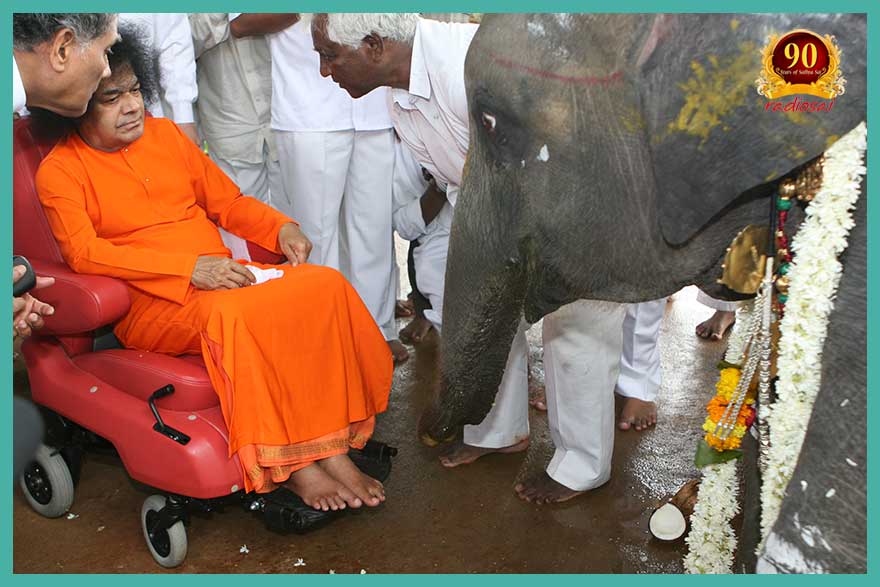 Sathya Geeta, the little one that came under His loving care in 2007
"It was unbearable for me to see His body in the casket. It reminded me of all those sweet memories with the Lord. All my beautiful moments are those when I came to Mandir with Sai Geetha. Every such encounter was so exceptional, so eternally colourful. What a play of Pure Love it was! When I look at the Samadhi, I miss Swami, I miss being with Sai Geetha. But then I have no regrets. I have achieved my target. When Shiva Himself was here in human form I saw Him, I served Him and I served His greatest devotee. And I did everything wholeheartedly with absolute sincerity, commitment and love. What else do I need? Everything else is temporary. I have experienced His love in full measure.
He Strengthened the Mind and Safeguarded the Body
"I remember during one of the major Birthday celebrations, we had to prepare 1.4 million ladoos. I did not sleep for days together. We did not have so many staff or volunteers to execute this mammoth task. So Swami asked the students of the Brindavan campus to help. We did this work in the Poornachandra Auditorium. Swami Himself came to oversee this work.
"Like this, I have stayed awake for nights together on so many occasions. I do not know how I got that much strength and stamina. I would never fall sick. However, once I did collapse. It was after the major world conference during 75th birthday celebrations. I had perhaps exerted myself far beyond my limits. That night the headache was severe. The pain was so excruciating that I was rolling on the bed with high temperature, sweating and groaning. The secretary of the ashram got very scared. He thought I may not live. He immediately went to Swami and knocked on His room even though He had retired. Swami called for Dr. Patel and gave him Vibhuti for me. After partaking the Vibhuti I felt better. The next morning the Secretary asked me to sit in the front in the portico. The moment Swami saw me He asked, 'What happened to you?'
"'Unbearable headache, Swami!' I said.
"'It will go away, do not worry.' Saying this He patted me on my head and gave me some more Vibhuti. That was it. The headache disappeared. I never had to visit the hospital or take any medicine. Even now, although I am past 75, I do not take any pills. I have no ailments by His grace. He is taking care of me even now, as always."
Sai and His Little Sathya Geetha
"Do you still work?" I was curious.
"Yes, of course. However, after Sathya Geetha passed away my workload has reduced quite a bit."
"How was Swami's relationship with Sathya Geetha?" I did not want to miss this tiny but sweet chapter of His story.
"Well, initially Swami had no interest in another elephant after Sai Geetha. However, when an elderly devotee presented her to Swami in 2007, He called me and asked me to take good care of her. Sathya Geetha was a few months old then. I used to bring her for darshan every Thursday. Looking at her growth, He even complimented me a couple of times. He would ask what I was feeding her and one day I remember He put Rs. 5,000 in my pocket and said, 'Do not starve! You eat well and buy whatever she wants. Once this money is over, come to Me and ask.'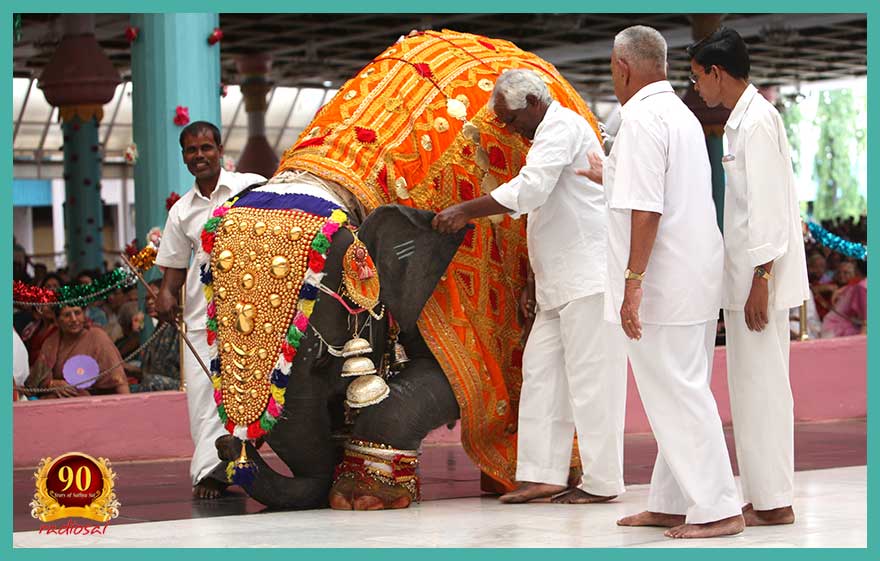 Sathya Geetha was slowly trying to fit into the big shoes of Sai Geetha...
"In 2008, one day Swami sent for me and enquired about Sathya Geetha's health. He told me she was not well. That was true. She had suddenly developed arthritis and was unable to walk. But I had not told Swami yet. He said, 'Bring her in the evening. I want to see her. Call the doctors too.' I told Him, 'Swami, You alone can cure her'. Indeed by His grace in four weeks she was completely cured. After this she was growing up well. She was alright until the time Swami was there. However after 2011 she started developing many maladies. She had a major gastrointestinal problem in 2012. Her body swelled much beyond normal proportions; she actually became like a drum. Many doctors tried to treat her but she did not respond. Eventually one night she passed away peacefully.
"Now, I work only in the South Indian canteen. I am there for two hours in the morning, three hours in the afternoon and again three hours in the night. Of course my body has slowed down now; it has become weak but my mind is peaceful."
"I have attained my target" - Mr. Pedda Reddy
"You have spent more than four decades in Prasanthi Nilayam and never stepped out beyond the Sai Geetha shed on one side and the canteen on the other. Don't you feel your world has been so limited? Does it occur to you sometimes that all these years because you were so busy with Sai Geetha and Sathya Geetha you actually lost out on many other things?" I wanted to probe if there was any regret at all in his life.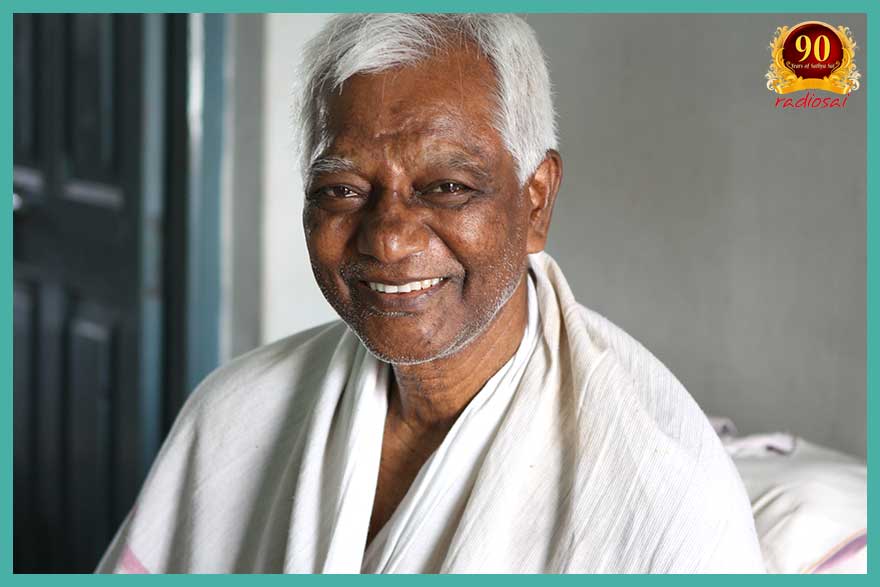 Mr. Pedda Reddy - now a picture of perfect peace and contentment
"Where is the question of losing anything? I have only gained. The greatest blessing Swami has conferred on me is peace of mind. Nowadays I do not have any desires. I feel so much at peace. I have no obligations, no worries and no wants. Last year I donated all my savings to the Trust - the money that Swami had given me over the last 40 years plus whatever my brother used to send me. It was a total of Rs. 1,20,000. I feel so grateful to Swami and just relive those beautiful moments."
"Did Swami ever create anything for you?" I was just inquisitive and telling myself that it was simply impossible that Swami had not materialised something special for him.
"Why does He have to give me anything else? He has sustained every cell of my body, literally. From 1985 till 2005, I only ate the food that Swami sent me. Yes! Every afternoon I would wait for the prasadam from Swami's residence. I never ate in the canteen. How much He has loved me and cared for me! I never felt I lacked anything. In fact this Prasanthi Nilayam is my father's property. This is all mine. I always have this feeling. I have lived comfortably in my father's home, ate the sumptuous food He gave me, wore the beautiful clothes He gifted me and worked happily looking after His property. What better gift can anyone aspire for? Now, He has blessed me with peace. I am only waiting for the final moment, to just leave this body peacefully and go back to Him."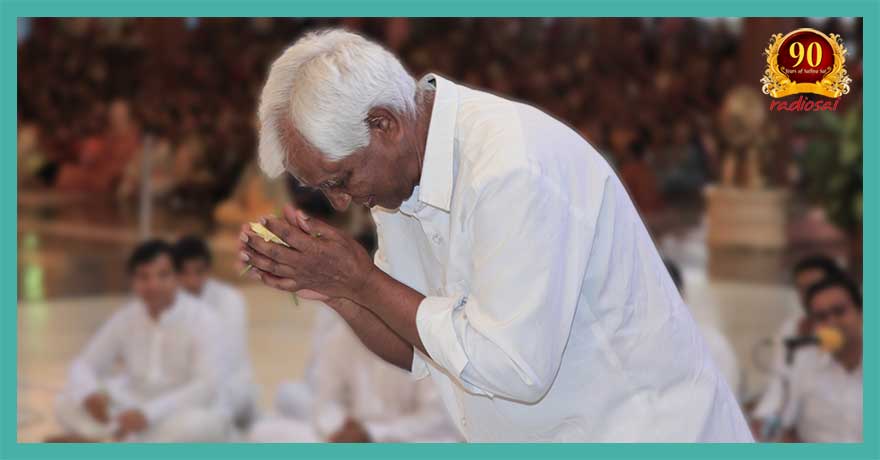 I was speechless. I had read about the lives of many great saints and devotees of the Lord. But now I was in front of one in real life. Truly, I was being blessed with a glimpse of how a Ramdas or a Tukaram or a Surdas would have loved their Lord, served Him and experienced the bliss of feeling His love and presence in every pore of their beings every second of their lives.
"You are such a colossus of inspiration to all of us, Sir!" I prostrated with folded hands. But he just casually brushed it aside saying, "Nothing, nothing. He pulled me. He blessed me. I am a nobody, sir. Who will care for me and bother about me? It is all His love. That's all."
True enough - it is all His love. But some people like Mr. Pedda Reddy know how to make the most of that love – just as an oyster knows how to convert a particle of sand into a precious pearl.

- By Bishu Prusty
(Radio Sai team)
What are your impressions about this story? Please let us know by writing in to h2h@radiosai.org or you may leave your thoughts in the comments section. Do not forget to mention your name and country.