| | | | | | | |
| --- | --- | --- | --- | --- | --- | --- |
| | 'Like' us on Facebook | Follow us: | | | | |
Posted on: Apr 06, 2016

The voluminous Vedas are presented in their essential form as the four Mahavakyas. The most profound learnings of the ancient sages are presented as succinct Sutras. Same can be said about a few gems, the one-liners that sum up Swami's life-transforming message. And one such is this statement, that we as devotees wish to give new life to, in this period between 28 March to 27 April: 'Love lives by Giving and Forgiving.'
Love is verily the Divine within each of us and the spiritual journey is all about making this love within blossom and engulf us entirely. And Swami teaches us that this love grows when you give and forgive.
Give, but not off your superfluous surplus, not condescendingly or with pride. Give off your life, in the form of time and energy, so that giving may be transmuted into sharing. Give with an attitude of gratitude, you then receive much more than you can ever give. Bhagawan says, with such giving love grows.
But human love carries with it the burden of expectations and love thus weighed down can never take flight. Unfetter your love, Bhagawan teaches us, through the act of forgetting and forgiving. For we forgive not to free the forgiven, but to relieve ourselves. The great Nelson Mandela famously captured this lesson in his words, "As I walked out the door toward the gate that would lead to my freedom, I knew if I didn't leave my bitterness and hatred behind, I'd still be in prison."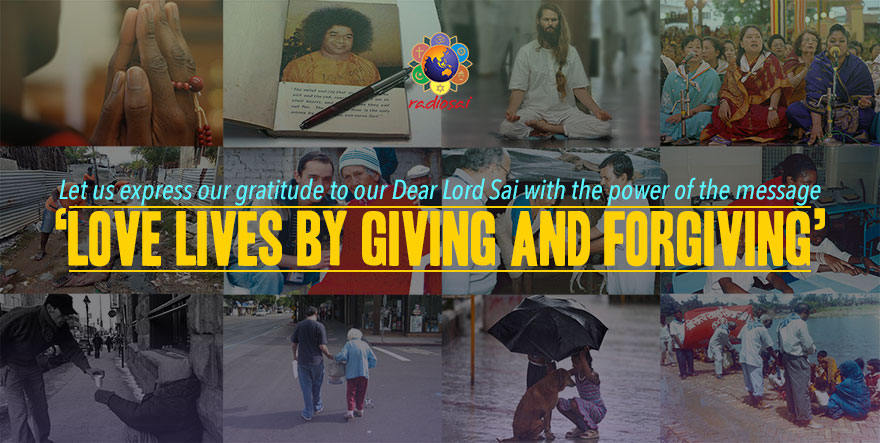 As we celebrate this month of 'Giving and Forgiving', let us strive to give a little more of our time and an ounce more of our energies to bring happiness to a despondent soul. Let us forgive those whom we thought we would never forgive, so we may give them space and time to learn and improve. When our Lord forgives us a million times, do not those who have wronged us deserve our patience and forbearance?
Let this be a festive month of 'Giving and Forgiving' and one way we all can do that is by sharing with each other our inspiration, learning and pure joy.
Do you have an anecdote from your life or another's on this theme of Giving and Forgiving that inspires you or has opened your eyes to the joy concealed in it?
Or a picture capturing the joy of sharing, in seva or in an act of random kindness?
How about sharing it with us so we can, in turn, share them with all and build an ambience of pure love as we celebrate this poignant month.
What We Request You to Send
• Real-life anecdotes on Giving and Forgiving (in not more than 400 words)

• Photographs depicting the theme (Must be pictures captured by you or of activities you are involved in)

• Send your entries to [email protected] mentioning in the subject as 'Aradhana Sadhana'

• Start sending right away and we will post the entries on our website received till 24 April 2016.

Sai is Love, Love is Sai. And when we say, 'Love Lives by Giving and Forgiving', it means we will definitely be able to feel His living presence amidst us when we give and forgive. Let this month be the beginning of a new life for each of us Sai Devotees.

- Radio Sai Team
What do you think about this initiative? Please let us know by writing in to [email protected] or you may leave your thoughts in the comments section. Do not forget to mention your name and country.