| | | | | | | |
| --- | --- | --- | --- | --- | --- | --- |
| | 'Like' us on Facebook | Follow us: | | | | |
Posted on: Apr 11, 2016

Life with God is an endless hope:
life without God is a hopeless end
- The life experience of Mr. Hari Hara Krishnan Part 1

Part 02 || Part 03 || Part 04
From nobody to a VIP

Mr. Hari Hara Krishnan walked into the Bahrain International Airport with just a briefcase in hand. It contained all the documents he needed to complete his business assignment in Kuwait. His flight was due for take-off very soon and he did not want to get late. Flashing the ticket at the entrance, he rushed towards the immigration terminals.

"Can I see your ticket and Visa?"

"The ticket is here but I have no Visa..."

"You must be joking... You cannot enter Kuwait without a Visa."

"I was told that the necessary arrangements would be made..."

"And pray who told that to you sir?"

"You see I used to head the planning at NCR for Middle East and Africa. Now, I have to go to Kuwait to solve some tax issues of NCR there."

Founded in 1884, the NCR (National Cash Register) Corporation is an American computer hardware, software and electronics company that makes self-service kiosks, point-of-sale terminals, automated teller machines (ATMs), check processing systems, barcode scanners, and business consumables. Almost 100% of the ATM machines in Kuwait (and in many countries around the globe) were (and are) made and commissioned by this multinational corporation. In spite of all this, the immigration officials were not impressed by the presence of the former Head of Planning of NCR in front of them.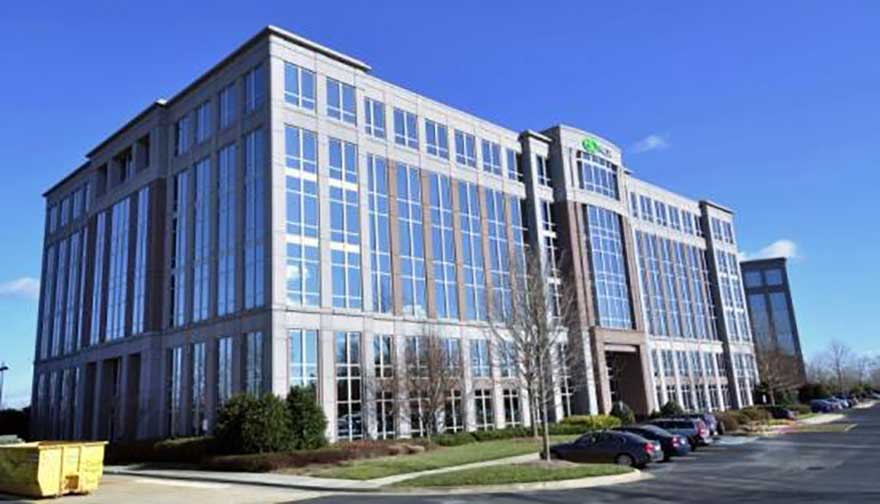 NCR Head Quarters, Georgia, USA
"Sorry sir. You cannot travel..."

"Could you please check with my sponsor? He said that the necessary intimations have been faxed..."

Hari felt that he had nothing to lose if he was not granted permission to fly. It would be the responsibility of his Cyprus-based Managing Director or his super bosses at NCR, USA. He readied himself to turn back and return home.

Within a couple of minutes, two gentlemen arrived and nodded. Something unbelievably rare had just happened - Hari's Kuwait visa had arrived by fax!

"Have a pleasant flight sir. You will be handed all the other necessary papers in Kuwait."

As he watched the other passengers file in, Hari stretched back on his seat realizing the only reason for such VIP treatment. On the face of it, it was his sponsor's influence which had stretched beyond the boundaries of Kuwait, even into Bahrain. But Hari knew the reality. This was his Lord's influence which stretched beyond the farthest boundaries of the universe.

"Sairam! Thank you Swami...", he uttered a silent prayer of gratitude to his God, Bhagawan Sri Sathya Sai Baba. His mind flashed back to the beautiful day in 1975 when Swami made an entry into his life.

Rama Rama Sai Rama

Hari was blessed to have god-loving parents. His father had initiated him to the greatest Truth right in his childhood.

"Hari, do namasmarana (remembrance of the Divine name) incessantly. Keep chanting 'Rama Rama' internally. This is the greatest wealth am giving you."

He did not stop there. He also emphasized on an internal connect with God.

"Don't even run after Swamis and other people who promise to intercede on your behalf to God. Keep your connection direct with your Rama."

Hari diligently followed the advice of namasmarana though he was unable to resist meeting several holy personages. 'Rama Rama' almost became his breath by the time he completed his course in Chartered Accountancy and landed in Bombay in December 1974. He got himself comfortably accommodated in a relative's home at Sion and decided to go to his workplace from there. A few weeks later, he noticed a great sense of excitement at home.

"Swami has come to Dharmakshetra. And it has been such wonderful darshans for us."

"Today is the last day of Swami's stay in Bombay Hari. We are all going for darshan. You should also come with us."

Little did Hari know then that his Rama had decided to enter his life in a totally different form.

Little did Hari know then that his Rama had decided to enter his life
in a totally different form.
Though Hari's curiosity was piqued, he was wary about meeting a 'Swami' who was also addressed with the same term! But how could he refuse his hosts? He said,

"I have a very busy schedule and I have to leave. But I shall come to Dharmakshetra for 3 minutes. After that, I have to leave..."

The host agreed and everyone made their way to Andheri.

At Dharmakshetra, Hari's eyes were on his watch as they sat under the shamiana. Three minutes later, he asked whether he could leave.

"Please wait for three more minutes Hari..."

He agreed and continued to look at the watch. Three minutes later, it was the repeat of the same conversation. Thus, Hari sat for nine minutes before deciding to get up and get out. At that perfect moment, in drove Swami's car! It was about turn for Hari and he sat at the entrance of the shamiana.

Swami went on to the dais and sat there for just a few minutes. He then began to descend from the dais. Everyone began to hurriedly murmur that Swami was leaving for some other place in Bombay. Hari was happy that this darshan was brief. He could now leave. Instead of going towards the car, Swami came straight towards Hari. Nearing him, Swami beamed a most mesmerising smile of recognition. Hari felt as though Swami was asking him joyously,
"Ah! You have come?"

Swami stretched out His hand, beckoning Hari to touch it.

"Swami is a holy personage. If I touch Him, then it is not good for His Madi. He may have to go back and take a bath!"

(Madi is observed in many parts of India. A person who has cleansed himself through bath and prayers will not allow himself to be touched by one who has not taken a bath or is not fully clean because of outdoor travel.)

But Swami continued to stand there and stretched out His hand once again. He seemed to be offering it to Hari to touch. Hari was shaken. He began to pray internally,
"Rama Rama! What is this? I don't know anyone other than You. If this is You, then You touch me. I cannot do anything..."

The instant the prayer was made, Swami bent forward and touched Hari at his fingertips. Spontaneously, Hari too touched Swami's hand tenderly. Swami then turned around and went back, up the dais (and not out as the rumours had been a few minutes before). The entire walk to the end of the shamiana had apparently been made by Swami for Hari!

What happened within Hari that day simply cannot be explained. This much can be said that he did not want to let go of his loyalty to Rama; at the same time he did not want to let go of this Sai. Thus, it was a natural transition from 'Rama Rama' to "Sai Rama" for him.

Kuwait's welcome to Hari

The flight touched down in Kuwait city and Hari wondered how life would change for him now. The past decade had been one of phenomenal career growth for him at the NCR Corporation. Luckily for him, that growth had not come at the cost of his own inner growth. Having visited Prasanthi Nilayam (Baba's ashram at Puttaparthi which translates into 'abode of highest peace') several times, he had almost established a Prasanthi Nilayam in the inner recesses of his heart. Within a couple of years of his arrival to Bahrain, he along with two others (Mr. Vinod Passi, presently the controller of finance for the Sri Sathya Sai Central Trust and Mr. Dwarkanadh who is actively involved in the Brindavan Ashram at Bangalore) had been instrumental in setting up the first Sai Samithi of the country. Just the three of them would do all the activities - bhajans, seva etc. By 1985, the Sathya Sai spiritual movement was flourishing in Bahrain with Hari as one of the dynamos.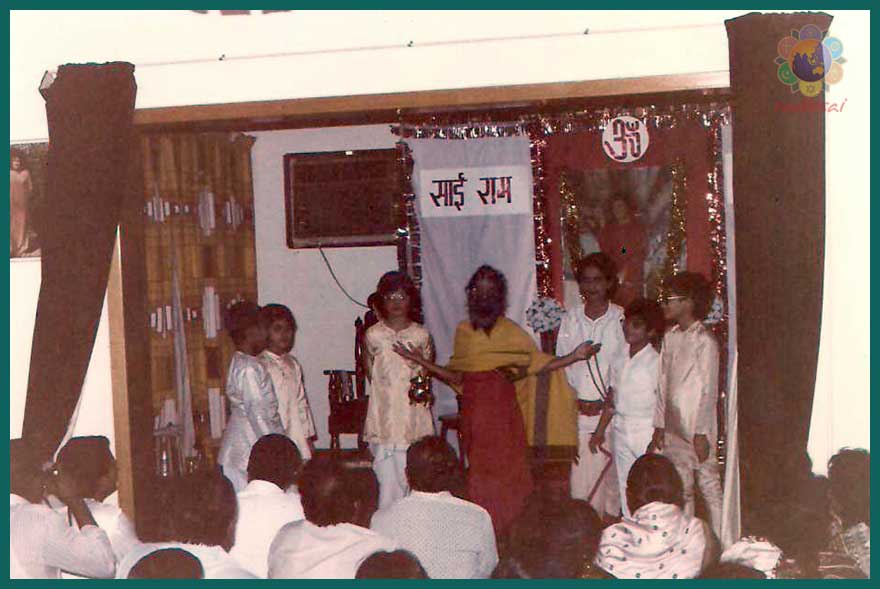 A Balvikas drama being staged in Bahrain
And now, Kuwait beckoned him. He knew that if he managed to sort out the issues there, he would most probably be relocated from Bahrain.

"Welcome to Kuwait sir..."

His train of thoughts halted at the welcome platform of his sponsor. The arrangements that had been made left Hari with no doubt about the intensity and extent of the sponsor's influence. He later got to know that Mustafa* (name changed to protect privacy) had powers beyond the Ministry of Interior of Kuwait which he headed. If what he heard from reliable sources was to be believed, Mustafa was also the Chief of Intelligence in Kuwait and he reported directly to the Emir, Jaber Al-Ahmad Al-Sabah. What more, Mustafa seemed to have developed a special liking for Hari (which, according to Hari, was only by the grace of God)! With such a sponsor, Hari was sure that NCR's tax troubles in Kuwait were short lived.

A word about the term 'sponsor' that has been used so far. Whereas in most parts of the world the word 'sponsor' is commonly used of individuals or businesses paying to have their names associated with an artistic or sporting event, in the Gulf it has a quite different meaning: a sponsor acts as a sort of guardian as well as guarantor and must undertake all administrative work (i.e. paperwork) on behalf of the foreigner, including applying for a work and residence visa, opening a bank account and signing a rental accommodation contract. A sponsor can be an individual, a company or an institution. (There are no hard and fast rules and things can change from sponsor to sponsor. For instance, NCR had its own bank accounts.)

The sponsorship system is an effective form of immigration control. As the sponsor is responsible for the individual or company, he 'takes the rap' if any regulations are contravened (which will also involve him in loss of 'face' in the community). Thus, he automatically checks that the individual/company is reliable and trustworthy, as well as ensures that the individual/company does not inadvertently step out of line. For this reason, the sponsor is an important source of help and advice and a valuable 'ally'.

Over the next couple of years, Hari worked diligently. That was the only mode of working that he knew! He brought in his trademark transparency, efficiency and ethics into Kuwait as well. All the various activities of the corporation there were perfectly streamlined by Hari and everyone came to know of him as Mr. Clean. That pleased Mustafa to no end and he wanted to ensure that Hari would remain in Kuwait. Getting the Income Tax department to yield and stop harassing NCR in Kuwait was easily done. Within weeks of arrival, Hari also got a Kuwaiti driving license, a miracle of sorts because rumour was that an Indian would need at least 5 years to get a driving license! Hari's family shifted to Kuwait and needless to say, the children got admitted to the best of schools with the least of hassles - all thanks to the command that Mustafa's persona carried. By the end of two years 100% of the ATM machines in Kuwait were from NCR. (Such was the impact of work of the NCR staff in those days that even to this day, ATM Marketplace claims that NCR is the world's top ATM manufacturer with number 1 market share in the entire Middle East.)

Hari had been given a duplex apartment in the prestigious and plush Salmiya complex, very close to the Emir's palace. Along with sponsor's seal and signature, Hari's passport now carried his new designation - Mudir - or director. That was the highest respect a non-Kuwaiti could ever get!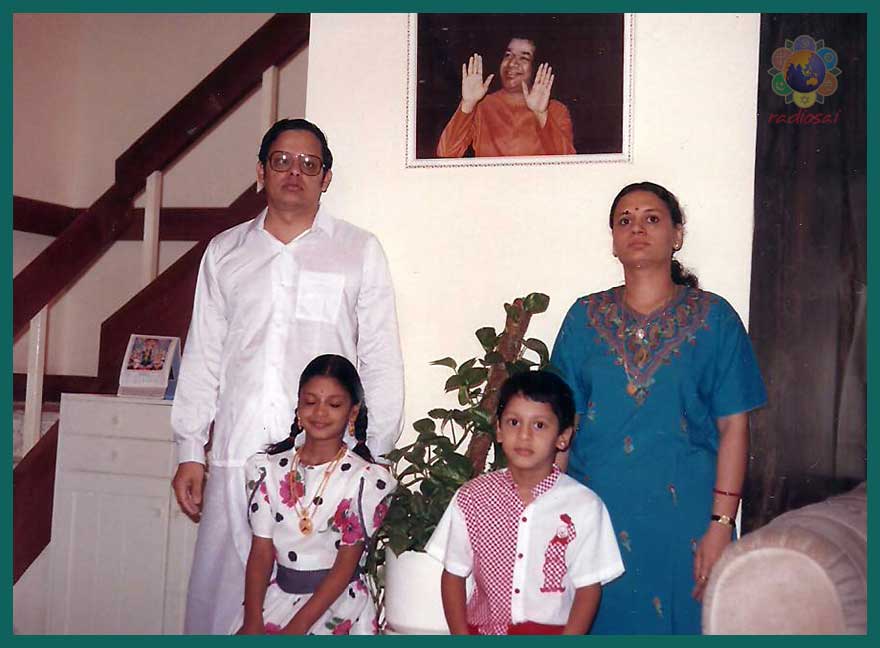 Mr. Hari Hara Krishnan and family, late 1980s
Each day, Hari got opportunities to experience Mustafa's influence. One such was when he had to travel out of Kuwait.

He was escorted away from the immigration counter. Hari wondered what was happening. The laws in the Middle East were so different from the ones in his world and he wondered whether he would be jailed or held back for some questioning. His fears were confirmed when he was led to a room. It was only when one of the men opened the door that Hari understood what was happening.

"Please make yourself comfortable here. We will escort you to your aircraft as soon as it arrives."

The men left and Hari found himself in the lap of luxury! There were also some eats and drinks for him next to the plush seats. As he was led into the aircraft a bit later, everyone seemed to be looking at him, wondering who he was. He was the only passenger to be escorted to the business section of the aircraft and nobody subjected him to any kind of security search. His little hand baggage was also carried inside the flight for him.

Mustafa definitely seemed eager to take the relationship with Hari beyond business. From what Hari got to know through sources, Mustafa was planning to ask Hari to personally mentor his teenage son into the nuances of business! That possibly meant launching a new business as an equal partner with Mustafa!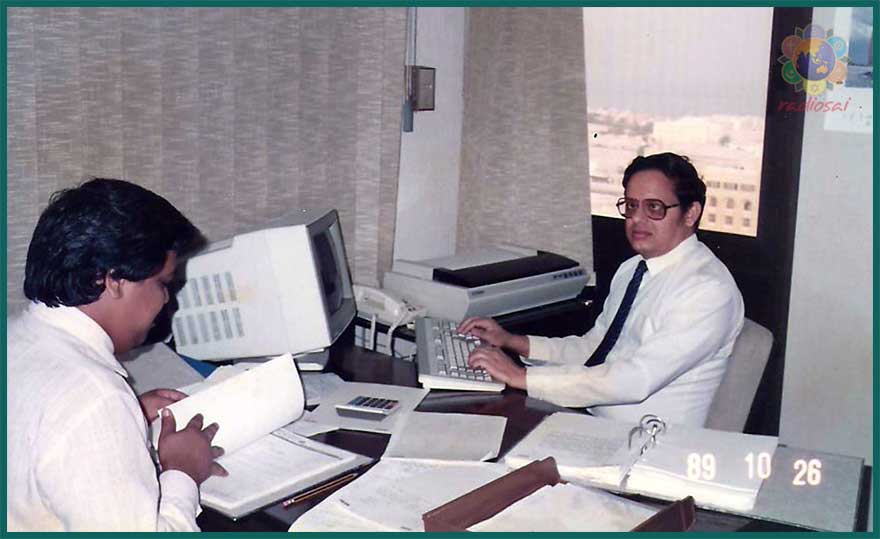 In his office at NCR
Lakshmi's place is always at the feet of Narayana

Hari had achieved in a decade what many desire to achieve in a lifetime - wealth, power, influence and worldwide exposure. Still, he never let it get into his head. He would always begin the day with prayers to his Swami. Namasmarana was his constant companion and bhajans were his lifeline.

"Whatever wealth one may achieve, if it is not used to decorate the feet of the Lord it is of no use", he felt, "because the Goddess of wealth, Lakshmi herself is always sitting at the feet of the Lord Maha Vishnu (Narayana)!"

It was only this firm faith and attitude of gratitude that kept Hari grounded. He never forgot his father's words that the greatest wealth he could ever possess in the world was the Lord's name. That wealth rewarded him amply. Hari was the recipient of multiple dreams in which Swami came to him, blessed him and provided all the guidance that was necessary. Hari would wake up and recollect these dreams to his wife, Uma, with tears of gratitude in his eyes.

"How lucky we are to have Swami in our lives", he would say and wait for that time in the year when he could make the trip to Prasanthi Nilayam.

His faith in Swami was so firm that several miracles happened to him and anyone who associated themselves with him! Many people began to accept Swami and revere Him simply based on their association and experiences with Hari. That is the impact that a devotee of the Lord can have - he can become a supplier of faith to many simply by leading his life with faith!

Though Hari always credited Swami for everything in his life, he had actually been unable to gauge the extent to which he had been lucky to have Swami in his life. He would soon get to know and that knowledge would liberate him forever from the shackles of worldly desires. The grip that worldly desires have on a person can be intense yet subtle. Unshackling often requires a heavy blow. And that heavy blow would fall on Hari when Iraq under Saddam Hussein would brutally invade Kuwait in the coming weeks.
- Aravind Balasubramanya
Radio Sai Team
What do you think about this Article? Please let us know by writing in to [email protected] or you may leave your thoughts in the comments section. Do not forget to mention your name and country.