| | | | | | | |
| --- | --- | --- | --- | --- | --- | --- |
| | 'Like' us on Facebook | Follow us: | | | | |
Posted on: Dec 24, 2016

'A Sai Christmas'
The Christmas season is here again – with its celebrations and festivities - Christmas parties, Christmas goodies, beautiful decorations, Christmas presents and Christmas cards.
But dear friends, Christmas is much more than these; in fact none of these can be called the true celebration of Christmas. What then is the true meaning of Christmas? This has been explained by Swami, who has given us many revelations and insights into the story of the birth of Christ and his teachings.
Just before Jesus was born, a decree went out from the Roman Emperor Caesar Augustus that each one must report to the city of his ancestors to be taxed. So Joseph and Mary journeyed from the city of Nazareth to Bethlehem.
Mary rode on a little donkey, while Joseph walked beside her. It was late at night on the second day of their long trip, when they arrived in Bethlehem. Every inn in the city was full and they could find no place to stay. Finally one of the inn-keepers looking at Mary's pale and tired face, took pity on them, and offered them shelter in a stable behind the inn. Gratefully, Mary and Joseph shared the humble, little resting place with the animals. That night Jesus was born. Mary tenderly wrapped the little infant in swaddling clothes and laid him in a manger on the soft sweet-smelling hay. Jesus was an embodiment of humility. And his birth in a stable was perhaps a sign of the great humility that marked his life.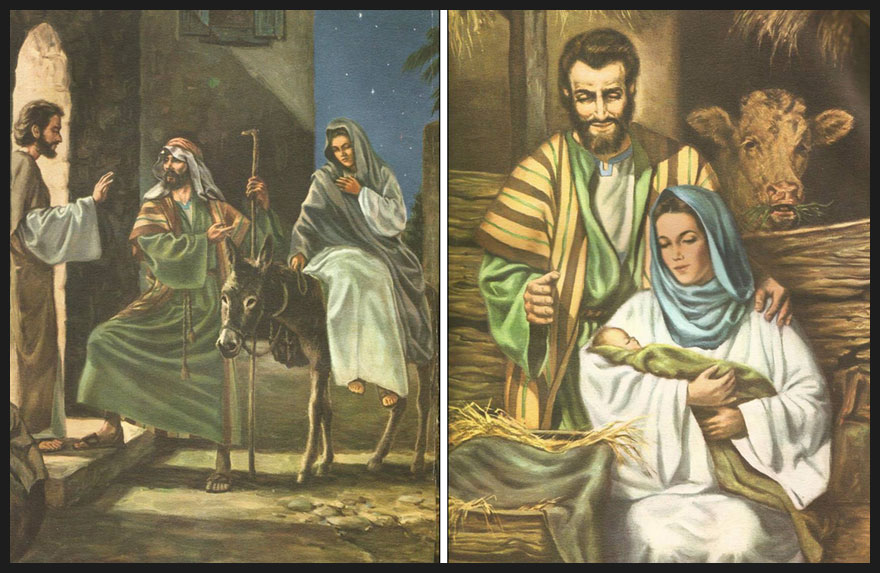 On one of the hills outside Bethlehem, some shepherds huddled over a small fire were keeping watch over their flocks by night. An angel suddenly appeared to them, and the glory of the Lord shone all around. At first the shepherds clutched each other in fear. But the angel said, "Don't be afraid, for I bring you good news of great joy for all people. For this night a saviour has been born for all mankind; he is Christ the Lord. And this is the sign by which you will find him. He will be wrapped in swaddling clothes and lying in a manger." Now suddenly, there appeared a host of angels singing, "Glory to God in the Highest! And on earth peace and goodwill toward all men."
Carol: Silent Night…

Carol: The First Noel…




Carol: Hark the herald angels sing…




The shepherds were filled with wonder, and urged one another, "Let us hurry to Bethlehem and see this thing that has happened." They searched until they found Mary and Joseph behind one of the inns in the stable. And exactly as foretold, there was the baby lying in a manger wrapped in soft woollen cloth. The shepherds were very simple rustic folk. But as they gazed at the tiny infant, they knew instinctively that there was something wondrous about him.
Swami tells us that on seeing the child, one shepherd remarked, "This child loves God." Another said, "No brother, God loves him." The third reflected, "The child is God Himself."
These utterances of the shepherds correspond to the three statements Jesus made at three different stages of his life. First, he called himself a messenger of God. Then he said, "I am the son of God." And finally he declared, "I and my Father are One." Swami explains that loving God makes you a messenger of God. God loving you makes you the son of God, and the harmony of both results in the realization of 'I and my Father are One.' All human beings are messengers of God. What gives one the right to be called the son of God? We have to have the same qualities of God to be called His children, is it not? There cannot be an iota of selfishness in us. We should be pure and full of selfless love.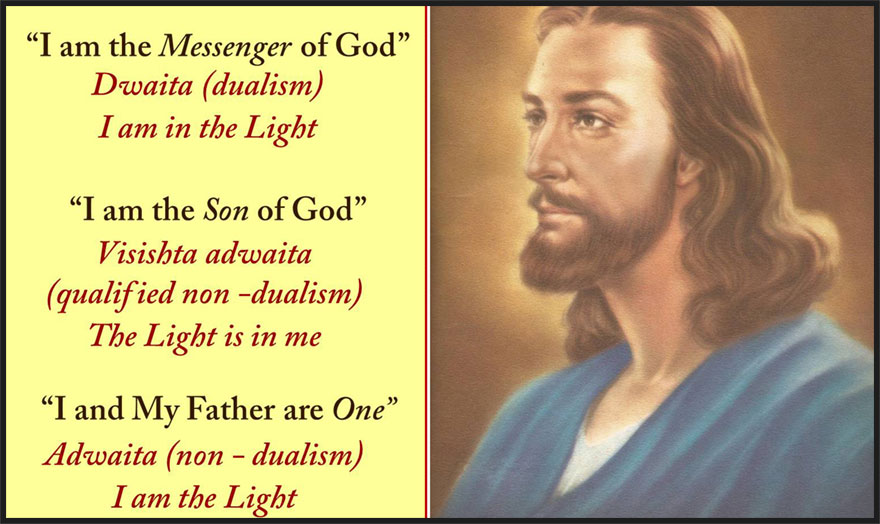 The three statements of Jesus also correspond to the three stages of spiritual sadhana mentioned in Sanathana Dharma. That is dwaita, visishtadwaita and adwaita. Hanuman that great devotee of Lord Rama portrayed these three stages when he said, "Oh Lord, when I think of myself as the body, I am Your servant. When I think of myself as the mind, I am Your devotee, but when I think of myself as the atma, You and I are one." Islam too has explained these three stages in the statements, 'I am in the Light', 'The Light is in me' and 'I am the Light.'

Carol: Oh come all ye faithful…
Now came the three kings, or rather 'wise men' from the East. They were actually astrologers. Some historians say they might have been Zoroastrians from Persia. These astrologers saw a shining ball of light in the sky where there had been none before. "What is this bright new star?" they wondered. They mounted their camels and followed the new star until they reached the land of Judea. Here they enquired, "Where is the one who has been born king of the Jews? We have followed his star from the East so that we may worship him." Then they travelled onwards till they reached the city of Bethlehem.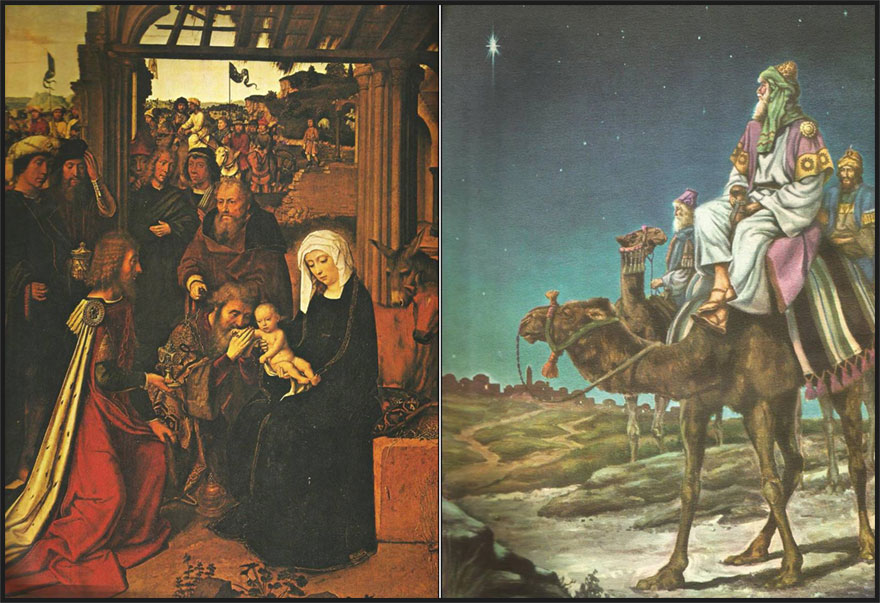 The wise men referred to Jesus as the king of Israel. However Jesus was not a king in the ordinary sense. His was the kingdom of the Father – the kingdom of the atma.

The light of this huge star appeared to be centred over the stable where Jesus was born. Swami said it was not actually a star, but a huge aura of light illuminating the sky. This meant that he who was to overcome the darkness of evil and ignorance had taken birth and would spread the light of love and wisdom in the hearts of humanity. Signs such as these are natural when prophets or avatars incarnate for they come in answer to man's prayers, "Tamaso ma jyotir gamaya."

The wise men worshipped the child offering him the gifts they had brought - a little casket of gold coins, a carved box containing fragrant powdered incense and a tiny jar of oil of myrrh, for anointing the skin.
Gold symbolises that which is pure and precious. Swami often used to call His students and devotees 'Bangaru' which means gold. On one occasion, He told the students, "You are 14 carat gold, you must become 24 carat gold!" Incense symbolises spreading the fragrance of goodness and love. Oil of myrrh is known to be bitter but it is also fragrant. Jesus rose above both pain and pleasure. He followed the words of the Father, "All are one my dear son, be alike to everyone."


Carol: Joy to the World…
Jesus not only brought joy to the world, he showed man the path to joy. 'J' stands for Jesus (or God) who should be one's first priority. 'O' stands for others, who should come next, and 'Y' for yourself, who should come after that. This is the path to Joy!

Mary the mother of Jesus represents the heart. And Jesus represents the joy and bliss that arises in the heart. That is why Mary is pictured with the child Jesus in her lap.
So the real celebration of Christmas is the celebration of the birth of Christ in our heart. That is to say, the birth of selfless love, peace and joy. Jesus sacrificed everything for the sake of compassion, righteousness and peace. So his birthday has to be marked by the practice of at least one of the ideals that he held so dear. Like all prophets and avatars, he incarnated to remind man that the kingdom of God is within him.


Song: Remind me my Lord…
Before Jesus merged in the Supreme Principle of Divinity, he told his followers, "He who sent me will come again." And he pointed to a lamb.


A lamb is merely a symbol of love and it stands for the sound BA_BA. While narrating this incident, Swami smiled and said, "That BA_BA is this BABA." Jesus further revealed, "His name will be Truth. He will wear a blood-red robe. He will be short and will have crown upon crown (of hair)."
Christmas as celebrated in Prasanthi Nilayam, the abode of the Father is unique, for it is only here that one witnesses people of all faiths and from all countries converging at His Lotus Feet, in a spirit of Divine unity.
Carol: I'm dreaming of a Sai Christmas…
I'm dreaming of a Sai Christmas,
Just like the ones we used to know,
Where the silver doors opened
And the Lord's Divine darshan
Shone on all the world below.

I'm dreaming of a Sai Christmas,
Where love is born in every heart,
May our days be blissful and bright
And may Sai within fill our hearts with light.

(adapted from a presentation, 'A Sai Christmas' by Bal Vikas Children, Fort, Mumbai)
(Images reproduced with permission for non-commercial reuse from Ideals Publications, USA, Christmas Issues 1970 -1980)


Radio Sai Team