| | | | | | | |
| --- | --- | --- | --- | --- | --- | --- |
| | 'Like' us on Facebook | Follow us: | | | | |
Posted on: Feb 16, 2016

Coming Together in Celebration


A brief report on the Seva activities alumni conducted around the occasion of
Bhagawan's 90th birthday celebrations.
The 90th Birthday of Bhagawan was verily a global festival. Apart from the events and festivities in Prasanthi Nilayam, programmes to commemorate the landmark were organised in various parts of the world. The best offerings that His children could make on this grand occasion are the gifts that He most loves, and they are, unity, love and service. And these very gifts were offered in myriad forms throughout the year in run up to Swami's Birthday.

Today Bhagawan's students are spread all across the globe and many of them actively join hands with the organisation and devotees groups to express their gratitude to Bhagawan and spread His love through service. Apart from being involved in their respective centres and Samithis, the alumni of Bhagawan's schools and colleges, come together and take up certain activities to express their gratitude to their Divine Mother. The 90th Birthday was yet another opportunity for them to take to it with renewed enthusiasm. They took up activities as old students or in conjunction with others to make the festivities in Prasanthi Nilayam grand. Presented below is a report on alumni activities as part of and during the 90th Birthday celebrations, partly taken from 'Vidyullekha' the annual Sri Sathya Sai Students Newsletter.
Seva in the Sri Sathya Sai Institute of Higher Medical Sciences

Swami's hospitals, more suitably referred to as 'Temples of Healing', are institutions built by God for man's 'physical resurrection' - to repair the body gifted by Him so that man can pursue the journey Godward. While the sick seek refuge in these to alleviate their physical suffering and the physicians and nurses find in it a sanctuary that provides an ideal setting to practice humane medicine - there are others who seek the opportunity to serve their Guru and God through them.
A philanthropic tertiary-care hospital operating at the scale of SSSIHMS has in place a huge infrastructure that requires periodic maintenance. Thus a number of areas require regular contribution of both physical and intellectual resources of volunteers. These tasks include routine cleaning, scanning documents and organising them, maintenance of computing assets, and so on. A few Sai alumni took the opportunity and volunteered their time and energy, and made a small beginning to tend the 15 year old plant – SSSIHMS Whitefield – the fruits of which are healing mankind of maladies. On 28 March 2015, on the auspicious day of Sri Rama Navami, led by two senior alumni brothers, a contingent of about 25 Sai students arrived at the hospital to perform seva.
Alumni undertook a variety of these tasks, which included:

Scanning invoices for the purchase department and uploading to an asset management application


Cleaning the pharmacy and organising the items


Sorting quotations of medical consumables and filing them


Assisting staff in sorting patient files and rearranging them


Working with hospital staff in cleaning and maintenance of computers, monitors, network termination rooms and so on


Helping housekeeping staff in cleaning windows, fans, tube lights in the wards with high ceilings


Assisting library staff in cleaning and organising books in racks in the library


Serving lunch to in-patients on behalf of dietary department staff


Shifting racks and helping in the relocation of the hospital pharmacy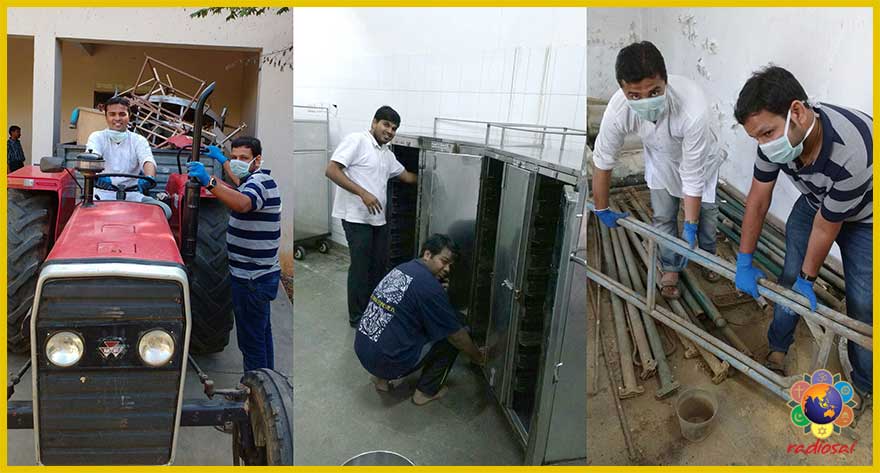 Alumni carried out these tasks as an offering of service to our Lord. While those staff who have been in Swami's fold for many years and have known the relationship of love between Bhagawan and His students accepted this Seva as a manifestation of His will, those staff who joined recently and were new to Bhagawan, expressed wonder that the alumni who were busy professionals with family responsibilities gave their time to such service. Their dedication and joy in rendering service was contagious. In fact some of the members of the group came from far off places to engage in the service. An example is a brother who came from Karwar (an overnight journey from Bangalore) along with his family to do Seva!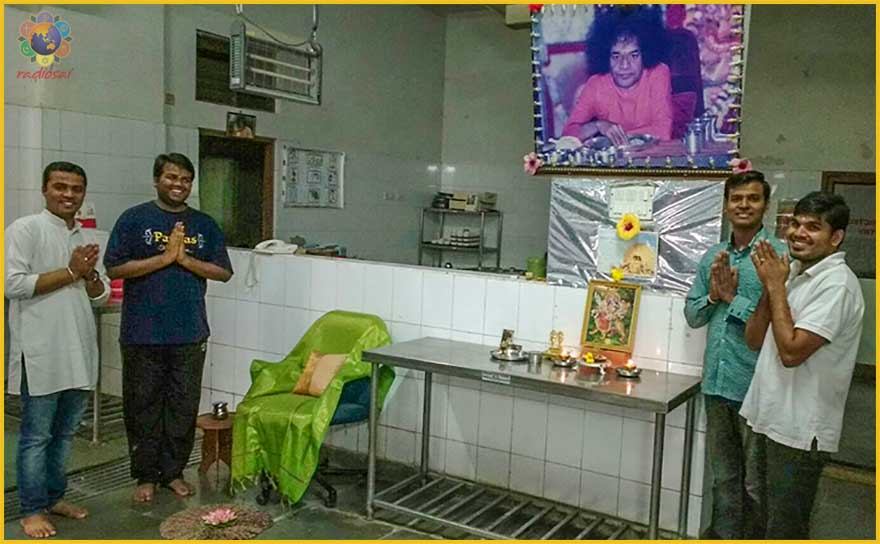 The alumni themselves have expressed tremendous sense of fulfilment to be able to directly serve in Swami's institution. What was originally planned as quarterly service activity quickly turned into a monthly activity. The alumni members who participated in the activity expressed their gratitude thus - Swami's hospitals are a gift from Him to entire humanity. The soul of the hospital is the ideal of selfless service and sacrifice and all those who are 'His property' have an opportunity to nourish and sustain this spirit by demonstrating it in practice.
Samarpan

With the blessings of Swami, the alumni of Bhagawan's educational institutions have initiated the 'Samarpan' sessions - a forum that invites senior devotees, staff of Bhagawan's institutions and former students to share their memorable experiences with Swami, with the broader community of Sai devotees. Shravanam (listening to the Lord's glories) is said to be the first among the Navavidha Bhakti (nine types of devotion). As Bhagawan says, while listening to the words of the wise one should try to revolve their meaning and message in our minds and put them into practice to elevate our lives.


These sessions were started by alumni in Bangalore in the year 2011, and were followed by the alumni in Hyderabad. Mumbai began enjoying these series next in 2015. These sessions, which serve as Sadhana to help reconnect with Swami especially after the departure of His physical form, have been wonderfully received by fellow alumni and the devotees. Mumbai has concluded nine months of Samarpan sessions. It is an ideal initiative by the alumni, for it gives them an opportunity to share the inspiration they received when they were students. The devotees get to hear the leelas the alumni heard as students, from these very elders.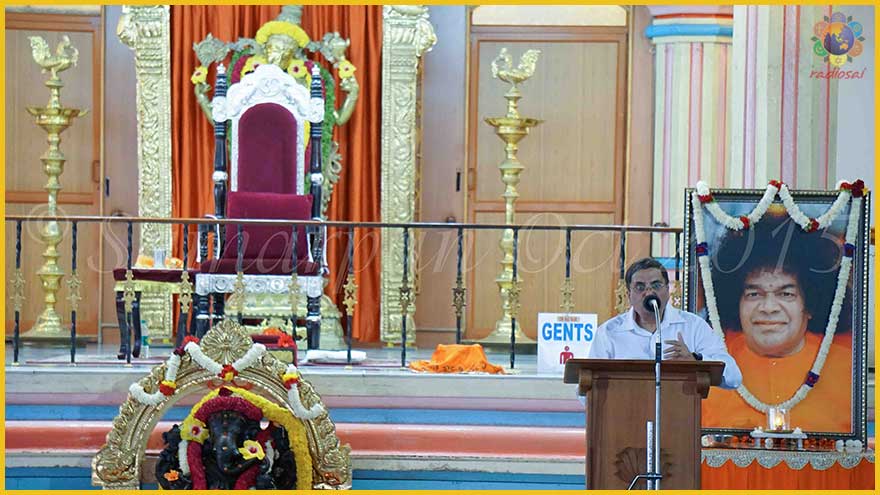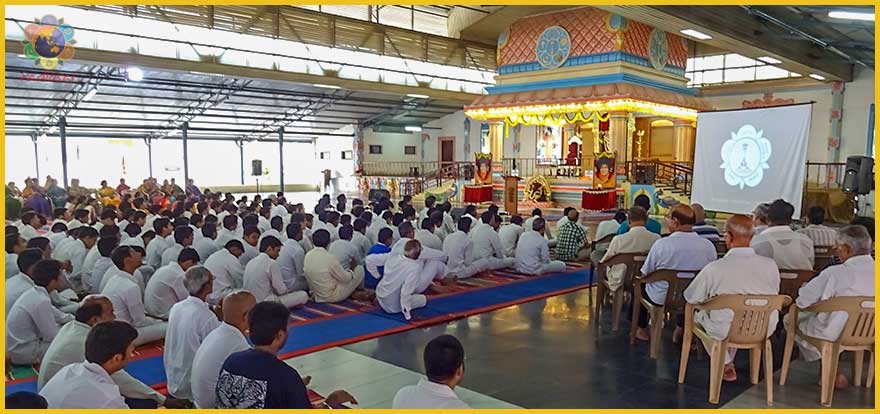 Sanathana Vaibhavam - A Musical Offering

The alumni of Sri Sathya Sai Mirpuri College of Music chose to express their gratitude to Bhagawan through the very gift they received from Him - music. They were inspired to offer the Lord a string of 85 concerts during the 85th Birthday celebrations. Many of these alumni are professional musicians and some of them have taken up other careers too. But they come together to offer these concerts in Samithis and Sai centres as an expression of their gratitude. Back then, Swami would acknowledge the offering by seeing and blessing the pictures of the concerts. He had not only assured that He was a witness to all programs, but also said that this was an ideal way to express gratitude.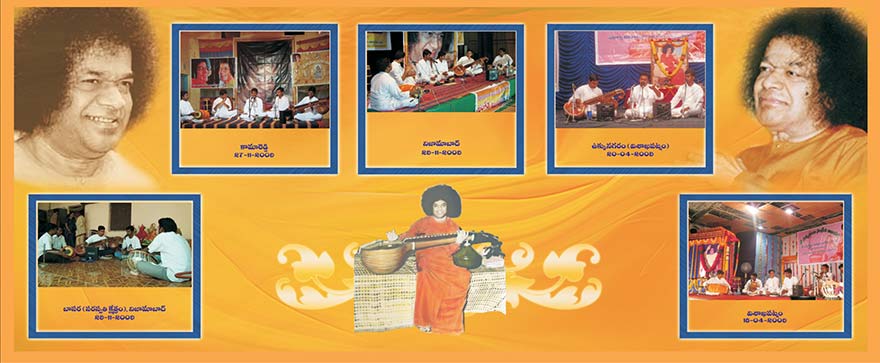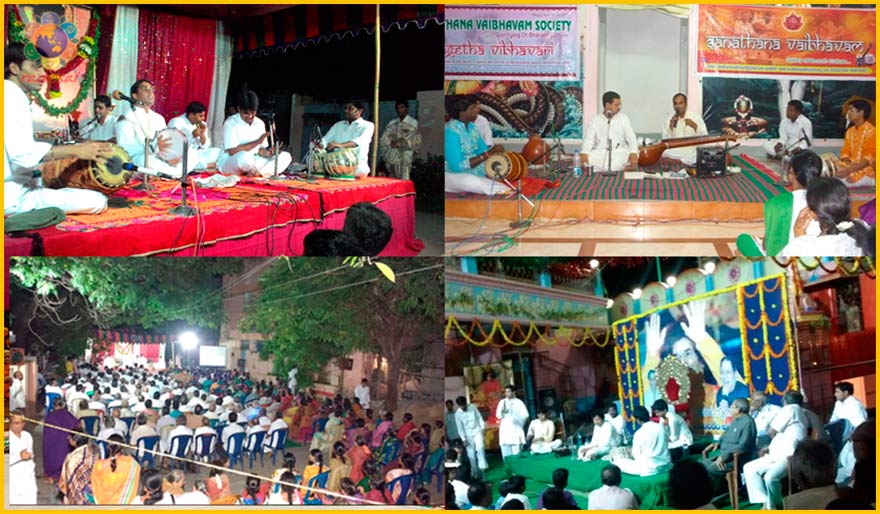 Continuing the momentum, the alumni decided to offer 90 concerts at the Lotus Feet by November 2015 as a 90th Birthday offering. Starting their first performance at Prasanthi Nilayam in 2013, the team could feel the invisible hand as they witnessed flawless execution of all the concerts. Be it the physical presence felt in Kakinada during the program or rains holding up in Vizianagaram District where the program was in open grounds, Swami's omnipresence blessed the boys as they took up this wonderful initiative. They performed in places in Andhra Pradesh, Telangana, Tamil Nadu, Karnataka and Madhya Pradesh. Fittingly the 90th concert too was offered in the Sai Kulwant Hall.
Sri Sathya Sai Vidya Vahini
Sri Sathya Sai Vidya Vahini is an open-ended project to harness technology as the key enabler to replicate on a national scale, the success of the model of Integral Education. Integral Education is a model followed at the university and schools founded by Bhagawan, where value education is integrated into academics. The program was launched by Bhagawan on His 85th birthday, 23 November 2010. The 5th anniversary celebrations of Sri Sathya Sai Vidya Vahini were celebrated in Puttaparthi from 14 to 17 November 2015. More than 1200 students drawn from well over 90 schools participated in various events. As part of the celebrations a grand rally called 'Bharata Digvijayam', an exhibition titled 'Sa Vidya Ya Vimuktaye' and a cultural drama, 'Bhagavat Vani Bhagavat Vahini' were organised in Prasanthi Nilayam. The exhibition set up at the Poorna Chandra auditorium explained the core philosophy and practice of the Vidya Vahini program. The uniqueness of the rally was the 18-tableau representation of the cultural and spiritual heritage of the land.
The program marked a culmination of more than four months of intense planning with significant alumni involvement. Each float was the result of months of planning and execution and was designed by the alumni from different corners of the country. Designing of costumes was again a challenging area where alumni provided able support. Travel arrangements were impeccable, and made possible with the help of Seva Dal volunteers. To facilitate a comfortable journey, food packets were made available at multiple stations enroute to Parthi. Adequate hospitality and sumptuous meals were provided to all the student volunteers.
Through the leadership of senior devotees and senior alumni members and contributions of hundreds of alumni and volunteers, the fifth anniversary celebrations could become a beautiful offering on the occasion of the 90th Birthday Celebrations.
90th Birthday celebrations

Apart from the activities through out the year, alumni from across the world came together and joined hands with the Sai Organisation to make the 90th birthday celebrations more colourful, fulfilling and comfortable experience for all. Below is a snapshot of the different areas in which alumni contributed:
Alumni were involved with planning and design of themes for the decoration and lighting of the ashram, in co-ordination with a team which was specially brought in from Kolkata. The beauty and grandeur of the lightings were deemed befitting for the occasion.
Alumni were instrumental in placing hoardings at strategic places in and around Puttaparthi - to welcome the streams of devotees poring in to participate in the holy celebration.
Daughters of Sai
The alumnae from the Anantapur campus and Sri Sathya Sai Primary and Higher Secondary School, Prasanthi Nilayam came together under the banner, 'Daughters of Sai' to offer their loving services during the 90th Birthday celebrations too.
In addition to the regular security duty at the mandir, which the alumnae have been performing round the year for the last 21 years, they took up two other seva activities this time.
A special information help desk was set up to assist devotees. The kiosk that was located in front of W3 A1 (opposite the Canteen Coupons Counter) and operated from 7.30 am - 7.30 pm. They helped devotees with queries regarding rail and Bus timings, Accommodation, Cloak rooms, Free food counters and medical camp etc.
Over a hundred alumnae residing in different states of India and different countries like UK, USA, Doha, Bahrain, Australia, Malaysia and Nepal grabbed the opportunity to serve Swami. It was ensured that throughout the day there were alumnae who could speak in Hindi, Telugu, Tamil, Malayalam, Kannada and English at the information kiosk. The kiosk was also helpful in connecting children who missed their parents back to them.
The Alumnae also took up serving of the prasadam at the special counters set up during the Birthday celebrations from the 18th to the 23rd, during the three sessions of breakfast, lunch and dinner. The serving would start at 6.00 a.m. in the morning and go on (with a brief recess) beyond 9.00 p.m.
Prasadam Serving
As volunteers of the Narayana Seva, an activity performed on a gigantic scale during the 90th birthday, alumni sought to dedicatedly make use of the opportunity to serve His devotees. In fact, to better prepare themselves for the event, key alumni members had participated in previous Aradhana Day and Birthday Prasadam distribution activities. Indeed, the Seva could be effectively performed only due to the wonderful co-ordination and sharing of work between alumni, youth organisation, staff and the current student community.
Alumni were also instrumental in arranging pocket kits consisting of Vibhuthi packets and Swami's photo for devotees who leaving Puttaparthi after participating in the festivities.
As we mentioned before, there is no greater gift that we can offer Bhagawan that our love, service and unity. It was heartening to see a number of people coming together and making these offerings. His students too joined in with their expression of gratitude.

- Radio Sai Team
What do you think about this article? Please let us know by writing in to [email protected] or you may leave your thoughts in the comments section. Do not forget to mention your name and country.