| | | | | | | |
| --- | --- | --- | --- | --- | --- | --- |
| | 'Like' us on Facebook | Follow us: | | | | |
Posted on: Feb 13, 2016

THE GUIDE, THE GURU AND THE LOVING GOD

Mr. P. Vijaya Bhaskar 
Executive Director, Reserve Bank of India
On the first day of every year, the former students of Sri Sathya Sai Educational Institutions assemble in Prasanthi Nilayam to offer their collective gratitude to Bhagawan for everything He has done for them and everything He means to them.

Apart from offering many programmes at His lotus feet, they also present to Him their annual journal Vidyullekha. This is a beautiful compilation of the Alumni Seva work done during the year as well as has precious reflections by many alumni of their days of basking in the Divine physical proximity.

One of the articles in the 2016 issue is the story of Mr. P. Vijaya Bhaskar. He did his Bachelors and Masters in Commerce at His feet in the seventies. Subsequently he ventured out as per His direction and soon found himself working in the Reserve Bank of India in Mumbai. Currently, he is an Executive Director, Reserve Bank of India. He is also a Trustee and Convenor of Sri Sathya Sai Trust, Maharashtra.



Born into a Sublime Setting
There is something comforting about a billion stars held steady by a God who knows what He is doing. 
It was 1969. I was a eleven year old boy when I saw God walking on Earth. It was Mahashivaratri and I was with my father, Sri P. Mallikharjuna Rao. After having the first glimpse of Swami, my father realised that He was none other than God Himself in human form. He was a completely transformed man. My mother, Smt. P. S. Krishna Kumari had the good fortune of having known Swami a few years earlier. She had a wonderful equation as a devotee with the Lord. To me she was a devotee who lived her entire life in complete surrender to the Divine Lord. Whenever she visited Prasanthi Nilayam, Bhagawan, in all His grace, would grant her an interview and bless her.
| | |
| --- | --- |
| | |
| | Mr. Vijaya Bhaskar (extreme left) during his student days |
This is the family I grew up in - where everything revolved around Swami. Father inspired me with his selfless and dedicated seva in His mission. 
I was studying intermediate (XII standard) course in Guntur, Andhra Pradesh. Swami had been kind to me in blessing certain faculties as a student. I excelled in my studies. But I was always more keen on travelling to Puttaparthi and partake the divine nectar of His darshan.
Baba Takes Care of 'Botany Record'
On one such trip, along with my father, we overstayed our visit. I had completely forgotten that back home I had to submit my botany record book before the practicals. My classmates and my mother were frantically trying to reach me but without any success. 
Completely unaware of the chaos my absence had caused, I came back to Guntur glowing in the sweet memories. When I came to know that the last date for submission of my botany record was over, I was taken aback. This meant I couldn't appear for my examination that year. I was crestfallen until a classmate came and informed me that he had submitted the record book on my behalf.
Though relieved and grateful, I was again taken back for I was pleasantly surprised since I never informed him to do this. After my exams, I went to Prasanthi Nilayam again. Swami looked at me and with a mischievous smile and said: "What happened to your record book?" With tears in my eyes, I fell down at His feet, overwhelmed by a feeling of His omniscience and omnipotence. 
"I will keep him near Me"
My mother had a deep desire that I study medicine after my intermediate and become a doctor. This wish stemmed from an incident in her life. She had lost a younger brother who was studying medicine in an accident, and felt I should do MBBS to fulfil that dream. But I wasn't keen on becoming a doctor at all. I dreaded the sight of blood and could never reconcile myself doing experiments on the human body to learn the subject.
To resolve this conflict, the family decided that we would seek Swami's advice. We started for Prasanthi Nilayam. No sooner did we land there, Swami called us for an interview. Once we were inside, even before we could say anything, He looked at my mother and said, "Bhaskar is not meant for studying medicine. He has a weak heart. But, don't worry about him. I will give him admission in my college and keep him near Me." My heart leapt in joy and gratitude. What could be a greater fortune than to live with my Dear Lord!

I joined Brindavan in 1974 for my undergraduate course in commerce. We were 60 of us in the hostel. Bhagawan used to stay in Brindavan for nine months in a year and blessed us to live at His Lotus feet. I was entrusted with the task of looking after dairy and agriculture farms. We got up at 3:30 am and milk the cows and assist in cleaning them. Then we went for the morning prayers. This was followed by games and exercises. After bath and breakfast we rushed for morning darshan. In the evening after classes we used to attend to work in the agriculture farms. At the end of the day, Swami blessed us with an evening session at the old mandir.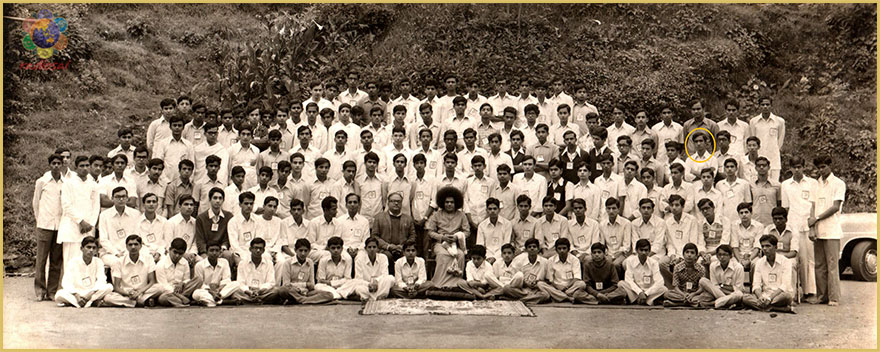 After my B.Com. though there was no Masters degree in Swami's College at the time, Swami asked me to stay in Brindavan and pursue M. Com. course from Bangalore University. So, we used to travel to the Kengeri Campus of the University – a distance of more than 70 kms up and down every day. But, the joy of staying with Swami was such that we never felt the burden of such an arduous long daily travel in those days.
God Becomes a Guru
Swami in all His love and grace, had written me a few letters. On one occasion my maternal grandfather and father who were in Puttaparthi were called for an interview by Swami. After the interview, Bhagawan asked them about their travel plans. My grandfather said, "Swami, we will go to Brindavan to meet Bhaskar and then we would proceed back to Guntur."
Swami said, "Wait, tomorrow morning, I'll write a letter to Bhaskar and give you. Pass it on to him". My grandfather brought that to me. In the letter, apart from the usual blessings, Swami indicated to me a particular sadhana for my spiritual life. I was very meticulous in following the divine instructions.
A few months later, Swami visited Brindavan. One afternoon He was sitting in the dining room upstairs. Along with Him, if I remember right, Sri Sudarshan and Sri Radhakrishna were also there. They were discussing about Swami's omnipresence.
The Constant Eye of the Guru
Just then Swami mentioned, "You think that Swami is sitting in the dining room and so He is unaware of what is happening the world over. For instance, you know the boy Bhaskar? He is coming to Gokulam now (Those days Gokulam was behind the Mandir). He has started from his room in the hostel. Now, he has stepped out and is walking on the cemented pathway. Now he is crossing the Principal's office and reached the side gate of the mandir. Now he has entered the mandir and is very carefully avoiding not to walk over the rangoli. He never crosses or jumps over the rangoli. He is crossing the porch and going towards Gokulam. He has reached Gokulam now. Go and call him." 
One of the boys who was standing in the veranda upstairs rushed to summon me. He said, "Brother, come quickly! Swami is calling you."
I rushed and crossed the 'L' shaped veranda. Swami was looking at me very intensely. He asked, "Bhaskar! How did you come?" I was not sure how I could answer this question. Sensing my dilemma, He then helped me by saying, "How did you come from the hostel?" I said Swami through the side gate. He said – "I know." Pointing towards the others, He said, "Tell them in detail, how you walked your way through." As I narrated in great detail, they were nodding their heads with folded hands looking at Swami, who gave them that all-knowing smile and said, "Isn't this what I told you." Then He served us snacks and told me, "I was giving them a live commentary as you were coming to the Gokulam." 
Then, while leaving the dining Hall, He looked at me ever so smilingly and said something which only I could hear. He said, "Your sadhana is going very well. Keep it up."

Not only He confirmed that He is omnipresent – watching over our every step in our lives, He is also the omniscient Lord who is aware of our every thought and action. To live with such a Master has been the greatest spiritual lesson that I have learnt in my life. He is our Atma – the Indweller. God is a circle whose centre is everywhere and circumference nowhere.

| | |
| --- | --- |
| | |
| | In the extreme right is Mr. Vijaya Bhaskar |
"Go and prepare for the role I have for you"
Time flew at His Lotus feet and I realised that I had completed my Master's degree too. Swami was immensely happy with me for completing graduation and post-graduation degrees with distinctions and several gold medals. He asked me to wait for His further instructions. I was basking in His divine presence and glory for a year.
After sometime my father asked me to enrol myself in Rao's Tutorials and prepare for civil service examinations. I said very emphatically that I am not interested in becoming an IAS officer. Swami then called me and said, "Bhaskar, you must atleast join the tutorials since father has joined you. Go and prepare for the role I have for you in the outside world." With a heavy heart, I left Prasanthi and subsequently I got selected to join the Reserve Bank of India. Swami blessed me on this new assignment.

The Indweller Takes Care of Bhaskar's Heart

In 2002 in Mumbai, I suddenly got a heart attack. After initial treatment, I was flown to Hyderabad for further care as my family resided there. I developed several complications in the next six months and I was in and out of the Intensive Care Unit of the hospital. On a particular morning at around 11 am, I was half asleep when I felt someone tap three times on my left shoulder. I thought it was the nurse or probably a doctor. But I couldn't find anyone when I opened my eyes. There was the familiar all comforting fragrance of Swami lingering in the air. I burst out in tears at this grace. 
The next day, in the afternoon, I felt the tap again on my right thigh and again the divine fragrance. I was soaked in His ever assuring presence. Shortly thereafter, a team of doctors came and informed me that they are going to implant AICD (Automatic Implantable Cardioverter Defibrillator). It is a device designed to continuously monitor the heart and perform various therapies, as need be, including defibrillation. Incidentally, the AICD was implanted in my left shoulder where Swami had tapped me. 
In July 2005, I was in my office at Mumbai when the potassium level in my body went down and my heart beat went up beyond the prescribed limits. The AICD implanted in my body gave me 69 shocks. Every shock was of a very high intensity and was extremely painful. My colleagues immediately took me to the hospital. The cardiologists examined me and were surprised that I had survived so many severe shocks.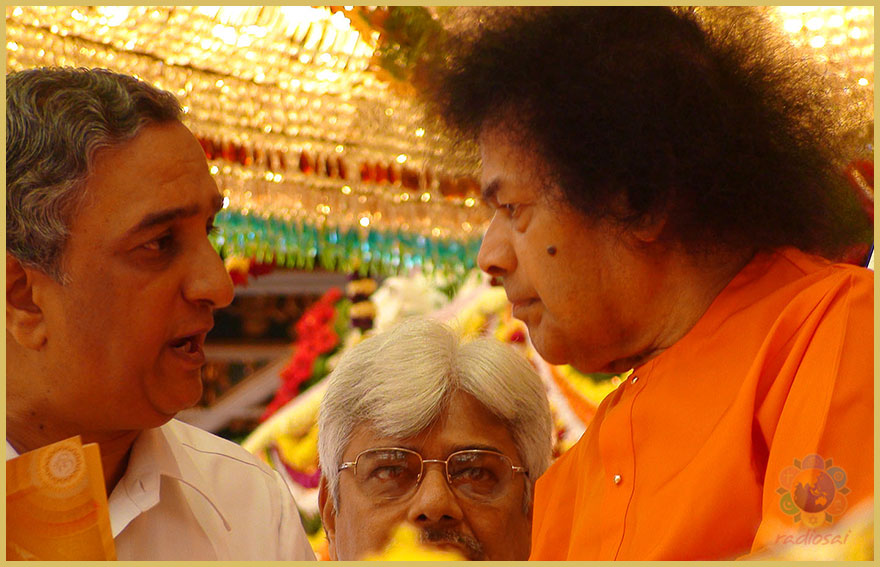 A few months after my treatment, I went to Prasanthi Nilayam. Swami enquired about my health and then He called Dr. Voleti Choudhary (present Director of Swami's Hospital in Puttaparthi) and asked him to look at my case. Swami said, "Can we not change Bhaskar's AICD in our hospital". Dr. Voleti concurred with the diagnosis, but said that the present AICD could last for 6 months and said that such procedures are not being done in Swami's Hospital at the time. Thereafter, Swami gave me vibhuti and He asked me to get the AICD changed in Mumbai. On the day of my operation in Mumbai, Swami mentioned in Parthi: "Bhaskar is OK now. His operation has gone successfully."
Learning Ethics and Finance from the Divine Financier

Swami took care of my heart and I was praying that it continues to beat for Him always. I had been praying to Swami for His permission to have a Conference on Finance and Ethics at His Lotus Feet, from 2006 onwards. But, Swami didn't give permission. After the 2008 financial crisis, Swami suddenly asked me to do the conference at a very short notice. The timing was perfect as the world which was reeling under the global financial crisis, needed the Chancellor of the Universe to show the way.
The hallowed environs of Prasanthi Nilayam provided the most suitable venue for the conference focusing on ethics in the dicey world of finance. This is because inculcation of ethics and human values is of paramount importance in the world of finance. As we are all aware, ethics and morality form the bedrock of the Sai way of education as nurtured at Sri Sathya Sai Institute of Higher Learning. The conference was unique in the sense that who's who of the financial world – from banking, securities and insurance – attended, along with the then serving Governor and a former Governor of the Reserve Bank of India. It's indeed rare to have professionals of such high eminence from all the three spheres of the financial world converge at a conference.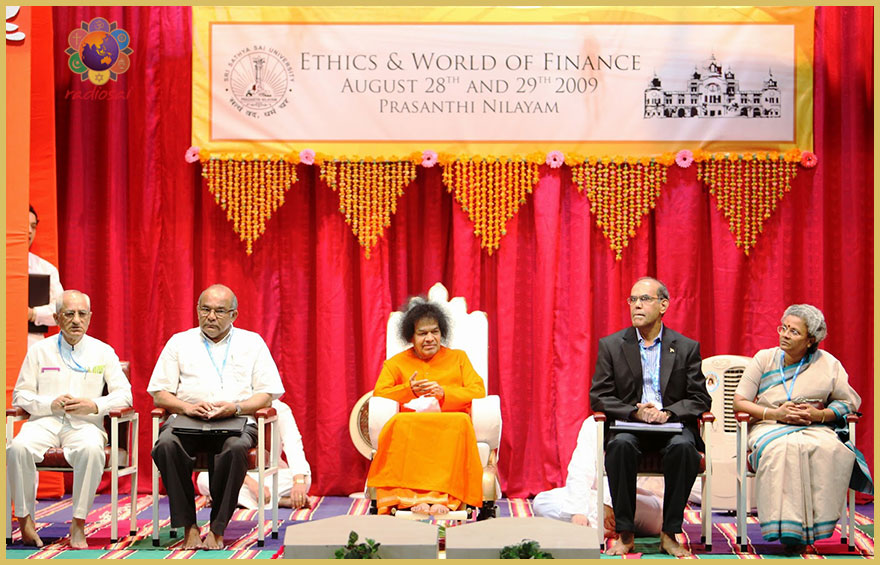 Bhagawan is flanked by Mr. Y V Reddy and Mr. D. Subbarao (the former made way for the latter as the Governor of Reserve Bank of India in September 2008)
In His message to the conference, Swami drew attention to parallels from Mahabharata. He observed that the values of honesty and integrity were as important during the time of Mahabharata as they are now. He pointed out that while succumbing to his weakness of playing dice, Yudhishthira ignored the risks involved and after losing his kingdom in the game, Dharmaraja used Draupadi as a pawn. This was done without thinking of the implicit stigma and also without consulting his brothers, as the other stakeholders. The disastrous results were there for all to see.
It was also the first time that Swami blessed all guests to be seated in the dais along with Him. Many of the participants mentioned thereafter that it has been the most life changing experience for them. All of them had the great good fortune of witnessing and living in the unconditional love of Swami. 
He has filled our lives with the richness of His bountiful love. He has given each one of us an opportunity to be a part of His mission. We can only be grateful. Jai Sai Ram.

- Radio Sai Team
What do you think about this article? Please let us know by writing in to [email protected] or you may leave your thoughts in the comments section. Do not forget to mention your name and country.