| | | | | | | |
| --- | --- | --- | --- | --- | --- | --- |
| | 'Like' us on Facebook | Follow us: | | | | |
Posted on: Jan 15, 2016

Building Prasanthi From A SankrantHi
How the journey of Prasanthi Nilayam began on a historic Sankranthi six decades ago
Signifying clearly that our journey to Supreme Peace starts with our northward movement towards Him
January 14 is holy. Unlike many other festivals in the Indian calendar be it Diwali, Dasara or Ramzan, the sacred day of Sankranti does not change every year. Marking the northward movement of the Sun on the celestial sphere, it commemorates the beginning of the harvest season. As the lively spring takes over the dull winter, from now on the days become warmer and longer. There is bounty in the homes and happiness in the hearts.
"The fields were filled with golden harvest.
The farmers rejoiced in singing at night
With the moon shining bright,
The buds of flowers blossomed
Like garlands of pearls
On the banks of rivers;
Farmers were bringing home
The newly harvested grain,
Hailing the advent of
The joyous festival of Sankranthi."
What Sankranthi Should Mean to Us
This is how Bhagawan began His Sankranthi Discourse in 1996 and went on to explain, "The Sun moves into a house of the zodiac every month. In a year he goes round twelve of them. Of these, four are significant. The first is Makara Sankramana (the zodiacal sign of Capricorn). The second is Karkataka (Cancer). The third is Thula (Libra) and the fourth is Mesha (Aries). Of the four, the most important is Makara (Capricorn). The entry of the Sun into Capricorn has physical, ethical, social and moral significance.
"From today, the Sun starts on his northward journey. What does the north signify? It is considered the direction leading to Moksha (Liberation). The Sun is said to move towards Himachala (Hima + Achala). 'Hima' means that which is white as snow. 'Achala' is that which is firm and unshakable. What does this refer to? It is the region of the heart. Only in a heart that is pure and steady, the Sun of Buddhi (the spiritual discrimination) enters and shines. There is no need to undertake a journey in the external world. The Uttarayana (or the Northward Journey) means turning the intellect inward, towards the heart. The bliss that is experienced within alone is true bliss. All other external and sensory pleasures are ephemeral. Sankramana is the time when the inward journey towards a pure and unsullied heart is made."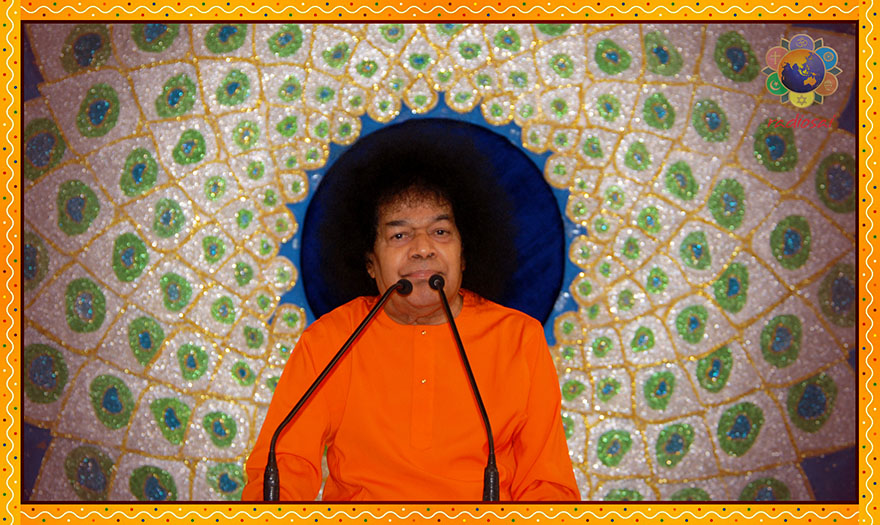 Every festival in Indian culture is indeed suffused with deep significance. They have been handed down by the ancient saints and seers who decoded the mysteries of the cosmos outside by meditating deeply on the cosmos within. Thanks to their intuition and intense interest in the welfare of mankind, these occasions of celebration have stood the test of time to guide humanity. Today Makara Sankranthi is a Pan-India festival. If it is called Pongal in Tamil Nadu, it is Uttarayan in Gujarat, Maghi in Haryana and Himachal, Khichdi in Uttar Pradesh and Bihar, and Bhogali Bihu in Assam.
In fact in Venezuela, on January 14 every year, Divina Pastora (a statue of Virgin Mary holding the infant Jesus with a lamb by her side) is taken in a procession in the city of Barquisimeto, the fourth largest city of this Latin American nation. It is one of the largest religious processions in the world. In 2013, three million faithful offered their love and gratitude to the Divina Pastora.
In Prasanthi Nilayam too it is the first major celebration after the New Year, and Bhagawan always made this day special in His inimitable ways. If one year He emerged in a glowing yellow robe, another year He delivered two discourses, one morning and another in the afternoon, the third year witnessed a landmark revelation by Bhagawan on His Avataric mission, and so on. Also, Baba chose this day every year to distribute the prizes and deliver His Valedictory message to the students on the conclusion of the scintillating Annual Sports and Cultural Meet. Isn't that symbolic of the joy, energy, colour and vibrancy this festival brings?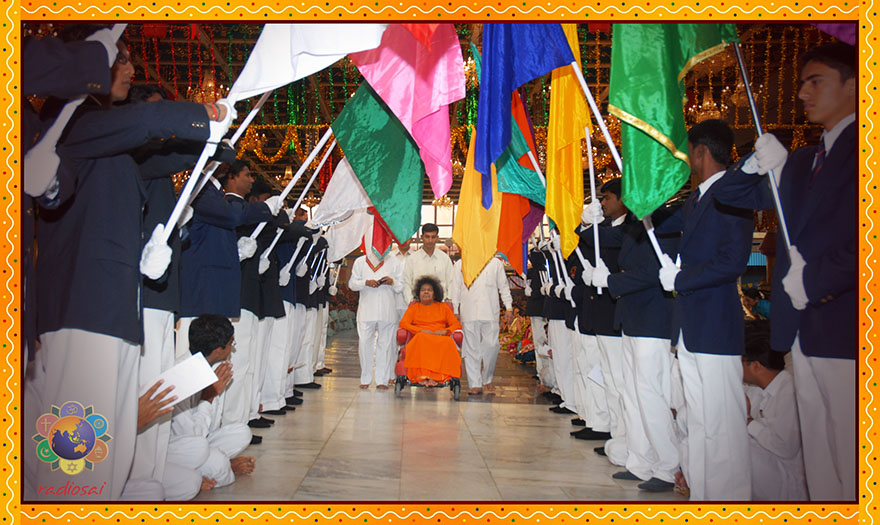 The Valedictory session of Annual Sports and Cultural Meet is always on the Sankranthi Day
January 14, 1948 - A Golden Chapter Opens
Besides all these, there is another reason why this day holds tremendous significance in the Sai Mission. The Lord chose this day, 68 years ago, to begin His work of building Prasanthi Nilayam. On the morning of January 14, 1948 Swami laid the foundation stone of the Prasanthi Nilayam Mandir which today is the spectacular Sai Kulwant Hall holding in her bosom the sacred body of the Avatar. The events that preceded this landmark moment and the occurrences that happened during this time are simply out of the world.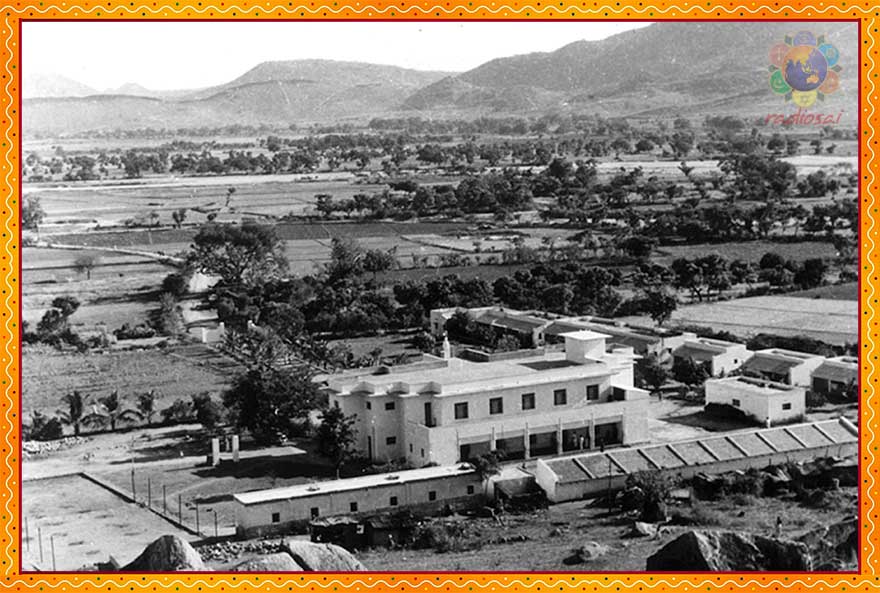 The Prasanthi in the first decade of its existence
The Multi-Dimensional Miracle That Transformed a Humble Driver
In 1947, the 21-year old Baba accepted an invitation from a devotee, Mr. Balapattabi, to visit Udumalpet (a town in Tirupur district of Tamil Nadu, over 500 kms from Puttaparthi). He had arranged a van for Baba's travel and came to Puttaparthi to personally escort Bhagawan to his home.
It was a Monday morning when Swami and His party set off on this journey. On the way one of the devotees, who had some eatables and fruits, along with coffee in a flask, requested Baba if they could stop the van to have snacks and coffee. Swami agreed. Everybody sat down to partake the food. The driver however was missing; he was busy checking the petrol tank of the vehicle.
Seeing this Baba told Mr. Balapattabi to tell the driver not to be worried about the petrol. The driver was puzzled as the tank was empty. He wondered where to get petrol from. Meanwhile a car arrived from Udumalpet. The driver spoke to the people in the car and then tried to transfer petrol from the car to the van. But Swami again sent word to him that there was no need to do that.
The driver thought this was crazy. How on earth were they to travel if he did not refuel the vehicle? However as Baba had insisted, he finally compiled, with great reluctance. After everybody took their seats, the driver started the engine with trepidation in his heart. And to his surprise the van roared to life, and smoothly glided to Udumalpet with no glitch whatsoever! The hundreds of kilometres were navigated on an empty tank! To add to the driver's amazement, the car stopped exactly in front of Mr. Balapattabi's house.
| | |
| --- | --- |
| | |
| Baba at Karur with Mr. Balapattabi in 1947 | |
Baba spent the afternoon in the host's house and at 6 p.m. left Udumalpet to reach another village called Kulathupalayam at around 8.30 p.m. When they reached this destination, Baba asked the driver to stop the car. Everybody got down including Baba, who went for a short walk. Taking this opportunity the driver went behind the van and started smoking a beedi. Soon Baba returned and went straight to him and asked, "What is your name?"
The driver replied, "Kumaraswamy" quite casually, paying no special attention to Baba.
"Do you apply Vibhuti?" Baba asked again. With little respect to Baba, the driver indifferently responded, "Is it necessary? It is all show."
"Have you tasted vada?" Baba persisted with another question. To this, again as if irritated with these queries, he retorted, "Is there anyone who has not tasted vada?"
Baba next gently asked, "Have you tasted vada prepared by your mother?"
The driver immediately softened. He now looked at Baba and said, "Swami, I have no mother."
Baba smiled and said, "Did you come without a mother?"
Baba then went on to ask the driver if he remembered the death of his mother. He was only four years old then. Swami then touched his right arm. The driver instantly moved back as if struck by a live electric wire. Baba asked him if he recollected what happened to his arm when he was two and half years old. "Swami, I am forty five years old now. I do not remember anything of my childhood," the driver replied meekly and took off his jacket.
Baba touched his arm again and asked about the big scar there. Even before the driver could open his mouth to say something, Baba reminded him how as a toddler when his mother was busy cooking he had gone to her and put his hand around her in a loving embrace – taking her completely by surprise. The sudden impact had destabilized his mother and as a result his little hand dipped into the boiling oil accidentally. And, that was what had caused the big black scar on his right arm. The driver was stunned. He immediately fell at Swami's feet and started weeping.
Kumaraswamy had always regarded himself as an atheist and would always be in the company of people who had no faith in God. It was because of this reason that even after hearing and seeing so many miracles of Baba he never developed any faith in Him. But on that evening, everything changed. He now lay at His lotus feet completely transformed. He cried uncontrollably and even refused to budge from Baba's feet. Finally Swami had to lift him up and console him. Perhaps to comfort him more, Baba also materialised vibhuti and applied it on his forehead. The driver stood there trembling as Swami held him lovingly.
In His Birthday message on November 23, 1961, Baba said, "Divine incarnation is for the sake of fostering righteousness (dharma), for demarcating and directing it, and to show mankind the true path of desire-less activity. This is the one task I am engaged in, through various channels. Instead of reforming you without your knowledge, it is better to reform you with your own cooperation and knowledge. So I reveal to you My Glory, off and on, to a little extent, through what you call miracles. I do not engage in them for name and fame; I am miraculous by My very nature! Every moment of Mine is a Miracle! The miracles are beyond your understanding, your art, skill and intelligence. I must save each one of you. Even if you say nay and move away, I shall do it. Those who have strayed away from Me have to return to the fold sooner or later, for I will not allow them to be distant for long. I shall bring them to Me. This is My basic nature, love and mercy".
| | |
| --- | --- |
| | |
| | Baba in a devotee's home in Karur, October 1947 |
The story of the driver does not end there. To prop him up, Baba embraced him, and then swiftly and mischievously He picked the license book from the driver's pocket. In there was the driver's passport size photo. With everyone around watching Him, Baba waved His hand and out emerged a passport size photo of Himself, exactly how He was looking then. Swami then placed His photo next to the driver's image and His picture instantly got pasted on the book. Shocked and overwhelmed yet again, the driver prostrated flat at His feet.
Swami lovingly raised him and instructed him to get into the car. After taking His seat next to him, Baba picked his license book once again and said, "Oh, I forgot to write the date on the photo!" Immediately the date appeared on the page! That evening was just a series of such spellbinding sport of Bhagawan.
The First Public Divine Discourse
Baba reached Karur at 10.30 in the night and the next morning Baba permitted the driver and Mr. Balapattabi to leave. Just before the driver left, He called him again and materialised a silver talisman for him.
Baba was now in Karur. That day He gave darshan in the open yard of the High School there. The place was packed with people. Many had come from long distances and were desperate to see Baba. Bhagawan's host did not know how to control the crowd.
Perhaps in response to the intensity of longing of the people to see Him, Baba suddenly gave darshan from the balcony of that house to the utter joy of the crowd that had gathered there. Bhagawan was moved with their devotion and spent an hour and half with them singing bhajans. People cried out in devotional ecstasy. Swami then distributed clothes to all of them. By the time Bhagawan came indoors, it was already early morning. The rush of people did not stop throughout the night.
Before Swami left Karur that morning, many people prayed for His message and blessing. That was when Baba stood up and told them to cherish the experiences He had granted them, and practice His teachings. This message in Karur delivered in early 1947 was perhaps Bhagawan's first public discourse.
Baba Begins to Build His Prasanthi
Until this point, it was the spellbinding miracles resulting in startling transformations just like the one that Kumaraswamy had experienced, that drew people to Bhagawan. But now on crowds were mesmerized by His voice and wisdom. The number of new devotees surged and the pata mandiram (Old Mandir) became too small to accommodate them.
Mrs. Sakamma, the coffee planter and philanthropist from Bangalore, who was an ardent devotee of Baba, requested Swami to have a bigger and better place. She even expressed a desire to build an ashram for Him in Bangalore as in those days there were no proper conveniences for devotees travelling to Puttaparthi. But Swami prevailed upon her that the ashram was to be built in Puttaparthi itself.
Years later, recalling this in His Birthday discourse on November 23, 1960, Baba said, "On many occasions, devotees have pleaded with Me to move out of this miasma and settle down in Bangalore or Chennai, or if I preferred, in some other quiet place. But let Me tell you, here and now, this tree has to grow at the very spot where it sprouted; it will not be transplanted. I shall not give up this place, never ever! This place will be transformed into a Tirupati and those who are little boys and girls today will surely see it in all its magnificence."
On July 24, 1947 Mrs. Sakamma offered to Baba the 3.86 acres of land that she had acquired in Puttaparthi as her prayerful token of Love. Bhagawan soon set out on His task of planning the new Mandir. In fact one day, while sitting on the banks of Chitravathi, He Himself sketched out the plan of the proposed Mandir on the sand. Then, to the devotees around, He made a revealing prophecy: "Hundreds and thousands from all corners of the world will come to Puttaparthi. This will become the pilgrimage centre of the world."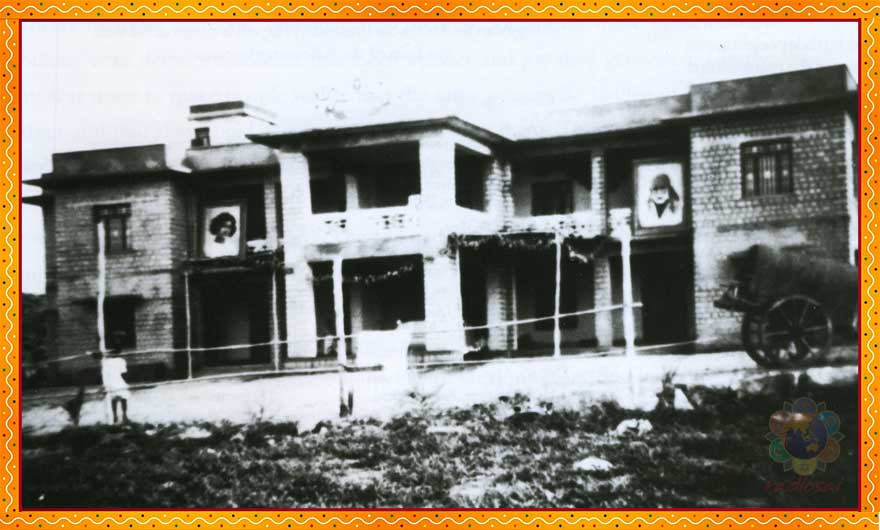 As the Abode of Supreme Peace was being erected, brick by brick.... (below) what a transformation over the years!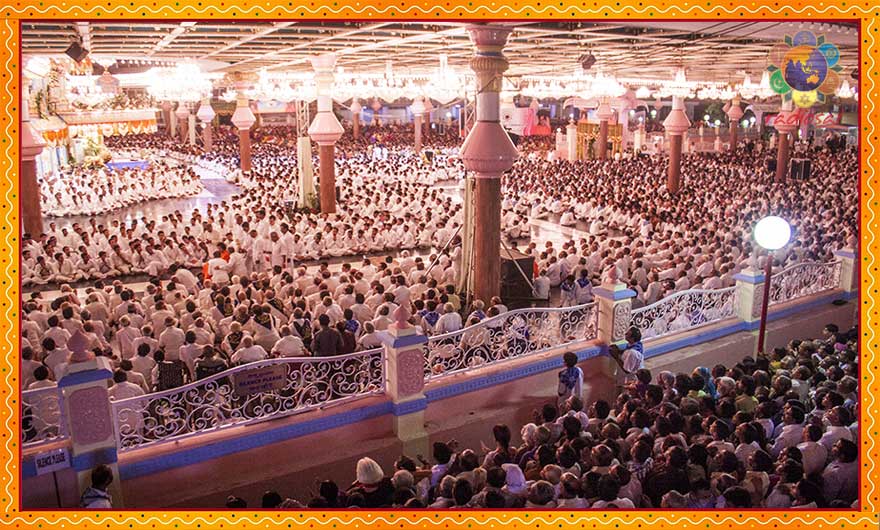 Once the New Year of 1948 began and the Sankramana Day arrived, on January 14, 1948, Swami laid the foundation stone for the Prasanthi Mandir. Hundreds of devotees led by a musical band accompanied Baba to the site. During this ground breaking ceremony, as a hole was dug in the ground, Swami materialised pearls and several precious stones. The sacred foundation stone was placed over these mystical creations. This is the beatific birth of The Abode of Supreme Peace.
That evening Swami took the group of devotees to the Chitravathi riverbed. As He moved around with them He materialised a big slab of sugar candy and gave it to a devotee to distribute it to all. Then came the revelation: "(In times to come) I will be visible to you as a matchbox, and you will see only My dress, from far away."
Five Elements Come Together to Fulfill His Work
Baba's chosen instrument to build this edifice was Mr. M.S. Thirumale Iyengar, a senior architect of renowned fame of the time. Between 1944 and 1952, he was in charge of the Tungabhadra Dam project, a gigantic 6,000 feet long and 160 feet high masonry dam reservoir of three million acre-feet capacity. In fact, it was during this period, through transport commissioner Hanumantha Rao that Mr. Iyengar came to Baba.
[Later, after the completion and inauguration of the Prasanthi Nilayam Mandir in 1950 Mr. Iyengar went on to build the infrastructural pride of the state of Odisha, the Hirakud Dam - the largest dam in India with a seven million acre-feet capacity and 200,000 KW power potential.]
| | |
| --- | --- |
| | |
| | The Lord Himself painstakingly supervised the construction of our Prasanthi |
Once the foundation stone was laid, Mr. Iyengar next searched around the riverbeds of Chitravathi for a sizeable rock that could be broken into blocks and used for the Mandir walls. He did find one. It was a rock 60 feet high and 100 feet in diameter. He now wanted to blow this up using dynamite. Back then, that was the way rocks and hills were usually broken to create construction material out of them.
When Mr. Iyengar sought permission for this, Bhagawan asked him to wait. Interestingly, the next day there was a heavy downpour, accompanied by lightning and thunders. During this downpour, a powerful thunderbolt suddenly flashed from the skies and stuck the rock with such maddening velocity that it instantly broke it into pieces.
The Prasanthi Mandir is indeed a miracle. Skilled stonecutters and workers adept in stone dressing came from Coimbatore. Masons arrived from Bangalore. A devotee from Mysore supplied Timber. Carpenters from Bangalore Timber Depot worked on the doors, doorframes, and windows and transported them to Puttaparthi.
What is most moving is Swami Himself would tie a towel or a scarf around His head and neck, and personally supervise the Mandir's construction. Scores of spellbinding leelas of the Lord unfolded as this Highest Spiritual Sanctuary for the Age was built. Finally Bhagawan gifted this Abode of Supreme Peace to humanity on His 25th Birthday - November 23, 1950; it was an auspicious Thursday.
The Unimaginable Grace of Prasanthi
In the Discourse that day He said, "I am naming the newly constructed Mandir 'Prasanthi Nilayam'. Prasanthi means 'Supreme Peace' and Nilayam means 'abode'. Without any bad thoughts, this place will give you the mind of a newly born child... Anybody who stays in Prasanthi Nilayam and practises meditation, bhajan or any other spiritual practice will not have rebirth."
No wonder whoever steps into this hallowed House of God always feels like he or she is born anew. It is indeed a 'Powerhouse of Miracles'. "This is a peace I have never experienced anywhere in the world," many newcomers say, "I will definitely come back. This place just calms me, I feel settled, it does something to me from inside... I need to be here... I feel I have come home."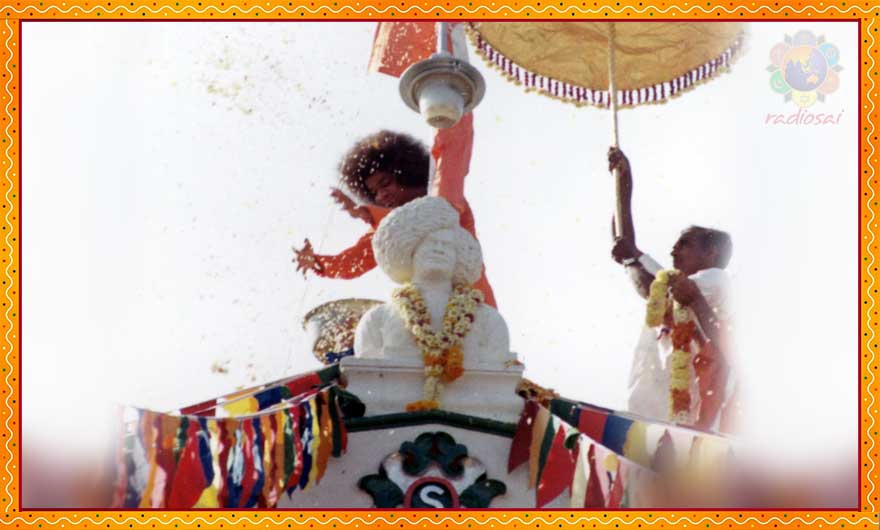 The ecstatic moments of November 23, 1950 when Swami gifted Prasanthi Nilayam to humanity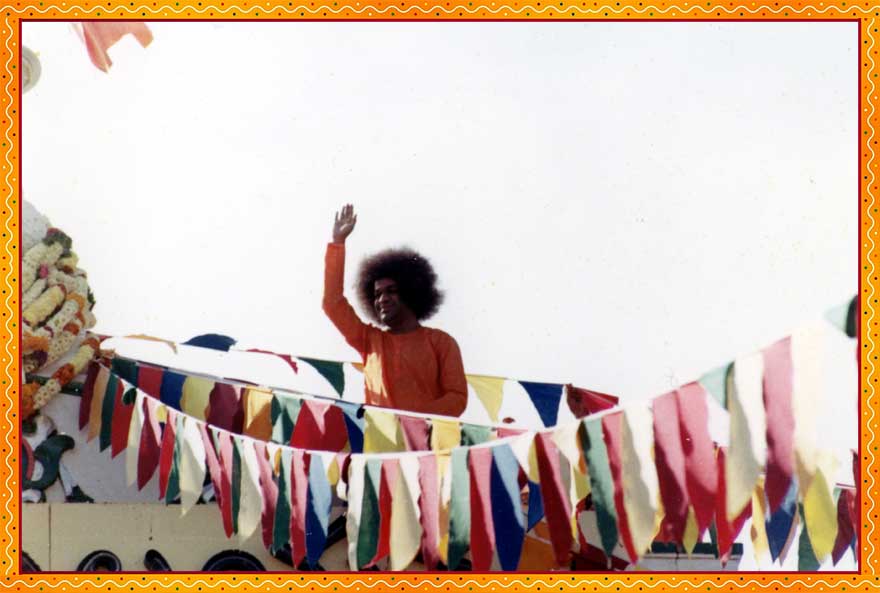 The Miracles of Pure Love continue from this Magnificent Mansion of Peace, Bliss and Divine Beauty. In a discourse on October 5, 1967, Baba said, "My distinctive mark is not the creation of material objects, or healing the sick, or conferring some other boon or happiness. My distinctive mark is My Prema. You might consider what you call as 'miracles' as the most direct sign of My Divinity, but the Prema that welcomes you, that blesses you, that makes Me rush to the presence of the seekers, the suffering and the distressed in distant lands or wherever they may be, that is the real sign of My Divinity. It is that which declares that I am Sai Baba."
Indeed, each one of us is a manifestation of Baba's greatest miracle – the way His Prema has seeped into us, stirred our hearts, cleansed our minds and awakened our souls towards our true goal. We are undoubtedly the living miracles of His Love. And the powerful edifice to facilitate this fantastic process came into being on a January 14. As we celebrate Makara Sankranthi this year, let us seriously ponder on the northward transition we need to make on our journey to the One who is brighter than a billion Suns.
- Radio Sai Team
What do you think about this article? Please let us know by writing in to [email protected] or you may leave your thoughts in the comments section. Do not forget to mention your name and country.