| | | | | | | |
| --- | --- | --- | --- | --- | --- | --- |
| | 'Like' us on Facebook | Follow us: | | | | |
Posted on: June 07, 2016

How My Swami's School Shaped Me
Sai School Topper shares her story...
Ms. Sai Shruti Dubey

In 1979 Bhagawan started the Sri Sathya Sai Junior College which functioned in the premises of the Easwaramma High School for a couple of years. Then in 1981 Swami unfurled the Sri Sathya Sai Higher Secondary School. So eager was the Lord to open this edifice which would go on to create His white army, that even before the Chief Guest, the Chief Minister of Andhra Pradesh, arrived to do the honours, Bhagawan bent down, went below the ribbon and inspected the rooms to check if they were up to the mark.

Once it was formally opened by Mr. Anjaiah, Swami got involved in every tiny and large detail of the school's progress and ensured that it grew from strength to strength every year. That is perhaps how in 1991, the school achieved 100% first-class result – every student of the XII grade had not only passed but also secured first division. In the subsequent years, half of the students' performances every year have been above the 90% mark. This year too the results have been nothing short of stellar. The topper at 96% is Ms. Sai Shruti Dubey.

Cover Story on Sri Sathya Sai Higher Secondary School: The Zenith of Holistic Learning

Sai Shruti joined the primary wing of Bhagawan's school in 2004, and today has made her school and Swami proud of her. What enabled her to reach this height? How has been her experience studying in a system which lays more emphasis on discipline and devotion than excellence in academics or cultivation of any talent? What are her take-aways? Is there anything for us to imbibe from her story? Read on...
| | |
| --- | --- |
| | |
| Sai Shruti (left) with her dear Muni Aunty and her sister Sai Preeti | |
Born into a family of Sai devotees, from day one I was always taught that Swami alone is my mother and father. My father had always wished that I should get an opportunity to study in Swami's school.
In November 2000 when our family was blessed with an interview with Bhagawan, He lovingly patted my cheek, asked me my name and said "Sweet girl". I knew not at that tender age that after some years, I would get an opportunity to study in His school.
In 2004 Bhagawan Himself ticked our names when He was in Brindavan. That list was then put up in Puttaparthi and when my Grandpa saw it, he was overjoyed. He later informed us about it.
The Unmatched Care of Sai Maa
I was just 5 and 1/2 years old then and my mother had full faith in Swami. She enrolled me in the school. The first day I was very sad and was missing my parents a lot, but lovingly Muni aunty and teachers consoled me and never again did I feel sad or lonely. The love they showered on me made me start to like the school.
Whenever we went for darshan,our sisters would hold our hands and take us, and after Swami arrived it used to be heavenly. The love and grace He showered on us gave us strength and happiness. Swami used to daily send chocolates, prizes, skirts and fruits to school. I don't think even at home we would be able to get so many things as much as Swami used to send us. Never did He make us feel we were away from home.
I remember during my third grade GK final exam, as we were all writing we heard everyone running and shouting that Swami had come to the school. The moment we heard this, we just forgot that our exam was going on. We left our answer sheets and ran out to see Swami. Bhagawan entered our school and we stood with eyes full of tears, hands folded in salutation to our Sai Maa. Swami stayed for some time and then Muni aunty offered Arati to Bhagawan, and He left.
In the first and third grades, I got an opportunity to perform in front of Swami on Ladies Day. Swami gave us all wrist watches with His own hands. At school, I never used to miss my parents as I knew that Swami alone is my guardian. Moreover, the teachers were as loving as my own mother. In my fourth grade I was severely affected by pneumonia and unfortunately had to leave the school. For four years I studied in Indore. Then again Swami's will prevailed and I rejoined the school in the ninth grade. Now I was quite old and had the understanding about what was best for me. After living for four years outside, I understood what I could learn here and how I could get moulded in the right way. This would not be possible anywhere else or even by staying at home in Indore.
Primary School – the Playground of Sai Love
After 2011, life at school without Swami's physical presence was no different. Always I felt His loving hand guiding me throughout.
I was always inspired by and used to admire Headmistress Aunty, Warden Aunty, Kitchen Aunty and all my teachers. I was always amazed at their dedication to their work and devotion for Swami. Truly, all of them are my role models.
How lovingly from morning till night Muni Aunty takes care of us without any sign of tiredness on her face! This always impressed me.
Academically, no doubt our school is the best. The efforts of our teachers always inspired me to work hard. During examinations, from early morning to late in the night they would sit with us to clear any doubts we had. In fact the examination period was when the teachers worked as much as we did; they would tirelessly support and encourage us. The teachers always gave us this one important advice: Put your full efforts but never forget to surrender everything to Swami.
Whenever we started to do anything, we surrendered it to Swami, and doing so gave us the self-confidence and faith that Swami will take care. That is why I never had the fear of writing examinations because I knew that after I have done all my hard work, Swami will take care.
At school another impressive thing is how all live to please Swami. On any festival occasion, the atmosphere at school is very different. From the first standard tiny tots to the senior-most students, all the children are engaged in making cards for Swami. Everyone tries their best to make the best card possible. In our classroom too, whenever we had free time, we would start making cards for the upcoming festival. The artists used to draw the shape and cut thermocol. Some would put cotton to cover it, others would string pearls, and then one of us would write our humble prayer over it. All would do their best to present this small offering to Bhagawan. The enthusiasm among all the children while making such cards is amazing.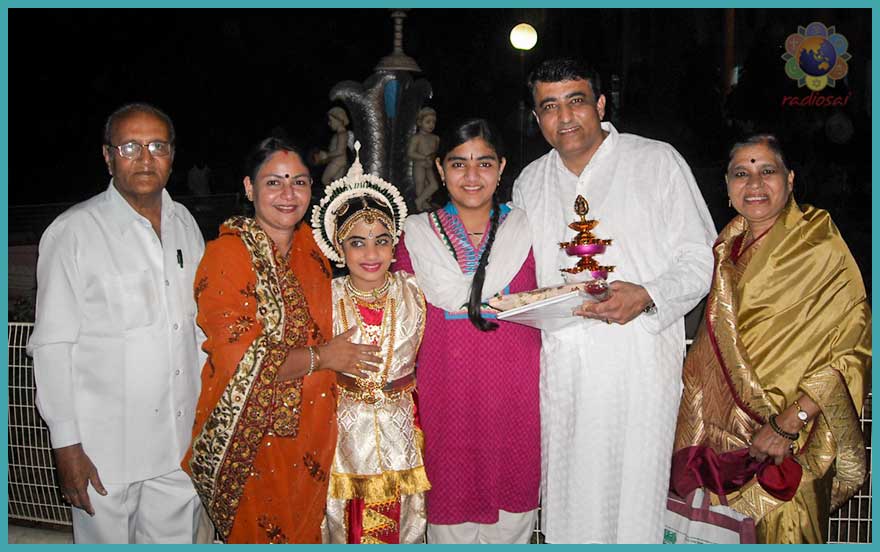 Sai Shruti and Sai Preeti with their parents and grandparents
Also in the school and hostel, more than as classmates we were all taught to live as sisters, help each other and live happily. All these years of staying together has connected us all with one another deeply – the common factor binding us being our love for Swami.
The lessons learnt at school have become a lifelong treasure for me. The gems I have collected here are infinite and words are not enough to explain the quality of education and values that we get in our school through our dedicated aunties and teachers.
"I am there with you, in you, around you..."
I will cherish these moments forever. I will make sure that discipline, duty, devotion, dedication, determination and discrimination are my lifelong wealth, and will strive to practise them always. The day I left the portals of this holy school I was very sad and prayed to Bhagawan saying, "Swami, when You were physically present every graduating batch would receive so many blessings from You. Today I am leaving. How nice it would be if You could bless me too!" Praying so I slept.
That night I had a dream that all of Swami's photos in our school prayer hall were filled with Vibhuti and I was standing in the hall. I was able to see one silver-framed photo which is actually a picture of Swami's face where no hands are seen, but in my dream I saw that Swami was in the Abhayahastha posture and Vibhuti was emerging from His palm. Suddenly I woke up.
It was just a mere thought in my mind the previous evening and Swami so compassionately blessed me on my last day in the school. These marks I have achieved are all due to Swami's grace, our teachers' efforts and their blessings. I am very grateful to all my aunties, teachers, my parents and most of all to Swami for taking me towards the right path. I will cherish these experiences forever. Sairam!