| | | | | | | |
| --- | --- | --- | --- | --- | --- | --- |
| | 'Like' us on Facebook | Follow us: | | | | |
Posted on: June 15, 2016

SUMMER COURSE TALKS
Since the year 2012, the Sri Sathya Sai Institute of Higher Learning has been conducting a 2-3 day Summer Course in Indian Culture and Spirituality for the Students of the University. This Summer Course, though shorter in duration compared to the fifteen days long summer course organised by Bhagawan, is designed and structured along similar lines. Bhagawan used to organize the Summer Course in Indian Culture and Spirituality, first in the 1970s which was open to all youth across the country (including at times some overseas participants) and later in the 1990s which was exclusively for the students of the University. The main objective of the course was to give students a strong spiritual foundation, which is achieved in part through lectures delivered by learned scholars, senior devotees and men and women of esteem. The highlight though was the daily discourse by Swami, delivered typically in the evenings.

The Summer Course for the academic year 2012-13 was held from 8 to 10 June 2012 in Prasanthi Nilayam. As part of this Summer Course few of the young as well as senior members of the faculty and research scholars gave inspiring and erudite talks on epics like the Ramayana and Mahabharata, scriptures like the Vedas and Upanishads, and a few esoteric concepts which form the cornerstones of the great Bharatiya culture. We had earlier published three talks, 'Law of Karma - A Tenet of Indian Philosophy', 'Ramayana - The Key to be Near and Dear to God' and 'Lessons for Life from the Upanishads'. We now bring you another talk delivered during that Summer Course. The Radio Sai Team is grateful to the SSSIHL for permitting us to share with our readers these transcripts.


The True Culture That Swami Taught Us

Dr. T Ravi Kumar

Dr. T. Ravi Kumar came to Swami's fold as a boy in the year 1969. He was a Balvikas student from Bangalore then. He then joined the erstwhile Sri Sathya Sai Arts and Science College at Brindavan (Bengaluru) as a student for his intermediate course in the year 1974. He continued this with his Bachelors in Science degree in the same college. After that he joined for the Masters in Science (Chemistry) programme at a Post Graduate Centre at Anantapur on Swami's command. In the year 1981 Swami appointed him as a faculty member in His Brindavan College. Later, when Bhagawan's University came into being, Swami blessed him to be one of the earliest research scholars at the Department of Chemistry at the Prasanthi Nilayam Campus. He received the Doctor of Philosophy degree from the Divine Chancellor in the year 1990, after which he was again appointed as a faculty member in Bhagawan's college at Bengaluru, only now it was the Brindavan Campus of the University. Currently, in addition to being as Associate Professor at the Department of Chemistry, he also serves Bhagawan as the warden of the hostel at the Brindavan Campus. This talk was delivered in the Poorna Chandra Auditorium on 10 Jun 2012.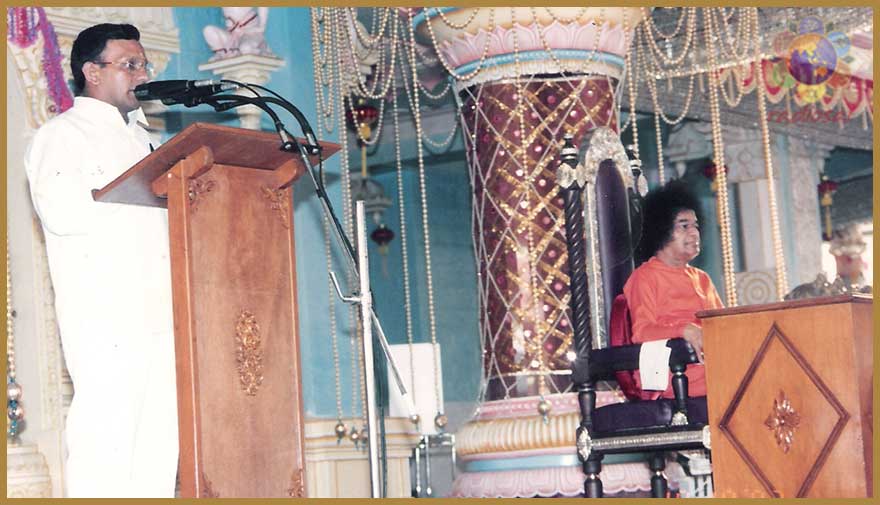 Dr. Ravi Kumar delivering a talk in the divine presence at the Sai Kulwant Hall
Alvin Kallicharran came to India sometime in the late 70s as captain of the West Indies cricket team. He played with the Indian team captained by Sunil Gavaskar. While they were in Chennai for a cricket match, Bhagawan happened to visit Chennai. Kallicharran had heard about Swami, so one evening he went to have Swami's darshan. When Kallicharran went for Swami's darshan, Swami had gone to a devotee's house. He waited for three to four hours near the gate and when Swami's car came back, Swami drove right in. The sevadal told Kallicharran that Swami would not come now so he may return home. When Kallicharran, a successful test captain was turned away thus, he felt humbled and crestfallen. Within a few minutes he received a message that Bhagawan wanted to see him. Swami granted him an interview, which he says, changed his life.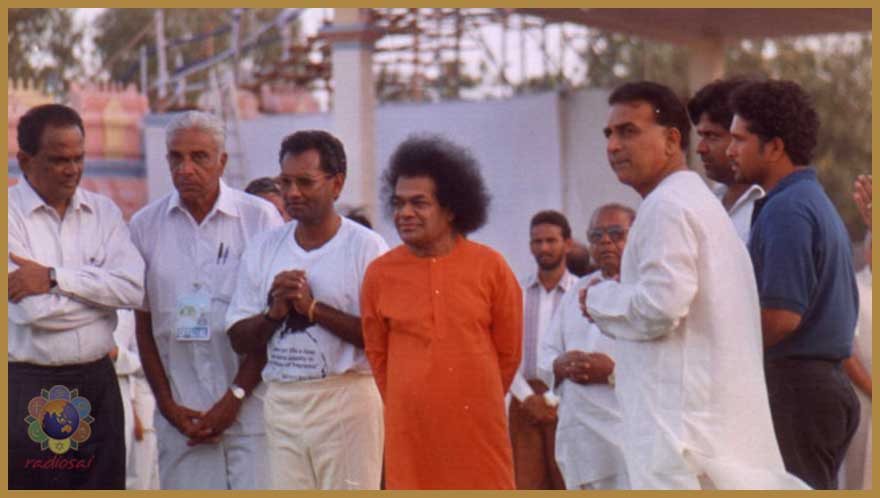 The old students of the erstwhile Brindavan College published a volume named Golden Age and had asked Kallicharran to write an article. He wrote an article describing Bhagawan as Bharat Bhagya Vidhata: the designer of the destiny of Bharat.
In 1976, at the end of the Summer Course in Indian Culture and Spirituality in Ooty, Swami gave a discourse describing His entire life. He declared, "All through My life, youth will follow Me, this will happen in larger and larger numbers." He then created a medallion and said, "Look! In My palm is the destiny of this country, India." It was a medallion with the map of India, and a few verses engraved on it. He said, "There are verses on this medallion which describe glorious events and social works that I will undertake and the names of the students who will head the 18 centres which will come all over India." So Bhagawan is indeed the Bharat Bhagya Vidhata and in His hands lie, the safety and destiny of our nation, nay the destiny of the entire world.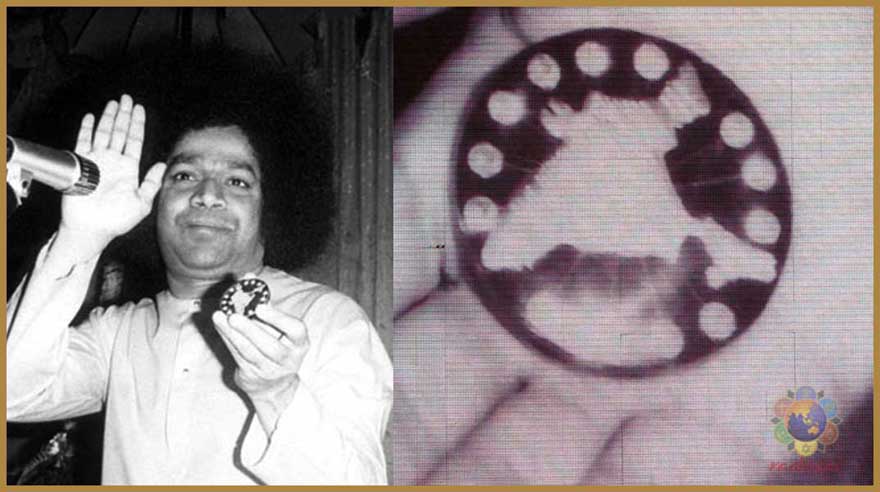 Once in Kodaikanal, Swami was standing near us and suddenly He posed a question, "My dear boys, why have I brought you all so near to Me?" There were various answers. Swami said, "Do you think that I have brought you all close to Me because you all are very intelligent? No! Do you think I have taken you all close to Me because you all are very rich and handsome? No! Do you think I have taken you all close to Me because you all have done lot of merit? Not at all!" We all were wondering what the reason for our nearness to Swami could be, when He said, "I have taken you all near to Me because I want to revive the Bharatiya Samskruti (Indian culture) through you all. That is the reason, I give you so many opportunities to watch Me, to be close to Me, to learn from Me and to be guided by Me."

What is Culture?
We have had a number of summer courses and many scholars and speakers have given erudite explanations on the meaning of 'culture'. As one of my previous speakers said, culture is refinement. Bharatiya culture is the Indian way of refining an individual. This 'way' will take an individual to perfection and oneness with God. This is known as culture.

A few years back, in one summer course, Swami said, "What is culture? Some people say that culture is 'a way of life'. But I say that 'culture is concern for others'. When we see Swami's life, we see what perfect cultured is. So in the next few minutes let me take you through some experiences where I was able to witness Swami's concern for people.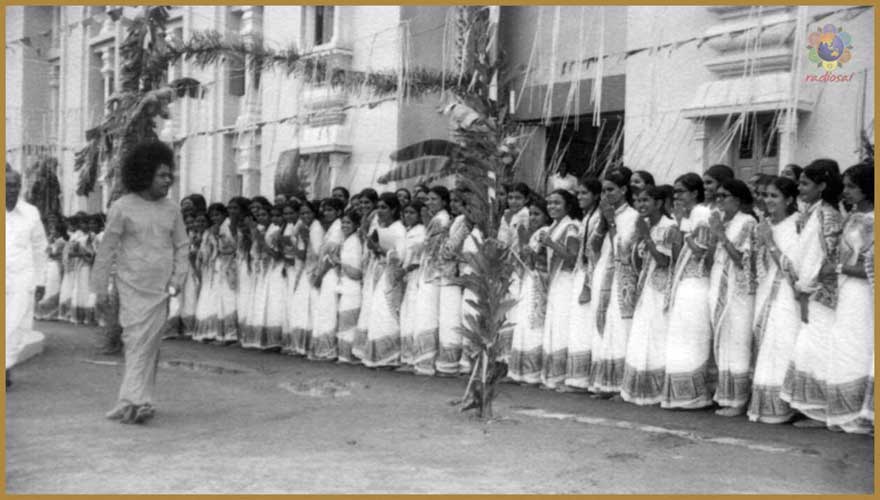 In Brindavan during one of the early summer courses
It was one of those hot summer days in 1974 in Brindavan. Swami had finished giving darshan and returned to His bungalow at 10:00 a.m. At around 10:45 a.m., a group of villagers from North India came to Brindavan. They were extremely poor. They had come in a run-down bus wearing very simple clothes. Many of them were in rags; but somehow they paid (the fare) and got into this bus hearing that they could go around South India for a pilgrimage. Someone told them on the way, that Bhagawan is in Brindavan. They had absolutely no idea about darshan timings and the like, because in most temples one can walk in, have darshan and come out. When they arrived they learnt to their dismay that the darshan had got over and next darshan would be only in the evening. Their itinerary was so packed that they had no chance to wait until the evening. As the sevadal was explaining the schedule, tears started rolling down from their eyes thinking that they wouldn't be able to see Swami.

Suddenly the inside gates of the Brindavan bungalow opened and Swami came out. He was walking very fast, and seeing Him the sevadals became attentive. I was keenly watching this from the college building, which is the present Kalyana Mantapam. In those days, students had one special privilege. This was of offering Swami chappals to wear whenever He went out in the hot sun or when He had to tread on thorny, uneven surfaces. Realising that it was very hot, I ran inside to get a pair of slippers for Swami. I ran towards Swami and kept it in front of Him. Swami glared at me, turned away and proceeded to give darshan at the Sai Ram shed. I was shocked, thinking that perhaps I had obstructed Swami. I told myself that this act of mine resulted in Swami turning down wearing the slippers and walk in hot sun.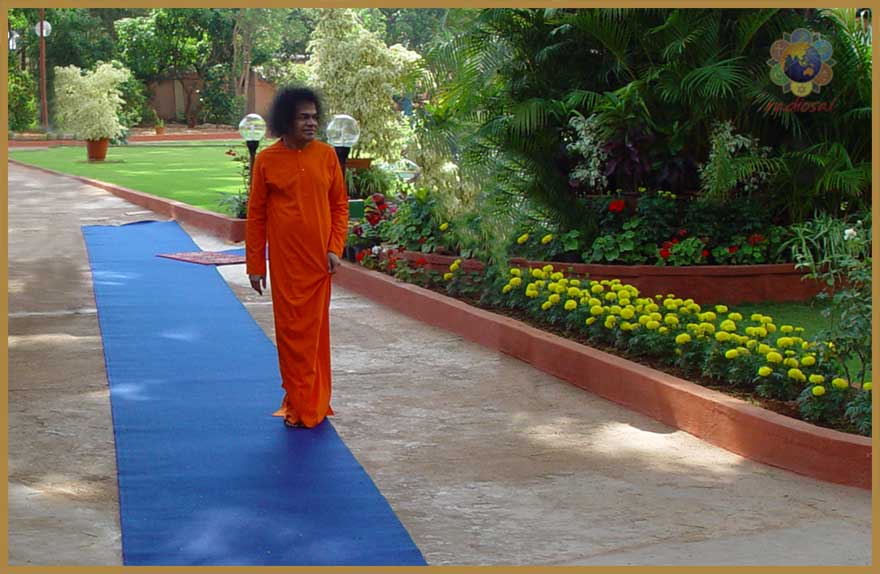 Swami went straight to those villagers, whose tears of despondency were transformed into tears of bliss. Swami enquired from the villagers about their native place and very sweetly asked them to sit in rows. They sat in rows, Swami walked amidst them and the villagers took Padanamaskar. Swami was not satisfied. He called two boys and told them to get sweets from inside. Swami distributed the sweets Himself, but He was not satisfied. He ordered the boys to get photos and distributed them to all. He even distributed Prasadam (Vibhuti) to them. Twenty five minutes later, Swami returned very satisfied.

Swami says that He can wipe away tears (kanneeru tappinchu), also bring tears (kanneeru teppinchu) to your eyes. He will wipe away tears when He says, 'your cancer is cancelled' and He brings tears to your eyes when you just have His darshan! Swami while walking back, saw me crestfallen and very lovingly called me and said, "Bangaru! Did you notice, the poor people didn't have slippers. How could I wear them when I went into their midst?" That is the love of our Lord.
Concern for Others is True Culture

It was the same year when Swami had taken a group of us to Mumbai. The event was the inauguration of the Sarva Dharma Stupa there. The students staged a drama in one of the biggest hall known as the Shanmukhananda Hall and the drama went on very well. After the program concluded, Swami came up on to the stage, looked at all of us and said, "I am very happy with all of you. Take off the make up, change (your costumes) and come to Dharmakshetra for lunch." Swami left and as we went inside to change our clothes, one boy realised that the ring which Swami had given him had disappeared. Swami had given some of us rings, chains, watches and we had removed them and kept them very carefully at one place to enact the role of sanyasins in the drama. We realised all of that had disappeared completely. For the next couple of hours, we kept on searching every nook and corner of the auditorium. We asked the watchman, the stage manager and all the people concerned but nobody had any clue about them. Crestfallen, we got into the bus and reached Dharmakshetra.


| | |
| --- | --- |
| | |
It was 2:30 in the afternoon. Swami was waiting for us at the doorstep of Satyadeep with a worried look on His face. He asked, "Why did you come late, what happened?" The students replied with a heavy heart, "Swami! Whatever You had given us for our protection is lost. We searched everywhere, but couldn't find it." Swami said, "Is that all? Go, wash your feet and hands and have your food." As we went in, Swami also came; the plates were placed, food was served and all of us partook of the food. As we were about to finish, we noticed that Mrs. Sarla Shah (wife of Indulal Shah) came and kept a plate for Swami. Swami had not eaten. Even though He reached Dharmakshetra two hours before us, He was waiting for us. Concern for others is culture. Swami epitomises this dictum in every act of His. Swami of course created and returned to us all the watches and rings and chains we had lost that day. Nothing He gives is ever lost. Nobody can rob those! It returns to Him, He said.
Towards the end of the trip we had a very beautiful experience. Swami took us for sightseeing in an air-conditioned bus. He showed us the various places like the Taj Mahal Hotel, the Gateway of India, Malabar Hills; continuously describing them to us. It was around 10:30 at night when we were returning to Dharmakshetra. At one traffic junction, our bus came to a halt. At that time, a beggar woman comes straight to the window where Swami is sitting and asks for some alms. Swami wittily replied that He doesn't have pockets. Mr. Kamani, a premier industrialist of our country sitting next to Swami takes out a hundred rupee note and gives it to Swami. Swami gives it to the beggar woman and tells her, "This is a hundred rupee note, be very careful, feed your children and you also eat something." In the meantime, the traffic light turns green and the bus moves away.

This small act showed Swami's love. When He gives a gift, He gives Himself with the gift. This makes His gift very precious. I have around 35 matchboxes that Swami has given me after lighting the arati over the last 35 years. On each of the matchboxes, I have written the date I got it on, the shirt pocket in which Swami kept it after lighting the arati. So every gift that He gives – be it a pencil, a pen or a matchbox – is special because the Lord gives Himself with each one of these. This concern for others is Indian culture.
His Happiness Lies in the Happiness of His Devotees
It was one of the trips to Sai Sruthi, Swami's abode in Kodaikanal. One day, it started drizzling all of a sudden. Swami briefly went to the portico, saw that the devotees have not assembled, came back inside and kept talking to us. After some time He said that He had to go to give darshan. One of the elders said, "Swami! The Devotees are not there." Swami said, "No, No! I saw, devotees were coming in a line." This elderly gentleman whose duty it was to admit the devotees said, "I thought that the darshan was over (when You went to the porch and came in) so I sent all the devotees back." Swami was very upset at this; it looked like Swami would wind up the Kodaikanal trip that day itself. Swami asked, "Do you have any daya (compassion). My devotees are sitting there since 4 o'clock. Do you think I am stonehearted? Can some mere rainfall stop Me from giving darshan to My devotees? How sad they would have felt? How many people would have come with the hope of telling their problems to Swami and receiving solace, and because of your callousness they had to go back empty-handed, burdened with their problems." Swami didn't eat food the whole day because for Him taking on the troubles, worries and sufferings of others is a joy. Mee aanandame naa aaharamu, 'Your bliss is my food', He says.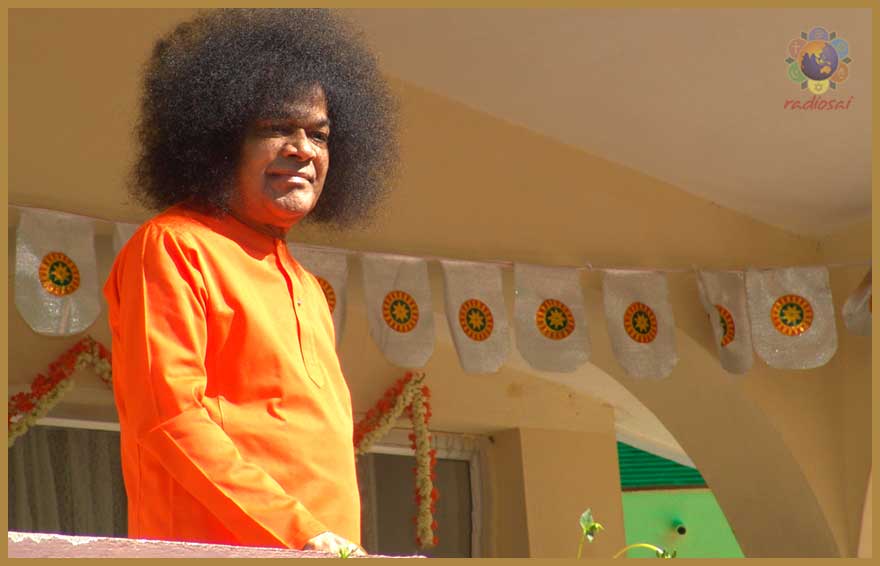 Let me take you to the time when Swami fell down and had a hip fracture. After Swami fell, we were so concerned about Swami. He lightened our fears by saying that it was just a catch and there was nothing to worry. But the doctors insisted that an X-ray should be taken and the X-ray was done. The X-ray film when developed showed a fracture in the pelvic bone. That night a group of doctors were discussing, how to break this news to Swami. He would retire for the day in a few minutes. So they summoned courage and went into His room and told Swami, "Swami, it is a fracture." Swami very casually replied, "Oh! Only a fracture, we will look into this tomorrow morning." Next morning Swami permitted the doctors to take Him to the operation theatre in the General Hospital at Whitefield. As He was being wheeled into the theatre, suddenly He asked them to stop. They stopped. Swami asked them to call Dr. Hegde. Dr. Hegde was called and Swami said, "I had told you that I would give you interview this week, I will call you on next Sunday and talk to you." Dr. Hegde's son was coming from USA and Swami had told him that He would call all his family members for an interview. Swami was going for an operation; but even at that time, He was not thinking about Himself. His thoughts and concern were for His devotees. His delight lies in the delight of His devotees. His happiness lies in the happiness of His devotees.
| | |
| --- | --- |
| | |
A few days later, Swami said, "Boys are feeling sad that I have not given darshan. Tell the boys that I will come and give darshan from the balcony. Let them to assemble in the round hall below." In those days, I had the privilege of sleeping in Trayee Brindavan. At four in the morning, I heard a sound. I looked up and saw Swami holding a walker and walking very slowly around. We had thought that Swami would just peep out of His door and go back. But Swami was practicing, going around the whole of the round hall so that all get His darshan and return satisfied. He took that trouble for our sake!

On that day, we had to get the Mysore Pak prasadam blessed by Swami. I went up to get it blessed. Swami did not touch the sweet and bless as it was oily. We discussed that in the future, we will put the prasadam in a cover and offer it to Swami so that He will touch it. Next time, apples were the prasadam. I took a tray of apples for His blessings. He picked up one apple and remarked , "It is very heavy." A thought ran through my head that Swami has become so weak that He was finding even this apple heavy. Reading my thoughts, Swami said, "It is not that. If I throw an apple from here to someone (down there), and he misses catching it, he will get hurt." Even at that point, Swami was thinking only about others. End of culture is perfection and Swami lived His life to perfection.

I recall a very beautiful scene I once witnessed. A group of sevadal ladies, who had finished their service in Parthi were seated for Darshan to take Swami's blessings before they leave for their homes. Swami was giving them all padanamaskar. The ladies were going in line and taking namaskar. One of the ladies had a small kid in her hand. She didn't know what to do with the child, where to keep the child as she took namaskar. Very spontaneously she handed over the child to Swami. He too readily extended His hands and carried the child as the lady took namaskar to her heart's content!

Swami, how sweet You are! This is the Swami whom we saw. He taught us that our lives need to be cultured. We have to become sensitive to the needs and feelings of those around us. We have to lead lives saturated with selflessness.This is true Bharatiya culture and He taught us this lesson through every page of His Life.
Radio Sai Team