| | | | | | | |
| --- | --- | --- | --- | --- | --- | --- |
| | 'Like' us on Facebook | Follow us: | | | | |
Posted on: Mar 15, 2016

Journey Through Darkness:
A Neuro Patient's Story
| | |
| --- | --- |
| | |
The Sri Sathya Sai Institute of Higher Medical Sciences, Whitefield celebrated its 15th Anniversary in the beginning of this year. Like the other institutions set up by Bhagawan, this too has functioned ceaselessly since inception.

When one pauses to look back at the enormity of the work accomplished, it indeed makes one breathless. Over 41,000 surgeries (Cardiac and Neuro) have been performed; the number of lives saved is far greater than even that, considering the other critical non-surgical procedures performed (over 51,000 cardiac procedures alone). Imagine a person who is part of this mammoth altruistic effort; one who has seen numerous people walk out of these gates with a fresh lease of life. Seeing a life saved, receiving gratitude from families is all in a day's work. What if the same person was to be in the receiving end of that blessing. Wouldn't there be a resurgence of the realisation of what it is to serve in an institution that saves lives? Such is the story of Mrs. Anuradha Pai.

This story was first published in the Jan 2016 issue of 'Manohriday', the journal of Sri Sathya Sai Institute of Higher Medical Sciences, Whitefield.
When Anuradha Pai first felt a surge of pain shooting through her head, she knew it was unlike anything she had felt before. It didn't ache like the familiar, dull throb of a migraine, or the dense stuffiness of a blocked sinus. The pain was acute and intense, forcing her to stop for a while and take a few deep breaths. In a few minutes, the pain passed, and Anuradha, blessed with fairly good health through most of her life, chose to dismiss the incident as a freak episode.
The Pais in Happy Service of Sai

The Pai family was a busy, happy family with a lot to be grateful for. Both Anuradha and her husband, Ranganath Pai, led contented, retired lives in the city of Bangalore. Their two sons were now grown up, with families of their own. On retiring from an active work life, the couple, in their sixties, chose to stay active by engaging in acts of kindness, including volunteering at Sri Sathya Sai Institute of Higher Medical Sciences, Whitefield, on a regular basis.
Anuradha 'aunty', as she was fondly referred to by younger volunteers, was a picture of quiet and willing service. She spent her days at the hospital volunteering in the cardiac screening and outpatient clinics, two very busy clinical domains, catering to scores of patients each day. Here, she served as a liaison between the medical staff and the patients, routing them to tests, assisting in non-medical instruction, and at times being an interpreter for the physicians.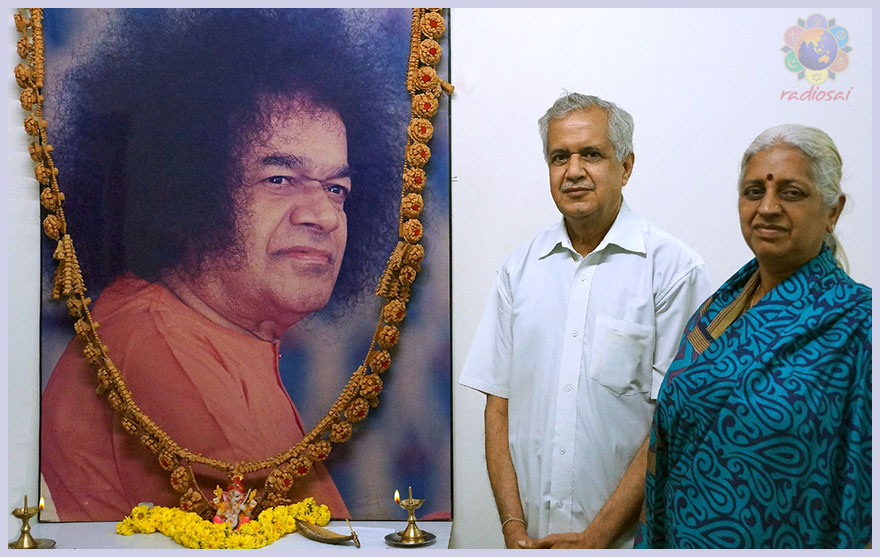 Mr. Ranganath Pai and Mrs. Anuradha Pai along with their beloved Swami in Bhagawan's Hospital, Bengaluru
The Bolt from the Blue
Long, busy days lead to tired nights filled with sound sleep, and so it came as a surprise to her when she was jolted awake one night, the familiar shooting pain stirring her out of bed. It was the second time in a while, and now, she was concerned.
"I remember walking to the washroom, hoping some cold water would help me feel better, but when I looked into the mirror in a half-asleep state, I was taken by surprise," she says. One of Anuradha's eyelids was shut heavily over her eye. "No matter how hard I tried, it would just not open," she recounts. Rather than wake up her husband, she decided to wait till the morning, hoping this was just a bad dream. Little did she realize then, that this was the beginning of a nightmare.

"It was a period of a great test in faith," says her husband. "I couldn't help ask myself why this had to happen to her. She is such a gentle soul". The Pais consulted a local physician, who suggested that they see a neurosurgeon; and so, they returned to their dear hospital, but this time as patients in the neuroscience department.
After a battery of tests, which included an angiogram, she was diagnosed to have multiple intracranial aneurysms arising from the blood vessels of her brain, which needed to be operated on at the earliest. If left neglected, this might lead to catastrophic consequences, even death. As Anuradha went under the knife, she had only a single prayer to make. She wished to be returned to health so that she could return to serve the poor at the hospital.
The Smooth Surgery

Dr. Sai Kiran, who operated on this patient says, "This was a very complex case of subarachnoid haemorrhage with multiple intracranial aneurysms arising from the internal carotid artery, a major vessel supplying blood to the brain. Drooping of the eyelid (ptosis) was due to the compression of one of the cranial nerves by a large aneurysm. Surgery for such lesions is very complex. All three aneurysms were successfully treated surgically.
"A check angiogram revealed successful obliteration of all the aneurysms. The postoperative course was uneventful except for persisting ptosis. Though there are chances of her opening her eyelid completely in the due course of time, the extent of recovery is unpredictable."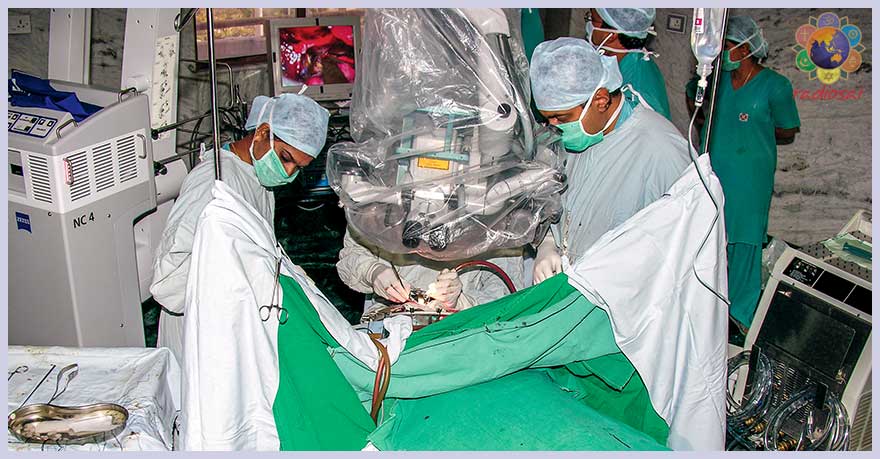 The 'Eye-Opening' Grace

With the aneurysms clipped, her life was out of danger. However her preoperative neurological deficit (ptosis) persisted. "There is a very slight chance that you will be able to open both eyelids again", she was told by the doctors. The Pai family decided that the same Sai who brought them this far would need to take them further. "If He wished, anything was possible. We know that doctors had done the best that they could, but it is God who administers a cure. Complete recovery from the existing neurological deficit is possible only by Swami's Grace," Anuradha says.

In addition to following all the instructions given by the physicians, Mrs. Pai decided to put a little vibuthi on her eyelid every morning, her prayers unfailing and faith unshaken.

Sri Sathya Sai Institute of Higher Medical Sciences, Whitefield, inaugurated by Bhagawan on January 2001
When Mrs. Pai recounts the harrowing episode many months later, she is all smiles. Her smile does not sit quietly on her lips, but moves effortlessly to her large, expressive eyes, both wide and grateful. The remarkable combination of prayer and prescription has brought her back to the hospital in the pink of health.
She tidies up the rooms in the outpatient department, one of her many tasks as a volunteer preparing for another busy day at work. She feels even more active than she did before her surgery, and her gentle presence continues to bring solace and comfort to the sick and ailing. Ask her what drives her to keep serving even after brain surgery? "I've been a patient. Now I know exactly what it feels like. I also know that our hospital is a remarkable testimony to the glory of God working through the hands of dedicated men and women. How can I not want to be one of them?"

- Radio Sai Team
What do you think about this article? Please let us know by writing in to [email protected] or you may leave your thoughts in the comments section. Do not forget to mention your name and country.