| | | | | | | |
| --- | --- | --- | --- | --- | --- | --- |
| | 'Like' us on Facebook | Follow us: | | | | |
Posted on: Mar 06, 2016


Sai Shiva Takes Us to Kailash and Manasarovar
Mr. Ramesh Agraharam

In 1982 Mr. Ramesh Agraharam joined the Sri Sathya Sai Higher Secondary School, Prasanthi Nilayam for his XI and XII grade. He continued his education in Sri Sathya Sai Institute of Higher Learning pursuing his Bachelors and Masters in Commerce. Once he completed his post graduation Bhagawan asked him to pursue further education in Computer Science elsewhere. He then worked in Tata Consultancy Services (TCS) for a couple of years before joining the Government of Andhra Pradesh as a public servant. He is currently Consultant, Rural Development Sector, to the Government of Telangana besides being an industrialist in the area of organic products.
I left the portal of Bhagawan's university in 1989. Since then I had a yearning and a desire to once see Mount Kailash. Many a times I would mentally pray "Swami, You must grant me this boon. Take me to Mount Kailash please."
In 2015, with prayers to Swami, I started planning for a trip to Manasarovar and Mount Kailash. Several of my industrialist friends joined me; we were a group of 30 enthusiastic adventurers. Both these destinations, as many are aware, are in China. So we filled our applications for visas and sent it to the Chinese Embassy. Every year, from June to September, the Government of China issues about 1000-1200 visas randomly. It was already the last month of September and we had not received any reply from them. So we were keeping our fingers crossed.
Everyone was anxious and I was receiving continuous calls from the group enquiring "What shall we do?" So I told them "Tomorrow I am going to Puttaparthi. I will pray to Bhagawan at the Sannidhi and let you know the status after that."
The Samadhi Speaks
On September 5 I attended the morning bhajan in the Prasanthi Nilayam Mandir and after the Arati went to the Samadhi and prostrated reverentially. Then, even before I could say anything to Swami, I heard a voice. It was clearly Bhagawan's voice which I am so familiar with, having studied in His college for seven years. In Telugu, Swami said "Saamaanlu anninesaddhukko, meeru andharu velthunnaaru Kailash Manasarovar yaatraaki, meeru muppai mandhi vellandi (Keep your luggage ready. Thirty of you are going for Kailash-Manasarovar Yatra)."
It was not any illusion, dream or delusion. He spoke exactly the way He used to talk to us. Further He said:
"Parikrama-matku padhimandhe veltharu... Inkokati. Oka inhaler theeskellu. Meeru Kailash Parikrama chestunappudu naluguriki kontha swasa ibbandhi osthundhi, daniwalla heart rate peruguthundhi. Vaalakee inhaler rendu moodu saarlu nuvvu administer cheyi. Vaala heart beat sariyai pothundi, padimandhi yatra complete chestaru. Migatha antha nenu chooskuntanu
(Only 10 of you will be able to do Kailash parikrama. The rest will go till Manasarovar. Another thing. Take an inhaler with you. When you are doing Kailash parikrama four of them will have breathing issues, their heart rate will go up. Administer 2-3 puffs to them. Within 15 minutes, they will stabilize. All 10 of you will then be able to complete the circumambulation of Mount Kailash. I will take care of everything)."
I heard this message of Bhagawan at 9.41 am. Frankly, I was totally dazed. I am a frequent visitor to Prasanthi and I had never experienced anything like this before. In any case it was such a good news. I stepped out of the Mandir gladly. Just then I saw my driver running to me with the phone in his hand, saying "Call from Chinese Embassy." I took the call and they said "Your visas have been stamped at 9.42 am". I was stupefied. At 9.41 Swami tells me and the next minute I get this news. They asked me to check my email and come to Kathmandu to get our passports stamped.
I immediately called up my group and said, "Pack your bags. All of us will meet tomorrow (September 6) at Delhi and leave for Kathmandu by the evening flight." We were from different locations like Mumbai, Pune and Bangalore. They were all extremely excited. I too was but I was more overwhelmed with Bhagawan's mercy and concern.
At Delhi everyone asked me "What did Baba tell you?" They are not Swami's devotees but given the way we got the visas they were now curious. So I told them everything including every bit of Bhagawan's instruction. They were quite startled and thrilled.
Sai Carries us to China
So as planned we reached Kathmandu, got the visas stamped and received our original papers from the Chinese Embassy. From Kathmandu we travelled to Nepalganj in a small airplane. From there we had to take a 20-seater plane to Simikot. In those mountainous regions, only such small carriers are allowed. The weather is always dicey. Every flight is a big question mark till the last minute. Even after it takes off you have no clue what can happen at any moment. Fortunately till now we had no hiccups in our journey.
From Simikot we had to fly by helicopter. It was a half-hour ride to Hilsa on the Nepal border. As we got in, we saw an American pilot and we asked him "How is the weather? Are we safe?" He simply replied, "Chant 'Om Namah Shivaya'! Four helicopters have already gone down. So I cannot say anything. Once we are in the air I have little control. If the wind becomes severe this chopper will become a toy in the hands of Nature and it can hit the mountain. So our only refuge is 'Om Namah Shivaya'!"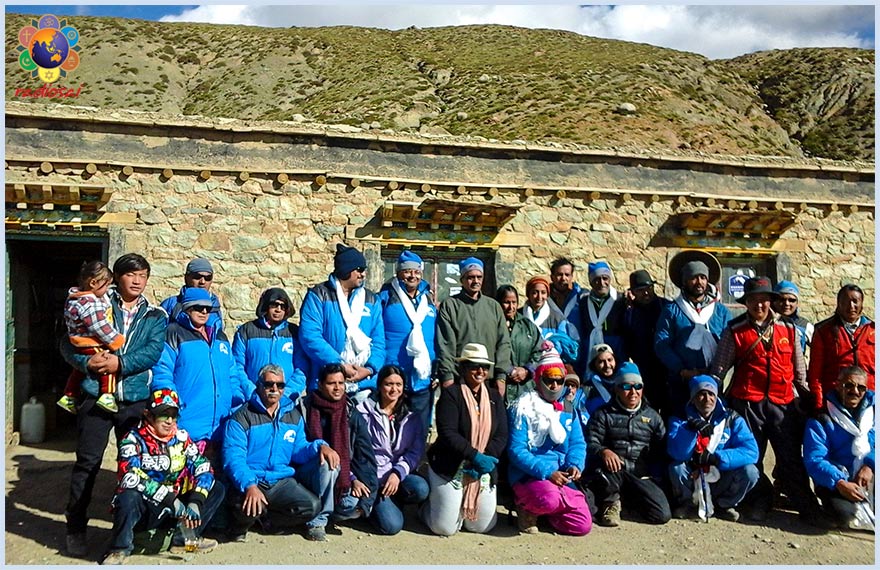 So that's what we did. We intensely prayed and the helicopter took off. A chopper can take maximum 5-6 people and so it had to do 5-6 trips to shift our entire group. Moreover there is no helipad there. The pilot lands the vehicle wherever he sees convenient space. That day, the climate and wind conditions were so pleasant and amenable that not only were all the trips absolutely eventful but the pilot was so carefree and relaxed that he was telling us stories about these hills. He had become a tour guide too! Indeed, that is how much Swami was looking after us.
We were now at the Nepal border. In front of us was an iron bridge. It was half a kilometre long and we learnt that once we crossed this we would be stepping into China. The Nepalese military were helpful. They supported us in walking over this high-hanging overpass. But all the time our hearts were beating fast. Was it because the bridge was risky? That was now a smaller problem. All of us were actually extremely concerned about what would happen once we were face to face with the Chinese military.
The Nepalese army people had told us: "Once you reach there, everything is in the hands of the Chinese army there. If they allow, you proceed. If they don't, you have no option. Just return quietly. Those officers' decision is final. And they are not obliged to give you any reason. It is futile requesting or arguing with them. Be mentally prepared for any eventuality."
This was our worry. And we are a big group. Would they let us go? What if they allowed some and rejected others? Where would the others go? "Swami, please do a miracle again!" was our constant prayer. And the kind Lord did! The Chinese officer saw us, read out our names, checked our passports and every bit of our luggage, and then without asking any further questions he simply let us go. We were done in just 5 minutes! Unbelievable!
The Astounding Miracle at Manasarovar
We then got into a bus which would take us straight to Manasarovar. When we alighted, we saw 2-3 groups of people rushing back; there were medical emergencies. Apparently the water in Manasarovar was so freezing cold that being in there for half a minute would make one's body numb. That is how there had been 10 casualties that morning.
After listening to this we decided that none of us would be in the water for more than 15-20 seconds. When we reached there, seeing the lake which was so clear, beautiful and inviting, we could not resist getting in. After all, the whole journey was for this experience.
But the astounding thing is wherever our group stepped in, the water at that point was lukewarm! It is unthinkable! Next to impossible. We were just staring at each other in complete awe and bewilderment. How could the temperature change in just a few minutes?
Our minds became full with: "Thank you Swami! Thank you Swami!"
One person had brought with him a collection of 1 to 27 faced Rudrakshas. This was his family's legacy, handed down over generations. It is extremely rare to find a 14-faced Rudraksha but he had all Rudrakshas serially — from single-faced to a 27-faced one!
It was his desire to do abhishekam to those Rudrakshas in the waters of Manasarovar. So we did this puja with him. We chanted Rudram and did bhajans. We had decided we would not remain in the water for half a minute but now we had spent more than half an hour inside! We really enjoyed to our heart's content. Finally we did Arati and returned to our tent.
That night when we looked at the sky, wow! It was a live planetarium. All the stars and some planets were so clearly visible. It was a spectacle! We even saw shooting stars dipping into the lake. Till late in the night we were lost in that ethereal beauty. We decided we would start the Kailash parikrama (circumambulation) the next morning.
"Bhagawan Satya Sai Baba showed to all of us that all the five elements of Nature will unfurl as per His divine will in this cosmos and that He is verily the omnipresent, omnipotent and omniscient Lord."
- Mr. Anantha, Ametek Instruments, Aerospace Division, Bangalore.
The Lord Lifts Us Again As We Trek to Kailash
The scene the next day however was very different in the camp. Twenty of the group were sick; they were complaining of breathing issues. We were at an altitude of more than 18,000 feet where oxygen levels drop to 60-70%. Our bodies are generally not used to such low levels of vital air. They really needed rest. There was no way this 20 could do the parikrama. It was at this point that I was reminded of Swami; He had clearly said: "Only 10 will be able to do the parikrama".
So we asked the 20 to recover at Manasarovar and the rest of us started the 58 km trek to circle around Mount Kailash on foot. This starts from a place called Yama Dwar and takes 3 days to complete. On the first day we did about 18 km and rested at a base camp. These were tents with no electricity. We had carried 4-5 China lamps which when lit together gave as much light as a fluorescent tube.
The second day's trek was most difficult. We had to go 18 km up to the top of a mountain and climb down another 18 km. It was really steep and at a height of 20,000 feet. Obviously there was no road. We had only the local sherpas to guide us. It was very risky because there was a 10 km stretch where we had to walk on ice. We had to be careful every step of this journey so that by mistake we did not apply pressure on any loose ice. If the ice caved in we would just go down and be stuck. It was indeed an ordeal.
The sherpas had also told us to be as light as possible. So we carried only a water bottle and a biscuit packet each. Nothing else. No camera or any other accessory. With tremendous difficulty we reached the top of the mountain. Now, tragedy struck.
Four people became absolutely breathless. They were gasping for life. I did not know what to do. If anything serious happened to them there we would be stranded. There was no way to communicate anything to anyone. Lifting someone and walking was just impossible. I started praying to Swami fervently.
In a few seconds, like a flash I remembered what Swami had said: "Take an inhaler with you. Four of them will become breathless. Give them 3-4 puff shots." Fortunately I had carried the inhaler. Immediately I did as Swami had instructed. Then I told all of them to lie down for 15 minutes. Slowly they started regaining themselves. In a few minutes their heart beat became normal. What a relief!
It was almost like coming back from the verge of death. If not for Swami, why would I have carried the inhaler? And if not for His prompting, in that moment of panic, how would I have remembered to use it at the right time?
Purely by His grace we completed the second day's trek. That night the sherpas were kind enough to serve us some soup and khichdi. That really put good energy into us. The next day we finished the rest of the trek without any major hurdle. Now, we were at the base of Mount Kailash. As soon as we reached there, someone said, "Hey! Look who is over there!" There was a small photo of Swami standing out in the midst of all the ice. We were so pleasantly shocked and thrilled. Never for a moment Swami left us and now so concretely He was making His presence felt!
We learnt that if we walked further we would almost touch the base of the sacred mountain. But the Chinese military do not allow anyone to go there. They say, "If you go forward you will not go back to India. That place is so enchantingly beautiful that you will never want to return!" We offered our reverential salutations to Mount Kailash and began our return journey to Manasarovar to join the rest of our group.
When we were returning to our base camp someone said, "Look back!" We turned and saw a huge cloud burst on Mount Kailash. Whenever this happens the Chinese authorities do not permit anyone to do parikrama for days as it is very dangerous to trek during those times. Just see the grace of Swami! We finished and the cloud burst happened. It was as if Swami was holding it back for us for three full days. One of the members in our group had come to Manasarovar nine times before but was never fortunate to do the parikrama. That is how uncertain everything is there. It just left us absolutely humbled. One can imagine to what extent the Lord can go when He says "I will take care."
The Serenity of The Mind-Lake
Staying beside Manasarovar that night was so heavenly. The waters are so crystal clear and pure that when sun's rays fall on it, they just sparkle beautifully. In fact if you throw a coin into it you can see it through. No human being goes there except for 3-4 months in a year. The area is so pristine and powerfully serene.
One of the most beautiful sights in the morning is the vision of 'Golden Kailash'. When the early rays of the sun fall on Mount Kailash it glistens and glitters like gold. Mysteriously even though there are so many mountains around, only Kailash glows in golden hue.
That night we did beautiful bhajans in Manasarovar. By this time everyone had developed a lot of faith in Bhagawan. They enthusiastically participated in the singing and the collective wish of the group now was "We have to go to Puttaparthi. We have to have darshan of Swami." This trip had brought about tremendous transformation in them. In fact after the bhajan session, they said, "This is the best bhajan experience we have ever had." We lit up a bonfire and till 11.30 in the night we were soaking in the peace of Manasarovar and enjoying the bliss of Swami's presence and grace.
The Rudrakshas are Gracefully Returned
Next day with hearts full of satisfaction we started our return journey. When we came to the bridge we thanked the Chinese Military officials profusely. We were now back in Nepal. It was late evening. Helicopters do not fly in the nights. So we found a place to rest. But somehow I was feeling uneasy. There was a strong feeling that something was wrong. I asked the sherpas, "Have you brought in the entire luggage?" They said "Yes". I told everyone in the group to check if all their belongings were intact.
It is then that the person who had brought the Rudrakshas realised that he had inadvertently left that pouch in the bus. He just broke down. He was crying like a child. In that packet was the legacy of generations of their family - the entire collection of one to 27-faced Rudrakshas. It is an absolutely rare collection. The monetary value would be in crores and some of them actually had golden caps. The financial loss apart, the emotional catastrophe was devastating for him. He had lost what his forefathers had preserved and passed on for scores of decades.
Seeing his pitiable condition I could do nothing but again pray to Swami. In a moment of inspiration I took out the ring that Swami had given me and placed it on his right hand index finger and said: "Pray sincerely. Swami can do anything."
It was already 3-4 hours since we had crossed the Chinese border. There was no way we could go back there as we had only single-entry visa. Just to try my luck I called up a Chinese guide who had been with us and requested if he could go inside the bus and check for this bag. He called back saying it was indeed there in the vehicle. Wow! We thanked the heavens.
I then requested him to bring the bag to us as he could cross over without any problem anytime. By Swami's grace he did oblige. That is how this traumatic episode had a happy end.
This again made every member of the group bow down in gratitude to Bhagawan. The joy was back in the group. That night again we did bhajans.
Blessings from Muktinath and Pashupathinath
Next morning we travelled to Kathmandu by helicopter and from there we visited the shrine of Muktinath, an abode of Lord Narayana.
Here too we saw the inscrutable hand of Sai. Only 10-seater planes fly to this temple. We were told: "Till yesterday, no plane took off because of unfriendly weather conditions." So we had decided to give it just one try. If the flight happened, well and good; else we would return.
Amazingly, like every event in this trip, the plane took off and all 30 of us were successfully transported to Muktinath. Just like in Tirumala, here one needs to walk up the mountain to have the Lord's darshan. Unbelievably, just before we went inside the shrine, someone said, "See who is there!" We saw a beautiful photo of Swami yet again! The Lord was not only clearing the way but He was also there to receive us at every altar. We just had tears in our eyes. We then went to the Pashupathinath Temple in Nepal too.
Sai's Benedictory Smiles from the Samadhi
Once our odyssey was over, the group was keen to come to Puttaparthi. So on September 25, 2015 all of us were in Prasanthi Nilayam. When I now bowed down and touched the Samadhi, again I could hear that same clear voice of Bhagawan. In Telugu He said, "Are you happy now? This time I took you. Do not ask for this again and again." I just surrendered at His feet in gratitude. I knew if I was alive it is only because of Him. How much the Lord had to do just to fulfil one wish of mine! Lifetimes of service to Him are not enough for all that He does for us.
Some of us visited Prashanthi Nilayam for the first time in our lives. Its truly an abode of heaven and peace on earth.

We profusely thank and are grateful to Bhagawan Sathya Sai Baba from the depth of our hearts for having blessed all of us to undertake this holy yatra and also have the divine darshan of His true abode wherefrom He descended upon as Sai Avatar to bless all mankind.
- Mr. Anantha, Ametek Instruments, Aerospace Division, Bangalore.
It is so interesting that the journey of each of these industrialists to Puttaparthi happened through Kailash and Manasarovar! It was the first trip for almost all of them. They were astounded with the sublime grandeur of Prasanthi and were highly appreciative of all the social welfare missions of Bhagawan. They returned to their homes carrying with them lots of photographs, books, and lasting impressions of peace and love. Even now every detail of this divine trip is so vivid in each one of our minds. Whatever we may do, some scene from this journey always comes back and each time our hearts only go out in love and gratitude to Bhagawan for His bountiful blessings showered so unconditionally and ceaselessly.


- Radio Sai Team
What do you think about this article? Please let us know by writing in to [email protected] or you may leave your thoughts in the comments section. Do not forget to mention your name and country.