| | | | | | | |
| --- | --- | --- | --- | --- | --- | --- |
| | 'Like' us on Facebook | Follow us: | | | | |
Posted on: May 05, 2016

THE MOTHER LIVES ON...
Part - 1
"To me, the power of Mother Easwaramma is not a concept, or an idea or a belief, it is an experience. In fact an experience as intense, powerful and real as it can be," says Aravind Sai, an alumnus of Baba's university who has had the opportunity of singing the glory of the Mother of the Divine in the immediate physical presence of The Son at least six times.
Aravind Sai, along with Prabhakar and Raghuram, form the Burrakatha trio who have had the chance to perform any number of times in Bhagawan's presence, especially in the last five years of Swami's earthly sojourn.
Burrakatha, as many would know, is a traditional folkart of Andhra Pradesh wherein a story, largely taken from ancient epics and scriptures, is narrated in an interesting and engaging manner with a rich mixture of soulful songs, scintillating dialogues, and delightful humour. Before March 2007, the trio had performed in the Sai Kulwant Hall a couple of times. On each of these occasions Bhagawan's joy was obvious and copious. However it attained a new high on March 18, 2007. And the way it happened is where there are deep lessons for all humanity.
The Lord Himself Pines for The Mother
Recalling that momentous day, a smile of intense satisfaction blooms on Aravind Sai's face. Then, in a tranquil tone, he begins:
Well, the story has its origin in March 9, 2006. That evening all three of us were sitting in the front row with a prayer in our hearts and a card in our hands. Thanks to our Burrakatha teacher, Mr. Krishna Bhaskar, we had thoroughly practiced a Burrakatha on the life of the Shirdi Sai Avatar. We were now seeking His permission to offer it to Him. The academic year was about to end. If we did not get this chance we would have lost a year with no cherishable moments with the Lord. So we sat there with fervent prayers and anxious anticipation.
As darshan began, our hearts only started beating faster. Swami was among the crowd, and soon He was coming our way. Our internal dialogue became more intense. Finally when Bhagawan came near us, to our utter delight, He graciously looked at us and asked for the card. We went up to Him immediately and pleaded for this opportunity. Swami in fact was only happy; He seemed deeply interested too.
He asked, "Are you ready?"
Vociferously we said, "Yes Swami!"
"Then come on, do it now!" He looked into our eyes as straightly as the words that emerged from Him.
Wow! We were flummoxed; left speechless. We did not know how to react to this. Yes, we were ready but we had not come prepared to perform that day. We neither had the costumes nor had informed the accompanying artists nor were really in the frame of mind to perform. Our intention was to only secure His permission, and if possible get the earliest date for the program.
So this was a bolt from the blue, or shall I say, from The Orange! However soon we composed ourselves, and decided to confirm His instruction.
"Should we perform now Swami?"
"Yes." He was as clear and candid as before.
Now we did not want to let this opportunity go.
We too courageously replied, "Yes Swami, we can do it now! We will be ready in half an hour with our costumes and instruments."
Bhagawan was immensely pleased. By His grace the presentation went on well, even though we had no clue what we were doing because we were just in a flow. Things happened so fast that there was no time to think. Our only aim was to live up to Him and His expectations. And I guess He took care of the rest.
The most coveted chance after any presentation is the blessing of pada namaskar and if possible a photograph with the Lord. That evening too that is all we had prayed and wished for. The compassionate Lord did not disappoint us.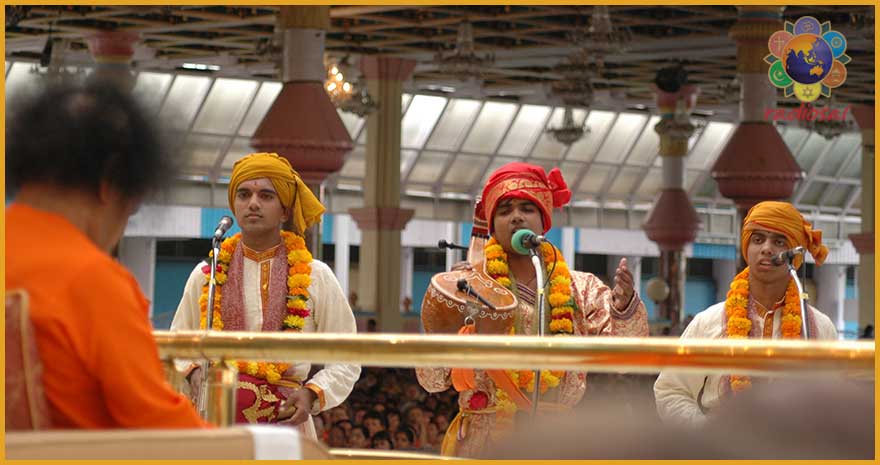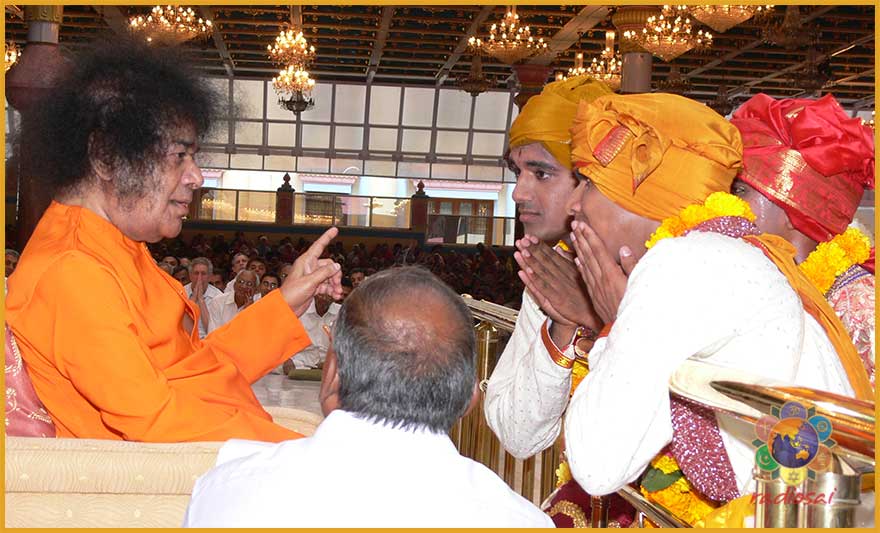 The Divine Day of March 9, 2006 when the Lord was so pleased that He chose to ask something from His boys
After He had blessed us profusely, we noticed that Bhagawan was mentioning something to us. So we surrounded Him. Then looking into each of our eyes, in a choked voice Swami said, "You sang the glory of Devagiriamma (the Mother of Shirdi Sai). But what about My Mother? You did not mention anything about Easwaramma."
A Promise Made to the Divine
These words from the Lord were so packed with emotion that our hearts immediately turned into water. We prostrated at His feet, sought His forgiveness and in that instant itself promised Him: "Swami, next year we will be ready with a Burrakatha on Mother Easwaramma. Please bless us!"
The joy and pride in Swami's eyes in that moment is to be seen to be believed. It was like nothing else had given Him such happiness before. We meant the whole world to Him.
We were now determined to make this offering and live up to our promise. Our teacher quickly got on to the job and soon a script and the songs were ready. We started our practice early and spent months memorising, improvising and perfecting this hour-long presentation. This is a presentation that He Himself had asked for and we wanted to leave no stone unturned to ensure that it should be the best He has heard so far.
Eleven months passed. We were again in March. The academic year was about to close. We were now completely ready. But to get an opportunity to present, especially in this month, was not going to be easy. This is the time when everybody is busy with end semester examinations. In fact they were to begin on March 21, 2007. It was already March 16. We had already tried many times before to get Swami's attention and permission for this program. Somehow He never said "Yes". Sometimes He would ignore us, other times He would see the card but not say anything, the third day He just did not seem interested in us at all. Everyday was a penance. And time was running out. We now had only this four-day window between March 16 to 19 to make this presentation, as March 20 was Ugadi and programs for that day had already been fixed. After that it would be impossible to do any program because examinations would begin.
A whole year of effort of so many would just dissipate into thin air. We were really despondent and clueless. It was during one of these days, I remember, a senior brother who was feeling too sorry seeing our plight, came to me and said, "Brother, I have a suggestion. Why don't you pray to Mother Easwaramma? Only the Mother can help you. Swami always listens to His Mother."
When I heard this it immediately ignited a new hope in me. I felt, even though Swami was physically not talking to me, He was indeed concerned and in His own inimitable way was probably guiding me; He did not want me to feel hopeless and devastated. So I took the brother's suggestion to heart.
The next day, March 18, 2007, I went to the little statue of Mother Easwaramma placed right in front of the Easwaramma High School. I prostrated to her, poured out my predicament, placed my earnest prayer and then circumambulated her 108 times. I did this with all devotion, faith and absolute sincerity. She was my last resort, and I gave it my all.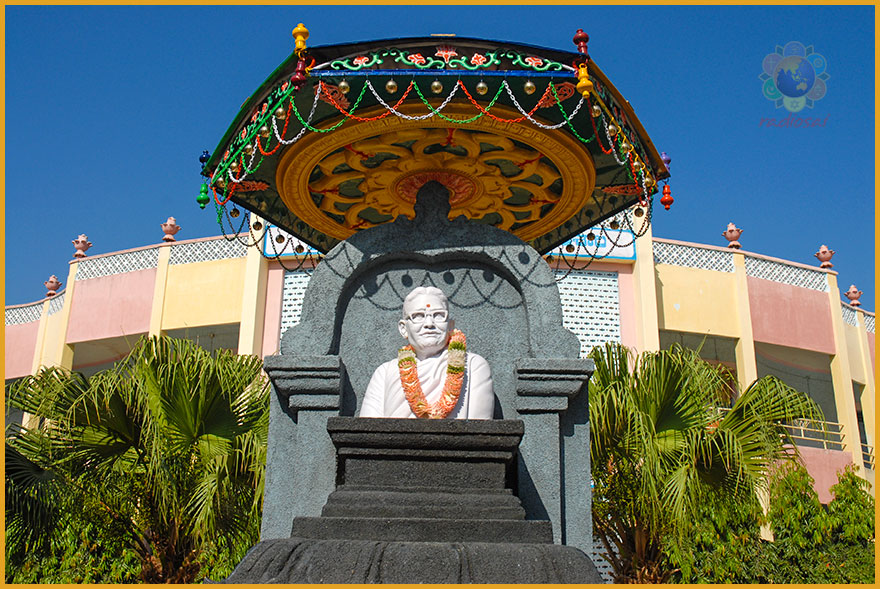 Bhagawan set up the Easwaramma School immediately after The Mother's passing to facilitate quality education to the rural children of Puttaparthi
I completed this sadhana around 12.30 in the afternoon. And at 2.30 I receive a message that the warden wants to see all the Burrakatha boys urgently. We rushed to him and he says, "We have just received instruction from Swami that you should perform the Easwaramma Burrakatha this evening."
You can imagine how ecstatic we were! Finally, weeks and months of relentless hardwork was to attain its glorious culmination. The Burrakatha indeed went on like a song, so to say. We delivered our best. Swami seemed pleased. But something was missing. He was not looking at us after the programme. He did enjoy the presentation thoroughly. But for some mysterious reason He didn't call us near or talk to us or even give pada namaskar, let alone grant photographs or any gifts.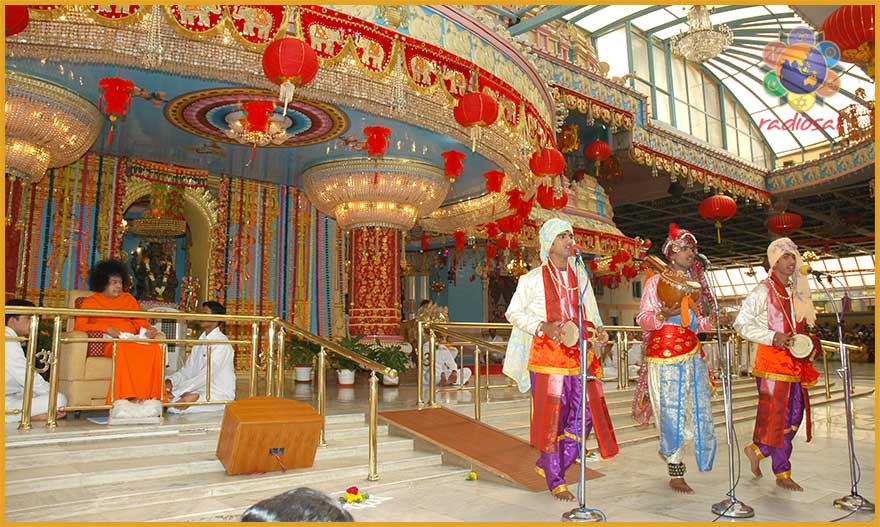 The lovely finale to eleven months of prayer, penance, hard work and perseverance - March 18, 2007
The Enigmatic Twist to Teach Eternal Lessons
Frankly if you ask me, I was not sad. If this had happened on any other occasion maybe I too would have felt pained. But that day somehow there was a quiet joy inside. It was a joy springing out of the satisfaction that we did live up to the promise we had made to the Lord a year ago. We indeed had done our best. And that itself was the reward. That we got the opportunity to perform was itself a blessing beyond imagination. We almost thought it was not going to happen but the merciful Lord condescended. What else should I aspire for? I was really at peace.
However our Burrakatha teacher was prodding us to go near Swami. Given that we had done so well, he was certain Swami would shower us with plentiful blessings. So eventhough Swami did not actually call us, on our own we went near Him. But the Lord did not seem keen to spend any time with us. So we quietly touched His feet and returned to our seats. Sometimes it is so difficult to understand His ways. Everyone thought Swami would create something for us or fill us with gifts or talk to us endearingly, congratulate us, or talk about us, and so on. Because it was a thrilling performance, and Swami too heard it with rapt attention, and was indeed fully involved in every dialogue and song. Still Bhagawan chose to be cold with us, and quietly retired to His residence, leaving everyone baffled.
The next day, March 19, 2007 was uneventful. We went for darshan. He did not look at us or talk to us. Then arrived Ugadi, the Telugu New Year Day on March 20. As we were preparing to come to Mandir in the morning we get the message: "Swami wants all the three Burrakatha boys to sit in the front row."
Wow! What a blessing on the New Year Day. With gratitude and joy, we hurried to occupy our prized place in the Sai Kulwant Hall. We were seated right in front of the dais. When Bhagawan arrived He did look at us with much love. We felt so fulfilled.
The program began with a speech by Prof. Anil Kumar followed by one by Prof. G. Venkataraman. After this Swami rose to deliver His benedictory Ugadi message. Usually whenever Swami would get up to speak, a table would be brought on which His mikes would be placed.
But on this morning Swami did not want the table. In fact He was so eager to speak that He took the support of the railing in front, stood up and began His discourse. Quickly mikes had to be arranged. Bhagawan mentioned how the day marked the beginning of the year named 'Sarvajit' – a time when anyone who undertakes noble acts would definitely emerge victorious. He then went on to declare how the Sai Organisation should strive to improve the quality of the villages in India. From here Swami moved on to His own life and fondly recalled the tremendous love and contribution of Mother Easwaramma and Mother Subbamma. In one of our songs during our performance, we had extolled Mother Easwaramma as Devaki and Mother Subbamma as Yashoda. Bhagawan not only made the same comparison but also amplified this with examples from His childhood days.
We were simply delighted listening to this directly from Him. It was a vindication of what we had sung a day ago. And just before He concluded Bhagawan suddenly looked at us, and said,
"The other day three boys sang a nice Burrakatha about Easwaramma. They rendered it well. There was a wonderful description about Subbamma in that Burrakatha. I am very happy about it. In fact, it was such a unique story. No one has written such a story so far."
After He announced this on the mike, He looked at us with His face all lit up with a blooming smile. Our joy knew no bounds. We just went up to Him and fell at His feet. Our happiness was nothing compared to His joy. He was visibly proud of us. He showered our heads with blessings and filled our palms with prasadam and gifts. The audience burst out in applause.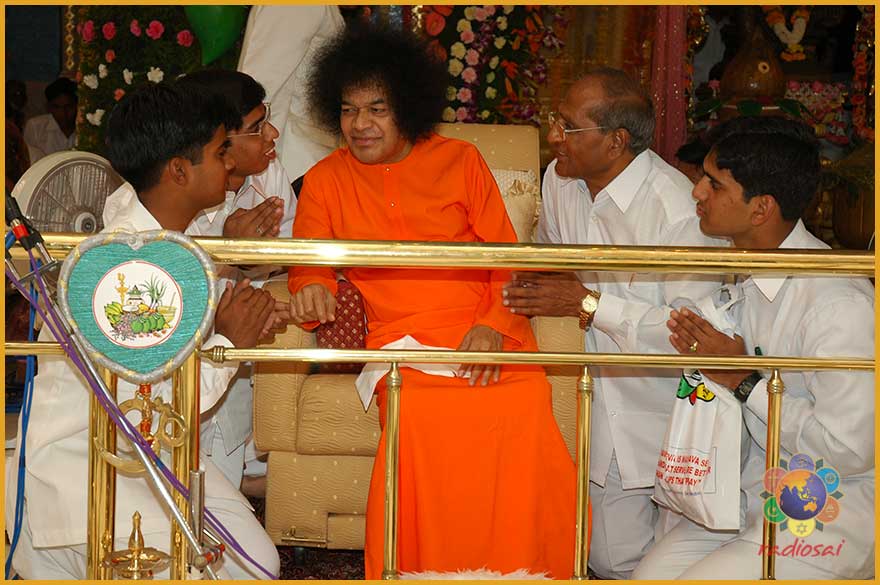 Prabhakar, Aravind Sai, Mr. Krishna Bhaskar and Raghuram savour the sweetest moment of their lives
The blessings continued. He spoke to us with the love of a thousand mothers, and then posed with us so that we can treasure for eternity those timeless and matchless moments of our lives. What more can I say? The smile on His face, the satisfaction in His eyes and the love He exuded for us was too overwhelming to contain in our little hearts. We could only repeatedly lay ourselves down at His feet in complete supplication and deep gratitude. What everyone thought was due to us on March 18, He granted it royally on March 20 and in a manner that outdid everyone's imagination.
When I think deeply about this entire episode, it is so significant that Swami timed it on the New Year Day. That day virtually opened to us a new chapter of our lives wherein in the years to come we only experienced never-before-imagined vistas of His grace. We went on to perform so many more Burrakathas and even traveled with Him to Kodaikanal, Mumbai and Delhi. This opportunity indeed was our gateway to Divine proximity.
What I also understood is: God's delays should be welcomed with both hands. He will do, not what is the best for us on a particular day, but what is best for us for all times to come and the best that cannot ever get better.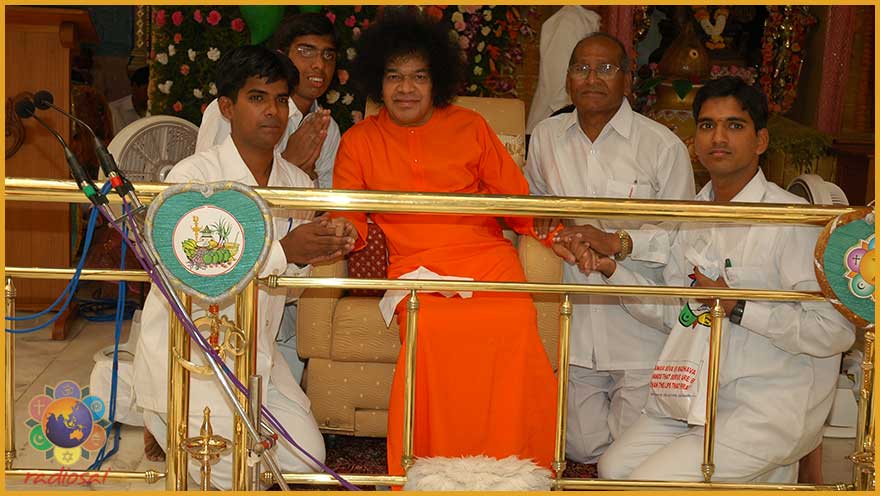 The priceless day of their lives - March 20, 2007
Secondly, no sincere effort for God ever goes unrewarded. Every second spent to earn His grace and love is the wisest investment anyone can ever make. The returns will come multifold and in myriad ways, and at the most opportune time. No need of insurance if one has faith in His assurance!
Granting the Most Formidable Gift for Life
All these potent lessons notwithstanding, the most indelible lesson for me from this entire episode is:
A prayer to The Mother with all our heart, all our mind and all our soul is the most formidable power we have with us. She listens. Always. She protects. Always. She provides. Always. She will do anything for our happiness as long as our intent is pure and selfless.
In fact as a child, I was taught in Bal Vikas to always revere Mother Easwaramma. Actually on one occasion in my local Sai centre when I was given the opportunity to do Arathi to Bhagawan on Easwaramma Day, I thought of it as the most invaluable gift of my life. In my younger days, I had always thought of her as the very source of all the Love we experience from Bhagawan. Swami now connected me to my roots and powerfully reinstated in me everything I had believed in for many years but had later lost sight of.
In fact my journey with The Mother and her grace continued, and continues even now. The subsequent parts of this story will only reiterate my firm belief that:
The Mother Lives On... For You and Me and For The Entire Humanity.
At Times The Lord May Chose Not To Listen To You But He Always Listens To His Mother.
And The Mother's Heart Beats For the Downtrodden, Depressed and Anyone Who Needs a Shoulder and Succour.
This was so when The Mother and The Son were in their earthly attires. It is so even now too. Those who have the faith and believe the incredible, see the invisible and experience the impossible.
To be continued..

- Bishu Prusty
Radio Sai Team
What do you think about this article? Please let us know by writing in to [email protected] or you may leave your thoughts in the comments section. Do not forget to mention your name and country.