| | | | | | | |
| --- | --- | --- | --- | --- | --- | --- |
| | 'Like' us on Facebook | Follow us: | | | | |
Posted on: May 17, 2016

What's the Use of Mere Life?

C. Rommel, Indian Foreign Service (Retd.)
This article is reproduced with permission from the book, 'Sathya Sai - The Supreme Master.' It is a compilation of 90 articles brought out by the Sri Prasanthi Society, Hyderabad. Contributions are from eminent devotees, office bearers of the organisation, youth and Sai Students. The book is a special offering to commemorate the grand occasion of Bhagawan's 90th Birthday.

The Sri Prasanthi Society was established by few devotees of Bhagawan, with His blessings, in the city of Hyderabad in 1985. The Society endeavours to spread Bhagawan's message of Universal Love and goodness through publications, special symposia for students, teachers and doctors on human values, and by conducting regular medical camps.

Sai Enters My Being through Seva

Often I questioned myself – what's the use of mere living? What is the use of a life without meaningful seva or for that matter a conceited, but prosperous life that is not of any use to others? Wasting precious life by being engulfed by the maya, whereby focusing only on personal needs or being engaged in social activities that are filled with ego. These were my troubling thoughts when I was eighteen, while, unfortunately, entrenched in the deadly trap of ill-gotten habits of liquor consumption, chain-smoking, gambling, chewing tobacco pan, et al - a perfect example of spoiled brat, with no direction in life.

Although my parents had sent me to one of the best schools, the Sainik School, yet I still got enmeshed into myriad of undesirable habits, and became a helpless slave in the clutches of teenage habits after clearing my standard XII Senior Cambridge Examination.

My good friend, Shri R. Prabhuji, one of the finest active Sevadal members in Sri Sathya Sai Seva Organisation advised me to come out of the slumber of such animal-life-like existence and strongly encouraged me to join as a Sevadal member. I thought, no harm in following my friend's advice, and thus took the first step of joining the Sri Sathya Sai Seva Organisation as a Sevadal member. That is my very best ever step in my life's journey, and from then on, I could perceive million mothers' love of Swami guiding me and doting me at every step and at every stage.

I joined the Sevadal even before having the glimpse of the physical form of Bhagawan, and as I mentioned earlier, I owe this to my amazing friend Prabhuji.  Swami took over my life fully and helped me to get immersed into the sweetness and thrill of sevadal activities. Swami, aware of my weak habits, had never chastised me in public, but constantly monitored my habits and encouraged me to give up habits by counselling me in dreams and through other lessons.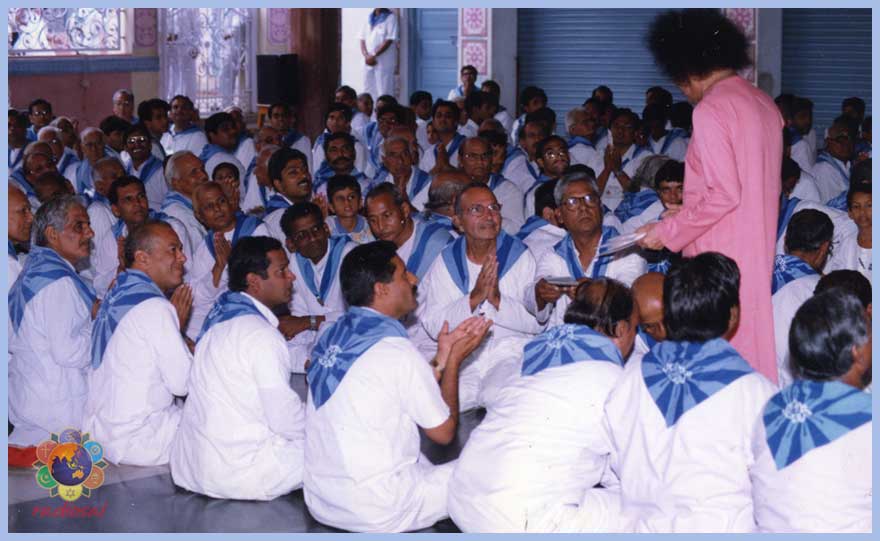 How Swami Took Me Out of My Deadly Habits
No sooner I joined the Sevadal, within couple of weeks, the desire for alcoholic drinks subsided greatly, and could give that habit away successfully. But other habits were too powerful for my mind then. Swami had to perform miracles after miracles, on me, to put me on the right track.

'Zarda' tobacco chewing pan is an extremely nerve-wrecking habit. At that time I was having around 20 to 25 tobacco pans daily and ruining my health and nervous system. I once went to Parthi with a strong prayer to give up this habit in that very trip, and resolved not to return from Puttaparthi without giving up the habit. Days and weeks passed in Prasanthi Nilayam, but I was unable to give it up. Then finally I surrendered to Baba to take over me.
I was doing my sevadal duty in the Prasanthi kitchen and while carrying heavy vessels, I slipped because of the starch on the floor and fell down with a heavy thud. I broke my left hipbone and pelvic joints, and was carried over by a stretcher to the veranda of Swami's Mandir. Swami came out with the love and concern of million mothers, and chided me for my carelessness and told me if I had been on that day at any other town, other than Puttaparthi, I would have broken into two pieces, like a huge pumpkin. He gave an apple and vibhuti prasadam, and instructed the doctors. Plaster of Paris was put around my stomach till the toes of left leg. I had to lie on my back posture with no chance of sitting or turning to any of my sides for two long months! Lying flat on back, it was just impossible to chew Zarda pan. Two long months of this treatment totally dried up my desire to chew tobacco pans! Finally, loving Swami helped me to get rid of the deadly habit.
| | |
| --- | --- |
| | |
Likewise, Swami had to teach me through yet another hard lesson to give up my chain smoking of 25 to 30 cigarettes per day. My presence in Sevadal constantly reminded me to be an ideal human being.
Also being a Sevadal, it kept me in the godly company of finest human beings, who verily lived and acted like saints. Being a slow learner, it took over 9 years to give up all bad habits including my addiction to non-vegetarian food, TV and movies. With Baba in my life, the inner refinement became an auto-process of continual improvement. This transformation happened miraculously, without any pain or stress, as in the case of Sevadal members in the Sri Sathya Sai Organisation.
Once Foreign Habits Are Gone, Baba Rewards with Indian Foreign Service

Since in the teenage years I was caught in the deadly mire of sordid habits I neglected my undergraduate studies. With great difficulty I could clear undergraduate degree course with poor marks.
At this time, Baba appeared in my dream one night and appreciated the fact that I had given up all bad habits. He further instructed me to write the All India Civil Services Examination for IAS, IFS, IPS, etc. and compete for top posts.
This exam is open to over four lakh graduates, postgraduates and Ph.Ds. Though it was a clear instruction from Baba I soon realised that besides my poor grades, it's too tough an exam, and had to face the hurdles of the prelims, mains and interviews that would lead to a selection of just a few candidates for the top posts.

At each and every stage, the million mothers' love of Swami and His divine hands had led me on. For instance, in the final viva interview lasting forty five minutes, the board focused on my seva activities as a member of Sri Sathya Sai Sevadal and on Sai Baba and His miraculous powers. And how would these aid me in the discharge of my duties. The interview board was extremely impressed with my honest, if rather obsessive and simple approach based on my experience as a Sai Sevadal. I was thus catapulted by Baba into the most coveted Indian Foreign Service.

As I look back, Baba practically lifted me out of the gutter of filthy habits, saved me, pardoned me and then gifted me with a sterling pure character required by the Sevadal members of the Sri Sathya Sai Organisation. My only qualification being perhaps a sincere Sevadal, yearning to follow the Sai's teachings of Seva.

In my diplomatic assignments in India and abroad, I had the thrill of enrolling myself as Sevadal members in different countries, and had the rare opportunity of witnessing number of mind boggling miracles of Swami transforming hundreds of thousands of people, through selfless seva projects.  During my tenure as Regional Passport officer, First Secretary, Counsellor, Consul General, Head of Missions, I implemented various seva activities of the Sai Organisation in the Office, Consulate or Embassy premises. Activities included Narayana seva, daily spiritual study circles during lunch hour, bhajans, weekly free medical camps and so on.
What We Should Do Now

We, Sai Devotees, do not feel Sai Baba has ever left us, and we are all million times blessed to continue to feel His Form, His Love, His Seva and His Fragrance at all times in our homes, work places and everywhere – that's the beautiful charm of His eternal bond and His million mothers' concern for us.
Yet, unfortunately, some of us get distracted and run after mantras, rings, interviews, bracelets, guidance and blessings. Those who have experienced Swami's love know that it transcends petty miracles and interviews! It's after thousands of lives of good karma, and thousands of lives of meritorious deeds we could obtain the grace of Swami. Once we feel firmly that Swami is in our life, we shouldn't go around and foolishly squander away this greatest millennium boon, and cause anxiety to our loving Sai Maa.
Baba would love to see that all His children stay united in this hour of critical need when values are being trespassed upon and tested to their limits. Be 19 or 90 year old, it's our sacred duty to join the main stream of Swami, and stretch every nerve to serve the society by joining the Sri Sathya Sai Organisation as a Sevadal.

Samasta Lokah Sukhino Bhavantu. Jai Sai Ram.

What do you think about this article? Please let us know by writing in to [email protected] or you may leave your thoughts in the comments section. Do not forget to mention your name and country.