| | | | | | | |
| --- | --- | --- | --- | --- | --- | --- |
| | 'Like' us on Facebook | Follow us: | | | | |
Posted on: Nov 20, 2016


How Swami Shaped His Hospital Boys
Part -1
Celebrating 25 Years of Selfless Love in Action
of Sri Sathya Sai Institute of Higher Medical Sciences, Puttaparthi
The 65th Birthday of Bhagawan was a historic moment for reasons more than one. What stunned the world on the morning of November 23, 1990, was Baba's declaration: "There are many hospitals in cities, all run for profit... Few come forward to set up institutions that provide service free of charge to the poor. That is why we decided to have a hundred crore hospital right here, near Prasanthi Nilayam. Even as higher education is offered free here, likewise, 'higher medicine' also will be offered free... The hospital will be opened on and begin functioning from November 22, 1991. That is My unshakeable resolve." That is exactly what happened and that was just the glorious start of a powerful experiment in Pure Love.
Many sceptics made gloomy predictions about this endeavour: "The hospital may get built and might even open as scheduled, but I do not give it more than six months", "This is too massive a job! Baba has no medical experts around Him to guide complex operations associated with the establishment of such a specialised hospital!" and so on. Bhagawan never reacted to these comments but the hospital responded to them eloquently through its unceasing stellar work, year after year, silencing these misguided minds. Soon the tenth anniversary came along in 2001 and by now all cynicism had transformed into admiration.

Still, most of the world at large was unaware of this experiment and those who heard about it thought of it as an hard-to-believe phenomenon. "Well, this is possible because of the power and magic of Sai Baba's presence," many finally concluded, adding that, let alone replicating it elsewhere, without Sai Baba, it would be unthinkable to see this set up itself surviving. When Bhagawan departed from His physical form in April 2011, that was the twentieth year of this institution, and all these naysayers now curiously watched if and how will this edifice slowly crumble and collapse.

Again, the hospital decided to deliver through its acts, not words. Five years have gone by since, and this year (2016) the hospital proudly rejoices as it celebrates its Silver Jubilee Anniversary! Now this institution is even accredited by the National Accreditation Board of Hospitals and Healthcare Providers. In fact the Principal Assessor, Dr. Sudhir Sharma, before he left had this to say: "I came here as an assessor, but I am returning as a humble student of Baba's way of life. It has been an enlightening experience. I have really seen quality care given totally free of cost. I could have never imagined this. I am grateful to Baba for having allowed me to have this experience."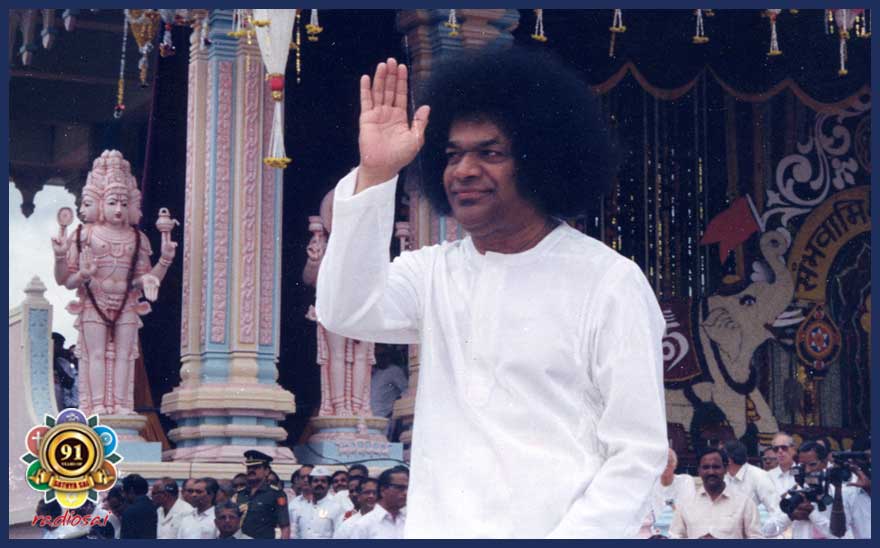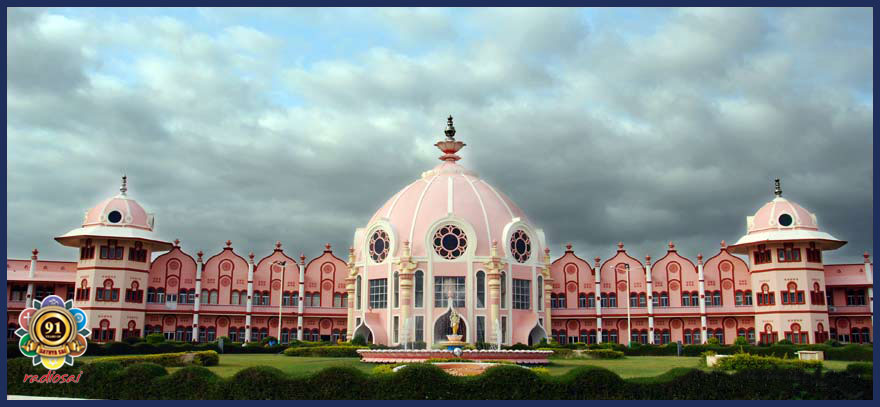 A temple for a hospital - the Sri Sathya Sai Institute of Higher Medical Sciences at Puttaparthi
The hospital continues its saga of healing bodies, opening minds, soothing hearts and enriching lives. One segment of the hospital's staff who were personally picked by Baba to serve in this Temple of Healing is the students of His university. They indeed have been the pillars of this institution, having dedicated their youth, energy, time and everything at their disposal to ensure this edifice shines as a reflection of His love and glory. Baba trained and tutored them, guided and shaped them to be the messengers of His message, and they too have grown and evolved with their hospital over the years.

Presented below is the edited transcript of a discussion with seven such former students of Baba's university now serving in various departments of the hospital as managers and senior managers:

Mr S Kannan, Head of Department, Department of Hospital Management Information Systems
Mr Sanjib Mohanta, Senior Manager, Stores and Medical Purchases
Mr Vaithilingam, Senior Manager, Department of Cardiology
Mr Ravi Kumar, Senior Manager, Radiology and Urology
Mr Satyanand, Senior Manager, Department of Engineering
Mr Sai Aditya, Manager, Department of Orthopaedics
Mr Sai Dinakar, Manager, Ophthalmology

In conversation with them is Radio Sai's Bishu Prusty.
| | |
| --- | --- |
| | |
| | The sacred ground breaking ceremony of the hospital presided by Bhagawan Himself |
Bishu: Brother Kannan, the hospital is crossing such a historic milestone this year. What thoughts come to your mind as you reflect on this?
Kannan: It's a joy to recollect the way the last 25 years has gone by. I remember Bhagawan's 65th Birthday morning when suddenly Bhagawan announced that He would set up a huge hospital in Puttaparthi for the sake of the poor and needy who don't have a place to turn to. He also announced how it would be opened exactly one year from that day. It was so thrilling! We started looking forward to that momentous occasion.
A month or two passed, and one morning, Swami called a few of us, Vedam boys, and said, "Go to the hospital site... I am coming." So we rushed there. It was the bhoomi puja (sacred ground breaking ceremony) day. Bhagawan Himself did the puja, broke coconuts and poured akshatas (holy yellow rice) as we chanted vedic hymns, and bhajans were going on in the background. It ended with Sri Padmanabha Sastry, the priest then, doing arati. In fact nearly 40-50 students had come in a vehicle.
After that there was a period of lull. Nothing much happened on the site. Out of curiosity I used to visit the place off and on as it was just 6 kms away.
More than four months passed and there was no structure coming up at the site. We wondered how Swami is going to open this hospital on His Birthday. When now only four months were left for the inauguration, only the basic structure of the building had come up. But from then on, suddenly everything picked up tremendous speed! One of the beautiful things that happened when there was only a month or two left for the deadline is that students from the hostel were given a chance to lend a helping hand.
Ravi Kumar: Yes, I remember that vividly. Brother Satyanand and I were doing our MBA then. Initially, in the month of October 1991, we would go on Sundays. But in November we were there almost everyday. The construction company, Larsen and Toubro had a 2000-3000 workforce. But this little white army of Swami from the hostel was also given an opportunity to participate. I remember lifting the cement hollow bricks.
Satyanand: Me too. I fondly recall how we formed a human chain and shifted these bricks parked in the lawn, happily singing bhajans all the while. Each hollow block weighed about 6-8 kgs and they were piled up as a 7-feet high wall.
It was challenging but deeply touching too. The Catheterisation Lab was being built then. Even now when I go to this lab I can identify the portion of the wall where I had poured my labour of love. Every time I am there, it fills me with so much joy and fulfilment.
Vaithilingam: We literally saw the hospital coming up, brick by brick. We came in the mornings and stayed on till we broke for lunch. All the boys were so excited to be part of this. It was wonderful to be there.
Bishu: When I think of this, the hospital indeed has been built not by blocks of cement but by blocks of love!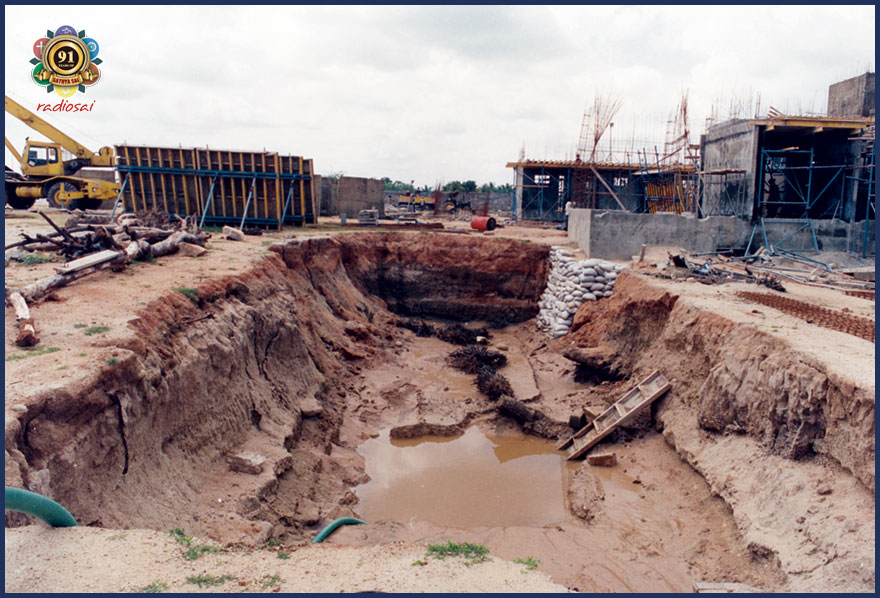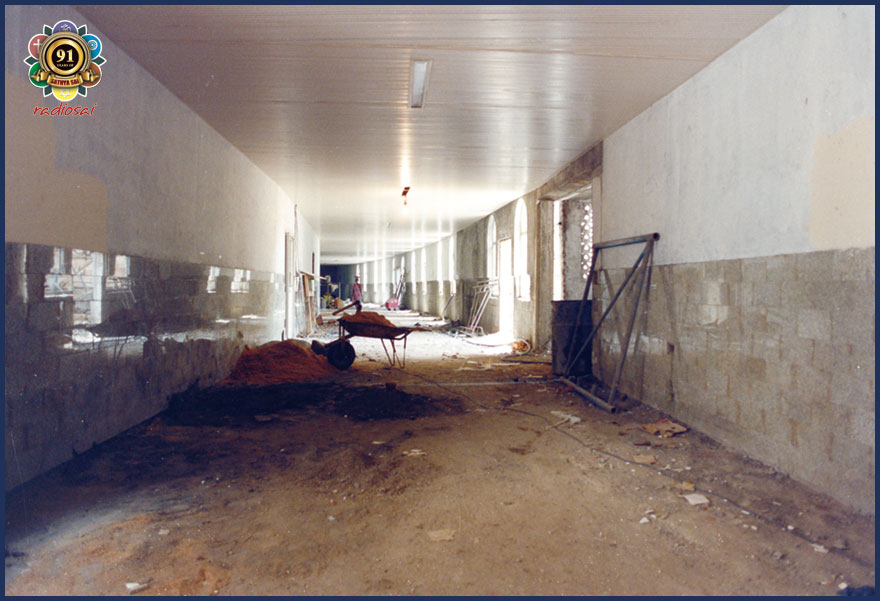 The hospital which was sleeping in the womb of time woke up to life as if suddenly in a few weeks
Ravi Kumar: So true Bishu. Resources flowed through Bhagawan's devotees in various ways. If a few of us like Rama's squirrels were merrily contributing our time and energy, there were others supplying equipments, facilitating logistics, providing medical and technical expertise and so on.
Mohanta: Ravi, you remind me of the equipment management in those days. We were receiving plenty of instruments and machines and we actually had no place to keep them. We had a tiny storeroom then. What is amazing is that this was a make-shift store which had no door, and so it was never under lock and key. To ensure some security, at the end of the day we would place an iron safe in front of it to act as a barrier. But that was only superficial protection. Actually we used to just pray to Swami to take full charge of it till we came the next morning. That store indeed used to house many expensive equipments and equipment accessories like heart lung machines, monitor accessories, and so on. We had no space then, somehow we had to make do with whatever facility was available. When we really ran out of capacity we used to bring the equipments to the Poorna Chandra Auditorium. So we had to shuttle between our temporary storehouse in the hospital and in the ashram.
However the most memorable moments during that period were the visits of Bhagawan to the hospital. How we used to get enthused to work with double the energy when He came! It was a great experience following Swami as He inspected every corner of the construction and checked the progress made.
Kannan: In November, He used to come almost everyday! His involvement was total. Everytime He came He left everyone so inspired! There can be no leader more meticulous and empowering than Bhagawan.
Bishu: I remember reading an account by late Mr. A Ramakrishna of L&T Constructions wherein when someone asked him, 'Did you really believe that you will be able to build this hospital in six months?', he said, 'Frankly I did not believe we could do it. However, the only moments when I thought we could make it happen is when Bhagawan came to the hospital.'
Mohanta: I can completely relate to that. In fact once someone even dared to mention it to Swami that His visiting the hospital frequently could lead to interrupting the flow of work. To this Swami said, "When I visit the hospital, they take 2-3 minutes out to have My darshan but after I leave, their productivity goes up six times!" Indeed everyone worked harder and all targets were easily met. Let me share one instance.
After the hospital was inaugurated I remember talking to one of the L & T engineers. I asked him, "How did you all make it happen? Till the last month the building itself was not ready but you got everything done for inauguration in just a couple of weeks!"
He said, "Yes, the month of November was crucial. Even we were not sure if we would meet the deadline of November 22. Because until that month we had problems with supply of labourers. But somehow in the last month, people just poured in. We have no clue from where they came. They were not called. They just arrived in huge numbers and what usually was a day's work got done in one shift. In fact what we would have planned to get it done the next day would be over the previous day itself. We indeed had to work overtime to create fresh targets for this energetic lot. Everywhere else it is so difficult to get reliable labour but here we were struggling to keep up with their pace! This is something extraordinary I experienced about this whole project."
Ravi Kumar: To add to this, most of the labourers were from Tamil Nadu. This was the month of October and the festival of Deepavali was round the corner. Generally workers go home during this festival to celebrate it with their families. This indeed was the concern among the engineers; they thought if these workers too went home, work would get delayed at least by a week. But Bhagawan sweetly came to their rescue.
The historic morning of November 22, 1991
Now Swami Himself went to these workers and humbly asked them if they could celebrate their deepavalis in Puttaparthi itself along with Him, and they most readily agreed. Bhagawan then indeed made their deepavali day memorable by giving them fireworks, sweets and so on. All of them felt so blessed and were greatly delighted.
Satyanand: It is this magnificent love of Bhagawan which made the impossible possible. Even in the current times, when we are so connected technologically and have so many avenues to get a particular task done, at times it is so difficult to get a simple job executed. Imagine the state of this place 25 years ago! There were no roads, connectivity was abysmal, awareness about this place was dismal and you needed expert technicians and medical professionals of all kinds to put all the foreign equipments together. Just think of this, there was no way most of these equipments could come by road, so Bhagawan went ahead and simultaneously set up the Sri Sathya Sai Airport!
Bishu: Wow! The power of a pure will is indomitable!
To Be Continued...

− Radio Sai Team