| | | | | | | |
| --- | --- | --- | --- | --- | --- | --- |
| | 'Like' us on Facebook | Follow us: | | | | |
Posted on: Oct 14, 2016

- Revelations to mankind through the thrilling experiences of Mr. Krishnadas Eradi
Nadabrahma Sai
"What I have seen is, be it music or life, Swami always wants purity and perfection," Mr. Eradi goes on to explain with examples, "In music He is extremely particular about shruti, talam and bhavam. In fact during one Onam celebration in those days, as the music programme was going on, there were two artistes on the tabla. However there was mike for only one of them. After some time Swami looked at the tablist who did not have a mike and said 'shruti is not proper' and advised him to stop playing.
"After the session was over when we checked the tabla, it indeed was not in perfect shruti but the variation was too minor. We were amazed! Even though there was no mike on that tabla and there were so many things going on during the performance, Swami was uncomfortable with that hairline gap in shruti. Actually none of us felt anything was odd even though we were sitting there, right under Him. That is how sensitive Swami is to shruti.
| | |
| --- | --- |
| | |
| The much loved and adored Mrs. M S Subbulakshmi with Bhagawan | |
"Similarly, on another occasion, Swami called Mr. Mohan Rao who always used to lead the bhajans along with many others during the early morning nagarsankirtan sessions, and said, 'While you were crossing the canteen gate during nagarsankirtan, one of the boys in the group was not singing in proper shruti. Ask him to practise well and sing after six months.' Mr. Mohan Rao was stunned because in a nagarsankirtan so many sing together and if one person is slightly off-key it would hardly matter or get noticed, but nothing escapes the notice of Bhagawan, especially when it comes to purity in bhajan singing.
"I still remember how when the legendary M. S. Subbulakshmi was in Prasanthi Nilayam for Ladies Day one year, Swami suddenly asked her to come to the stage and speak. As she was being helped to the dais by two girls, Bhagawan Himself went down and personally held her hand and brought her to the podium. Swami then asked her to speak. And the doyen of Carnatic music on that occasion was speechless. She just said, 'Swami...' and choked. Bhagawan again goaded her to say something. Now in a shaky voice she said, 'Swami, I know nothing. All my music is nothing in front of You. My knees shiver when I am in Your presence. You are the God of Gods, Swami... what can I say?'
"This is how an authority in Carnatic music felt in Bhagawan's presence. The Divine Musician of the Three Worlds could have had anyone sing for Him but it was His sheer compassion that He gave opportunities to people like us. In fact, in those days we were blessed with so many chances that it almost made us feel indispensable to Prasanthi.
"My students will sing for Me..."
"In the '60s bhajans used to happen from 11 to 12 in the morning and 7 to 8 in the evening. Rest of the time Swami would be busy giving interviews. Everyone who came was called. If it got dark in the evening Swami would get a lantern along. There were hardly any singers then. It was us whenever we were there, along with Mr. Mohan Rao and Mr. Raja Reddy who was His personal servitor.
"I remember one morning after the bhajans we were discussing with Mr. Mohan Rao as to what would happen to bhajans if any day Mr. Raja Reddy was under the weather or had to go to his hometown for a while. It seemed like a fragile situation. The next morning Swami called all of us inside and started speaking to us about many things. Suddenly His face became serious and He said, 'Yesterday all of you were thinking what will happen to bhajans if Raja Reddy is not there, right? Let Me tell you: a day will come when there will be so many students here that many would have to wait for days to get a chance to sing. It would be the same with musicians from the world over.'
"When we heard this from Swami then, we felt 'Okay, we can understand musicians coming here. But why will students come here?' This was in the sixties. That a university would come up here was beyond my wildest imagination then. But that is what eventually happened. There were so many student singers in the later years that even though they were singing in pairs, many would not get an opportunity even once a week. What a prophetic revelation it was! But we in our limited minds could not grasp anything of it then.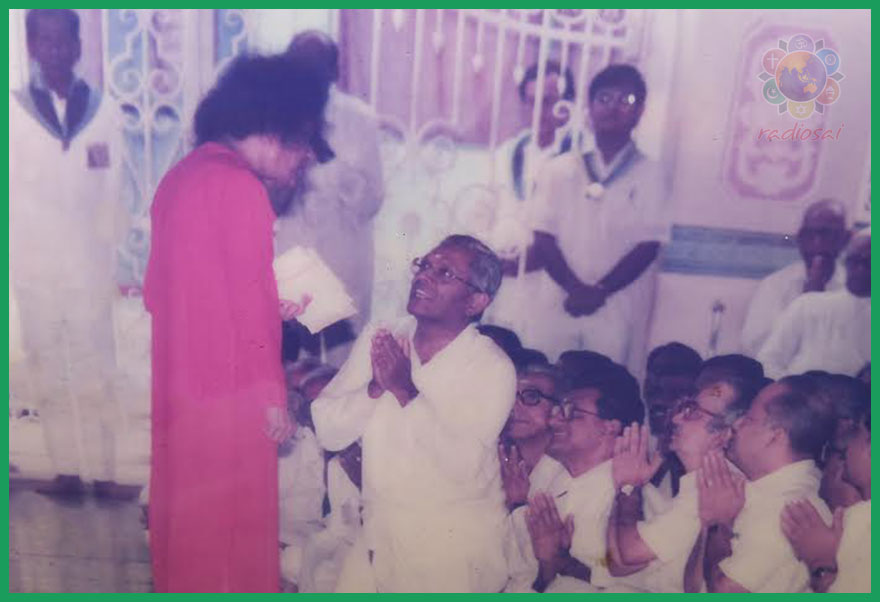 Mr. Krishnadas Eradi, ever submitting to the will of Swami with all humility
Are we working for the Lord
"There was another such profound moment in the seventies. One day Swami asked all the ashram inmates to assemble at 2 pm in the bhajan hall. On His instruction all the doors and windows were closed. Swami asked Mr. Kutumba Rao, the caretaker of the ashram then, to speak. The respected elder gave everyone a bitter dose for their betterment.
"He said, 'Swami is happy that devotees like you have left all your comforts and conveniences and have decided to settle down in Prasanthi Nilayam. But what has displeased Him is the way you conduct yourself after you become a part of the ashram. Many of you are spending time socialising and engaging in meaningless gossip. Swami expects a much higher level of discipline from you. None of you are doing enough for Swami.'
"The moment he mentioned this, Swami asked him to stop and He Himself rose to speak and said, 'Whatever Kutumba Rao said is correct except the last line. He said that nobody is doing enough for Swami. The truth is nobody needs to do anything for Swami. Please remember that this is an opportunity for you to sanctify your life. In fact to help you in this endeavour I have created so many avenues so that you will find ways to sublimate your stay here. Actually, it is quite a headache for Me to create these chances for you. I have to spend more time undoing the wrongs you do. In reality it will be easy and smooth for Me to not depend on you. But then you have to learn to liberate yourself through sacred actions.'
"'In the Ramayana too, if Rama wished He could have got back Sita in a fraction of a second. All He had to do was will – 'Let Ravana be dead. Let Sita come'. That's it. But then so many, from monkeys and bears to stones and humans, would not have got that opportunity to be His instruments and experience that divine joy. It was for their sake that Rama took all the trouble. It is the same now too. Be grateful for this blessing that has come your way; do not fritter it away. Realise its importance and work towards your immortality.'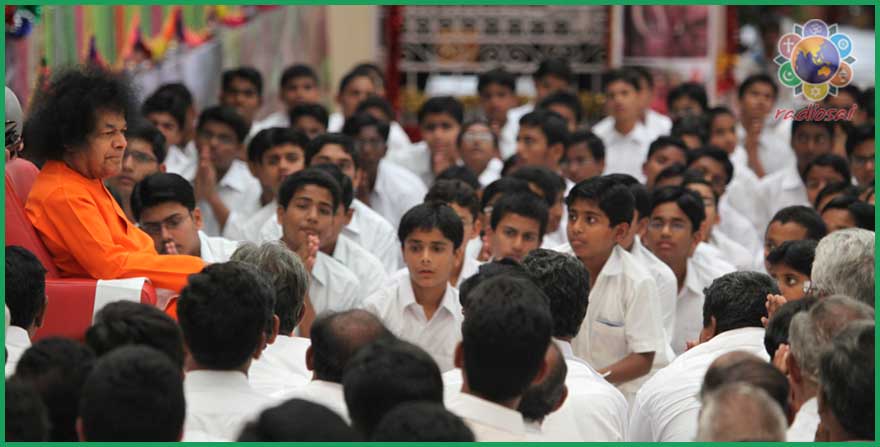 "This is the spirit with which we should do anything for Swami, be it bhajan or seva or study circle. I always remind myself of this and shed tears of gratitude for the immeasurable blessings He has conferred on me and continues to cover me with, even now in His own mysterious ways. If I am still able to sing, it is His grace. If I am leading such a peaceful retired life, it is His benediction. If I have now successfully relocated to Prasanthi Nilayam to spend the last phase of my life at His proximity and am able to have His darshan every morning at the Sannidhi, it is nothing but yet another splendid sign of this beautiful love between me and my Sai Krishna."
We may have seen many multi-coloured peacocks but a completely white peacock is not easy to sight. There may be hundreds of bamboo in the wood but the ones which transform into lucid flutes are few. Similarly, there may be several who have had the opportunity of proximity with Swami in His 86-years-long earthly sojourn, but souls like Mr. Krishnadas Eradi are rare. Just like the peacock feather picked by Krishna is meant to enhance His charm, specially crafted instruments like Mr. Eradi are created to add to His glory, enrich His music and leave eternal footprints in His Story. Now it is for the succeeding generations to make use of these footprints and discover their way to fulfilment and peace.
- By Bishu Prusty
Radio Sai Team