| | | | | | | |
| --- | --- | --- | --- | --- | --- | --- |
| | 'Like' us on Facebook | Follow us: | | | | |
Posted on: April 22, 2017

Sathya Sai – The Dimensionless Phenomenon
And the Unparalleled Dimensions of Sanathana Dharma Exemplified by Sai
by Mr. S Gurumurthy

Part 01
A man of high integrity and competence, Mr. Swaminathan Gurumurthy is among India's most respected Chartered Accountants. He is also an acclaimed investigative journalist, social activist, writer and a powerful orator.

He was rated as the 17th most powerful person in India by India Today magazine in 2005. However he has never occupied any position in the government or any other organisation, his extraordinary influence is purely because of his blemishless character, exceptional talent and courage.

A strong proponent of traditional Indian economic wisdom, Mr. Gurumurthy is the co-convenor of Swadeshi Jagran Manch, an organisation for promoting awareness of ancient Indian philosophy and values. He has derived much inspiration and guidance from the Sage of Kanchi, Sri Chandrasekharendra Saraswathi Mahaswamiji.

He is also a guest faculty in India's premier educational institutions like Indian Institute of Technology, Bombay, and the like.

Presented below is the edited transcript of his talk delivered in the Sai Kulwant Hall on the occasion of Aradhana Day on April 24, 2014.
The Extraordinary Grace to be in His Presence
Shri Gurubhyo Namaha! I can't find adequate words to express my inner and deeper emotions when I stand before all of you. It's my great fortune for which I do not know where the grace came from. I certainly don't deserve to be here before all of you on this occasion to share my thoughts on the relevance of Swami's message in the present context.
To be invited to talk on such an occasion, it has to be Swami's grace. In my case Swami's grace came first and I began experiencing Him later. It is actually the other way round in the case of most of you, but that is how grace comes.
Shri Ramakrishna says that God seems irrational in bestowing grace on people. So I am one such person who received the grace of Swami first and if I have an occasion, I will share my first experience of Swami.
We just listened to Vedas and then music. You know the power of Veda. It is Nada Brahmam. Music and Veda are the most elevating communications which this ancient nation gave to the rest of the world.
Speech is a very poor substitute but by speaking, you can influence the mind of the person. However, you cannot influence the character and inner being except through a higher communication like Vedas and music which you just heard.
But it is also a practical world which we have to deal with and so we have to understand the world at large.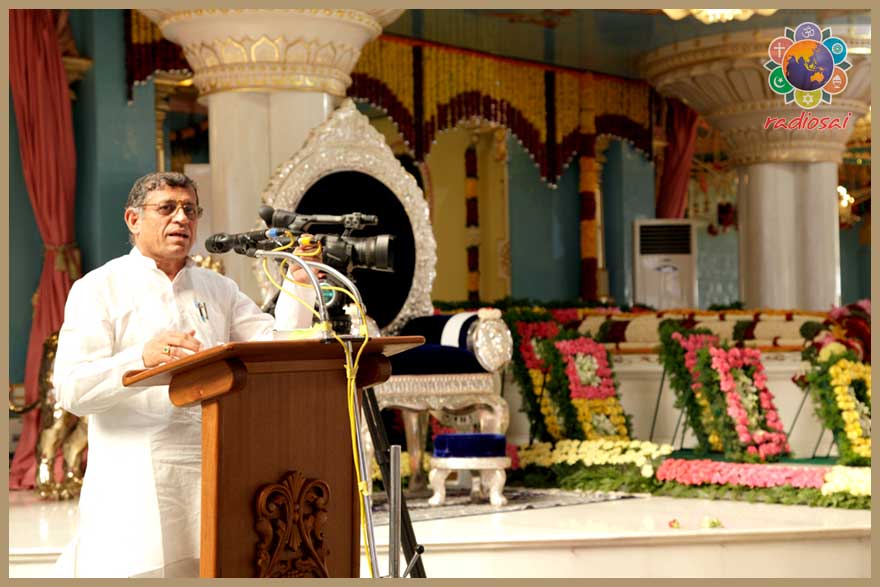 Mr. S Gurumurthy in the sanctum sanctorum of Prasanthi Nilayam on the morning of April 24, 2014
What is the mission of India? Why was Swami born in India? Why did an endless stream of great men through the ages for thousands of years take birth in this ancient land? What is the message she has to give? What is at the core of this great land?
It is in this perspective — in the past, in the present and what it is likely to be the future — that I had an occasion to have a glimpse of Swami and His thoughts, which I thought I would share with you. The occasion is very profound and sacred. The audience is erudite and committed and the speaker has to rise up to the occasion to match both and I think Swami will put me on the escalator to do both.
The First Encounter - Mesmerizing and Mind-Numbing

My first experience of Swami was through an externally induced accident of someone from America calling me repeatedly for months and telling me: "The nation is in danger and you have to meet Swami."
I said, "It is not that I or anybody can meet Swami. He must will that we must meet Him. That is what I have heard."
But this person would not leave me. He said, "There are a series of accidents in the Indian Air Force. MIG fighters are crashing almost month after month. Nearly 14 fighters have crashed and many pilots have died in a period of 18 months." He said this had to be stopped and gave a very peculiar reason.
He said that a country hostile to India was doing black magic on the Indian Air Force which was causing accidents. He said that he had done tremendous amount of research in black magic and the only person who could stop this was Swami. He said "You have to go and meet Him. You call yourself a nationalist but you are not doing this!"
For 3-4 months every third or fourth day he would call from America. I asked my friend Mr. Venu Srinivasan because I thought he was the only person who could link me to Swami. I told him "Venu, this is such a pressure on me and I don't know how to avoid him. And it is a fact that so many fighter aircrafts are crashing."
Mr. Venu Srinivasan said, "I do not know whether Swami will see you but be prepared. For three days you must be available. Every morning we will go and sit. If what your friend says is true and legitimate and you are the instrument to communicate this, Swami will certainly call you."
I said, "I am a mere human being. You must see that Swami calls me." So we came and sat for three days.
The first day, Swami just walked away. I was so disappointed and despondent. But next day when Swami came, I pulled up Venu and he stood up. He said, "Swami, my friend has come to communicate something very critical for the country." Swami then fortunately asked us to go inside.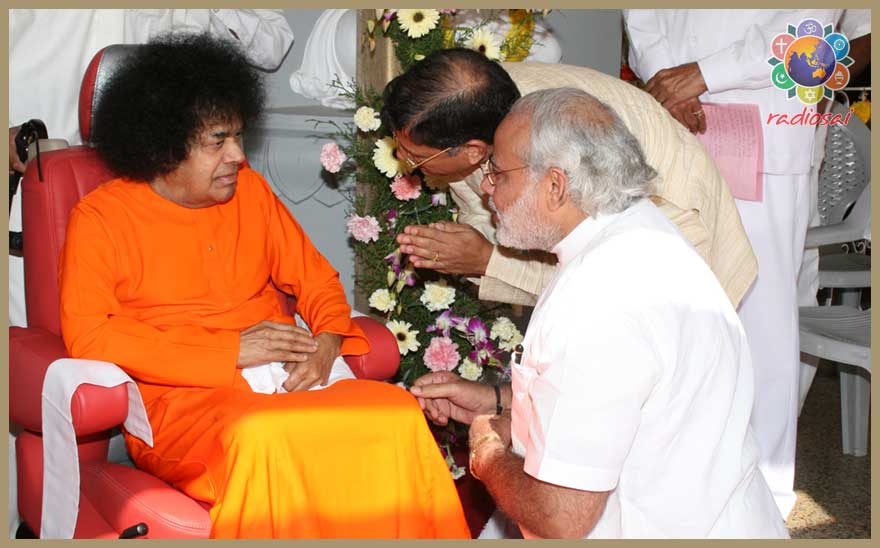 Prime Minister Mr Narendra Modi and Mr S Gurumurthy blessed with Divine Benediction in Chennai, Jan 2007
There were many people and I was observing everything. I did not know about Swami; I'd never experienced Him; I'd only heard about Him from outside. There were stories about His miracles and capacity to address endless streams of great men. This was all from a distance.
That day, Swami materialised many things for different people. A hefty man was there for whom He materialised a huge ring. For another thin man He materialised a small ring. So in my mind I was questioning "How is it that the materialisation matches the person's size?"

Swami suddenly called me near and materialised this ring for me. It fitted well.
He then looked at me and asked, "Does it fit you?" I knew He was reading me.
Then I said, "Swami, I have to communicate something very critical." Then Venu and I went inside and I shared with Swami what that person from America (whom I don't know) had told. I don't even know how he got my number.
I told Swami, "He is under tremendous pressure and he puts me under tremendous pressure. He says only Swami can save."
Swami went into contemplation for 2-3 minutes and then said, "Now that he has communicated it to Me, ask your friend to forget about it."
After a few seconds He said, "I will give Prasad. You give it to him." He materialised a large diamond ring. I did not know the person who would wear it because I had been only receiving his telephone calls. This was sometime in 2003.
When I went home, the person called me that night itself. I told him that Swami had sent Prasad for him and that Swami had accepted his prayer. Within 72 hours he landed in my house. He was a hefty six-footer. The ring fitted him. This is completely beyond comprehension for an ordinary mind.
Swami is a dimensionless phenomenon! You cannot view it with dimensions even if you are multi-dimensional; you cannot get at it. This was the first message I got.
- Radio Sai Team