| | | | | | | |
| --- | --- | --- | --- | --- | --- | --- |
| | 'Like' us on Facebook | Follow us: | | | | |
Posted on: Aug 25, 2017


My Friend Ganesha!

"For me He is everything. He is the only one with whom I can share anything. All I have to do is just stand in front of Him and share all that happened, and then I feel so relieved. He is my best friend—my sweetest friend Ganesha!" Srujan shares excitedly. The thought of Ganesha fills him with abounding joy.
The Sweetest Bond
"Whatever problems I have He takes care of them so amazingly," Srujan continues, "Sometimes I just cannot understand how it happens. For instance, the other day I was sad because I hadn't scored well in my mathematics examination. So, I went and stood in front of Him.
"Actually every time I go to Him and look at His face He gives me an answer, and it is always different. That day when I was in His presence, it was so soothing to my heart. I do not know what He did but I was immediately out of my sadness. I became happy again.
"Really, this is the kind of friend I want—someone who can unconditionally stand by me and ensure that I am always happy."
It's been 11 years since Srujan joined Bhagawan's school in Prasanthi Nilayam. His education started at His lotus feet when he was a little over five years old.
"But when did you make Ganesha your friend? How did you develop such an intimate relationship with Him?" I was curious. I was struck by his endearing relationship with the elephant lord.
"Well, it happened when I was in grade 8. By an inner prompting I joined the team which performs regular puja and does festive decorations to Lord Ganesha in the hostel. So that is how my daily meetings with Him began.
"As I started spending time with Him I just felt like telling Him everything that had happened during the day. I could feel Him listening and responding. Recently something happened because of which my connect with Him became even deeper. I feel I am eternally indebted to Him because He saved my life."
Lifted and Uplifted by Ganesha
"Wow! When and how did this happen?" My curiosity was piqued.
| | |
| --- | --- |
| | |
| | The radiant statue of Ganesha in front of the school building, Prasanthi Nilayam |
"It was Krishnashtami Day and all the boys were busy with the pot-breaking ceremony. Ganesh Chaturthi was around the corner too and so we had started decorating the big Ganesha statue in front of our school building.
"There were some lights to be arranged on top of the idol. I was being helped by another boy. We placed the 8-feet aluminium ladder and I went up. He was holding the ladder.
"However, since the ladder seemed quite steady, my friend let go and went in to get more lights. But suddenly the ladder shook and gave way, and to my horror I fell!
"I was being hurtled towards the ground from a height of about eight feet. I knew it was going to be disastrous, maybe even fatal. I feared the worst. There was nothing I could do. So, I just closed my eyes.
"Immediately I felt something grasping me mid-air. This force was holding me under my stomach. It was firm as well as gentle. I tried to look at what it was and I saw it was the hand of my Ganesha.
"That was why it was soft. The hard object however was the ankusha (the elephant goad) that Ganesha always carries in one of His hands. The Lord's hand had indeed extended from the statue and caught me in the nick of time.
"Not only that. After saving me from hitting the ground, His hand then lifted me up and put me back on top of the ladder. Phew! It was such an overwhelming experience. It all happened so quickly. It left me completely stunned. I marvelled at Ganesha's love for me. He had given me a fresh lease of life.
"In fact I could see the mark of Ganesha's ankusha on my stomach the next day too. And on the statue you could see a slight crack in the hand of Ganesha that extended out. It is there until this day."
"This is incredible!" I exclaimed and added, "Now I can understand at least to some extent why Ganesha means so much to you."
Vibhuti Blessings from the Beatific Lord
"Oh I have had many wonderful moments with Him," Srujan went on, "When I was in grade 9, it was the New Year's Day and we had decorated our Ganesha lavishly.
"In fact, on January 3, I spent the whole evening just trying to remove the decoration and arranging back everything in the cupboard in a neat manner. It became late in the night. I was tired.
"As I was trying to put back a pile of red dhotis, suddenly the entire lot slipped from my hand and all the clothes fell down. I began to fold them again.
"When I started doing this, to my pleasant surprise I found vibhuti on the dhotis! As I opened every fold, there was more and more vibhuti. It was so mystifying. I collected a vessel full of vibhuti that night. I was so filled with that serene fragrance. I was energized and uplifted.
"This happened in 2012 and since then my friendship with Him became much stronger than before. It is not just love, it is a sweet friendship."
Srujan then placed his hand on his heart and gently said, "I always carry Him in my heart wherever I go." He did not want to add anything more. A satisfactory smile danced on his lips.
Three other boys who have been taking care of the Ganesha in the Sri Sathya Sai Junior Boys' Hostel, along with Srujan are Sathyam, Arvind and Sathya Prasad. I was now eager to hear their Ganesha-stories.
My Ganesha is Like Me
"What propels you to wash, clean, clothe and decorate Lord Ganesha every day?" I asked Sathyam.
"It is simple," he instantly replied without batting an eyelid. "Just like I bathe, put on fresh clothes and look tidy and neat, I feel I need to do this for Ganesha too. He looks after us in so many ways. He removes the obstacles on our way all the time. How can we let His statue be left dirty and neglected? Whoever comes to Him, they should enter into an arena that is clean and serene. I feel this is the minimum we should do for Him."
"That is a beautiful thought process from a young mind," I said to myself.
| | |
| --- | --- |
| | |
| The endearing Ganesha in front of the school boys' hostel, Prasanthi Nilayam | |
With Ganesha I am First
"How has this experience been for you Arvind?" I asked the other boy. I was keen to see what newer perspectives emerged.
Without thinking Arvind said, "For me, Ganesha is my best friend. I joined the Sri Sathya Sai Higher Secondary School for grade 11. I was not doing well in my academics. My rank was ninth in my class but earlier in other schools I had better marks.
"When I came to grade 12, on an impulse I decided to join the Ganesh Puja team of boys. I did not know if I would be able to cope up with the extra responsibility because the schedule in the hostel was quite tight.
"I was even a bit scared. My results in the first unit test were disappointing. After this I seriously took up serving Lord Ganesha. I did His puja every day and started sharing everything with Him. Somehow I used to feel so light and cared for when I was with Him. This filled me with a lot of confidence.
"Believe it or not, from the second unit test onwards I have always stood first in my class. It is my Ganesha who lifted me up like no one else can.
"And it is not just academics. When once I was asked to speak in the school assembly, I was pretty nervous. I had never spoken before. So I went to Ganesha and poured out my fears and anxieties. Just after that my mind was filled with so many beautiful ideas. My speech went off very well.
"Now there is nothing that I do not share with Him. I tell him all my family problems too. During vacations I continue the puja in my home. This connect with Him fills me with strength and courage."
My Ganesha Opened My Heart
"Did Ganesha bring any such transformation in you too?" I asked Sathya Prasad, the fourth boy. Given the kind of experiences I was hearing I was sure each boy would have a revealing tale of riveting devotion.
"Yes, very much," said Sathya Prasad and began his story. "I was a notorious child. Being the only son of my parents, my mother was always concerned about me. When I joined here for grade 11, I do not know why I felt like joining the Ganesh Puja team of boys but once I started taking care of Him and worshipping Him daily, I felt I needed to change.
"I started considering Ganesha as my brother, a friendly brother. So I used to tell Him everything. I knew He would help me with academics and He did. Earlier I was vacillating between third and fifth rank but now I am in second position.
"But more than academics, I wanted to see a sea change in myself. So one day I fell at His feet and pleaded with Him to help me in this effort. From then on I was surprised to see a transformation within me.
"For instance, earlier I was always closed to any suggestions or ideas from any classmate. I used to think 'I am correct. Who is he to advise me?' But now I am more patient, I listen more and am more accommodative. In fact when I went home, my mother was deeply touched when she saw this behavioural change in me.
"Similarly, before I made Ganesha my friend, I used to be gravely tense about my examinations. The tension used to be so high that just before the exam I would pop in paracetamol tablets.
"But now on the examination day I go to Him first and sincerely offer everything to Him. I say, 'I dedicate this test to You. I surrender to You. Help me please, my dear brother.'
"From that point, it is not me who is writing the examination, it is 'we'—Ganesha and me. If I get stuck I know Ganesha is there for me. People see my results but Ganesha sees my efforts. So I am not too concerned about my results and ranks. Instead, I am fully focussed on the effort that I put in.
"I know for sure that Ganesha will judge me based on my efforts. So I work hard and then leave the rest to Him. Over time, I have improved in everything, be it my academics or my behaviour. More importantly, I am much happier." Sathya Prasad signs off on that happy note, a gentle smile playing on his face.
Spreading Ananda is Abhishekam to Ganesha
During Ganesh Chaturthi 2004, a beautiful dance was presented in front of Bhagawan by K V S K Ganesh, a leading member of the Prashanthi Dance Group. It was based on Ganesh Pancharatna—the five-gemmed Sanskrit song on Lord Ganesha.
Bhagawan was so pleased with this performance that He called Ganesh near and asked, "Do you like Ganesha?"
When he answered in the affirmative, Bhagawan's hand went up in the air and out came a beautiful golden Ganesha. About 4 cm in height, it was a piece of exquisite artwork in gold.
Ganesh was thrilled but at the same time concerned if he would be able to live up to worshipping such a divine masterpiece in the most appropriate manner. He had heard that regular abhishekam needs to be performed for such idols especially when they are given by Swami Himself.
To get these apprehensions cleared, prayerfully he submitted, "Swami, should I do abhishekam to this Ganesha daily?"
The answer that Bhagawan gave took Ganesh completely by surprise. "You need to do no puja," Swami clarified and sweetly added, "Just show it to people and give them happiness." That is all the worship and adoration, rituals and abhishekam that Bhagawan sought for that beautiful Ganesha.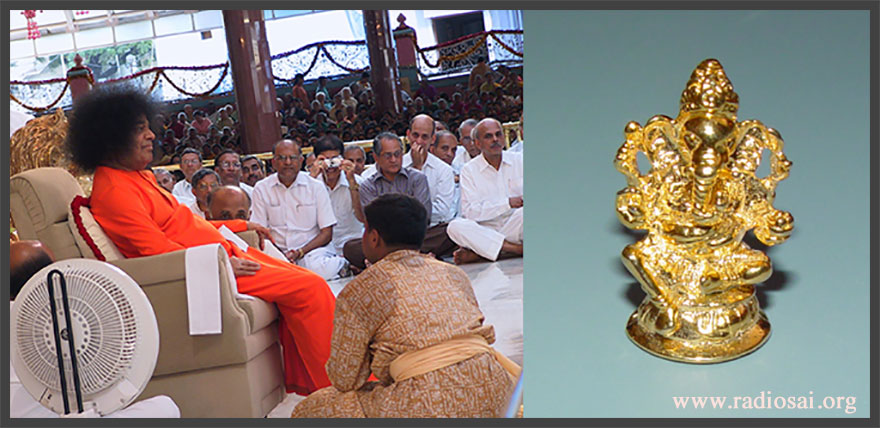 The beautiful Ganesha idol that Swami materialised for Ganesh
Lord Ganesha's grace will flow into us not when we do His puja with elaborate celebrations, but when we make our lives a celebration of His elaborate love.
When we eschew sorrow and befriend joy, we befriend Ganesha.
When we forget hurt and befriend service, we befriend Ganesha.
When we let go ego and befriend humility, we befriend Ganesha.
When we shun pride and befriend gratitude, we befriend Ganesha.
When Ganesha becomes our friend, our devotion has no bend and our happiness has no end!

- Bishu Prusty
Team Radio Sai