| | | | | | | |
| --- | --- | --- | --- | --- | --- | --- |
| | 'Like' us on Facebook | Follow us: | | | | |
Posted on: Dec 12, 2017

The Goddess of All Things Big and Small
The Loving Life of Bhickoo Dubash, aka Prem Bahl
6 June, 1928 - 9 December, 2017
A picture of composure, grace and beauty, her enormous heart was ever open to address the concerns of small children, tweens and teenagers milling past her on their way to the dining hall, classrooms, dormitories or playground. She was always at the centre of a busy, bustling family of over a thousand students, teachers and helpers. She was the heart that kept the beat and the rhythm flowing. Her instant conflict resolution abilities stemmed from her incisive thinking and mental clarity. She was always on top of news headlines - be it the hourly update from the sick children's dormitory, or the latest cricket score, Warden Aunty knew it all.
Every mealtime, with help, she walked over to a stool in the dining hall, where she sat to personally serve chappattis to rows and rows of a thousand hungry children who came in batches for lunch and dinner. Without a trace of repeat-action-fatigue, she loved them as a grandmother, a warden, a mentor, a teacher and a friend.
Into her late 80s, defying the challenges of an ageing body, every morning Mrs Prem Bahl was up early and punctually, to report for her duties, 7 days a week. She followed with discipline for the past almost 40 years this schedule. She was never known to take a day off or let her acute knee problem hold her back. This relentless river of selfless service and love finally merged in the Ocean, her beloved Bhagawan, on 9 December 2017.

What is in a Name? Everything!
Born to Parsee parents in 1928 in Bombay, she was named Bhickoo Dubash. But that would be a name nobody would know her by in her later years, thanks to her husband Brigadier Ranjit Rai Bahl. After marriage, moved by her indefatigable ability to shower love on all, he changed her name to 'Prem'. Little did he realise then, that her love was destined to attain fulfilment, assume supreme status and stand as an inspiration to thousands.
In what appeared to be a cruel twist of fate, Brigadier Bahl succumbed to a massive heart attack rendering Mrs Prem Bahl a widow at the age of 38. Being a staunch adherent of Indian culture and tradition, she chose to wear only a white saree thereafter, a practice she wouldn't give up till the very end.
The divine call came in a strange manner in 1968. A Sai devotee Mr Grover (the father of another stalwart devotee, Mrs Ratanlal) came to her house and said he heard about there being a young widow in the house, and that he wished to take her for Sai Bhajans.
And when he took her to the residence of Mrs Manna Sundar Singh's house in New Delhi's Sunder Nagar, the bereaved heart of Mrs Prem Bahl found instant solace. She then began going regularly for bhajans, and eventually became a member of Sai Seva Dal at Delhi. The Seshamani family also shared glories of Sai with her, as they had lived with Bhagawan in the old mandir.
Finally, she saw Swami for the first time at Anantapur during the inauguration of Swami's College building there. The first opportunity of attending Summer Course came in 1971 when she came as a teacher in-charge of students coming from Delhi. (For a long time thereafter, Swami would endearingly address her as 'teacher').
In 1972, she became the Seva Dal Convenor for Delhi, a role she played till 1978. Whenever on duty she would stand at the farthest gate, giving herself completely to the service. But Swami would often remember her and ask for her.
Prem Means Love, Prem Means Selfless Service
Her loving service to her Master bore fruit and in 1978, Swami asked her to join His Ooty School, a point where her life would take a decisive turn. Later she moved to the Sri Sathya Sai Primary School in Puttaparthi, where she took charge as the warden. Then on, for close to four decades, she served Swami in that capacity. And for thousands of students who passed through the portals of the school and the many others who interacted with her, she would be 'Warden Aunty'.
Wearing a plain white saree, wavy silver hair neatly combed into a bun, face radiating a divine glow and a vibhuti mark on her forehead, Warden Aunty remained the dependable cornerstone of a bustling community where a thousand students are in residence.
An epitome of superhuman dedication, she had a reputation of placing her duty to her thousand children above herself.
Thirty-eight batches of her graduating students attest to her being a no-nonsense person of undying devotion to Bhagawan Baba, who rose early every morning, ready to repeat the same schedule and the same set of tasks with refreshing motivation, as though she was doing it for the very first time and giving personalised attention to every child.
For decades, she slept in the old prayer hall between the two boys' dormitories and in the mornings, she would personally supervise all early morning dormitory duties for the girls' wing, including braiding several hundred girl students' hair, in an assembly line manner.
So committed was she to the call of duty, that prior to the Ooty school days, once while she was serving during the summer courses, she fell into a dry gutter and fractured her knee.
She refused to go to a doctor, for, she argued, that the task allotted to her by Swami was far too sacred to be abandoned for such 'frivolous' reasons.
For years she braved that pain, taking recourse in painkiller brufen and coffee! She never once complained to Swami about her pain, or seek divine intervention or ever compromise her duties. She was always available for Swami.
The Goddess Who Incarnated As Their Warden Aunty
In the later part of her life she would come down and assume her strategic spot in the lobby of the school every morning, setting up her mobile office on a small table besides her. It held her Shirdi Sai Satcharitra, mobile phone, reading light, newspaper, register, reading glasses, memo pad, a pen and such. She then was ready to direct the flow of life in the day of the school that has consistently ranked in the top ten schools of India as a centre of academic excellence, as well as one of the top ten residential schools in the country, and the only one in a rural area. Many of the recent students in her care were the children of the school alumni, who had more faith in her parenting skills to raise the second generation from the same family.
Just being herself, Warden Aunty taught life lessons that no educational degree ever could. Ms. Sathya Sree Goswami (1985-1990) a Psychotherapist, Social Development Professional, in New Delhi says, "My biggest professional asset is to be non-judgemental and I learned it so easily from none other than our Warden Aunty.
"Warden Aunty taught us that it is not for us as human beings to judge the relation between anyone and God, because we do not know the inside of anyone, nor their life journey. That mantra is an important life asset today; as I am able to listen to people without being judgemental, since we are all a part of the same universe.
"She also taught me the beauty of perfection by giving attention to details – how to affix postal stamps with appropriate margins for a neat look, sewing buttons with 3 criss and 3 cross stitches over for that neat look or the importance of working on the back of the embroidery with clean knots, or making tidy entries in the laundry ledger with columns and rows. And she explained why such attention to detail mattered when we dedicate everything to Swami."
"Warden Aunty's training draws appreciation in my professional and personal life even now, which I dedicate to the Lord as she taught us to, with such ease. I remember her leading the bhajan mrityunjayaya namah om when Swami visited school... what a blessing from heaven she is to me!"
For Mallika Chandrashekhar, the time she entered the school as a confused Grade 8 student was critical. She felt lost and lonely after experiencing a devastating family breakup, which she believes no child at that age should witness. "I clearly remember when I stood in front of beautiful hearted lady in white… who stole my heart and in return gave me a renewed one over the next 5 years I was with her. She truly lives up to her name Prem."
Alumna Geethanjali Gokarn is in awe of her Warden Aunty. "She is someone we looked up to in taking the most practical decisions. She loved to know and keep herself updated on everything. The best thing about her was her ability to multi-task. She could be talking to you but was aware of the water not having been delivered to the dormitories, or the dress that was not given to a particular child. She was the kind of person who we can talk to without hesitation and come back with a different perspective.
"More importantly, she was always action-oriented and got on with work that had to be done. An incident that I remember to date is, once when the drains in one of our bathrooms had choked. The ammas who were supposed to clean up were either delaying or were just not getting up to that job. When it reached her ears, she came and without any hesitation whatsoever pushed her hand in and pulled out the mass of dirt, which had choked the drain. All this with just bare hands! The drain got cleared but so did our hearts as we realized that she did not hesitate or even wince at having to do such so called menial work. We were in great awe of her and I bow to this great person," she says.
Bangalore based alumna Richa Churamani owes several of her life mantras to Warden Aunty, which have had a life altering impact. She admits, "Some things Aunty may have mentioned rather casually during my stay in the school, yet they are my guiding principles even today.
These include:

• If your conscience is clear, then stand up and face it.
• Think more than twice before giving anything in writing and if you do, then live up to it.
• Sickness is all in the mind.
• Be firm and yet polite.
• By giving an earnest listening ear, half the problems may be solved. Try not to be judgemental.
"Every time I returned to school, I looked forward to having an interesting and thoughtful conversation with my Warden Aunty. She was so up-to-date with the times," says journalist Aarti Nagaraj.
Warden Aunty was a role model who defied even the generation gap. Toronto based teacher Bhavani Munshi admits, "As a child, I was in awe of Warden Aunty. As an adult, I am even more so. Warden Aunty has always symbolised dignity, coolness, and an otherworldly sense of power.
"When I was in the school, for some reason, my bed always ended up right at the front of the dormitory by her massive silver trunk, from where I got to see her unfailing work ethic morning after morning. Warden Aunty is indisputably, my platinum standard for professionalism.
"When confronted with the challenges of work life, I conjure up my memories of Warden Aunty, pick myself up to stand tall like her, wish my hair looked half as good in a bun as hers, and speak up."
"Warden Aunty was dignity personified," says Shalini Krishnan. "I loved her relationship with Swami. Whatever she needed for the school she would directly approach Swami and He would happily oblige. There was no intermediary.
"When we studied late into the night or helped her with her chores, she would offer us her coffee from her flask, which made us feel all grown up. I cannot forget the guided mediation after bhajans in her soft voice detailing Swami's form from toe to head. She is truly a Sai legend."
Warden Aunty's superhuman memory in her late 80's is awe-inspiring. Says Hema Bhupathy, "Years later, Warden Aunty remembered not just our names but also our hostel roll numbers including my Ooty roll number after several years. That is the level of attention and care warden aunty took for each of us."
"She woke up every morning early and gave bath to at least 30 of us, then combed our hair, and served us breakfast. Once when she was asked how she was able to give bath to so many children as it is a back breaking job, she explained that while bathing the children, she thinks that she is offering 'abhishek' to Swami. That is the level of her sincerity.
"Warden Aunty was a very stable, steady, sincere, loving and practical person with a great sense of humour. Early in the morning she would be putting paste on the little girls brushes much the same way that headmistress aunty would be putting it for the long line of little boys. Warden Aunty would look after so many things in the background silently... I remember how she spent the whole morning searching for a kurta of mine misplaced among the huge pile of linen," recall Ushaina and Sashaina Fanibunda (1994-1996 XI and XII stds).
For Sai Amrita Kaul, Warden Aunty is no short of a Goddess who protects and inspires. A particular gesture of Warden Aunty touched her young heart deeply when Aunty stood up for her.
She says, "My relationship with Warden Aunty is a very special one. One day I faced a troubling situation in school. Some people I had met in the ashram showed up, asking to meet me. I was immediately hesitant because I did not know them very well, but I also did not know how to deal with the situation. In that moment, the only person I saw nearby was Warden Aunty, and though I was terrified that I would get into trouble, I braced myself and explained the situation.
"'What do you want to do?' Warden Aunty asked me. I was taken aback. I did not expect that my preference mattered at all. 'What do you want to do?' Warden Aunty asked me again. 'I don't want to see them,' I said.
"Then, with that gloriously firm voice, Warden Aunty replied, 'I will deal with them. Don't be afraid.' And just like that, I watched in awe as Warden Aunty stood up for me and fought off my fears. I distinctly remember wanting to say thank you, but I couldn't find the words, and I didn't even have to. Aunty gave me a huge hug and assured me that everything was fine. After that, I vowed to find the same level of conviction and confidence in myself and never hesitated again to seek advice or support from Warden Aunty whenever I needed to boost my morale in the face of a challenge. Warden Aunty's no-nonsense attitude was ultimately, what gave me the courage to stand up for what I believe in, while also knowing that there is always a benevolent force protecting me along the way."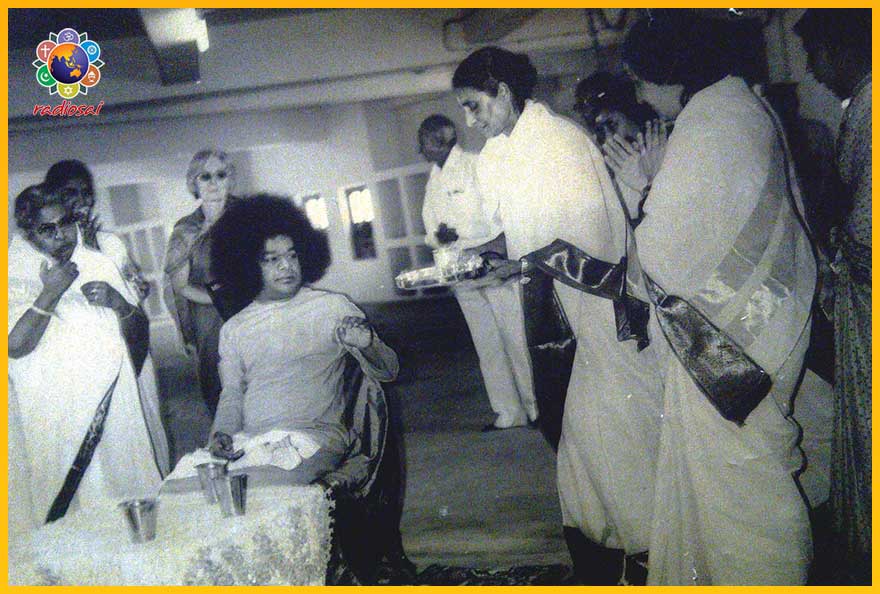 Another alumnus recounts, "Warden Aunty was strict but extremely fair. I have always believed, Warden Aunty would have made an excellent judge. Indian judiciary's loss was Sri Sathya Sai Institution's gain. Warden Aunty is a fine blend of deep spirituality and rational pragmatism.
"Even when she was upset, Aunty was able to keep her balance and I always remember Warden Aunty to be highly balanced and fair in her views.
"To say 'Thank You' is simply not enough for what I have learnt from Warden Aunty. I am privileged and greatly honoured to have known and interacted with such a great and noble person. I can only express my gratitude to Swami for choosing this 'Sai Ratna' to shape me during my formative years. For that blessing and many more, I shall remain eternally grateful," says this alumnus.
Time To Turn Inwards and Prepare For The Merger
The body that had served the Master tirelessly for decades finally started showing signs of giving up. In June 2017 she was diagnosed with advanced stomach cancer.
Dr Prakash Khanchandani, the Head of the Department of Orthopaedics, at the Sri Sathya Sai Institute of Higher Medical Sciences, Prasanthigram took charge of her and cared for her like his own mother. But the firm and strong person that she was, all that Warden Aunty asked when she was informed about her ailment was, "How long do I have?"
She had never prayed to Swami for herself, and she was not going to now. Like a Yogi, she started preparing herself for 'the moment'. She began withdrawing herself and remained in a meditative state most of the time. During one of the days in the hospital, she was twisting and turning in pain.
Looking at her suffer this way, her daughter Dr. Onita Nakra turned to Swami's picture and said, "Enough is enough Swami, stop it now." Warden Aunty immediately reprimanded her,"Who are you to tell Him enough is enough? He knows what is best!"
If she lived by the following simple life mantras, she chose to leave the world by them as well:
This too shall pass; whatever happens, happens for the best; everything He does is for your good and not even a leaf moves without His will.
On 24 October 2017, she called to her side her daughters, Onita and Geeta, and told them that she had a vision of her entire funeral, and that the time was fast approaching. "It is time to let me go," she said. She asked for Vibhuti water, blessed them and gave instructions as a mother. From that day, she refused to engage in any conversation and stopped all oral intake.
On December 7, two days before she was to shed her mortal coil, at midnight, with a strange glee in her eyes and hands raised above the head in namaskar, she looked at the Shirdi Baba's picture in the room. She kept offering namaskar repeatedly till the early hours of the morning with a new found energy and enthusiasm. Did she have the Darshan of the Lord she had served and loved with all her heart? What else could it be? How can Swami not come?
Less Luggage, More Comfort Made Her Journey So Practical
Warden Aunty loved Swami in a way that inspired thousands and thousands of children, it still inspires us and shall continue to, forever. She lived only for Him; in 1978 she came with just one suitcase and that is the only physical possession she leaves behind today.
All the gifts Swami would give her, she would pass it on to her family and others. But the true gift Swami gave her, the bond that existed between her and Swami, is indescribable. Be it His tender concern when He sent His own glass of water to her during one of the sports meet practices when He noticed she was exhausted, or the mischievous love when He would sneak behind her and pull out the pencil she would so characteristically stick into her bun of hair to hold the silvery locks in place. Swami endearingly referred to her bun as murukku - the spiral savoury served as a snack. Warden Aunty gave herself to Swami, and so did the Lord.
Swami would often say, "My students are My property". And for 39 years He entrusted the most tender of His property to the care of this great devotee. The Divine Mother chose this mother to take care of Her own children. It is a cliche to say 'It's an end of an era'! But what else to say!
Dear Warden Aunty, knowing you has taught us to love and serve our Swami better. You shall forever be remembered with love, respect and deep fondness. Adieu dear Mother and look out for us from the highest heavens you now share with our Lord Sai.

A child full of curiosity
Knocked on the doors of heavenly intensity
his call was answered by the Divine Infinity
A profound message for Supreme eternity,
"Oh Lord I am enthusiastic to experience
The magnanimity of humanity's equanimity,
But where do I find the embodiment of mirthful positivity?"
"Dear child , In the mansion of values which radiates divine energy
Where love overcomes catastrophic melancholy,
Where innocent angels reflect My divinity with all tenacity,
Among the innumerable hands that pave your journey,
You will find a guide full of serenity,
With a firm conviction that distinguishes her personality,
Her name is LOVE, the jewel of spirituality,
I admired her for her systematic ideology
Her heart brims with purity, And is am epitome of simplicity."
Now looking back at her life story,
facing our diminishing reality,
all that we can say -
With the love of a mother,
And strictness of a father,
With the selflessness of a teacher,
And the accuracy of a guide,
You were not just our Warden Aunty,
You were
Our inspiration
Our motivation
Our determination
And our strength
In fact, our whole Universe!
- A loving tribute from a few students of the Sri Sathya Sai Primary School, Vibhuthi, Saipriya and Jeevika.

- Radio Sai Team