| | | | | | | |
| --- | --- | --- | --- | --- | --- | --- |
| | 'Like' us on Facebook | Follow us: | | | | |
Posted on: May 22, 2017
A Relationship That Can Get No Higher
Mr R J Ratnakar
Trustee, Sri Sathya Sai Central Trust
Easwaramma Day every year brings back precious memories. In fact this happens every time I visit the Divine Parents' Samadhi.
Like we do on every occasion, this year too (2017) after garlanding Mother Easwaramma and Pedda Venkama Raju, right in front of their Samadhi sumptuous prasadam was served to all. I am sure this is the moment the Mother cherishes the most in the day – to see everyone sitting around her and relishing sweet rice and tamarind rice.
I can never forget how Swami always used to become emotional while talking about the Mother's giving nature and her golden heart.
When Easwara Revelled Thinking of Easwaramma
Many years ago, someone had sent to Swami a picture of Mother Easwaramma standing amidst many needy ladies to whom sarees were being distributed.
The Mother looked so delighted being there and in fact in a moment of bliss she moved her hands in the air just like Swami does and the photographer had timely captured that frame.
It was a beautiful shot – the mother beaming with sublime joy gesticulating just like her Beloved Son. A perfect caption for that picture would be "Like Son Like Mother".
When Bhagawan saw this image His joy knew no bounds. "See! See! How happy she is! See how she is waving her hands in the air!" Like a child brimming with excitement Swami showed me this picture. His ananda that day is indescribable. The heaven of delight had descended on earth.
Two other similar occasions come to my mind. In one, a devotee had sent a picture of the Mother wearing a simple brown saree and standing casually inside the ashram. The row of ordinary rooms in the background suggested that it must have been taken in the 60s.
Swami was only too pleased looking at this snap. With an innocent smile, He said, "See! She is standing so nicely!" and kept looking at her for long.
In the other instance, He was seeing a picture of the Mother sitting on a straw mat on the ground. Like always, her attire was most unembellished. Simplicity exuded from her being.
Seeing her seated in a most nonchalant manner, Swami softly giggled and said, "She must have had a nice lunch. She is relaxing now. Isn't it?" and looked up to me. I could only nod in affirmation. The sparkle on His eyes was so moving.
It is really difficult to describe this relationship. The One who is the repository of all Love of this universe was melting at the sight of one who was a glowing replica of that irresistible Love. The Mother's heart too was beating only for the welfare of the universe. That is why perhaps it resonated so much with the Lord's heart.
Maybe to ensure that such a saga of exalted love is not lost in the sands of time but ruminated upon constantly year after year, that Swami observed Easwaramma Day right from the year she merged in Him.
Why Easwaramma Day 2010 Was Historic
Bhagawan always went to the Samadhi on this day and Himself garlanded the Divine Mother and Father. In fact I know how He used to be so particular about the saree to be offered to the Mother. He would Himself carefully select one many days prior to the event and it would be one with bright colours.
As the day approaches He would make repeated visits to the Samadhi to check if all arrangements were being made for people to gather there and also if food and clothes for distribution were being readied. His involvement was total.
In 2005, Swami was in Brindavan in the month of May but as Easwaramma Day approached He sent me to Puttaparthi with a vehicle loaded with sarees and dhotis to make appropriate preparations here and soon He Himself arrived, doesn't matter if Puttaparthi was hot and dry and the crowd was absolutely minimal.
In 2010, Swami was physically 85 years old. Even though He was on the wheelchair, He insisted on going inside the Samadhi and Himself gave the saree to be adorned over His mother's statue. It was so touching to see this, to say the least.
In fact the white marble statues of The Mother and the Father were installed that year. It is indeed His divine will that a sculptor from Jaipur was able to carve and create the images of the Mother and the Father as best as a stone can portray.
Bhagawan was so ecstatic when He saw these statues that He kept them in the groundfloor of His residence in Yajur Mandir for over a month and every time He came out of His room He would fondly look at them.
Sometimes the boys attending on Him would decorate these statues with beautiful flowers, and Swami would be mighty happy and say: "See, how beautiful she looks. Isn't it?"
He would often go around these statues and comment, "Can you see how her hair is neatly braided? Did you see her sparkling ear rings?"
Immensely satisfied, He would say, "The sculptor has done a beautiful job."
Every instance of Swami with these statues during that whole month was a momentous lesson. Even though the Avatar is beyond the earthly bonds of time and relationships, still He was communicating powerfully how sacred and supreme is this bond with one's mother.
He was demonstrating how no matter who one may be, the Mother should always be primordial in one's life.
It is really significant that by Divine Design, these statues were installed in the last Easwaramma Day (2010) Bhagawan observed in His physical form. He perhaps wanted to cement this tradition in our minds and at the same time make the area where the Parents are resting come alive more potently than before.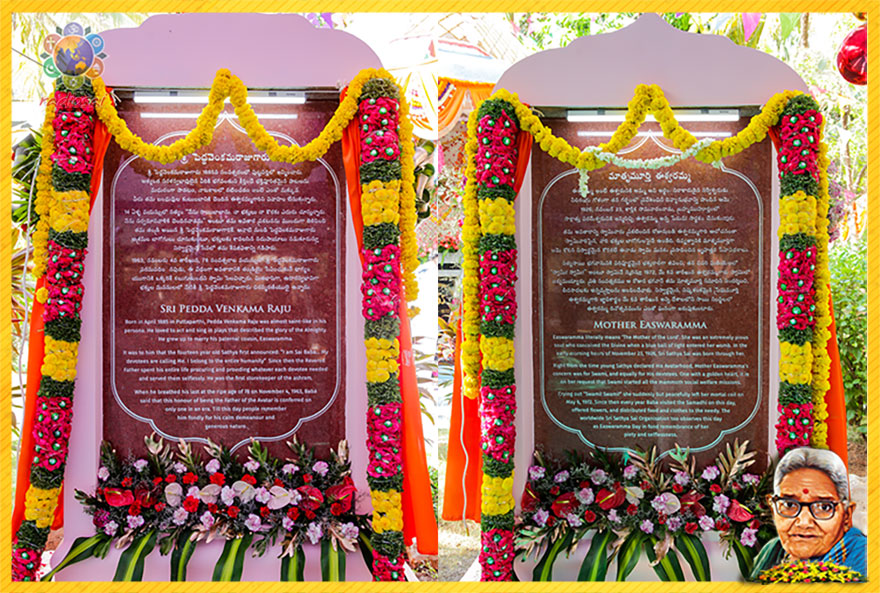 To inform and inspire the hundreds of visitors who visit the Parents' Samadhi, a glimpse of their lives engraved on granite was unveiled on May 6, 2017
Today this space is truly a spiritual sanctuary which also houses beautiful statues of Lord Krishna and Lord Dattatreya. And what to mention of the lofty coconut trees and the lovely breeze here at all times of the day.
Every time I visit the Divine Parents I cannot but go down the memory lane. Those scenes of Swami's eyes welling up with tears with just the mention of the word "Easwaramma" overwhelm my being.
Even though she had many children and grandchildren, the imagery of she calling out to Him alone and none else in her final moments, and Bhagawan too instantly responding, is to me the scriptures coming alive! This was one legendary moment for us to learn deep lessons from.
The Avatar comes only to teach. And to drive home a pertinent precept He will go to any extent. The quicker we learn, the better for us. Then we too can experience and be the Bliss that He is.
- Radio Sai Team