| | | | | | | |
| --- | --- | --- | --- | --- | --- | --- |
| | 'Like' us on Facebook | Follow us: | | | | |
Posted on: Feb 08, 2018

A Heart Filled by Him is Always Healed by Him
by Ms. Swatilekha Thakur
Research Scholar, Jamia Millia Islamia, New Delhi


It was in October 2000 when as a child of ten I got the opportunity to visit the divine abode for the first time. With much excitement and enthusiasm, I was imagining how the place would be. The first train journey, first trip to a different state, first stay away from my mother for half a month - everything was new for me.

A Little One's Thrill in Prasanthi

The rolling wheels of the engine, beautiful greenery passing past the window and the charming sight of the holy rivers Krishna and Godavari fascinated me with freshness and joy. Along with all these, the sharing of meals with my father from a single tray with the lovely talk about God and the sacred place made my journey thoroughly enjoyable.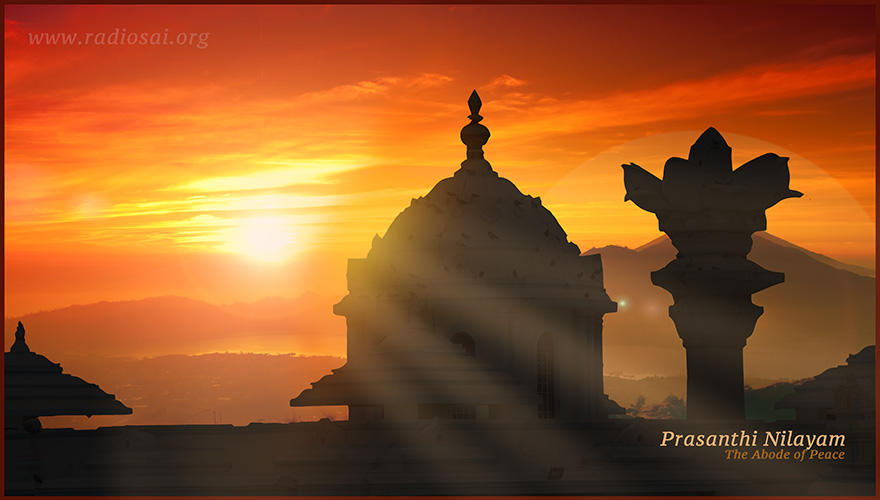 We reached Prasanthi Nilayam and camped at a hall referred to as 'shed' inside the ashram campus. With abundant curiosity and love to see my beloved Lord, I rushed for the afternoon darshan.

The charming and holy Sai Kulwant Hall, the magnitude of tranquillity, the depth of discipline, the dedicated sevadals and the thousands of devotees from across the globe captured my imagination. The most awaited moment came when the Living God appeared before us with His blissful form of Love.

With each step of His lotus feet I was reminded of the song, Thumaka Chalata Rama Chandra (a song describing the beautiful gait of Lord Rama as a toddler). Love, awareness, bliss, serenity and compassion all appeared together in His divine aura.
My heart was filled with heavenly nectar in the first meeting as if Swami had hugged me with His supreme embrace of love. Slowly He walked among His beloved devotees sharing joy, receiving letters from the needy ones and showering the purest form of love and care with His ever-cheerful smile. Then He sat on His throne enjoying the bliss of bhajans and in between He was in the state of chaitanya (super consciousness) maybe thinking and doing something for the people beyond the horizon.

Again, He walked steadily in between the devotees after the arati and entered into His abode.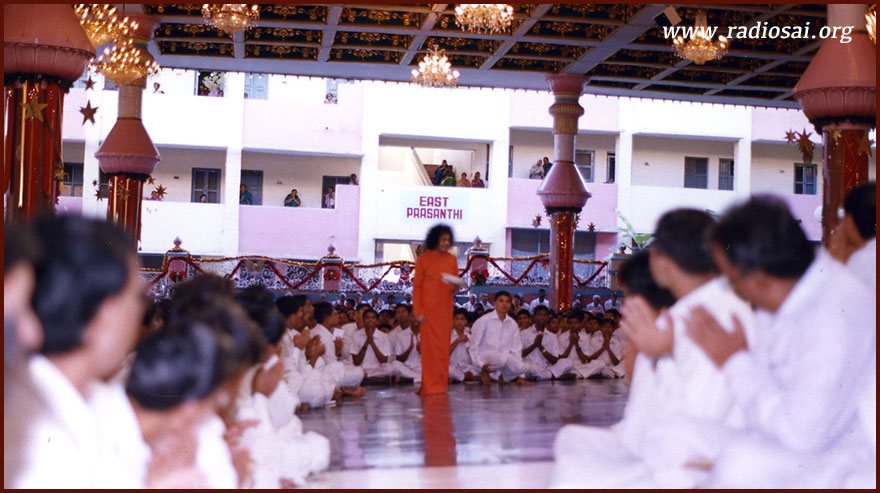 My heart was so filled with joy and excitement, and I rushed to express my happiness to my father. This was how I spent some beautiful days with my father, uncle, brother Rasaraj, sister-in-law and their son, my nephew, Paritosh in Puttaparthi.

Healed in Body, Filled in Spirit

Along with darshan, one of the main purposes of our visit was my father's cardiac surgery at the Sri Sathya Sai Institute of Higher Medical Sciences (SSSIHMS), Prasanthigram. He had been undergoing regular check-up for a year and a half at the hospital and a few months before October 2000 he had got an intimation letter for the operation.

For my father (Sri Chaitanya Das Thakur), the check-ups and surgery was only a means "to have the darshan of my Master more frequently."

"These are divine invitations," he would say gladly. An ardent devotee of Bhagawan Baba from the 1970s, I was in awe at his absolutely tension-free approach to the operation. I wish to emulate his ideals and attitude all my life.

My days were beautifully spent at Prasanthi with darshans. Meanwhile, my father had the good fortune of receiving padanamaskar and vibhuti directly from the Lord Himself. Father also took me to every place in Puttaparthi associated with Baba's life and mission - the River Chitravati, the Kalpavriksha, the Chaitanya Jyoti Museum, His birth place, and so on. I enjoyed every bit of it.

I had to return home after spending 18 blissful days in Puttaparthi but my father continued to stay waiting for his surgery. I reached home on the morning of Nov 6, 2000 and I was surprised to see arrangements being made for a 12 hours akhanda bhajan in our home from 6 pm that day until 6 the next morning. My mother had organised this to pray for my father's successful surgery.

The operation had initially been scheduled for 7 Nov, and all family members and the extended Sai family began praying with faith and devotion during the bhajan session. But suddenly, the surgery was advanced by a day to 6 Nov. We had no knowledge of it. Mobile phones and emails were not common then.

Though my brother Rasaraj was in Puttaparthi to take care of my father, unfortunately he too could not be informed about the change in date. Besides, he got busy with taking care of my sister-in-law who too had some health issues and had to be taken to the general hospital.

As a rule, no surgery in SSSIHMS is done without the signature of any family member or guardian as an attendee. The time for the surgery approached and all the doctors and nurses were searching for my brother.

My father with teary eyes and a faithful heart surrendered everything to his Divine Master and prayed, "Baba, there were so many people around accompanying me till now, but no one is with me on this very crucial day. It is You who has to take care of me. Please be with me."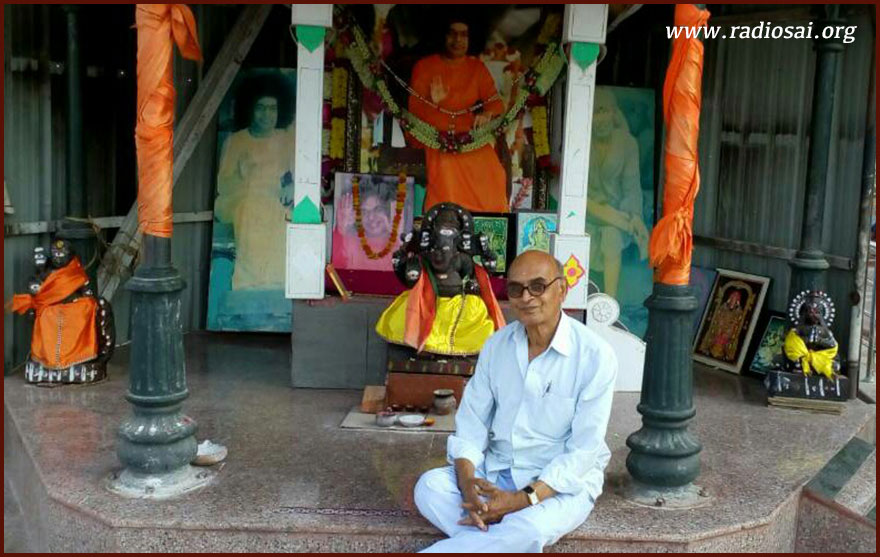 Sri Chaitanya Das Thakur, a lighthouse of inspiration for the author
At the same time, our home in Odisha was filled with energetic and soulful bhajans throughout the night. My mother, with her prayerful heart, was engaged in serving food to the village people at dinner time. The spirited Sai youth of our organisation supported my mother and gave her courage to remain strong for the next day, which we thought was the date of surgery.

Now as the time for the surgery arrived, one of the famous cardiologists at the SSSIHMS told my father, "When Swami has brought you up to this stage, He will take care of you further too! Nothing to worry. It is my responsibility. I am your attendee now. Perhaps this is the Divine's instruction."

So saying he signed as the attendee and the team of doctors started the operation after applying vibhuti on my father's chest with heartfelt prayers. His every heartbeat was supported by the spirited beats of bhajans back in our home.

At around 9 pm as the akhanda bhajan was going on, a beautiful miracle unfolded. Out of nowhere, an old man with a bag in his hand entered our home and said, "Serve me food please".

| | |
| --- | --- |
| | |
My mother and the youth of our seva group were astonished to see his strange and informal behaviour because neither did he even ask anyone before coming in nor did he have any other conversation before asking for food.

In any case, he was honoured as befits a guest, as our scriptures say "Atithi Devo Bhava" (Consider guests as God). He was served pooris, curry and kheer. His face shown with a divine aura and all were looking curiously at his unnatural behaviour. He ate hardly one or two pieces of poori and drank some of the kheer. He then took the rest and offered it to a dog outside.

There were three-four women serving together in our home but before leaving, the old man pointed out at my mother and said, "Maa, I heard you are doing a yajna for Babu's (indicating my father) operation. Don't worry. It has been successful already."

All watched him with surprise and my mother thought, "Who is this old man? How could he identify me? The date of surgery is tomorrow. How does he say it is done successfully already?"

In any case, everyone spoke to him respectfully and saw him off with gratitude. As he left, he blessed the gathering and asked for one rupee as dakshina (offering) and then walked away saying that he had to go to the nearby Shiva temple. In a minute, he had disappeared.

During the short time he was there, our home was filled with a miraculous scent of holy ghee and every one of us who saw him can never forget the brightness of his face.

The akhanda bhajan came to an end the next morning, and by then my father's surgery had been done successfully.

The recovery was so smooth and quick that the very next day my father was discharged and he immediately rushed to the Mandir for Baba's darshan. The sevadals there actually offered him a chair but he preferred to sit on the floor of Sai Kulwant Hall like always.

The merciful Lord came slowly towards my father with His sweet smile, gave him padanamaskar and materialized vibhuti from him. Swami's loving gesture of assurance fulfilled his being. He felt as was Swami is telling him: "The cardiac disease can never affect your heart which is Swami's permanent residence".

Thrilled with His compassion, my father offered himself at the divine feet of his master.

Intimations of His Immeasurable Grace

There are two other interesting tales connected to this beautiful episode of our lives.

A few months before my father's surgery, there was a bhoomi pooja (ground-breaking) ceremony of a Sai Mandir at Tikrapara, the village we were living in then in the Balangir district of Odisha.

During the function, suddenly Swami's photo fell down, touched the akhanda deepa (lamp) and got a little burned in the exact spot of Swami's heart in the picture. The burn took the shape of a small circle in His chest area. That is the best-ever photo of Swami we had and we did feel upset about it. Nevertheless, we continue to still keep it in our pooja room at home. Only later we realised that maybe it was Swami's way of indicating how He had taken over the heart problem of my father.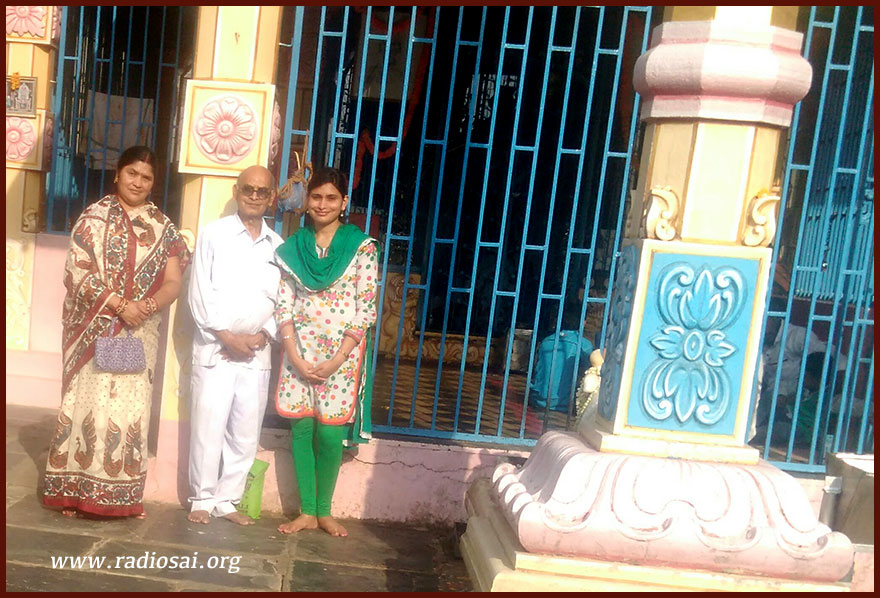 The author with her blessed parents in Prasanthi Nilayam
Another indication happened on the holy day of Sri Krishna Janmashtami about a month before my father's operation. My grandparents were ardent devotees of Lord Radha Madhav and spent their entire life in His seva. So, the next generation followed the same at our native place wherein my family took utmost care of Lord Madhav.

So on the Janmashtami day, we were all in a special bhajan at our Sai mandir. We were in bliss, lost in the enchanting tunes adoring Lord Krishna. My mother, however, was worried. She was anxious of my father's health and was praying fervently.

As the singing went on, suddenly drops of kumkum appeared in the photo right in front of her. And guess from where the kumkum emerged? Again, from Swami's heart in the photo. We now connect the dots and realise how He was constantly giving us hints and signs of His grace and protection.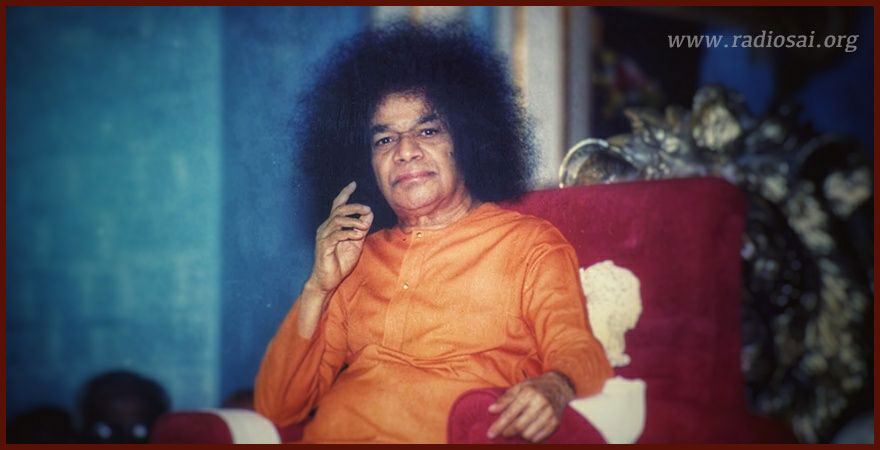 It is believed that when we look at God it is wonderful but when God looks at us, it is magical. This is how the God of Compassion as Parthi Sai in the physical form graced my father and as Shirdi Sai blessed my mother.

We are overwhelmed by Your love, Swami. Your gracious hand is always over our heads like an umbrella in rain and sun. A million salutations to You, dearest Lord!

- Radio Sai Team