| | | | | | | |
| --- | --- | --- | --- | --- | --- | --- |
| | 'Like' us on Facebook | Follow us: | | | | |
Posted on: Nov 16, 2019

President Sri Ram Nath Kovind Launches
"Sri Sathya Sai Sanathana Samskruti" in Japan
On Oct 23, 2019, exactly a month before the 94th Birthday of Bhagawan Baba, a magnificent facet of His Universal Love blossomed in the 'Land of the Rising Sun', Japan.
It marked the beginning of a monumental edifice in this island nation with the aim of suffusing this island nation with the eternal Sai values of Truth, Righteousness, Peace, Love and Non-violence.
The Honourable President of India, Sri Ram Nath Kovind, laid the foundation stone for this unique 'Centre of Eternal Heritage' christened as "Sri Sathya Sai Sanathana Samskruti".  
This massive spiritual centre, spread over 100 acres, at Sai no Sato, near Tokyo, will be completed and inaugurated on November 23, 2025, to commemorate the Birth Centenary of Bhagawan Sri Sathya Sai Baba.
"Upon completion, this centre will work in close cooperation with all sections of society, the Government, social, educational and cultural bodies… to enrich our citizens with rich and traditional cultures," said Mr Ryuko Hira, the chosen instrument of Bhagawan for this project.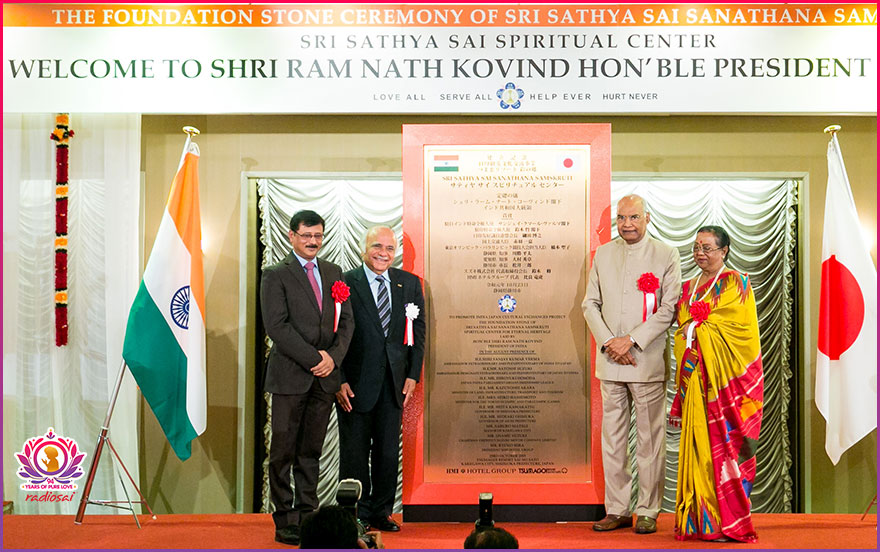 The First Couple of India with the Foundation Stone Plaque of "Sri Sathya Sai Sanathana Samskruti" in Sai No Sato, Kakegawa, Japan
The Inspiration behind SSS Sanathana Samskruti
In his address, Mr Hira also reflected on the Sai movement in Japan and said:
"Sri Sathya Sai Baba is a renowned luminary who has enlightened seekers of the Higher Self. The silent but deep and wide awareness of Sathya Sai Baba in Japan began 48 years ago.
"In my 48 years of study, I felt that Baba's practical philosophy can greatly help Japan. One of Baba's first teaching was, 'I have not taken birth to start a new cult or religion, and one should continue to believe and follow one's own God. God is One, forms are many. When you pray to any God, the prayer reaches Me.'"
Mr Hira apprised President Kovind and all the dignitaries present about his inspiration to embark on this project, and said, "One day I asked permission from my Guru Sathya Sai Baba to build His temple in Japan, He said, 'Hira, My temple is in your heart. God has no need of any temple, human heart is My temple.'
"So since then for more than 40 years now, instead of building a Hindu temple, I worked on translating Indian epics and books which created silent but important awareness of Sanathana Dharma amongst Japanese scholars, scientists and educationists."
Mr Hira indeed has been engaged in the mission of disseminating India's spiritual message through 140 Japanese translations and publications for varied sections of Japanese Society under the auspices of The Sri Sathya Sai Publications and the Institute of Sathya Sai Education in Japan.
"Sri Sathya Sai Baba is greatly interested in Indian Culture and its significance in the world," Mr Hira continued and said, "Baba's godliness and His significant contribution to the evolution of Indian Culture in the modern times has brought spiritual transformation of the Indian people and the world community."

Mr Hira taking President Kovind through a pictorial presentation of Sai Mission
The Indian-born Mr Hira, who opted for Japanese citizenship in late 1970s, is convinced that there is a need to revive and strengthen the spiritual roots of Japan.
In the 8th century, Emperor Shomu of Japan who was a virtuous ruler felt that Buddhism could bring protection, peace and prosperity to the people of Japan. In fact he became the first to rule Japan with Buddhism as the state religion.
It was because of this sacred influence that later when the constitution of Japan was drafted the focus was on moral and spiritual values. So much so that the Japanese Central Government resembled a "theocracy" with the emperor declaring himself as a servant of the "three treasures" – The Buddha (wisdom), the Buddhist Law (Dharma) and the monastic community of priests, monks and nuns (Sangha).
| | |
| --- | --- |
| | |
| | Mr Hira making the opening remarks at the landmark event |
In this peaceful nation, Buddhism flourished along with the worship of many Indian deities like Ganesha, Saraswati, Lakshmi and so on.
There was once 900 Ganesha temples and 1,86,000 Buddhist temples in this sacred land. Interestingly, the Japanese referred to India in their language as "Tenjiku" meaning, "Heaven".
However in the last 1300 years, there has been marked decline in the interest in spirituality.
It is to work towards restoring this "highway to God" and connect people to their spiritual heritage that Mr Hira launched a non-profit initiative called "India-Japan Cultural Exchanges Project".
It is this organisation which would build the Sri Sathya Sai Sanathana Samskruti, the colossal spiritual sanctuary.
The Purpose of SSS Sanathana Samskruti
Articulating its purpose clearly, Mr Hira said, "The main objective of this spiritual centre is to holistically contribute to resolving challenges in the Japanese society.
"Similar to the situation in 7th century, when national circumstances required Emperor Shomu to make Buddhism the guiding principle of state policy, this centre will help innovative scholars to reform a new architecture for national policy based on the five pillars of Sanathana Dharma – Sathya, Dharma, Shanthi, Prema and Ahimsa.
"The eternal heritage of humanity, enshrined in the vedas and other epics will immensely help to resolve key challenges of Japan, especially the reduction of huge burden of healthcare and other deficits in government expenditures of education, clean energy and environment."
This vast sacred space is to be constructed by Indian architects with Japanese coordinators, over a five-year period employing more than 20,000 Indian workers.
The temple is envisaged to even apply for a World Heritage Site status by United Nations for its architecture and the exposition of Indian heritage. It would be a one-of-its-kind spiritual tourism spot to not only study India's rich cultural contribution to the world but also for anyone to relax their body, mind and soul in its many picturesque lakes, ponds, illuminations and fountains.
It is being shaped to be the "Pride of India" and a symbol and model of India-Japan Friendship for emulation by other nations.
Highlights of The President's Address
Commending the launch of this project, President Kovind in his inaugural address, said:
"I am impressed by the conceptual thought and layout of this project. I understand that the centre would be a true representative of all faiths including Buddhism, which is a key civilizational link between India and Japan. This Spiritual Centre captures the essence of universalism and celebrates the confluence of cultures and peoples, in one and many ways. In that sense, it truly encapsulates the entire humanity.
| | |
| --- | --- |
| | |
| The President of India addressing after laying the foundation stone at Sai no Sato | |
"In today's world, where we are searching for inner peace and happiness and looking to bring communities and cultures together, such places provide us the right answers.
"We need not just one but many such fonts of peaceful existence, where women and men can contemplate about self and society, individual and community, and eliminate the distance between 'us and them'. Let us work to create that society, a society where we stand by each other, share and care for each other.
"The new areas of cooperation between our two countries such as Yoga and Ayurveda would also be represented at the centre.
"I am hopeful that you would further enrich holistic living in this blissful surrounding. This place would also provide a platform for celebrating our shared cultural heritage."
As the President concluded his speech, he added, "As you work to promote global peace and harmony, to deepen people-to-people relations between Japan and India, and to make the world a happier place, you will have my wishes and those of my people to support you in your noble path."
This was President Kovind's first visit to Japan and he took the opportunity to plant a Bodhi sapling at the Tsukiji Hongwanji Buddhist Temple in Tokyo and also pay respects at the Meiji Shinto Shrine in the capital city.
For Mr Hira, whose name is synonymous with the Sai mission in Japan, it was a dream come true, indeed a highly redeeming moment. Despite being the chairman of Ora Group of Companies in Japan which owns and operates over 50 hotels and resorts in Japan besides providing management and advisory services to another 90 hotels, Mr Hira remains a self-effacing humble servant of the Lord.
An article published in a prestigious compilation of the world's most influential Indians described him thus:
"Hira has the characteristics of the 16th century Samurai warriors who were powerful yet gentle, strong as well as kind. A Samurai is always cautious, careful, prompt and accurate. Hira with his gigantic multi-operational business empire, remains calm and composed in his actions, equally dedicated to his activities of service to mankind."
This "Sai Samurai" was conferred the prestigious Pravasi Bharatiya Samman award by the Government of India in 2010. Bhagawan blessed him to be a member of the Sri Sathya Sai Central Trust, Prasanthi Nilayam in June 2018.
For Mr Hira, the Sri Sathya Sai Sanathana Samkruti project, is nothing but another instance of His unparalleled miracle of pure love. "I am just a little actor in His play, He is the Master Director and Doer," Mr Hira submits reverentially.

Thank you and loving Sai Ram,
Team Radio Sai

What are your impressions about this? Please share your feedback by writing to [email protected] or [email protected] . Do not forget to mention your name and country please.