| | | | | | | |
| --- | --- | --- | --- | --- | --- | --- |
| | 'Like' us on Facebook | Follow us: | | | | |
Posted on: Aug 08, 2013
How My Sai Graced and Shaped Me

... through His ethereal persona, electrifying look
and the chance to serve Him

By Esha Narayanan
I am blessed. I have this great honour to write about my experience of doing Seva in the western canteen in Prasanthi. I want to thank the brilliant Radio Sai team for this. For those of you who will take out time to read this, I'd like to give a brief introduction about my induction into the Sai family and my journey to absolute faith.
My mother is the reason for my family to believe in Baba. But she was introduced to Baba by her father, my Nanaji. He was an honest, sincere and simple hearted man from Pandukeshwar, Uttarakhand. His heart was full of love for everyone. He was happiest in others' happiness and saddest in their grief. His only wealth was love because of which he found Bhagawan Baba.
My grandfather was first introduced to Baba when he was posted in Dimapur, Nagaland, North East India, as an officer in the border roads. He was told that Baba was this 'Swami' from South India whose voice was very sweet, like one never heard before and that he did not walk but glided like a heavenly being.
How it all began
| | |
| --- | --- |
| | |
| The author's grandfather during his younger days | |
This piqued my grandfather's interest and so he tried to find out more. When you take one step towards God He takes a thousand towards you. And so, like they say, what happened next is history! There was no looking back from that day onwards.
He read plenty of Sai literature and realized that Swami was no ordinary miracle man. He was God Himself, and blessed were the ones who worshipped Him and looked up to Him. Many miracles happened with him that filled his heart with unfathomable love and trust towards Bhagawan Baba. He passed on his absolute faith and pure, unadulterated love for Swami as his legacy to his four children. And by Baba's grace, they all believed him without doubts and became Sai devotees as well.
Grandfather Feels Fulfilled

While my grandfather started believing in Swami, it was a while before he actually had darshan. It was in 1970s when Baba came to Delhi that he first saw Him. But my grandfather could unfortunately never visit Prasanthi Nilayam in his lifetime. But thanks to him, his children, grandchildren and great-grandchildren had the good fortune of visiting Prasanthi Nilayam and having Baba's darshan. But Swami in His own way satiated my grandfather's deepest desire.
One day Baba Himself gave him darshan in Nagaland. Yes! My grandfather was travelling with many officers in a jeep and in front of them was a car. He clearly saw that Baba was there, comfortably seated in that car! Physically Baba was in Prasanthi then. It was a rare experience of divine omnipresence.

Enchanted to the Hilt by the First Darshan
I first visited Prasanthi Nilayam in early 2000. I remember seeing Baba from a distance in the Sai Kulwant Hall. I was 13 then. I was in awe of how swiftly He walked, as if it took no muscle to put one leg in front of another, as if the ground under His feet was not concrete, as if He was gliding over clouds. In retrospect those darshans now seem like a surreal dream.
He was like an angel among humans with the thick foliage over His head, encompassed with a gentle light. His hand gestures were like an art form difficult to master without inherent grace. Till today I haven't seen anyone so graceful. I remember crying for no rhyme or reason, when I saw Him.
I was a kid without any understanding of spirituality whatsoever. Baba was a distant entity for me, someone I prayed to when I hadn't done my homework or performed horribly in a class test. But when I saw Him, something stirred in my heart and tears flooded my eyes. He was walking-talking magic!
The Second Visit – Seeking Him Within and Without
The second time I came to Prasanthi, it was for the festival of Shivaratri in 2011. My mother and her sisters had been visiting but I did not figure earlier in their Parthi pilgrimages. After a long gap of eleven years I returned to Prasanthi. This was the turning point of my life.
I was 24 now and had experienced happiness, grief, loneliness… I had been contemplating over what life really was all about. What was our true purpose? What happens when we ultimately quit the world? These questions had popped up in my head when I was a kid as well but simply as passing thoughts. But now these questions had become regular and were affecting the way I operated amongst people as well.
When I finally saw Baba that year, I cried yet again. I regretted being away for more than a decade. I regretted not seeing His beautiful form for so long.
The Most Traumatic and Transforming Experience
The next time I saw Him He was in a transparent cascade surrounded by people. Prasanthi was full of people, people and more people... grieving people, hysterical people, shocked people, lost people, orphaned people. The news of His Samadhi came to me as a massive shock and we flew to Prasanthi Nilayam that very day. That was the worst time of my life. I had thought that I'd make up for the eleven years I did not visit Him but He was gone already!
Since then I haven't been the same person anymore. I was a hard core non-vegetarian but quit non-veg the day He took Samadhi. Nothing in this world has had such an impact over me.
On the eve of Shivaratri, He had looked into my eyes during the darshans… it was a two-second glance but it changed my life completely. I hold that glance in my heart like a treasure of an ancient era held in the depth of ocean. It was as if all the names and forms people pray to, had looked into my eyes in one go…Krishna had looked, Jesus had looked, Allah had looked…. The cosmos had looked.
Finding Him Through Service

Ever since His Samadhi I have been frequenting Puttaparthi. I only ask for one thing – 'Baba, give me the courage and the strength to follow Your teachings and be of some use to mankind'. And He has been giving me the strength and the courage.
To be very honest I was always a very lazy and undisciplined person. I was a dreamer, a thinker but never much of a doer. I always wanted to be an artist as I sketched well but became an apparel designer. Baba fulfilled my dream of contributing as an artist by bestowing over me the honour of contributing to His prestigious organisation; I illustrated for a few articles in Radio Sai (THE WISDOM IN HOT CHOCOLATE), deriving tremendous pleasure out of the task.
Earlier this year (2013), I decided to do Seva in the western canteen again as I had done before. It was during the time of the Aradhana Mahotsavam that I came to Prasanthi Nilayam. The shrine at the western canteen is always decorated with rangoli. Call it coincidence (or Sai-incidence) was that the lady who used to put the rangoli went back to her country for a few days. And I had come looking for seva at that time and unexpectedly got this task suitable to my talent. I made a lot of rangolis at that wonderful shrine.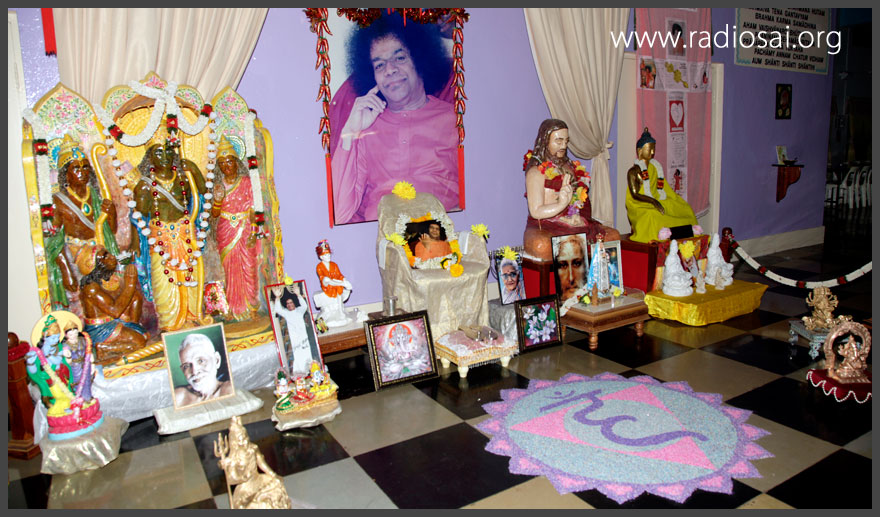 The rangoli in the western canteen altar on a normal day; on festival days it is elaborate and very colourful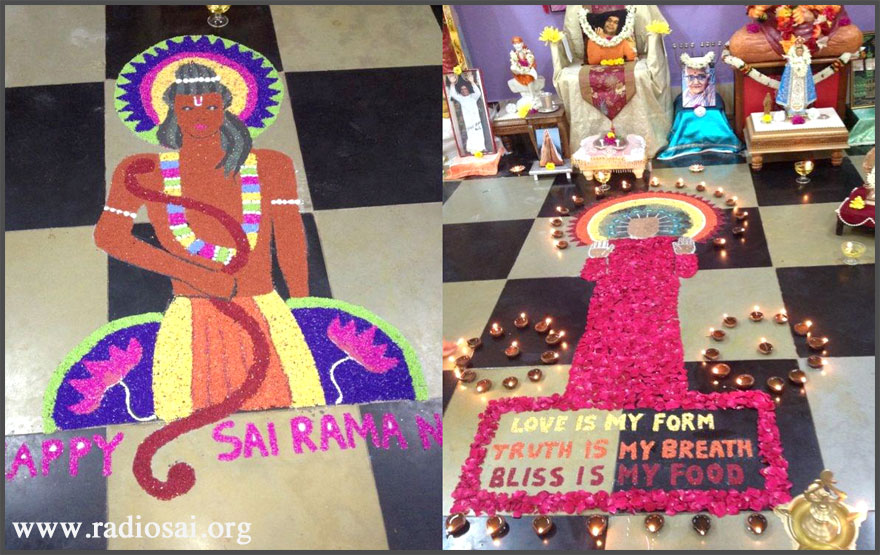 The rangolis done by the author during Rama Navami and three days of Guru Poornima celebrations. The first day was yellow (with yellow flowers), the second with red (red flowers - as you see above) and on the third day Bhagawan's robe was made with white flowers.
The experience of sitting there, listening to the tracks of Sonja Venturi (an Italian devotee who has recorded beautiful Sai bhajans) and making the rangolis in the honour of Bhagawan Baba was electrifying. I had never before used my creative energy in the dedication of the Lord. People from different parts of the world interacted with me. It was wonderful to see how all of us, speaking different languages, were connected to one another by just one name – Sathya Sai. That's when I truly realised the grandeur and magnetism of Bhagawan Baba; if He wants He can make the entire world His devotees with a snap of His fingers, but He has other plans I guess.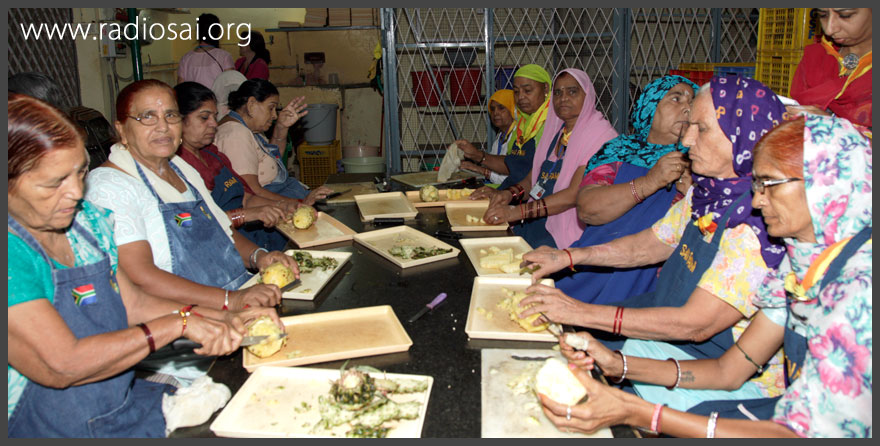 The sevadals in the western canteen; this time it is the devotees from Haryana, North India, offering their service
Seva is a great addiction. Baba's organisation is a great addiction. Once you get in, it you will not rest until you get back to it. And I returned yet again. This time (July 2013) He gave me the courage to wake up at 4 AM, to do seva at the western canteen from 5 AM to 11 AM. This came as a big shock to my family because I'm a 'sleep late wake up late' type of a person. It's an old habit, clearly dying at the pace of a snail. In N.I.F.T. (my college), we worked whole night to complete our assignments… Artists become more creative late at night for some strange reason, so the habit remains with me.
But in Prasanthi Nilayam everything gets straightened. There's something in the air. The spirit of the devotees, the spiritual vibes, Baba's love and divine energy is everywhere in the air. It lifts your spirit as well, making you do things you think impossible.
| | |
| --- | --- |
| | |
| | Volunteers from all corners of the world lend their helping hand in the western canteen |
My mornings began with the service of Baba. What could be a better way to start your day? The Sevadal from Himachal Pradesh used to be present during those early hours. It was an absolute joy to work with them. They sang fabulous bhajans in their wonderful mountain-kissed voices.
Filling buckets with chopped tomatoes became a surprisingly enjoyable task (usually at home chopping even one tomato appears boring). During the work, I must have cut my fingers with the knife several times. But I kept coming back to do seva, bang on time, as if cutting my fingers was an activity I had been waiting to do all my life! The joy was inexplicable.
The lady who was in-charge of the vegetable department did not speak English. She had come from Venezuela but spoke Spanish and gave all the instructions in that language. Somehow I knew what she was trying to convey. I found that very amusing. 'There is only one language, the language of love' as Baba says.
One day devotees from Indonesia were also present to chop vegetables. They too spoke no English or very little English, but sang wonderful Sai bhajans. It is very difficult to express in words how it feels when hearts from across borders make connections even when words fail.
I remember a performance by the Mexican devotees in the honour of their Guru - Lord Sai. This happened on July 23, 2013. Though they sang in their language, their devotion was so powerful; it hit me in that spot of the heart where God resides. I wished they'd go on and on...
I saw children of my age from Russia dedicatedly doing Seva. I saw many people from various parts of the world with the same name on their lips - 'Sai Ram'.
| | |
| --- | --- |
| | |
| The devotees from Mexico singing their heart out.... Guru Poornima Celebrations, 2013 | |
I consider this a rare privilege, to witness a glimpse of the Sathya Yuga (Golden Age), where borders will not make us hostile towards one another, where all shall live in love. Being in Puttaparthi gives you this rare privilege of witnessing Baba's grand plan for the world. Staying in Puttaparthi for a few days, walking on the soil where Bhagawan Himself walked, breathing the air which the Lord breathed for 85 years, singing bhajans with His wonderful students is an honour. In fact it is the greatest of all honours.
The Bliss of Being in the Divine Hamlet
I request young Sai devotees to come to Puttaparthi and experience Baba's presence as much as possible so that you can carry the experiences back with you. It is these experiences which will change the way we think and operate. It will give us greater ideas and inspirations. It will make us better people. We will make a difference to the world - of this, there should be no doubt. We should make the most of the opportunity Baba has given by putting in front of our eyes the replicable example of ideal living.
Even though I dearly miss our Beautiful Lord, I can feel His presence everywhere in the world. The experiences of other Sai devotees are also the same. They have felt His presence at the most unexpected of places. The Man of Miracles, the Greatest Being lives on… And for those of us, who cannot make it to Puttaparthi for whatever reasons and do feel bad about it, I want to quote a text from one of the books on Sai, my grandfather owned. He loved Baba dearly and perhaps derived inspiration and strength from this quote. He had marked in one of his books:

"One who practices bhakthi (or develops devotion) is like a person traveling by air, the Name of the Lord transports him in no time."
Jai Sai Ram.


What are your impressions about this article? Please share your feedback by writing to h2h@radiosai.org. Do not forget to mention your name and country.