| | | | | | | |
| --- | --- | --- | --- | --- | --- | --- |
| | 'Like' us on Facebook | Follow us: | | | | |
Posted on: July 13, 2013
In a recent interview, the All India President of the SSSSO (Sri Sathya Sai Seva Organisation) Mr. V. Srinivasan brought Radio Sai's global listeners up-to-speed with the organisation's relief and rehabilitation efforts at Uttarakhand.


Here are select, edited excerpts from Mr. V. Srinivasan's conversation with Radio Sai's Karuna Munshi that was recorded on July 8, 2013.
Sai Ram! As you know the flash floods in Uttarakhand started on June 17, 2013. Such a tremendous and unexpected disaster has not been witnessed in recent history. It struck in a part of India which we do not typically associate with these kinds of disasters. We have seen earthquakes, tsunamis, fires in various places, and the floods in Orissa, but not in a constricted area, as the high mountains of Uttarakhand.

The Sathya Sai Seva Organisation of Uttar Pradesh and Uttaranchal, now called Uttarakhand, has a common State President. Just as the disaster stuck, we discussed how to immediately mobilise relief and to their credit, the state Sai Organisation had started even before we had this conversation and our immediate focus was on the thousands of stranded pilgrims.

Hostile Terrain, Peak Pilgrim Season, Rough Weather Result in Access Nightmare

This happens to be the time of the year for the 'Chaar Dhaam Yatra' (annual pilgrimage to the four sacred spots in the Himalayan ranges) and thousands of pilgrims were stuck in different places. We wanted to help them with food, blankets, medicines and such items immediately but one unique challenge which we were confronted with and we continue to face in Uttarakhand is that of access.
Many of the limited roads in that mountainous topography have got washed off. Even in the best of times they were quite narrow and never really suited for large traffic. The enormity and the gravity of the calamity and the lightning speed with which it struck the region left the local administration overwhelmed; their first response was to restrict access for everybody. So they would not even allow the Sathya Sai Organisation volunteers to go even if they wished to go by foot carrying relief materials. I don't need to say much about the wonderful work done by the Indian Army and the Air Force. I think the largest airlift for rescue operations in recent history has been successfully executed by our defence forces, many of whom have risked their lives in the process.

Quite a few died in crashes due to the poor and fickle weather conditions. And this being the monsoon season, apart from the severe fog and strong winds blowing through the narrow valley, you also have heavy rains to deal with. Flying a helicopter in such conditions feels like flying through a chimney, with strong winds blowing from side to side.

Our jawans (army personnel) have done a magnificent job and if they had not been involved, I do not know where this disaster would have gone.
First Goal – Serving Stranded Pilgrims

We established a liaison with the defence forces and got permission to move into certain areas and this helped our volunteers to carry relief material to those who were afflicted.
In the first part, our attention was on serving pilgrims at the places where they were stranded before evacuation, but later we found that these pilgrims, even after evacuation were getting stuck at the Jolly Grant airport, in the bus station at Rishikesh and in the railway station at Haridwar. This was because, the numbers were far more than what could be accommodated by the available means of transport, be it aircraft, buses or railways. So immediately, we set up relief camps at these three places too – i.e. the Jolly Grant airport at Dehradun, the bus station at Rishikesh and also outside the Haridwar railway station.

Biscuits, Blankets, Water and Cell Phones
Our camps offer all kinds of relief, because many of these people had lost everything and came empty handed. They had nothing to eat. We gave them not only cooked food, but also clean water, biscuits, clothes, blankets, and most importantly, and I must congratulate our volunteers for this bright idea, they gave them cell phones. This enabled them to reach out to their loved ones who were terribly worried about them. This thoughtful gesture reflects the ingenuity of our youth, their out-of-the-box thinking.

As the attention was on satisfying their hunger immediately, all food that we distributed was ready to eat. Those who were sick with diarrhoea, upset stomach, chills, and fever were looked after by our doctors and the prescribed medication were immediately dispensed from the stock of medicines which were also part of the material that was taken there.
Reaching Those Stranded In Higher Regions
This was the first phase where we looked after the pilgrims who were coming out, but there were still some who were stranded in the very high regions, like those beyond Joshi Math. Access to these places is impossible even now, and there have been heavy rains in the region once again on 4 July because of which, many of the just restored roads have also been washed away. Access is a continuing challenge we are facing.

We quickly realised that this evacuation of the pilgrims would get over soon and we have to pay attention to the villagers who had also lost everything including their homes in the disaster. Many of them were not willing to leave their places and so without shelter, they are stuck at the mercy of the elements.

Rescuing Local Population
We brought in several dozen water proof tents which we set up as a temporary shelter for these people. So now the relief operations are being targeted towards those who are the residents of the affected areas and not only the pilgrims as such. This relief which we are providing them with includes, apart from the tents, a sealed bag containing ten kilograms of flour, five kilograms of rice, two kilograms of dal (lentils), two kilograms of sugar, ghee (clarified butter), rusk, masala (spices), refined oil, candles with match boxes. We also are giving them blankets, cooking utensils, steel plates, buckets and mugs, and again something which is most useful during the dark nights - special solar lanterns which are engineered to charge even on cloudy days, so that in the night they have some source of light. And naturally we have distributed photos of Bhagawan and vibhuti packets to all these people which they have received very gratefully and this is continuing in many of the areas.

With the permission of the Defence forces, our Seva Dal are moving by foot and we have some trucks ready - the moment the roads are at least partially opened, we want to move more materials to these villages because as I mentioned the local people are not willing to move from there. They are so attached to their homes where they have lived for decades and they don't want to vacate the site. It is also because they are afraid that somebody will encroach upon it and they will not be able to come back to where they have lived for generations.

Immediate Relief, Long Term Rehabilitation

All this is a part of the relief operation but not the entire plan. Right from the beginning we felt that our activity in Uttarakhand has to have two parts, one is relief and the other is rehabilitation.
Now the rehabilitation is something which we are looking at and I think the Sai Organisation was the first to talk about rehabilitation, rather than just about relief.

Rehabilitating Homeless & Orphans
What is this rehabilitation? There are thousands of orphaned children - what are we going to do for them? The government has announced lots of initiatives to help these orphaned children and we have to see that we tread carefully so that we are not held in violation of the government guidelines.
| | |
| --- | --- |
| | |
| Sri Sathya Sai Vidya Vihar, Rishikesh | |
As you may be aware, many years ago, Bhagawan had set up the Sri Sathya Sai Vidya Vihar at Rishikesh. Just three months ago, I was there in April to inaugurate the new hostel building, a beautiful structure, as is the entire school complex. Who knew that this was going to happen?.

With His grace, our facility is quite safe as it is not right on the river bank. It is slightly away from the river. Within a few minutes' walk, you come to the river bank and you can see Mother Ganga. There is a highly dedicated and competent lady – Mrs. Bishnoi, who along with her husband runs that place and they have devoted their lives to it. That school is working on excellent standards and at that time (in April) we had also organised a retreat for youth of the Northern region in the school itself, which incidentally also has an excellent auditorium.

During my visit in April, I did manage to visit the Parmaarth Ashram where I met Swami Chidanand Saraswati who was most gracious to us and had also come to Sathya Sai Vidya Vihar to address all our youth. I was also at the banks of river Ganga, near that tall Shiva statue of which you would have seen many pictures – it is now submerged almost to the neck due to the floods. I vividly recall the time I spent there so recently, and now when we see the raging torrent – one wonders how quickly everything has changed!
A Second Chance Through Sai Love
What we are planning to do is to see whether we can take some of these orphaned children into the Sathya Sai Vidya Vihar at Rishikesh and some of our other Sai schools.

We run one hundred Sai schools across the country where we have 55,000 students. So I think it would be Bhagawan's will that some of these students are admitted into the Sathya Sai schools and get another chance in life.
Constructing New Homes, Respecting Ecological Considerations
The second aspect of this rehabilitation is going to involve reconstruction of the houses. Now we do not want to get involved in the construction at the same site where the original houses were constructed, because many of these were right on the banks of the river and that is why most of them got washed away. In fact, some of them were unfortunately constructed on the river course – a mistake that must not be repeated. We want to pay the greatest emphasis on ecological considerations and we feel that while we may not shift any places of worship, the houses must be constructed some distance away from the banks of the river so that they do not suffer the same fate ever again.
Coping With A Short Working Season
We are now in the planning process, and we are looking at different options available for construction in these conditions. We also have another challenge. The working season in these mountains is very short – from August till about the first week of November.

So now is the time we have to do something. After a while everything shuts down for almost six months because of the arduous winter the Himalayan region experiences. As a result of all these considerations, we are looking at non-conventional methods of construction.

As you know, Bhagawan had graciously constructed a thousand houses for the flood victims in the villages of Orissa. Out of His compassion, Bhagawan had given specific instructions that the houses should be constructed on higher terrain and the plinth should be at least two and half feet above the ground level so that water will not enter anytime in the future. I must say the first seven hundred houses have now passed three monsoon seasons without any problems.

This work gave us a lot of experience in rural house construction. But the situation and topography in Uttarakhand is totally different.

Replicable, Non-Conventional Building Options Being Considered
| | |
| --- | --- |
| | |
| | One of the houses constructed for the flood victims of Odisha |
Firstly, there is the tremendous problem of access. How do we move cement, sand, steel etc.? Then there is a very short working season, and finally the non-availability of regular skilled workers like masons, plumbers, carpenters, fitters etc.. So we have been looking at non-conventional solutions using pre-fabricated methods for construction. We now have two interesting options. I had a detailed meeting day before yesterday with the engineers who brought these ideas and we are looking at it in greater detail and we feel at least one of them would be suitable, and we hope that if we get the green signal we will be able to complete about four to five hundred houses in this working season.
Offering No Strings Attached, Immediate & Sustainable Help, Sai Style
I am sure nobody else will be even making a start at this time. One point that Bhagawan always used to make - whether it is His hospitals, University, or the Sai water project, He always said that He was doing these things in order that they serve as models which can be replicated. It is that people working together can achieve what is seemingly impossible and we do not have to look to the government for everything. In keeping with that adage, our idea is that we should create something which is going to be a model. The overall problem of rehabilitation and reconstruction in Uttarakhand is enormous and the kind of numbers which have been declared are totally inadequate. The problem is far more serious and it is going to require not only the assistance of various state governments and non-governmental organisations, but the central government too has to get on a war footing. Otherwise the people of Uttaranchal are going to suffer and they are our brothers and sisters and we cannot abandon them. So what we want to do is to create a model which can be replicated and we would like to do this as fast as possible.

Large Expenditures Call For Central Trust Backing

I am going to be discussing the rehabilitation proposal with the Sri Sathya Sai Central Trust because it is going to require considerable outlays of funds which are beyond the capacity of the Sri Sathya Sai Seva Organisation.

The ground rules are that all the immediate relief operations will be undertaken by the Sri Sathya Sai Seva Organisation. But the long term rehabilitation work will be taken up by the Central Trust, if the Board of Trustees approve it and I am quite hopeful it would be. At our upcoming meeting, I hope to present a detailed proposals to the Central Trust, and once it is approved by the board, we can start the reconstruction and rehabilitation immediately.
I want to give Radio Sai listeners a feel for the geography and some of the places involved in this work. We are working in the village called 'Guptkashi' which is near a place called Agastya Muni. The villages where we are supplying a lot of relief include Vijay Nagar, Chaka, Jawahar Nagar, Chandrapur and Ganga Nagar. Our Seva Dal are reaching these places by circuitous routes because the direct routes has been washed away. They have to go round about to reach these villages to distribute the relief material.

Many of them are carrying the relief materials on foot in backpacks because till the roads are restored, the only alternative is to transport it through mules and by foot.

Voluntary Participation By Indians
Now coming to how people can contribute and participate - as you know, the Sri Sathya Sai Organisation never makes any appeal for funds; Bhagawan had been quite categorical on this. But those who wish to do it by themselves without an appeal for such kind of funds can participate, if they feel inclined to. The Uttar Pradesh Trust has opened a separate bank account for receiving all donations for this relief work. All the banking details are on the website of the Sri Sathya Sai Seva Organisation (also given below).

| | |
| --- | --- |
| Name of Account | Sri Sathya Sai Trust, U.P. |
| Bank Name | Indian Overseas Bank. |
| IFSC Code | IOBA0001458 |
| A/C No. | 145801000000999 |
| Branch | Muni ki Reti, Rishikesh, Uttarakhand, India. |
Foreign Contributions
One main point I wanted to clarify is that contribution from abroad cannot be made into the Uttarakhand/U.P. account because that trust does not have permission yet from the Central government to receive funds from foreign contributers.
The International Organisation has been in close touch with me, and I have told them that their members and devotees who would like to contribute, should send such funds to the Sri Sathya Sai Central Trust which is authorised to receive foreign contributions. They can make specific request that these contributions should be used for rehabilitation and relief work in Uttarakhand.

The International Chairman has already issued a circular to all the Sathya Sai Centers all over the world that any such funds should be sent only to Sri Sathya Sai Central Trust and not directly to any individual in India or to the Sri Sathya Sai Seva Organisation in India.

And those who are abroad, should direct it to the Central Trust for the Uttarakhand rehabilitation work through their Sai Centres. The Secretary of the Sri Sathya Sai Central Trust can also be reached at [email protected]

Bhagawan On Human Greed Versus Nature's Fury
I would like to just add some thoughts on what Bhagawan has been saying about man's harmony with nature.

He had said that humanity continues to contradict the dictum of harmony with Nature, we abuse nature, and if continue to be driven entirely by our selfish interest - Nature will retaliate.

And this is not happening only in India but all over the world. The kind of floods we are seeing in Europe, Canada, China ... this year the Danube had the highest floods ever in Europe and we see forest fires in so many places..... because man is living in disharmony with Nature and if we are going to always be driven only by our selfish interest, without any thought for the preservation of the ecology and the diversity of life, then we are going to pay a price. Not only in some distant future, but more immediately in this generation itself. We are going to experience her fury right now and also leave a terrible legacy for the children, if we continue to violate nature.


Bhagawan had repeatedly stressed to not look only on the material side of development. Development has to be holistic – it cannot only be material development. It requires social and spiritual development; it requires compassion, love, service – these are the factors that have to be considered rather than just looking at how to create more wealth, and that too wealth that is not uniformly shared.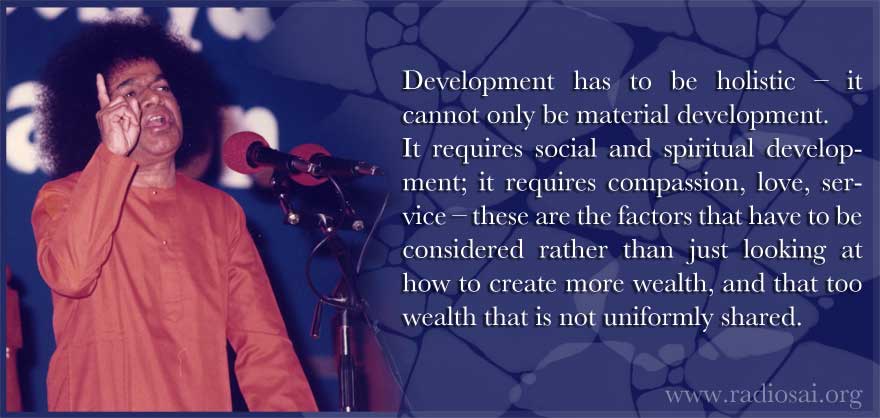 Even if wealth percolates down to the common people, due to their so called education they are wrongly oriented to acquire more desires and possess things which they do not need, rather than pay attention to the preservation of their values and cultural lifestyles. I thought this is something which we as Sai devotees should pay attention to.
Each one of us should look at how we limit our desires. We cannot talk only about others. We have to make a beginning ourselves. Sai Organisation now says that we transform lives by first transforming ourselves - if we do not transform ourselves, the world will never transform. These are the thoughts I would like to leave all of you with. I hope to keep all devotees updated about the efforts going on in Uttarakhand in the future as well. Sai Ram


For more details about this initiative, and the Sathya Sai Seva Organisation, India,
in general, visit the new website ssssoindia.org.




What are your impressions about this article? Please share your feedback by writing to

[email protected]

. Do not forget to mention your name and country.