| | | | | | | |
| --- | --- | --- | --- | --- | --- | --- |
| | 'Like' us on Facebook | Follow us: | | | | |
Posted on: Nov 25, 2013

My
Birthday
Offering
to Swami!
The Radio Sai Team is glad to inform the readers, especially all those who contributed to the "My Birthday Offerings" initiative, that with Bhagawan's blessings we could offer all our prayers at the Maha Samadhi, on the morning of 23 November. The card containing the resolutions and pictures that was offered to Bhagawan can be seen below. We would also like to inform all our readers that though a few of the entries might not have been posted on our website, all were offered to Bhagawan as they were sent to us.
Even as we thank Bhagawan for this opportunity and His love, let us all spare no efforts in achieving these resolutions. What we have offered to Swami as resolutions this Birthday, may we be in a position to offer them as promises fulfilled on the next Birthday. Jai Sai Ram.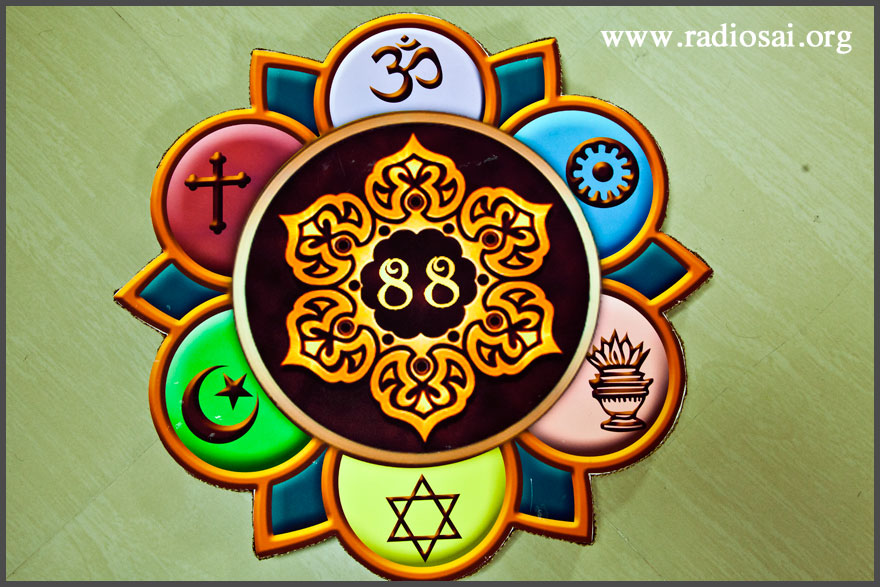 Birthday Offerings from Devotees

NAME

PLACE

OFFERINGS TO BHAGAWAN

Sai Gayatri


Irving, Texas,
USA

Visalakshi Nadella


Vizag, India

Kaushal C Bhamuvani


Bangkok

Ayyagari V Aditya


Denton, Texas, USA

Shiva Nagakumaran


Toronto Ontario,
Canada

Dr. Malathi Paidi


Srikakulam, AP, India

Jegadeeswaran


Chennai, India

Saraswathi Sundarakrishna


USA

Irina Kavi


Dalmatia, Zadar (Benkovac),Croatia

Renuka Patra


Riyadh,Kingdom of Saudi Arabia

Sreedhar Reddy


Pune, India

Here are 9 pearls which i want to offer to our beloved Swami's feet for the 88th Birthday.

1) Love for Swami : Have relationship with Swami (friend, mother, father), Share problems with Swami. Chant Vedam (rudram) daily. Follow/practise Swami's teachings. Practice bhajans.
2) Silence: Maintain silence, Speak, when it is really necessary, when it is true, when it is kind.
3) Don't criticise, hurt/injure others, don't find fault with others.
4) Maintain physical and mental strength to do the karma by this body.
5) Improve concentration in work and studies.
6) Shouldn't commit wicked deed; don't think about sinful acts involving a woman.
7) Don't waste time, Don't waste money, Don't waste energy, Don't waste food unnecessarily.
8) As is the food, as is the head - having proper good food.
9) Leave entire control to Swami to take care.

Mala Prabhu


Kingdom of Saudi Arabia

My birthday offering to Swami is to pray for Justice to the entire mankind - for those who suffered injustice which is the root cause of many diseases - and make them happy. I will be very happy when everybody in this universe gets justice.

Swami says, your happiness is My food. Swami please bless me to do this sincere prayer and make the world happy and free of all diseases.

Kalyani Vegesna


Hyderabad, India

My humble pranams at the lotus feet of our Mother Sai.
Swami, each and every second of my life so far is dedicated to You.
You make my life complete. The feeling I get when I do altruistic activities in Your name satiates me completely. Give me strength to do more of such activities in the future. You are with me and will always be with me my lord..forever and ever.

Happy happy Birthday Baba. Happy Birthday. Talli Tandri Guruvu Daivam... Baba Happy Birthday. Manmandir me deep jalavo Baba. A very happy Birthday Swami. Love You so much!

Chhottey Lal Mirakhur


I shall add 'feelings' with my every act in general & with my Bal Vikas coaching in particular. I shall strive to add more taste to my Bal Vikas coaching through the feelings of my reciprocation of love towards our sweet Swami. I consider these children numbering 200 in 4 rural centers as gift of Swami to me. Let me see Sai in them.
I shall ever remind myself of Swami's assurances:
1. I shall be always be with you! (Keeping His right arm around my shoulder on 28-1-1976)
2. Swami's other assurances for bhaktas - 'I am always looking at you from the eyes of My heart. I will destroy the evil in you. I am never angry with you. I alone carry the burdens of your worries & tears. Give up your desires, all your tasks & all your duties will become mine. I have sent you to fight the battle of life in My chariot with My horses, and with Me as your Charioteer. The moment you think of Me, I am by your side to guide you through your confusion. I always respond to prayers instantaneously. When you do not receive what you want,I have responded like that, for your own welfare! I am never deaf to your requests. I know every part of your life, the lives of your past and the life to come. I always prepare you for that!'
Lastly I shall step up my prayer to dear & Sweet Swami to make me worthy of all this grace.

Pentiah Adiraj


Mauritius

Dear Beloved Lord, allow me to rely on You as My best Friend, my only Refuge, ever ready to answer my call and waiting for me at Your doorstep.
Guide and guard me so that I can always engage wholeheartedly in good work.
Bless me with the strength to be the ideal of being a simple, humble and loving devotee of Your teachings and Your Love.
So dear Lord Sai, let me nurture faith in You and make it strong enough to feel Your presence at all times, being in harmony in thoughts, words and deeds as You like it.
I know You will take me and all others to Spiritual transformation and the right destination.

Sai Janaki Kirthna K


New Delhi, India

Dear Swami,
One change I'd like to bring into my life from now on as an offering to You on Your Birthday is that, whatever I do, I will do it for You and offer it to You be, it my studies, going for bhajans or doing service. I'll concentrate on You during bhajans and sing wholeheartedly, rather than letting my thoughts wander.

I feel if I offer everything that I do to You, I'll be able to find a companion in You who'll be there with me all along, throughout the day.

Krishna Kalyani B


Dalmatia, Zadar (Benkovac),
Croatia

Dearest Lord, Happy Birthday :) Please accept my humble salutations Swami.
I have only one wish and that is to be Yours. Swami please give me strength to overcome my weaknesses. Henceforth I shall do my work with love and devotion and offer it at Your lotus feet.

Sujata Krishnamurthy


Kharagpur, India

Sairam, It is my greatest pleasure to connect to Radiosai through such a unique and wonderful programme on a very very special occasion. I always start internet computer with The day's Sai Inspires, for which I got a wonderful life-time achievement gift from Baba through Radiosai. I am asked for my resolutions. They are:
1. chanting Sai Suprabhatham, Vedas, and of course Gayatri Manthra by 5.45a.m.
2. Either listening to or singing Baba bhajans for sometime of the day.

I am thankful to my husband for providing me with internet because of which I got this gift. This gift has brought everything new in the life of my children, husband, friends and in my surrounding. I am sending my heart through this letter to be placed at Baba's lotus feet. So kindly handle it very carefully. Radio Sai is helping a child reach its Mother. You are helping a thirsty person drink nectar. This offering of Radiosai will make my prayers more and more meaningful day by day. You saved humanity with your offering.

Long live Radiosai. Jai Ho Radiosai. Jai Sairam

Irina Kavi


Dalmatia, Zadar (Benkovac),
Croatia

Pooja Sawhney


Hyderabad, India

Loving Sairam. On this happy and holy occasion of the Birthday of our beloved Lord, I first wish Him a very happy Birthday. Swami beautifully says, that He is always happy and He wants us to be happy. As an offering to Bhagawan, I would put in all my effort to stay happy since He has blessed me with everything in my life and I have all the reasons to be happy. I would begin this journey of being happy by consciously having a smiling face and spreading smiles everywhere.
Another offering I would want to make is, to put in all my effort to respect, obey and value His words. I mostly communicate with Swami through the chits placed in our altar. From now on, I would make a conscious effort to not just seek His advice and guidance but to follow it and act upon it. It is by respecting, obeying and valuing His word that, we value and love Him.
Dearest Swami, I humbly pray to You to give me the strength for putting in the required effort consciously and consistently. I also offer my heartfelt gratitude to You Swami, for being in our lives and for giving meaning, purpose and value to our lives.

PreenaGopinath


Alkhobar, Saudi Arabia

My Pranams and love to my Swami. You have always taken care of me (us). I have always only been asking till date; but now I want to give You something and that is a promise. I promise to stop asking, "Why?" Keeping the complete faith in You that You will do the best for me (us..my family). I know its solely my effort to keep to my promise but then everything happens as per Your will is my belief; including my writing to You this. So help Your child be successful in keeping the promise and thereby strengthening my faith.

Viji Sridhar



New Delhi, India

My humble pranam to Swami. My heartiest Birthday wishes to You. On the eve of Your birthday, I will try my level best to follow Your teachings like, love all and serve all throughout my life.
Please be with my family always, hold our hand and guide us.

Prakash Reddy K


Mysore, India

What can I offer You when You have given me everything and You are the reason for whatever I am today! Dearest Father, on this great occasion of Your 88th Birthday, I wish to take this resolve that I will try to avoid feeling jealous of others and I would like to stand strong in my resolutions. Swami, please be the lighthouse for my life and let Your love and teachings guide my life.

Gopinath M


Singapore

My humble pranams at the lotus feet of our beloved Swami! Swami, I did not know that You were present with me in every step of my life.
I pledge from now on I will become a vegetarian and non-alcoholic and take to the spiritual path. Please give me strength, and purify my heart and mind.

One tree can start a forest,
One smile can make a friend,
One touch can show us love and care
And You make my life worth living, Dear!

Happy Birthday my beloved Lord.

Viswanathan K


Mumbai, India

I will work for completion within. By that alone I can create a space for Swami within. If I create a space for Him, all that will happen in my journey towards His aboard will be perfect.

Balamurugan Rangaraj


Dear Swami,
Humble Pranams at Holy Lotus Feet. Kindly help me in increasing my surrender in You (The One). This will definitely transform my life quickly.

Himaja Mallampally


Baltimore, Maryland, USA

Dear beloved Swami,
My resolution for Your birthday is to listen to my mom. I also want to be organised and finish all my homework and manage my time. I hope that I will stick to this resolution and I wait impatiently for Your blessings.

Dr.Suresh Babu Chaduvula



Abha,Kingdom of Saudi Arabia

On the occasion of Swami's 88th birthday, I have taken resolutions, to become a good human being, good father, good husband, good son and good citizen.
I also would like to contribute financially to poor, needy, orphans and old aged people.
I also would like to support financially our Radio Sai Global Harmony for spreading Swami's information all across the globe for transforming and consoling many hearts and drawing them towards Swami's mission and vision.

Marcia Doria


Rio de Janeiro,Brazil

Beloved Bhagawan, I cannot offer anything, as everything is Yours; please let me treat everyone as Yourself, to make You proud of me!

Harini Sankar



Riyadh

My Dearest Sai Maa,

My koti koti pranams to my dear Sai Maa.
How can I restrict my words to just 300 when I speak to You my dear Maa? Every single step I have taken is because of Your mercy and abundant grace Swami.

I wish and aspire to be a clay in Your hands so that You can mould me the way You want. The trait that I wish to do away with from this minute is - finding faults with others. I wish to talk less, talk more lovingly and patiently. I wish to stay connected to you 24/7. The Maypole tool taught to us by Phyllis Krystal is one of the greatest blessings in my life. I wish to practice cutting ties symbols and lessons learnt more and more, for You have assured us of liberation from our vasanas and births. I aspire for liberation, please make me worthy of it. Always continue to guide me and make me Your worthy instrument. Please give me more and more opportunities to work out my karmas and merge into You. Help me see You in everyone Swami. I thank you immensely for all that You have given me in life, I shall strive hard to be Your loving child. I offer my two children to serve You Swami, they are Yours, You take care of them.

Love You so much my dear Maa.

Sricharan


Riyadh

My Dearest Swami,

I do not want anything from You except Your love, love, love.. unconditional love. Dear Sai Maa, guide me at all times and make me Your wonderful instrument in spreading the message of love.

Help me to overcome all my negative qualities and be your favourite child. Give me more and more of bhakti and love towards You my Dear Maa. I love You so much.

Happy Birthday my dear Swami.

Ragini Ramachandran


Daytona Beach, FL, USA

From the time I came to know You, I never felt lonely. It is You who has taught me how to meditate, be mentally strong and fearless. Thank You so much Swami! With Your blessing, I wish to devote my life in serving and loving everyone.

Nithya R


Madurai,
India

I will not get angry. If anyone says something I used to take it seriously and cry. From Your Birthday I will leave this habit. I will always see good, do good and hear good. I will help others and I will come to balvikas regularly. I Love You Swami.

Krishna Priya


Madurai,India

I have to learn all vedas and manthras. You know that I am a lucky girl because I got prize in State level competitions for veda, I want to chant it in Kulwant Hall. I will respect all my elders. My gift is my love to You, I think You expect this from me. Thank You. I Wish You Hap Hap Happy Birthday.

Subashini S S


Madurai,
India

My first promise is, I will do Sai Gayatri smarana daily. I talk a lot, but from now I will talk less. I will learn more and more bhajans. I am not studying well, hereafter I should study well. Swami I have a request, my friend is troubling me a lot, make her little better.

Achudhan V


Madurai,India

1. Swamy I will be regular to Balvikas
2. I will learn all vedam
Happy Birthday Swami, I will keep my promise.

Aswathi S S


Madurai,
India

My dearest Swami, I have and had many bad habits within me, I need to become good. You should only be with me Swami. I am trying to talk to You about my thoughts and feelings, but when I tried I couldn't, but I always think that You are with me. I always trust, have faith and believe in You Swami.

I am happy to be Your devotee and Your child every minute of my life Swami. Love You, Love You so much Swami.

Sairam Narayanan


Madurai,India

1. I will respect all the people.
2. I will come to Sairam temple every day

Happy Happy Happy Birthday to You Sai Baba.

Raja Rajeswari R


Madurai,
India

1. I get angry very soon, from 23rd Nov I will not get angry
2. I want to learn more vedam and want to present it before You
3. My Birthday gift to You is my love.
4. I want a return gift that is, You must come in my dreams and You must be with me.
Happy Birthday Swami!

Gopika R



Madurai,India

I always get angry when someone scolds me. Hereafter I will not get angry. Here after I will be very good. Please Swami, You should come in my dream daily. I love You very much Swami and I will serve You. You should always keep me with You.

Happy Birthday Swami.

Boomika R


Madurai,
India

I like You very much. Swami I will obey anything my mother tells me. Happy Birthday Swami!

Thejaswini



Bangalore, India

Supriya Vivek

Nasik,
India

I resolve to: stop fearing, doing action, surrendering completely and being a good instrument in the divine plan.

Ramadas H P


Bengaluru,India

Dear Sairam
Pranams at the lotus feet of Sri Bhagawan.
Let's celebrate His birthday and embrace Him with love. Let's remember 3 yard sticks & practice them at every moment of our lives -: "Have Courage, Love Oneself & Let Love Overflow as Service"

Vishnu Sharma



New Delhi,India

I wish you my Bhagawan happy birthday to you. I know Bhagawan is always with us.

Hyderabad, India

Ma, Help, Bless ,Guide me with your GRACE to see YOU only in all and in everything  with asanchala bhakthi vairagya and Love! All of us are your children Ma! Make all of us Happy with Healthy mind Be Always with us! Hold our hands and lead us .

Sai Aanchal




Chandigarh, India

Swami I offer my humble salutations at your lotus feet.
Swami I am seeing you but I don't know how to praise you.I know mere words from dictionary can't suffice you.You are my Fountainhead and from you my ideas emerge. By your bounty grace I will express myself. Swami please pay your kind consideration:
Swami thy form is personification of Pure Love,
Everything about thee is sweet,
No treasure in this world is greater than thine foot dust,
Sweet Lord please give me a place at thine lotus feet.
Swami you have always been there with me without any questions and without any judgments.Your love is truly unconditional.You are what every best friend should be.
My humble gift for your 88th Birthday will not only be my complete surrender but my unquestionable faith in you. Keeping in mind interests of our Motherland I will do my duties selflessly with dedication and utmost honesty. I will learn from our elders and apply their knowledge for benefit of our Nation's progress in all terms. I resolve that I will commit myself to my Motherland without involving myself in external influences which cause distraction of mind. I will take appropriate steps to contribute to spiritual, social and economic development of our Nation.
I will see you in my fellow beings and serve society upholding Truth, Righteousness, Peace, Love and Non-Violence.
Happy Birthday Swami.

Ranjit Rai


Dharan, Nepal

Many many humble offerings and pranams at the divine lotus feet of our
beloved Bhagawan Baba. I'm Ranjit Rai from Dharan, Nepal. It's the day of reincarnation of avataar. Swami thank you for loving me more than I deserve. Swami always shine your divine blessings on us. Happy birthday Swami.

Anu Arnipalli


Kansas City,USA

My dear Baba, please bless us with health, happiness and enough money to live happily. Please bless my Mother to have peace of mind. Bless my husband to be healthy and understand me and love me.
Please bless Abhishek and Abhilash with good health.
Please guide them, show them the light of success and good path, always be with them and guide them and help them do the good deeds. Bless both of them to eat good and grow good.
Baba, please bless Abhishek to grow tall and lose weight. Baba, please bless Abhilash to grow tall and gain weight. Baba, help me lose weight. I already have health problems. Help me with my Diabetes and its cure
Baba, you know my fear of unknown. Always be with me.
Alway bless me to pray you. You are my father, mother, mentor, lover.
Please guide me and show me the light of success.

Sai Madhuri


Bengaluru,India

Wish you a very Happy Birthday Swami. I love you Swami. If there is anything that is true, it is my love for You. And I know You will acceptit too. I may have many vices and weaknesses but my love for You has never wavered throughout. I will remain Yours forever and ever. I have tried to be happy by indulging in a lot of worldly affairs but it is not giving me any joy. I have tried convincing myself in a number of ways to be one with this world but it is of no use. In fact I am feeling guilty to work in any other organization as I know that I will never be able to give my 100% to them. So in a way I will be cheating them and neither will I be happy. My true happiness lies in working in Your hospital. I don't know how much I deserve but the desire refuses to go. Please allow me to work for You and be a part of this divine ocean. Please accept this daughter of Yours and let not my life be wasted in following meaningless pursuits. How much longer will You keep testing mysincerity to You? "Enagu Aane Swami Ninagu Aane" – My happiness depends on both of us. You offer me work in Your hospital and I promise to put my life and soul into it. Till then I will continue praying with all my heart. Waiting for Your reply, Yours and only Yours, Sai Madhuri.

Sairam Zambre


Latur, Maharashtra,
India

Happy Birthday Baba! I have offered my life to you & promise to live with your message.

Jasmine Rindani


Bhavnagar,India

Dearest Lord, I want to spend my entire life doing all that I can for you and for spreading Your message far and wide. I want that my life becomes Your message and I shall try my best to live upto the same. Happy Birthday Swami...

Dr. Uma B S


Shimoga,
India

I want to cultivate doing "nama japa" constantly, thereby remember Swami's love always.

I want to emulate His "love ever - hurt never" practice so that my life becomes His message. I seek His blessings in my endeavour.

Tharun A


Bengaluru,India

Dear Swami, Happy birthday to you.
My birthday offering to my beloved dear Swami is to practice tabla everyday for 20 minutes so that when Swami blesses me with an opportunity to play for him in Prashanthi Nilayam he will be happy to listen to my tabla performance.

Sandeep Reddy Patlolla

Birmingham,
USA

I have been a non-veg eater all my life, in the name of Baba I would be willing to give-up this. I don't know how far I can succeed. I would like to take this opportunity of Baba's birthday offering to take a step towards getting closer to Baba's heart by not eating what I love the most.

Ramamani Velamuru


Vanasthalipuram, Hyderabad,
India

Pranams at the Lotus Feet of my Beloved Bhagawan, What can I offer on this auspicious occasion? Swami says many a times to WATCH our WORDS, ACTIONS, THOUGHTS, CHARACTER & HEART. My ultimate resolution is to be WATCHFUL.

Srinivas G


Beloved Swami,

Clasping your lotus feet I promise you that starting from November 23 2013 I will gradually reduce the following:
1) Expectations and wants
2) The loose talk, back biting and enjoying the negativity of others (that is the cruel joy in me on seeing others some kind of bad, etc.)
3) The fear of death because of body attachment

Swami, bless me to sincerely work the above and to be an ounce of purity. Love all, patience. Serve all, perseverance, help ever. Prema, prayer ever.

Ashwin Sooryanarayanan


Malaysia

Swami, throughout my entire life, it has always been about You. We wake up with bhajans lingering on our lips. We live, walk, talk and breathe Your name Swami. Help me dedicate my entire life to You Swami. Assist me to continuously serve upon Your divine feet Swami. Today I would take this opportunity to thank You for always being there for me, guiding me, protecting me, inspiring me and blessing me. Always stay with us Swami and lead us to the correct path.
We love you so so much Swami. We cannot live without you.

Unnikrishnan.S.M


Trivandrum,
India

The one change I make in life from tomorrow is "I will not think, tell, see or do anything that hurt my inner conscience".

No ill or negative feelings in life, I will enjoy my life, thus make Swami Happy!

Badri Narayanan P


Chennai,
India

I resolve to subdue the anger that overtakes me often, from Your divine Day of Advent this year. May You be pleased to bless me with the grit to stick to my resolve.

Usha H


Tirumala, Tirupati,
India

My Sai Ma,
What should I offer you, my Divine Mother?
You know everything. My weaknesses....
I promise I will try to always be Positive and Happy. Please help me to be that; with detachment and equanimity, I should do my duties. I should be full of Love for all. I will try to remember this as also that I AM THAT. Not this body. Thank You Swami for being with me & taking care of me always.
PRANAMS AT THY LOTUS FEET.

Vijay Sai R


Erode,TN,
India

My dearest Swami,
I would follow time management and live the life upto my parents' expectation.
I keep follow Swami's teachings and practice it in my daily life.
I keep Swami words and spreads Sai message .
I believe in His omni presence and have full faith and surrender to Him.
I pray Swami to cure my health soon. I have not planned clearly my career. I will plan and put my ideas, views at the Divine Lotus feet. Let Swami do whatever He wishes good for me. Swami, my progress in life is in Your hand.
I pray the almighty to bless all to have a peaceful and blissful life.

Vinitha Nair Prabhakaran


Kuala Lumpur,
Malaysia

Happy Birthday My Dearest Swami!

Thank You for always being a guiding light in my life. I can never imagine how my life would be If I had not known You!
On Your birthday this year, I just hope I will be able to always live up to Your principles.
Please bless me to lead an Ideal Sai life. Keep me away from anything that will bring me away from You.
Allow me to dedicate my life for serving Your purpose. Make me Your instrument so that I can achieve my true potentials and make this human birth a precious one.
I am sorry if I ever did anything that didn't really correlate with Your teachings. Correct me please if I am going in the wrong direction. Think through me, Speak through me and Act through me! I will try my best to stay focused, study hard and love everyone! You make sure my exams all go well...Don't forget our deal! I love u!
I WILL DO ANYTHING I CAN TO MAKE YOU PROUD OF ME SWAMI!

Kalyani Raj


Chennai,
India

My dearest Lord. Being in your divine mission is the greatest gift in this human birth. On this 88th Birthday of Yours, I resolve to be, as always, dwelling in your messages and teachings. One message of yours which has been the most attached to me is "LOVE ALL SERVE ALL". Being a Bal Vikas guru, though I am doing what I can to follow Your teachings and to emulate you to the best of my ability, to pass on Your message to the little ones, I always felt I am not doing enough. Please guide me Swami. Make me worthy of being your instrument. Bless me to see You in all and serve as You do. Having Your love and guidance is an assurance that I am on the right path. You have shown me this in many many ways. Thank you Swami.. I Love you.

Rahul Sai


Tirumala, Tirupati,
India

Beloved Swami,
15 years back when I was bestowed with Yourself in this birth, I didn't realize that I was being attached to the one who created me. One message of Yours was almost alien to me then and that was "You and I are One". Then what is the difference that made You God and I a mere ignorant lad? From then, I searched for - The Special - in You. One fine day, I found that it's Your innocent, inexhaustible and irresistible LOVE You radiate. You blessed me with that vision from within, in my tender age. Sweet-heart!.Where there is Love, there is no place for Hatred and Violence, naturally Righteousness prevails and paves the way to Truth. There is no one stop solution for all the issues which persist in this world and in myself other than LOVE. So, Love will be my life force henceforth. Love will be my Way of Living, Fuel and Outcome. Lord, You had stolen my heart even before I tried to understand You. I would also wish to LOVE everyone and everything around me as You love me. Being in this mortal coil, mingling with the worldly acquaintances, I found it hard to keep loving unconditionally but still voyaged much and have come far from where I was when You brought me to Your Holy Feet. I shall sail on. I will continue my unconditional Love Journey. I pledge that I will be constantly aware of the fact that I am obliged to share all the Love and care that You are gifting me, in the form of selfless service of any kind that emerges from my heart - from a Selflessly Loving Heart. Seeking Your kind blessings to help me honor my pledge. May I be in the middle of Your Heart. Because it is not lofty when I think of You but when You think of me. Love You.

Peter van Dalen



The Netherlands

Dear Baba, everyday I miss You but I know You are always near.
I can see You in everything in my life, in my family, my work, my life and in the Nature.
I love You and always will love You. I pray for You and for all the people in the world.
Happy birthday Sweet Baba for eternity.

Saswat Kumar


Bhubhaneshwar,
India


Humble PRANAM at the Lotus feet of my beloved Bhagawan, Wishing HAPPY and Loving B'day to our most beloved SWAMI .

For last many years, I have been celebrating this divine Birthday of our most adorable Lord. But I have never offered anything virtually from my heart that can please my LORD. Feeling very blessed and enthusiast getting an opportunity to offer something sincerely which can really please my BABA. Swami often says: "My birthday is the date when divinity blossoms in your heart". I admit I am not a true SAI Devotee as not practising Swami's advice in all aspects of my life. Knowingly and unknowingly, I have committed many blunders which only Swami can forgive. I do have many negative qualities within me which I wish sincerely to eradicate with SWAMI's blessing only. I would like to offer this divine Bhajan "Ek Bar Kshama Karo Sai Mere Baba Shri Sathya Sai Kshama Murthi Sai Baba Prema Murthi Sathya Sai Ek Bar Kshama Karo Sai Mere Baba Shri Sathya Sai ...", on this auspicious 88th Birthday of my beloved SWAMI, I pledge to dedicate and offer my rest of life for pleasing and serving Lord SAI (Serving Always India) suffused with Bhagwan's selfless Love and blessing. At the end, I wish to thank "Radiosai" team for this divine initiative on this auspicious Birthday of our beloved Bhagawan.


Prarthana




India


Baba you always said "ALL ARE ONE, BE ALIKE TO EVERYONE". Every single devotee of yours is practicing your principles of Sathya, Dharma, Shanthi and Prema. All of us are walking the same path, your path, to reach the goal that you have assigned for us.

On this occassion of your 88th birthday celebrations, I would like to take the resolution of ONENESS. Each one of us is different in our own way and I would like to see UNITY in this DIVERSITY. Your life is our message! Love you!

Ramaraju


Birmingham,
USA


Most Beloved Swami,

My heartfelt gratitude for your infinite grace and compassion, in bringing a complete transforming in my life. Through inner guidance you have prompted me to become more disciplined. On your birthday Swami, I pledge to follow your guidance and lead life with discipline. I offer this pledge at your lotus feet and pray to give me the strength to put it into practice.

Please allow me to be an instrument in your hands dearest Swami.


Suma Adithya




Chennai,
India

I humbly offer my obesiances to Dearest Swami. Swami has been my guiding force and greatest strength ever since the awareness HE brought in me.

My promise to Swami will be developing a genuine love to one and all. I will offer all the work to HIS LOTUS FEET from this moment on.

Nandagopal M


Chennai,
India

Dear Sai maa, Pranaams. Your son Nanda gopal writing to you. On this auspicious and most stunning day 23/11/2013, as your son I have decided to leave a bad habit. I will stop biting my nails from this very moment. Though I take this decision I know there would be lot of obstacles to live up to this oath, so I request you to come as my favourite lord ganesha in that place and please remove all my obstacles.


Siva Harikrishnan R




Chennai,
India

My humble pranams at your lotus feet.As your birthday is coming closer, I want to take a oath which gives happiness to me and proudness to you Swami. I hereby take oath that I will not get angry with anyone and give respect to each other. Although they are elders or siblings. I will also talk less from now onwards and I will not talk to hurt others.

Iswarya S


Chennai,
India

You know what I am going write about because you are the one who gave me Idea and you are omni present.sairam you know that I am weak in decision making. But now at present I took a decision which makes me feel happy and will make you feel proud about thinking that I promise you that I will not be careless anymore.Anyway you are my examiner and you will be with me checking me and directing me to good path.
My dear sairam you are my best well wisher.Be with me forever.
Mydear sairam! Happy Birthday to you.

Vaishnavi


Chennai,
India

Change in my life.
Swami knows what attitude I want to change in my life, first I have lot of confusion that is what attitude I want to change in my life. Finally I decided that I was very talkative in my class. So I want to change this attitude. Please help to me Baba.I want to change the attitude. Please Baba……..
"Talk less work more"

Vishnu J


Chennai,
India

Birthday Greetings. The common thing for all bad things is anger. When I will leave the anger I will lead a safe and happy life. When I get anger I will tell Swami's name and Forgive them. I will give respect to my grandfather and to my mother hereafter. And I will help ever and hurt never and I will talk less and work more. I will not fight with my friend and brother. If I do all these things, Swami will be with me always.


Dharshan J





Chennai,
India

Happy Birthday Swamy, I am very glad to say this word. Nowadays, I am very worst to watch the T.V.That wise, I am not eat well, sleep well. I don't finish my home work properly.So please Baba your Blessings is come to my head towards to your hands. I love you Baba.

Sai Harinee B


Chennai,
India

My lovable pranams to your lotus feet.Before I write this letter I ask you that I should not postpond any of my work tomorrow. I should finish all my work today and I should get good name from all. I pray that I should respect you, my parents and teachers. If they did anything for me also, I should respect them and be calm. Please you give me patience and remove my laziness. All my relations are saying my family that "you are not having the capacity for learning "But I should learn more and compete others in all my upcoming exams. For this you should be with me always. I should read well and make my parents, teachers and you proud. And also I should not have any bad company.

And at last, I conclude that my above prayers should become true.

Thiruvikraman S




Chennai,
India

Here after i get up early in the morning...
2. I will daily follow meditation and pranayam on morning...

Harish Raj


Chennai,
India

Everyone tell me that I am a good boy, but I also have many bad habits.one of it is, when some one tells me anything wrong, I will immediately talk harsh words.which would hurt them. After few minutes, I would realize that I was wrong. I am not able to control my anger. After sometimes I would ask sorry to them, But the words spoken cannot be taken again.I feel guilty and worried to what I have talked. The date of Swami's birthday, I take resolution that not to get angry. I would try to control anger by the hints given by my Guru. So, Please forgive me for what I did up to now and bless me to implement good habits in my life.

Rahul


Chennai,
India

Dear Swami,
* I will be mature.
* I will obey my Parents
* I will not waste money
* I will do the work onday itself, I will not postpone it
* I will not beat my sister.

San Jose,
USA

Om Sri Sai Ram, my beloved Lord. I am deeply grateful for every single wondrous lesson that you continually teach me in every day of my life. Help me to have more faith in times of frustration and teach me to understand that everything always happens for good. Help me to stay on my own track in all that I do and teach me to relax and enjoy life in all of its splendors and wonderful offerings. Guide me in my goal to better the world in my own way and help those who are in need of assistance.



Raju B




Chennai,
India

Our Humble Pranams at the Lotus feet of our beloved mother Sai,

Bundled with worldly desires and attachments we pray to you

Make us an instrument in your hands and guide us to follow and reach you. We pray sincerely to give us Pure Love for Thy Lotus feet and the taste for the divine name, so that we could reach you.

Rajeshwari Subramaniam



USA

Beloved Swami,
"You are I and I am you" is what YOU have said many times over. It was wonderful to hear those sweet words but I did not realize how deeply it had touched my soul till after You discarded the Body'. While You were still in the Form. My focus was more on wanting to come to Parthi, wanting Your Darshan, wanting Your nearness and so on. But now my Precious Lord, Your formless Divine energy embraces my soul with the gift of knowing and being those words. So Dear and Loving God, today, the day of YOUR "BIRTH" I offer You the awareness that You breathe through me, see through me, hear through me, think through me, speak through me, act through me and LOVE through me. The "me" then will no longer exist, Your DIVINE SELF lives through this manifestation that I mistakenly refer to as "I ". Henceforth, what else can the "I" be but HAPPY! Thank you for your gift of "Happy Birthday" most precious Lord.


Ramesh Chetty




Humble Pranams Swami , On this birthday of yours I would like to give up the bad habit of using the phone while driving and would like to start donating blood on a regular basis.

Ashish K. Kochargaonkar




Pune,
India

Pranams from me, my family, and all at our Shree Swami Samarth Vishwakalyan Kendra Apta, near Panvel, at Lotus Feet of Bhagawan. Swami we pray, give us the chance to be true instruments as You Wish, at Your hands to serve mankind in whatever way You decide. I wish to serve You with Gratitude. Put into practice the 'Love all Serve all & Help ever Hurt never'. Bless me to start study circle at my home in Pune.


Neeru Gautam



Himachal Pradesh,
INDIA

Humble Pranams at The Divine Lotus Feet of my Beloved Master!!!

As an offering on Swami's 88th Birthday, I pray to Swami to make me what He wants me to be. Let me be fearless. Because of fear I start believing in my thoughts, forgetting my true self. I forget that He is always and always with me, guiding me at every moment of my life. So whenever I am disturbed by my thoughts, I will remind myself that Swami is there with me doing the best for me. All I pray to Swami is to make my faith such that not even for a single moment I forget Him, His presence in my life. When I am aware of His presence, I will not do anything which is not acceptable to Him. I will not waste a single moment. Let my faith grow strong with every passing moment - accepting everything as a gift from Him.

Roselyne LHEUREUX


Trélazé,
France

Oh my very dear Lord Sathya Sai,
Please, accept the simple offering of my heart. I wish my heart to be pure, spacious, perfumed, for You to be throned there. I wish so much to be full of Your Calm, Your Peace and Your beautiful crystalline silence. Help me, my dear Lord, to be that peaceful, quiet heart, so that I may share that peace, that ocean of calm around me. If peace is there, then love is flowing. Please my dear Lord, accept that offering of my simple heart. Please, accept my heart, help my heart to resound with Your ocean of Shanti.


Sai Chelluri




Belfort,
France

My humble Prostrations at the lotus feet of our Dearest Swami! I earnestly pray for strength to overcome my weaknesses which You are already aware of. Swami, I promise that from now on I will spend time on You, in You, with You, whenever I encounter that weakness.

Sisira Baranage


Sri Lanka

I offer my pure love to you swami. May you come back to us in the same form not as Prema Sai but as Sathya Sai. We await your return dear Lord sweet Lord.

Subhashini Sathiyanarayanan


Riyadh,
Kingdom of Saudi Arabia

Happy Birthday to You, Swami.
I pray to You to be with me always and guide me to fulfil the following, which I would like to practice from your Birthday.
1. Narayana Seva – Swami says 'Manava Seva is Madhava Seva'. Following his guidelines, I wish to practice keeping aside handful of rice while cooking in a container every day and cook it once the container is full for Narayana Seva. This way, I can inculcate Narayana Seva into my routine.

2. Control Anger and do Namasmarana

3. Continue to be His worthy instrument and volunteer for Seva activities wherever available.

Micheline Gilliéron


Switzerland

Offering my heart to Him. "Baba inspires me". My heart is my Love four other people, guiding by Saï Baba, symbolyzed by this jewel.

Rukmani Soorya


Malaysia

Dearest Sai Maa,
For Your Birthday I would like to give up all my negative qualities and dedicate my life to You.

SAI, SUGI, SUBA, APPU, MOLE, KUNYOO


Seramban,
Malaysia

Om Sai Ram
Bhagawan Baba
Thou Who Art in
Puttaparthi Hallowed
be Thine Name
We Karuman, Boy,
Darling, Mole, Kunyoo, Shobna Sai,
Sai Presanth, Sree, Letchumenan,
Yuliaand Suggie...
We Love and Adore
Thee Baba
We Thine Children
are Always in Full
Love and Adoration in Thee
Thank You Lord
and Bless Us with All
Kindnerss, Hapiness, and
Love
Keep Us oh Lord in Thine
Hearth Always
Never Give Up on Us
Thou art Your Thine Divine Love
We Love Thee
We Adore Thee
Thou art Ours
Love Thee
Bhagawan Baba
Always on Mind Forever and Ever
Sairam


Dr S. Hema




Chennai,
India

I will do recitation of Vedas 15 minutes, Vishnu Sahasranamam 15 minutes, Subramania Bujangam 10 minutes, Om karam 21 times Sai Subrabatham and Sai Ashtothram systematically in a particular time daily 5 am to 6 am. I will do Asana, Pranayama & meditation 6 to 6:30 am. I will not get affected by others' comments. I will advance in my Spiritual progress whatever be the opposition. I will keep my things in a clean and organised manner. I will not neglect my health, I'll take care of it.

Meenakshi Sriram




Kuwait

Dear Baba, I will try not to hurt or hate anybody since I now know that the same essence of God is present in all and hurting/hating anybody amounts to hurting/hating You. Please help me in my resolve. Bless all of us on Your Birthday!


Arvind Katyal




Ottawa,
Canada

Oh dear Sai
- On the 88th Birthday celebrations, I resolve to be a better person than before.
- I would like to make my parents/family happy by giving more time to them.
- I will seek blessings from Swami to allow me to serve at His holy feet for various programmes at Sai centre, ottawa.

Rasabindu Mehta



Pune,
India

What else can I offer to the lotus feet than devotion and faith?
I only pray that He may help me to help others and save me from evil thoughts and desires.


Shibunath V R




Qatar

To my dearest and loving Swami my Birthday wish is to become a better
and more loving person and always be happy, as You so desire.
On this, Your 88th Birthday may You bless us all to come closer to You and to follow Your teachings one by one.
Let me try to remember You throughout the day and dedicate all my actions to You, so that You can take care of me and my family.
Help me to become aware of Your presence all the time.


Spandana Yerubandi




Narsapuram, AP,
India

Hats off to you for such great work and service. The following are my birthday offerings to Swami.
'My heartful pranams at the lotus feet of Swami.
Swami please bless me to
- talk less, softly and sweetly,
- to think of You always, follow equanimity in praise and censure,
- not to react even if someone is speaking badly or behaving badly
- and practice detachment gradually.
Swami, I know that I have always failed to keep up my resolutions in the past even though I initially make them with lot of enthusiasm. Swami, I have wasted 26 years and 5 months of my existence on earth. I am requesting You to give me one last chance to keep my promises.

Venkat Rao



Vancouver,
Canada

Swami we are eternally grateful to You. From this Birthday, every time
my mind wanders I will start humming or singing Your name in a musical
note. It will keep me centered.


Ramakrish Sannidhi




I want to volunteer more on Thursday, Saturday & Sunday in seva
activities and center activities. I want to keep Swami included in all
my day to day things. I want to be happy and spread happiness around.

Anjali Matta



Dallas, Texas,
USA

O my Beloved Baba, You are always Happy, but still I would like to wish a very Happy Birthday!

My resolution is to use more effort to control my emotions like crying when I am stressed out or getting upset or angry. I have no skills of doing so but with Your loving grace I know I will be successful.

Saivenkat



Kansas,
USA

Swami! You gave me this birth. My heartful pranams to You Swami! I will
be living love for everyone, and will serve everyone. Please give me that strength and guide me!


Marina Gagetti



Zurich,
Switzerland

If we Surrender to the power of God, miracles can happen. Then life's journey will be full of magic, the marvelous, the miraculous the wonderful. Obviously we need to do our part as we move down our path overcoming our hurdles along the way, but God will then always be there giving us all the support we need to carry through and carry on.

If we surrender we can see how the miracles of life unfold naturally, without fear, without manipulation, without resistance. When we surrender to the source of all creation, we are transformed, and as we are transformed, the world around us is transformed.

Dear Swami: "I will try real hard to surrender completely to You, so I can experience the miracle of life in every moment."

Saigowri K



Chennai,
India

Dear Sai Maa I offer my loving pranams at Thy lotus feet. Swami Wish You a Happy Birthday. Swami I am very happy that You have given me a opportunity to teach Balvikas children, all that I had learnt during my stay at your lotus feet for four years. Swami now I am teaching them vedas, devotional songs, and bhajans. On Your 88th Birthday, Swami this is my promise at Your lotus feet - I will continue this opportunity of teaching them wherever I go. Swami please bless me to fulfil this promise.

In every act of ours please be with us and lead us on the correct path.

Jyoti S Zaveri



Mumbai,
India

Baba please bless me and give me strength so that I can be a part of Your mission of Seva, and I can help as many people who come my way and give them happiness and love.

Ratna Anand



Dehra Dun,
India

Wish to involve more and more in "Manav Seva".
Shri Sathya Sai Padambhujam Bhajare Manasa Nirantaram.

Bhavani Venkataraman


Bengaluru,India

Please accept my loving Pranams at Your Holy Feet. Maa, I am Yours. Please be in my thoughts; Please be in my speech; Please be in my looks; and Please be in my actions, so that I will be able to follow Your principles of Samyak Chinthana, Samyak vak, Samyak Drishti and Samyak Karma. Maa, please sing through me, so that each and every bhajan that I sing in Your name reaches You.

Baba, make me serve others in Your name, make me love others for Your sake. Baba Please tell me, 'I am always with you'. Baba, make me love You with all my heart, with all my strength, with all my soul. We are longing to have Your physical form, in flesh and blood Sai Maa.

Jayanth



Bengaluru,India

Swami, please bless my situation. I am going through rough part of my life and don't have any other way except one. Please grace/bless my situation so that everybody is happy and no one suffers because of the decision I take. I want to lead a peaceful life. I promise that my entire life will be for You and for serving people, which I am already doing.

Sree Lakshmi Y




Vijayawada,India

I made You feel sad when I cried before You for giving me this life. But now I realised that I was blessed with the most wonderful and lovely life, in which I have had Your darshan and blessings. I made you feel sad when I criticised You for not giving me a father's love. But now I recognise that You came and stood in that place for me forever. I made You feel sad when I complained that You are not always with me. But now I feel sanctified to know that I was sitting in Your lap and You are always in me and we two are not different from each other. I made You feel sad when I shouted at You for making me walk on thorns with my blood oozing out. But I was shocked and my eyes filled with tears when I saw that the blood was not coming out from my feet but from Your hands on which I was walking very safely.

But now I promise You Baba that I will never make You feel sad. Your love, patience and blessings enlightened me. I feel proud to say that I am Your child. I realised that, 'Service is not only my duty and responsibility' but 'Service is my right' as a human being and a boon from You as Your devotee. I wholeheartedly thank You for giving me this wonderful life. If possible please forgive me for my mischiefs and misdeeds. Now I will make You feel proud by making my life as an offering to You and Your service.

Dr. Priya Kumari




Mysore,India

Dearest and most Beloved Bhagwan,

What can I offer You Who has bestowed all love and grace on me. I would like to offer You my heart, hridayapushpa, fragrant with Your love and peace. With Your grace and blessings I promise to strive to live with a heart at peace.

Prathiba Raghavan


I humbly and lovingly offer to You the following flowers for Your worship:

1. Good Words
2. Good Deeds
3. Good Conduct and
4. My love

Shalini Sooryanarayanan




Malaysia

My birthday offerings would be for me to live every moment, take every breath and dedicate my entire life to You.

You are my only friend, guide, parent, sibling and I will carry out the tasks You have given me with a heart full of devotion and be Your messenger.

I will carry myself in such a manner that I should be worthy of Your Love. I shall attempt to give up the negative qualities within me and will revere my parents with all my heart.

Seelan Naidoo


South Africa

I pray for strength to overcome my weaknesses which You are already
aware of.

I pledge from now on I will direct my attention in this direction.

Meda Purushotham




Anantapur, India

Swami! I can't offer anything because I have fully surrendered to You; You can take whatever You want. Love You Swami.

Aishwarya A. B.


Chennai,India

The very fact that He chose to guide me, shower His abundant grace and allow me to be in His proximity as His student, made me realise I have a greater purpose for which He had brought me to this earth. I sometimes forget this, and involve myself in petty talks and be a part of those useless gossips.

Swami, I pray to You to give me courage to stand up against all those bad talks.

You had said ABC of life is Avoid Bad Company and Always Be Careful, but to me, it means ALL THE BEST CHILD. Let every thought that flows into my mind be dedicated only to You. Let my eyes see You in all, let my ears hear You in all, and let my hands serve You in all.

Amba





Quebac, Canada

Dear Swami, please accept my weaknesses. Pour on me the light of patience, unconditional love and will to continue searching for God until I realise that He has always been with me and that He will always be with me. I prostrate at Your Lotus feet and offer You prayers of love.

Srikanta T. R.




Bengaluru, India

Loving Sairam and Koti Pranams at the Lotus Feet of our beloved Swami.

I wish to remember the 9 points code of conduct and wish to adopt them in my life for my upliftment. I pray to Swami to bless me to succeed in this attempt, as it is not that easy to practice them.

Yoke Seem Wong


Kuala Lumpur, Malaysia

I resolve and try my level best not to use plastic garbage bag daily. I have been trying to find a replacement, some other kind of garbage bag that I can use instead of plastic garbage bag. I have been harming the earth daily and still have not been able to find a solution.

Swami, please enlighten me by giving me an idea to replace plastic garbage bag. I love You so much and I feel sad that I am harming Mother Earth whenever I discard rubbish into a plastic bag. Happy birthday my beloved Lord.

Venkateswaran P. V.


Chennai, India

Dear Swami, Your teachings have always enlightened us with spiritual insights of even the mundane activities. I would take every effort to remain a sthithaprajna (equal-minded) always.

Sai Drishya A. P.



Thalassery, Kerala, India

Happy Birthday Sweetheart...

With Sai's Blessings, this year also am offering myself to my Sai Maa…
Whenever I need answers, Sai answers me while doing meditation,
Whenever I wish to see Sai, He comes to my dream....
Whenever I miss Parthi, He takes me to Parthi through the sweetest dreams.

Sai is taking care of the smallest of small things to make me and others happy. Each step of my life is His order. So I can offer nothing more than myself. Yes, this time also am offering myself to Sai, a little more than last year, "Pehle Se Zyadaaaa.."

This year am offering one more promise that I will limit my facebook activities (FB Sai chats with Sai Friends), as this is my last semester. So as Sai says, He wants His children to get 100 percent in studies, I should offer this promise to Him.

Always praying to Sai, to guide me through out my life.

Ayuthanaman S.R. and
Bhuvaneshwari P.R.


Palakkad, India

Dearmost Sai Narayana,

You have been our source of strength and our sole refuge. Swami, may we be indulged in constant Namasmarana and spend every moment in Your seva and kainkarya (service).

Julee Shettigar


New Delhi, India

We wish You a very very Happy Birthday Swami. Swami, on Your Birthday I wish to follow all Your teachings, that is, to be helpful and truthful throughout my life. Also please bless our kids. Please keep them under Your direction Swami.

Please help and bless me to do this without fail. Love You and thanks for being in our life.

Santhosh Kumar



Chennai, India

What can I offer to my dear Swami who has offered me everything in this lifetime. I would only like to tune my thoughts, actions and words to the supreme inner Self, that which is Itself Swami and seek His grace to help me be in communion with Him at all times.

Of all His teachings, I would start with religiously striving to silence the mind and never get upset or angry about anything. Would only see good in everyone and stay positive and vibrant at all times.

Swami, I only seek Your love and grace through which I can connect to You internally and that You guide me in all respects to be an ideal Sai Youth.

Swami, please bless me with ample opportunities to Love and Serve You in everyone which will be the best expression of my love for You.

Sai Nirupama P. P.

Bangalore, India

Om Sri Sai Ram, Tandri (Mother) please help me to be always in Your smarana. Help my family in this time of need and give them peace. Please take us in your fold and guide us Swami. Only You can change hearts Swami.

Prasad Y. K. Y.


Perambur, Chennai, India

My beloved Swami, You are physically with us in the form of Radio Sai which is like a magnet. And I want to always be attracted to You.

Swami, I pray that in all important occasions like your Birthday I should reach out to poor people and do Narayana Seva.

Rajib K Behera



Chelmsford, MA, USA

1. Stop finding faults with others
2. Accept everything which comes my way
3. See Swami in everyone which will help me love all unconditionally

Damaji Jambhale


Columbus, OH, USA

Swami, I love You. I offer all my thoughts, word and deeds at Your lotus feet. Swami, please continue to guide me so that I continue to have good thoughts, good words and good actions.

I want to be a good human being that You want me to become, as a first step for me to have that constant awareness of You in me and finally to be one with You and merge with You.

Swami, please work on my ego, which is the root cause of my thinking that I am the doer. So from this day onwards I want to increase my love towards my family, and every being. I love You Swami.

Visvesh Baabu M. N.


Madurai, India

I like the Universal Prayer, 'Samastha Lokaha Sukino Bhavantu' very much. I will try to chant this with full feeling (Bhava) from our Beloved Bhagavan's Avatar Day!

Murthy I. S. R.



Bengaluru, India

To observe more and more silence by thought, word and deed, by abiding in the Self at all times as much as possible - the act that pleases my Lord the most.

Gayathri V.


Pallavaram, Chennai, India

On Your 88th Birthday, I would like to rededicate myself to my Balvikas children (and Organisation) for their inner transformation and mine. Please give me more opportunities and inner strength to serve You. Let me always be humble and loving. I know You would be with me as always.

Sai Krishna G.


Vijayawada, India

On Your Birthday, I will offer my gratitude by taking the following resolutions:

1. I will try to control my anger
2. Love fellow beings and
3. Will actively take part in service activities

Nivedita Prakash

Bengaluru, India

I pledge I shall continue to dedicate to my Bal Vikas teaching with special efforts to make the class more interesting, motivating and understanding for my students by using the latest tools like Powerpoint presentation, Audio Video presentation and others.

Master Vikrant Sharma


Vancouver, British Columbia

My offering to Baba:

I have this opportunity to make a change in my life. So I will not yell at people. I will be patient, stay calm and stay focused. I will sing more bhajans, chant Swami's name. This will give me inner happiness. I will offer help at school and at home (I will serve all). I will remind myself the values of Baba, which will make Him proud. I will practice love, peace, truth, right conduct, and non-violence.

Nita Sairam Parmar

Leeds,UK

I am from Leeds, UK and the owner of www.lordsai.com, we are celebrating the blessed day by offering hot meals to 105 homeless children plus staff of Shikshan Gram (http://shikshangram.com/).

Usually when children get an opportunity to celebrate a special occasion they receive special meal which is made of something like puris, special sabji (veg curry), sometimes kadhi (yogurt soup), papadum and some sweet.. maybe gulab jammun. It is normally served at lunch time and on the celebration day the children play games, do individual presentations, such as stand up and talk about something on the microphone, or dance together in front of the group. The whole day will be a celebration!

Also, on this day we are celebrating the blessed day by offering hot meals to over 500 underprivileged children and staff of Parijat Academy (http://parijatacademy.com/). We would like to wish all the children best of luck for their exams which finishes on the day of the celebration. The children will receive a hot meal which is made of rice, special sabji (veg curry), and Ladoo which will be served at lunch time on 23 November 2013. How wonderfully Swami times it!

Kalyan Pradhan


Darjeeling, India

Swami, give me enough strength to give up all my vices and practice the values You have taught us. Let every moment of my life be spent with Your thoughts and let me be Your devotee in the true sense.

Anusha N


Bengaluru, India

On this auspicious day. I would like to thank You for guiding me throughout my life and giving me what is good for me. I would always follow your words:

Life is Love, enjoy it;
Life is Challenge, meet it;
Life is a Song, sing it;
Life is a Dream, realise it;
Life is a Game, play it;
Life is a Goa, achieve it.

I will follow Your teaching all my life as an offering at Your lotus feet.

Aadya Bhaskaran


Germantown, MD, USA

Dear Swami, my Birthday offering to You is to always dedicate every action of mine to Your lotus feet. I will remember that everything that comes my way is only because of Your will, not mine. I will study harder in school and won't waste time doing meaningless actions.

Bimla Odari


Toronto, Canada

I am going to practice more sadhanas in coming days. I happened to see many workshops of Dr. Srikanth Sola and I have learned the importance of 21 Omkar chanting in the morning and practicing the 'thumb meditation' regularly at any time of the day. I have made up my mind to follow the sadhanas regularly from now on.

Satyanarayana Rao K.


Chennai, India

We love You so much. Our samithi (VP Colony) Birthday activities began today. We are actively participating and receive Your blessings.

Nilima Sahoo

Odisha, India

Saimaa, what can I give to You? Maa, whatever I am now is only due to You. So my Birthday offering to You is that I will get up early in the morning. I will try to control my anger. Keep Your blessing on me Maa.
I Love You Maa. Miss You Maa...

Kirsten



Bremen, Germany

In 2011 I was together with 200 Devotees (in between a lot of children) on a pilgrimage to Puttaparthi. During this pilgrimage we learnt the Shiksha valli and Sahana vavatu and presented it in front of Swami. And I continued to sing it nearly every day.

Since April 2013 I'm learning the Rudram with Anil in Germany and would like to offer to Swami this nearly daily singing now, and for the next years Birthday, because I feel a deep cleansing and opening of heart with chanting of the Veda. I feel deep gratitude that Swami gave us the Veda for practising.

Sai Madurya


Vizag, India

Swami, till now I was sad for each and every small thing. I forgot the fact that You are with me and You will be sad if your child is sad. So from this second, I will be happy no matter what the situation is. I know you will take care of me and do the best in my life. So I just offer and surrender myself in front of You Swami. Love You Swami. Be with me always and bless me.

Dr. Malathi Paidi


Srikakulam, AP

Dear Swami,

My humble pranams at Your lotus feet. Please give me permission to merge my Birthday with Yours and give me courage in facing my personal and professional challenges in daily life by giving guidance in making decisions in a way that I don't hurt or harm anybody.

Ranjana Basnet

Bansbari, Kathmandu

Swami, You had told me to do two things in my dream... It was so memorable and will always be...

Swami, I will always practice those two things in my daily life.. and promise You, to be an ideal daughter forever...

Happy Birthday Swami..


Meghna Loke


Mumbai, India

Om Bhuur-Bhuvah Svah
Tat-Savitur-Varennyam
Bhargo Devasya Dhiimahi
Dhiyo Yo Nah Pracodayaat

Let these words, dance on my each breath....
Let Your voice, singing the Gayatri, echo in each cell of mine…so much so that all that I'm aware of, in my sleep or when I'm awake is 'You as Gayatri'.

Swallow everything in me with Thy sweet singing... and make each day, a gift from You to me, till Thy Birthday...

For, when a devotee surrenders to the Lord, there is nothing a devotee wants, and in this state of total desirelessness, everything in him, merges in Gods Will and 'A Miracle Is Born'

I've surrendered to Thee my Lord, swallow me in thy sweet singing... so much so that I am left only with a heart...
A Pure, Blemishless, Love filled Heart!
That which was always Yours, and that which You gifted me since the beginning of Time...
So, I will be able to offer this gift of yours back to Thee...
For, what can I possibly offer on the Birthday of 'The Supreme Self'... but the gift that always was His.

Yes! When a devotee surrenders to his Lord, there's nothing that he wants
And in this state of total desirelessness, he merges in Gods Will and that's when, a Miracle is born!

Sing on my each breath and with Thy Divine Love, take my heart, my soul.

And let it be worthy to be Yours on this Birthday.
Love You!


Ramanathan S.

Erode, India

My Dearest Swami, 88th Birthday onwards I wish, pledge and pray that my words, actions and deeds always have Love and Purity. I shall not speak ill of others or hurt them by words either in their absence or presence. I wish to learn and play Harmonium for Sai Bhajan.

Swami! Bless me to play harmonium in full swing before your next Birthday. Swami, bless all our family members for their unity and to carry out Sai Seva till our last breath.

Rekha Ramesh


Chennai, India

I wish to make Swami happy through love and service. Swami keeps hinting to me: 'I am watching'. Many a time this helps me correct myself and be careful.

Swami, please show us and put us on the path to service, as we feel strongly that we can come much more closer to You through this path. I LOVE YOU SWAMI...

Devi Naidoo


Tongaat, South Africa

Our beloved Bhagawan has always advocated "Love All and Serve All".
In my heart I had pledged that I will donate a pint of blood, 'Liquid love', in the words Bhagawan, on the anniversary of the Birth of our beloved Lord Sai.

Having a busy work schedule does not allow one the opportunity to go to the blood bank to donate but I said to myself that I will try to make some time during the week of 18 Nov to go and donate. So wonderful is the grace and love of Bhagawan that whilst I was leaving my office for home on the afternoon of 11 Nov, there on the notice board in the lift area was a notice that the Blood Bank will be visiting my office building on 20 November for blood donations. Bhagawan has graciously made this possible by bringing the blood camp to my place of work with no inconvenience to me. This demonstrates the all-knowing, all-powerful nature of our ever present Sai. So amazing and incredible is the work of Sai, always loving and giving.

From here on I undertake to involve myself in more acts of seva as there is no better way than that to serve the Lord.

Swagat Kumar Sahu


Bhubaneshwar,
India

Our body which is made of the five elements, our heart, spirit & all the virtuous qualities (like Sraddha, Bhakti, Jigyanasa, etc.) associated with it have all been given by Swami, who is Himself the Supreme Almighty. So I can't decide what to offer at the lotus feet. Closing my eyes even for a minute I am scared of facing the depth of darkness (evil qualities) present within me.

Being a graduate student, when I watch Swami's words in daily Thought for the Day or 'Prema Dhara' (Swami's letters to students) I understand all the adverse things present within me. At the present phase I am going in my life, I can't decide which direction to go in, circumstances about which I can't write here.

Hence the only prayer which I place at the Lotus feet is that at any situation, condition, circumstances or environment may my heart, mind, spirit always remain firm at the Lotus feet - that is "Sathya Sai Padambhujam Bhajare Manasa Nirantaram".

Jayaraman R.G.



Bengaluru,
India

Swami bless me to:

1. Reduce my temper
2. Be kind to all and
3. Follow Swami's teachings.

Hope I will achieve the above and offer these at His Lotus feet. Pranams to our dear Swami.

Venkatesh. R


Kareli, MP,
India

Every year I pray for only one thing: "Please Swami, make me an instrument in Your mission and give me a chance to be like the squirrel which helped in Lord Rama's mission". Nothing else to seek from You Lord.

As an offering I want to develop a website for You Swami, as a part of my gratitude to You. Please give me the strength to make it successfully and offer at Your lotus feet soon.

Shankar Rao



Kitwe,
Zambia

My humble pranams at lotus feet of our beloved Swami!

I pray for strength to overcome my weaknesses which You are already aware of! I pledge that from now I will direct my attention in this direction!

You are with me and always will be!

Makarand Pantoji




Mumbai,
India

Swami, I know I indulge in a lot of unnecessary talk which You do not like. So I have decided to practice talking less. Thank You Swami for guiding me to take up this practice religiously through the following message:

"Will you follow My advice if I give it you? Don't talk much. Study well, get good grades. You talk too much, which I do not like. If you talk less, then Swami will be happy. Thinking is also inner talk".

Oh Lord, please give me the strength and determination to follow Your advice with utmost devotion.

Sudha Hari



Munich,
Germany

Please accept my humble Pranams at Your Lotus Feet. Please guide me to the correct path and protect me. Make me worthy of Your grace. May I be always soft spoken and may I always tread in the path of Truth. Let me not hurt anybody's feelings. May I have unshakeable faith in You, whatever be the situation in life.

Like always, Apni Kripa Drishti hamesha mujh par banaye rakhiye. May I love You more and more.

Ayyagari V Aditya



Denton, Texas
USA

సాయి అర్ధించు మీనుంచి సద్గుణములు
సర్వమానవ సోదర సఖ్య బుద్ధి
స్వార్థ త్యాగంబు పరిశుద సంఘ సేవ
సాయికిచ్చే ధనమిదే సత్యమగును

Sai desires only this - your virtues!
Behave like all are your brothers and friends,
Sacrifice selfishness and perform sacred service to society;
These are true gifts that you can offer unto Me.

On Your Birthday Lord, I promise to fill myself with more virtues, and live like my life is Your message. Bless me with the strength to walk the path to You, to live up to Your name and serve with Your Love.

Chandrasekhar E.V.



Hyderabad,
India

Dear Bhagawan, my humble pranams to Your lotus feet. I need Your blessings to move along Your path by helping and not hurting others.

I need Your blessings to give sincere services with dedication to my employer. I need Your blessings to maintain cordial relation with my students.

Conchita Willems-de Koster



Uithoorn,
The Netherlands

Swami, with gratitude and grace at Your sweet Lotus feet, I love to give You for this Birthday only good thoughts, considering:

1. Is it true what I say?
2. Does it not hurt someone? Does it help what I say?
3. Is it inspiring what I say? Is it improving the silence?
4. Is it necessary that I say something?
5. It what I am saying kind?

May I ever speak good to all, because it is You in all, dear Swami.

Saai Kumaar G. M. T.



Vizag,
India

Instead of offering, I seek from You to give me strength to practice
'Love All - Serve All', and have a smooth sail in this regard. Many orphan
children need Your blessings Swami.

Venkataramanan N.

Chennai, India

I will help others more often and will reduce harm to others. I will pray for the happiness of all living beings in the world. May all of them be happy and healthy, mentally and physically.

Baba, please make my dad healthy, and may he come out of the hospital safely.

Sunil Kumar Panda



Bhubaneshwar,
India

I wish to help people and control my thoughts & mistakes. Please Baba help me. I love You Swami.

Lakshmi V



Chennai, India

25 years back, I was introduced to You and Your Mission. Then, I was very new and hardly had experienced You. But slowly my acquaintance with family members, friends and samithi engulfed me and bonded me with You to such an extent that cannot be explained by words. It needs solid action to be performed by me.

Swami,
Twameva mata cha pita twameva,
Twameva bandhu cha sakha twameva,
Twameva vidya dravinam twameva,
Twameva sarvam,mama deva deva,
Sai, twameva sarvam mama deva devaa!

I was wondering how well I can show my gratitude and to my wonder, I could be a member of Sri Sathya Sai Vocational Training Centre at T. Nagar, Chennai.

I joined this centre, exactly 12 years back, and since then it has been My 'Mini Puttaparthi, Mini Sundaram' and my home. What a marvellous platform and what selfless service we are able to provide to all the needy!

I owe my gratitude to Swami for this. Swami, please bless me to continue to do service with love and care, thereby cleansing me of my negatives and leading a life of simplicity and purity.

Claudia Dialava



Mauritius

First I would like to thank You for all what You have done for me and still doing. Thanks for Your presence in my everyday life. You are my everything Swami.

My two sons and myself have surrendered our life completely to You. Give us the strength to live on the path of Truth and Love.

As a Birthday gift I promise I will try to control my anger and the vagaries of my mind. I will try to practice more often Namasmaranam. Love You Swami.

Vinesh



Mauritius

Pranam Swami! Swami, You are our Creator, Lord of the Lord.

Swami, I was a very bad person with all my bad habits, and You know it very well. But with Your call to Your lotus feet at Prasanthi has changed my life and manners into golden teachings of Yours.

For Your Birthday, please give me love and courage to have body detachment. And I really want to offer my vices to You as my greatest gift.

Swami, You have given me everything in this life, please help my son also, so he can become a very good human being and I will be very happy to see him at Your lotus feet.

Viswanathan P. K.




Chennai, India

Beloved Swami, what else can I offer to You except reciprocating Your Motherly love?

My everything is You my Lord! I have no existence of my own, Swami. I take this pledge on this auspicious day to surrender at Your lotus feet with complete faith in You my Dear Swami!

Prabhakaran Kamath


Nilgiris,
India

We will try to be happy and also try to keep our neighbours and others happy.

Michaela Rees




Germany

I would like to give Swami my love, and more trust and devotion.

Arularasi


Bengaluru,
India

My Birthday offering to Swami is ceiling on desire for food. My resolution is to eat only self-cooked food.

Deena Dayal Manikanta



Bengaluru,
India

My offering is Namasmaran, as I feel surrender is the ideal path. But I know Namasmaran is only the first step towards that glorious state of Sharanagathi.

Savithri Srinivasan



Chennai, India

By Swami's grace I am a Balavikas guru for 36 years. Now I am 83 years old. I pray to Swami to bless me to always think of Him, as Swami says Sada Sarvathra Sarwakaleshu Hari Chinthanam. Swami says that that is highest sadhana.

Dakshini Soysa



Melbourne,
Australia

Swami, I pray that I have unconditional Love to all and let go of all my sorrows, expectations, attachments and desires. Please help me, my darling Mother, Father, Teacher and God.

I am trying so hard daily Swami. I yearn to come to Your feet Swami and get liberation. Please help me my beloved Swami.

Dr. Mihir Kumar Sahoo


Kolkata,
India


Dear Swami, may my life flow in the stream of Thy Love....

Deepak Gupta


New Delhi,
India

Very Happy Birthday Swami. We love You Baba. I pledge now: "Our life is Your Message"

Pooja


Bengaluru,
India

Swami, I have only this one prayer to gift You this Birthday. Please help me serve You by showing compassion to the few evil people who have been injecting hatred and antagonism into my life. It would be impossible without Your grace Bhagawan.

Girija Radhakrishnan



Mumbai,
India

My offering to the Lord is to keep serving and doing good for people; give more... To make God happy by doing good for others. I pray to You Swami to grant me lots of patience. May I be calm and serene to carry on the duties well.

Kaushal C. Bhamuvani

Bangkok, Thailand

Swami, wish You a very happy Birthday. It is a totally different experience to sit and watch an avatar, though it is beyond our imagination what You have been doing while You were giving darshans to us.

Thanks for selecting us to come and at least have the bliss of watching an omnipresent Lord. Thanks for giving us duties which we are still trying to fulfill in our daily lives; thanks for employing us to be in Your organisations. Please keep Your motherly love on us always.

Thanks for designing the '9 codes of conduct' for perfect living, I promise You that although I practise almost seven code of conducts but I am left with two more code of conduct as below:

1. I shall not talk ill behind anyone
2. I shall put ceilings on my desires

I think I follow rest of Your set code of conducts, please help me to keep up to them and I will do my best that I achieve the balance two earliest possible, specially before Your next Birthday. So I can call myself Your devotee.

Lalitha V.


Chennai, India

My beloved Swami gave me the wonderful opportunity to stay under His huge canopy for seven years as His student. I then realised that 'Living with God is the best education'.

For me, the triple 'S' - Sri Sathya Sai, stands for the supreme power that gears us for a Sadhana of Self-Improvement, Self-Analysis and Self-Evaluation.

So, for this Birthday, taking another small effort to follow our Lord's teachings, I pray to Swami to help me remain equipoised always; come what may, I must take it in my stride with the right perspective such that I see no fault in anyone.

I should perform all actions without any expectations and surrender every thought, word and deed to the Lord. I should spend every moment singing His glory, serving in His mission and seeing Him in all - thus again reaching the TRIPLE 'S'.

Dr. Deepak Bhanot

New Delhi, India

Dear Swami, little did I realise that You were with me since my childhood when with great difficulty I got admission in a remote district of Punjab in an Ayurvedic college, named Sri Sathya Sai Murlidhar Ayurvedic College and Hospital, Moga in 1983.

I became Your devotee in 2010 and then realised that you had already chosen me as Your child, since You came to Delhi in 1972 when I first saw You. So I was not surprized that You helped me get admission in the said college started by one of Your devotees. Thereafter You have indirectly shown Your omnipresence on several instances of mini crisis in my life.

My offering to You is that I would be more disciplined, more focused and would follow Your teachings (which i cherish a lot) more religiously. Happy Birthday to You!!!

Narayanan A. S.

Palakkad, India

I don't know what I should offer to my Swami on His Birthday. Yes I offer at His lotus feet my anger and hatred against my in-laws since they did some injustice to me in the past. But I take this opportunity and offer these two bad qualities at His divine feet.

I take a resolution that not only to my in-laws but I extend my love to everybody and will never talk ill of anybody. May Bhagawan Baba bless me in continuing my good effort with much enthusiasm.

Dr. Veerendra Kumar

Kottayam, India

I will constantly remember Swami at all times and will do all acts with Swami in my mind.

Nushin


Orange County CA, USA

You always say: You and I are ONE and I believe You... You always say: You work through Me and I trust You...

Swamiji, Wisdom is needed to realise that the flow is constant. Strength is needed to do continuous service. Love is needed to be more compassionate and forgiving toward all. Grace is needed to carry on duties. Let there be no feeling of separation...Let's celebrate this Oneness every second with 'constant integrated awareness…'.

Birthday is for the body... All what there was, is and will be is the 'Eternal Soul'…Purushamrit.

Krishan Jeyarajasingham

USA

My Birthday offering to Swami is to treat all people that I come across as one, with the same love, respect and camaraderie as He would have towards us. This applies to people I know and do not know. It is important for me because I know that God is completely impartial and does not show favouritism.

Swami came in different incarnations such as Rama, Krishna, Buddha and Jesus Christ. They loved all and did not reject anyone. I need to follow Him in the same manner without objection.

Bhavesh Chandra

On this auspicious Birthday of Yours, Your child will give up all the bad habits which are creating a distance between us. I can't bear this distance any further, so I have started these efforts.

Bless Your child Swami, so that we become one. And give Your child the strength to develop detachment from each and everything of this creation of Yours.

Annalakshmi

Puttaparthi, India

In continuance of my resolution to make my life Your Message, please bless me to be a worthy instrument in Thy hands.

On Your 88th Birthday, I promise to always be happy in any situation whatsoever.

Karteek Ponnuru

Vizag,India

Dear Lord on Your Birthday I would like to give You what You always wanted from me.

Swami, as You always say, "Help Ever Hurt Never", from Your Birthday this preaching of Yours shall be my life's motto.

Knowingly or unknowingly I may have hurt someone, and many times I did think of my benefit. I shall overcome these defects and with Your grace see the world as my house and its inhabitants my own family. I shall never hurt anyone through my actions or words. Swami, I promise You this.

Please be with me and help me overcome all problems and my inabilities. Help me become a true Sai devotee.

HAPPY BIRTHDAY SWAMI. Thanks for being there when nobody was and I am pretty sure that You will always be there. Love You dear Lord.

Mahendra Mantri

Dewas, MP, India

I wish to surrender my one bad habit, rather enemy, namely anger. Sometimes I become angry at home and at times even outside. I pray to Bhagawan to shower love on me so that I can share love and be humble with others.


Meera K.


San Jose, USA

I offer my most fervent prayers at Your lotus feet is to see You in everything and everyone around me, every breathing moment. My heart overflows with gratitude for the unending Love and Grace that You shower on Your children.

Saujanya A


Kolkata, India

Swami, from 23 November onwards, I am going to be a good disciplined
girl, more like a Sai student! I will always be happy and so my Swami
will be too! And will try to Love all Serve all!!

Mamina Sahoo

Odisha, India

Maa What ever I am now is only due to You. So my Birthday offering to You is that I will always try to make others happy. And try to study well. Keep Your Blessing on me Maa. I Love you Maa. Miss You Maa...

Prabina Pudasaini

Germany

I get so worried about my small problems and feel insecurity and fear. So Baba I'm leaving my problems at Your lotus feet. We miss You, my Lord.

Prashanti K


USA

This Birthday I pray to You to bless me with the 3 P's to make me worthy of offering myself to You.

May each thought, word, deed of mine be worthy of being offered to serve You.

Sangevan Sange

Jaffna,Sri Lanka

I will try to help my family and others. Swami always be with me.

Monalisa Swain

Cuttack, Odisha

I would like to control my anger and surrender completely to the teachings of Swami.

Sudharshan Rajagopalan

Chennai, India

* From this moment, I shall sincerely take up the sadhana of namasmarana and think about You throughout the day. I shall do only the work that will please You and submit them at Your lotus feet.

* I shall accept all my students as they are, without any prejudice, love them and work for their upliftment. I shall treat them as my own brothers and guide them aright.

* I shall think, speak and act only positively and be a good role model to my students.

* I shall first practice and then preach the values to my students.

* I shall sincerely up-skill myself on the areas I lack in teaching, administration and the domain of education as a whole, so that I may be an inspiring teacher to my students, a truthful employee of the organisation and an insightful educationist for the education stream.

Dear Swami, I submit my vices – ego, pride and craving for attention, at Your lotus feet. Grant me the boon that my heart be filled with love for You and Your children and let Your love flow through me.

Sairam Nagineni

Vijayawada, India

Swami, I promise You that from now onwards I will try to delete all jealousy and hatred feelings from my heart, and fill it with love and joy.. Swami I promise You that I will participate in much more service activities.... thank You Swami.

David Urbina

Mexico City

Anuradha Puri

New Jersey,
USA

My heartiest offerings to Baba is to help others and continue doing my yoga practices. Love all, serve all, Love ever, Hurt never.

Nandini Ramesh

Singapore

I seek Swami's blessings to make my life His message and spread 'human values' globally through my blog which has a compilation of value based stories and students' experiences. Presently it is in English. Along with my dedicated Sai sisters, I would like to offer the stories in various Indian languages starting with the first 5 stories in Tamil on November 23, 2013. This is our birthday offering to Swami.

Meerakrishna Mohanakrishnan

I pledge to be patient and calm. I also will cut my ego. I promise not to back answer my parents. This is a promise.

Chitra G K


Hyderabad, India

I have a bad habit of getting annoyed quickly and shouting at others which has spoilt my health. I have also hurt others on many occasions which I want to overcome. For this I have decided to chant Sai Gayatri morning and night, and listen to Radio Sai bhajans daily. This will keep my mind cool and help me follow Swami's principle of 'Love All, Serve All and Help Ever, Hurt Never'. I am taking a resolution from this Birthday to overcome these bad habits and follow Swami's principle with His blessings.

Rita Bee


UK

Swami, help me maintain daily the resolution of "Do Good, See Good and Be Good".

Pradeep Reddy B

Hyderabad, India

Swami, You are the Creator. You know better than us, so please let me be an instrument in Your divine hands for ever. But what gift can I offer at Your divine lotus feet except my heart as a flower. Please Swami protect the entire Universe from evils. And if I knowingly or unknowingly do any mistake, forgive me Mother. I will follow the Sai way to reach you Swami. Make me always to serve for You.

Dr. Priyanka Das Saikia

Jorhat, Assam,
India

My Birthday promise to Swami is that I shall try my best to be punctual in all my activities, whether it is related to office, home or society. Let my heart be filled with selfless love. May Swami bless me for this.

Prakash Chittaranjan

Bangalore, India

Swami has twice uttered these words "Be Happy" to me during our blessed interactions. Reminding myself of the above instruction, I shall continue to dedicate myself to service activities, in ways He chooses for me to be His Instrument in thought, word or deed.

Prasanthi Sanjeevi

Bangalore, India

I want to do more Vidya Vahini seva; Swami please help me do time management.

Sai Keerthana Cherukuri

Germantown, MD, USA

I will concentrate and sing bhajans whole heartedly for Swami. I will chant Vedas regularly and work on managing my anger because I find it very hard to control my anger at times. When I am angry, I usually do not think before acting and later regret my actions. I will from now on surrender my anger to Swami and always think before I act. This will automatically help me to WATCH my:
W-Words
A-Actions
T-Thoughts
C-Character
H-Heart
Swami, please help me to fulfill my resolution.

Sai Saketh Cherukuri

Germantown, MD, USA

I give a resolution that I will chant Vedas in front of Swami everyday regardless of the situation. Chanting Vedas is important because it generates lots of positive and powerful vibrations that will protect the world, in this way I would be part of Swami's mission which is "Samasta Loka Sukhino Bhavanthu".

Ravi Mohan Rao

Chennai, India

I have the habit of browsing internet and wasting lot of time, which I shall stop from this Birthday of Swami, and concentrate more on Swami's work.

Yulia Semenduyeva

Russia

On this auspicious day of Your 88th Birthday I promise to You, dear Swami, that I will do my best to eradicate all these vasanas and samskaras that prevent me from being happy.

I will do my best to become Your true devotee who treats pleasure and pain equally.

I will do my best to love all and serve all, no matter how wicked these people may be.

I will do my best to accept any opinion, no matter how far it is from Your Teachings and the guidelines of Your Organization.

I will do my best to be content with all my surroundings and conditions of life and treat them as challenges on my spiritual path that make me stronger and purify my heart and mind.

I will do my best to see You in every person and not to be deluded by his/her strange appearance, words or deeds.

All is One. All is You, dear Swami. I love You in all, and all in You.

Adity Dkhar


Shillong, Meghalaya, India

Being an ardent Sai devotee, Swami had shown many miracles. I had been giving service through out my life to my family and friends, but have always got wounds. I still want to do good and serve.

We all humans have pains that kill us inside. I wish Swami wipes my pain and keeps my family happy. I promise to love and serve my Guru till the end of my day. I want Swami back.

Priya Sujith


Bangalore,
India

My dearest Swami… just as I was entering the auditorium for the First Youth Conference held at Brindavan for the Kerala Youth, I heard You saying, "Sathyam bruyat, Priyam bruyat Na bruyat Sathyam apriyam" (Speak the truth, speak pleasingly, do not speak the truth that is not pleasing to the ear). Then, I felt very strongly, it was a message for me. But I had to face no such challenges during that time. Now, after so many years I am facing challenges and I fail to follow Your advice due to which my words hurt people. Swami… I would like to stop this and I will be careful while talking. This is my birthday offering to You, my beloved Bhagawan. Please accept it and I pray for Your blessings.

Sneha Samat

Pune,
India

My humble pranams at the lotus feet of our Swami. Happy birthday Swami, I love You. The offering to You Swami this birthday is my body consciousness, I promise that I will always try to remember that I am not this perishable body but ever living, everlasting, ever-present, powerful soul; not only me but all are divine beings in this changeable body.

As You are present in all of us please make us realise this Swami, I miss You in me, although You are there everywhere.

Deodat Persaud

Ontario,
Canada

To my dearest and loving Swami my Birthday wish is to become a better and more loving person and always be happy, as You so desire.

On this, Your 88th Birthday may You bless us all to come closer to You and to follow Your teachings one by one.

Let me try to remember You throughout the day and dedicate all my actions to You, so that You can take care of me and my family.

Help me to become aware of Your presence all the time.

I love You Swami!


Aman Shrestha




Itahari, Nepal

Bhagawan! As an offering to Your lotus feet on this most special day for all Sai devotees, I promise to retrace my academics back to its track. With Your blessings, now I have been working for street children around Kathmandu. Bless me my Lord so that my little efforts can bring positiveness in their lives and that I'll always be able to share my love with these children. Thank You Bhagawan for making me feel that You are always with me. Happy Birthday My Father… My Guru… My God.

Pratika Rokka


Kathmandu,
Nepal

What I need to do is bring positivity in my thoughts for all my actions, at present and future. Hence, my heartfelt birthday offering to Swami will be an assurance that I will make Him the medium through which all of my thoughts will travel.


Anjali Chapagain


Edinburgh, Scotland, UK

I cannot go outside my home to do any service because of my small kids, so at least I will try to make happy all my family members and continue listening to RadioSai...for namasmaran...

Vaibhav Kant S




Thrissur, Kerala,
India

Swami, You know my wishes, which I have always prayed for, but I'm placing it as an offering at Your lotus feet on Your birthday.

Help me to conquer my inner impulses and instincts so that, they can't cloud or cast shadow on the enlightened path of Your teachings. Let me tread consistently on the spiritual path, so I can feel altruistic love which inspires me to help people around without any expectations.

I know I have failed often to rein my senses & the respective objective pleasures controlled my inner impulses and instinct. This led me to feel remorseful. But i pledge to You again, I will realize selfless love and make selfless seva blossom.



Manu Unnikrishnan




Chattisgarh,
India

My humble pranams to my beloved Bhagawan. I promise to do daily Sadhana.

Srinivasan. K.




Chennai, India

1. By Swami's will, already for more than a year I am getting up by 4 AM every morning as Self-Sadhana - go to our Sri Sathya Sai Mandir, Venkatapuram, Ambattur and do Omkar, Suprabhatham and Veda Parayanam for 2 hours. Now I will continue to do so.

2. I will talk less and maintain silence. Talk to people when it is necessary and avoid talking ill of others, especially in their absence.

3. Every month, an eye camp is being conducted for the poor and needy for several years. Cataract surgeries are performed free of charge through a known eye hospital in Chennai. We also provide spectacles freely to all those who need them, through one association supporting us. I will continue to carry out these activities.

4. Already supporting Sri Sathya Sai Nursery and Primary School, Ambattur. I will continue to do so as much as possible.

5. I am and will continue to listen to Swami's discourse every day through Radio Sai and try and practice as much as possible, with determination.


Prem Daas




Zagreb, Croatia

Surendra Mohan C S




Thrissur, Kerala,
India

Dear Swami, I wish to give help to poor people directly and not through a third party. Give me the power and courage.


Vaishnavi Rao


Chennai, India

It has always been my habit to pick chit from Swami's altar on my table every morning and this still continues. Suddenly these days Swami has been telling me one particular thing more often.

Swami tells me, "Don't think of the consequences once you surrender to Me". I am a person who always keeps thinking too much. Even if the issue is a very small one I keep thinking and thinking to an extent as if all the problems in the world belonged only to me. This has had adverse effects on my day to day life. Now that Swami has clearly told me as to what I should do, I make a strong promise to Swami that I will stop such thoughts and will never ever think of the consequences because I have already surrendered to Him.

And another thing I am going to do as an offering to Swami this Birthday - I have the very bad habit of always keeping my room and things messy and Swami has constantly warned me to keep my things in an orderly manner. From this Birthday I am strictly going to follow this too.



Padma Kunderu



Tulsa, OK,
USA

1. Will practice to have control on my food intake

2. Constant thought about the Almighty! Swami, make us all instruments of Love!


Harshini Rai



Mangalore, India

Swami, I promise You that I would control my thoughts and I would stop comparing myself with others and be happy. Swami please help me to love you more and more. Love you Swami.

Anne Ravikumar


Guntur,
India

I wish to become a good man in the society and not a great man.


Nikkie Anand


Georgia, USA

My Birthday offering to my beloved Bhagawan would be to try to control my anger. I'll try my best to calm down and not get angry specially with my dear ones who are always at the receiving end of my anger. This is a major road block in my spiritual journey. I am sure I will be able to do this with Your help Swami. Love you Swami.


Thuvaarahan Ravichandran


Canada

Swami, I have no words to express my gratitude. You have always been there during all of my ups and downs in life and You have been that special spark that keeps me moving forward. You have been and always will be the greatest inspiration in my life.

As my 'gift' to You, being a very small expression of my gratitude, I promise that from this Birthday forward I will take an initiative to lead a Seva project in my community. As always, I pray for Your guidance and grace as without it nothing can be achieved.


Sagnik Kar



Kolkata, India

According to Bhagawan, silence improves our memory power and concentration. So on His sacred birthday, I would like to resolve to be silent without involving myself in any argument, which in turn would help me in my studies and career. I know that this is not so easy, but with Swami's blessings it is possible. Swami says to his students, 'study more and talk less', so I will like to resolve to study hard and leave all the results at His lotus feet.


Deborah Lou Flamino


Encinitas, CA, USA

You state devotion is the way. Thus, I affirm my deep devotion to You and Your teachings.

Faith and Forgiveness are the virtues I dedicate my life to. Everyday I practice these with perseverance and patience, so that The lamp of the light in my heart grows ever brighter and stronger. Purity of heart.

May I see ever-clearer Your beloved face in all. May I embody the 'We' in each thought, word and deed, completed in dedication to sweet Sai Baba.


Uma Ashok



New Delhi,
India

Swami, on Your Divine Birthday I pledge to keep up Your teaching, 'Help Ever, Hurt Never'.

Dr.Meenakshi, A.

Aragonda,
India

Pranams at the Lotus Feet of Swami. Swami, I promise to be Happy in all situations and to spread joy.

Swami I owe You so much thanksgiving simply for Your presence during my surgery in 2008, my daughter's pregnancy, palsy and safe delivery of Sai Vignesh in 2006; Your presence near Chengalpet during our car accident in 2010 November and Abhayahata at USA at the same time. I work as a General Physician and Administrator in a wonderful institution encouraging free medical camps (this one was in Ardhagiri, where 2,000 adults were screened for obesity and blood pressure).

I will do as many free camps as possible with Your blessings and later stages work completely in my village with Your support.

Sandip Samanta

Kolkata, India

To my Most Beloved Lord, I Promise,

To be strong and that nothing can disturb my Peace of mind;

To talk health, happiness and prosperity to every person I meet;

To make all my friends feel that there is something worthwhile in them;

To look at the sunny side of everything and make my optimism come true;

To think only of the best and to work only for the best, and to expect none;

To be just as enthusiastic about the success of others as I am about my own;

To forget the mistakes of the past and pass on to the greater achievements of the future;

To wear a cheerful expression at all times and give a smile to every living creature I meet;

To give so much time to improving myself that I have no time to criticise others;

To be too large for worry, too noble for anger, too strong for fear and too happy to permit the presence of trouble;

To think well of myself and to proclaim this fact to the world, not in loud words but in great deeds;

To live in the faith that the whole world is on my side, so long as I am true to the best that is in me.


N.G. Subramanian


Chennai, India

I am a man of 67. I have no ambitions now in my life except to say "SAMASTHA LOKA SUKINO BHAVANTHU". I am doing regular seva in our samithi. I wish to make a lot of improvements there and make all Sai devotees happy. That is all.


Pragnya Padhy


Odisha,
India


Gopalakrishnan R


Chembur, Mumbai,
India


Lakshmi Kamala, W.V.


London,
UK

P. V. Geetha

K. K. Nagar, Chennai, India

I will talk less and with Your blessings, I shall work more.


Deepa Venkitesh



Kerala,
India

Swami is my very breath. The one thing that I will strive for is to remember His name and form every moment of my life henceforth. The rest Swami will look after. I have entrusted this body and soul to Him and I hope to make Swami proud of me. I do not want Swami to think of me as a useless preacher. I have been ridiculed for following Swami.

Remembering Swami during each and every inhalation and exhalation of breath is my goal, and I wish to be completely merged in Swami. I pray to Swami to reform me, to help control the mind and be freed of the bondage to the indriyas (senses) forever. Namasmarana is the first step towards this goal. Swami's grace and blessings are very essential for this. I pray to Swami.

Kavya Tangella

South Setauket, NY, USA

For Your birthday, I would like to give You the best present I can ever give, the gift of following your teachings more closely and deeply. I will do this, by first not arguing with my brother, Akilesh. He is going to college next year and I want to remember to be nice to him and not fight with him always. Next, I will cut down my big ego. Although I say I will all the time, my ego always seems to pop in when I get a good grade in school or do better than someone else in something, but I have to always remember that You are the only Doer and I am doing nothing so I should never have the false thought that I am the doer and fall into the trap of delusion.

I will also put a ceiling on my desires and concentrate on what's important to me and my family - being kind and doing well in school. I will also try to stop getting distracted and ultimately be happy. Thank You for everything Baba! You are the only reason my life is successful and I don't want You to be disappointed in me. So for Your birthday, I will do my very best to be the very best I can be! I will make sure that Your goal is reached! I love You!


Tara Krishna



Canada

I am happy to read everyday Sai Inspires from Prasanthi Nilayam. Thank you for make this happen for all the devotees all over the world. Here in Canada My Heart is with My Swami always, and I am always happy.

On the Lord's 88th Birthday I wish to offer the one thing that will make my life complete - to be humble always! I am trying and I know my Lord will be Happy if I am good.

Thank you Radio Sai Organisation and Keep up your excellent seva for devotees all over the world. Swami is Omnipresent and Lord knows all what we think and do everyday of our lives.

Om Jai Sai Ram!!

Radha Ganesh

Scottsdale,
USA

We wish you a very very Happy Birthday Swami. Swami, On Your Birthday I wish to follow one of Your teachings, that is to be helpful and truthful through out my life. Swami Please help and bless me to do this without fail.


Devotee





Tamilnadu,
India

I intend to stop my bad habits of having Gudkha and Drinking, which I am addicted to. I must stop these habits and I am taking a resolution to do so during this event.

I hope that with the blessing of Sai I can overcome this obstacle. Purifying oneself is the only gift worth offering to God.

Suchismita

Sterling, VA, USA

Sai Pushpa

Hong Kong

I wish to continue to follow His Teaching with Love & Service without any expectation. I like to impart to the Youth, the five Values of Swami. This is my offering to Swami.

Shoba Rao




Mumbai, India

From this moment onwards, I promise to use internet wisely and be away from the vices of internet. I resolve not to waste time browsing for unnecessary and unwanted information. I shall bear the consequences such as, "If I break my resolve, I cannot attend bhajan or most punishable consequence of, 'I CANNOT LISTEN TO RADIO SAI'." These are the two things that I cannot live without.

I shall use time to refine and redefine my skills and have clear objectives and goals that can lead me to balance my life with enough scope to help and serve the needy.

I leave my ego and my time wasted on useless pursuits at the lotus feet of Bhagawan. This is the change that I will bring in my life.

Gaurav G.S.

Jakarta, Indonesia

Aadithya V
.


Bangalore, India

I have to practise tabla regularly and play it with a lot of dedication; to play tabla for bhajans when I grow up for my Swami, and to make my Swami proud.

Dr. Vanitha Gopalkrishnan

Malaysia

Swami has made many wonderful contributions to mankind such as free medical services, free education, etc. Among all these, the contribution of Swami which really touched my heart and mesmerised me was the water project.

I really feel that no one in the world has done this before and the thirst of millions have been quenched by this divine act of Swami. Two years ago I was brought to Puttaparthi by Mr. Karanam Bharadwaj (Swami's student) who showed me Swami's water project. Since that day I have surrendered myself at Swami's feet and have promised to Him that I will continue Swami's service in this area. How? I have completed my Ph.D in water and wastewater treatment and have also completed my postdoctoral work in the same field.

What I wish to promise to Swami on the occasion of the 88th Birthday is to preserve the pristine purity of our drinking water through my research, with Swami's blessings and grace. If we look at world's statistic, drinking water contamination has become a major killer of babies and children worldwide. This is such a heartache issue for me as we are living on the earth which has been the residing place of a legend like Swami. Therefore I would like to continue this service under Swami's name with His blessings.

I just hope that by Swami's birthday next year, I would have achieved my target, at least one quarter of my vision. Dear Sai family, please pray for me to be successful in this divine endeavour. Let's put our hands together in fulfilling Swami's command of 'Love All Serve All'.



Monique Escobedo





San Deigo, USA

Rohini S

Tamilnadu, India

'What is the one change I will bring in my life on this birthday that will add happiness to my life and make my Swami happy?'- This question has made me think a lot. Two weeks ago Swami gave me a lifetime gift - I made my first ever visit to Puttaparthi. I spent two wonderful days there with Swami. I had a feeling that this is the place in the whole universe, I should spend the rest of my life in, this life which Swami has given me. Swami has held my hand and has helped me overcome a lot of difficulties. He made me realise that he is always with us. Having said all this, I remember our Swami's words, 'Manav Seva is Madhav Seva. Selfless service in any form will make our Swami happy. To offer Seva to young children who are facing difficulties in their studies - this is the promise I am giving Swami on this birthday. Also, I wish to help people who are suffering without food by giving them food on every Sunday. I offer this promise at the lotus feet of our Bhagawan.



Shivaleela



Hyderabad, India

I want to fill my heart with only Swami (Love); I won't allow any
hatred or jealousy into my heart; Love all Serve all - I want to see
'Swami' in all; I vow never to shout at my family.

Venkatesh Iyer

Bangalore, India

To make our Swami proud, I feel I should exercise regularly.

Lavanya Venkatesh



Bangalore, India

I have to be organised, which inturn will keep the house neat and clean.

Sami Shrestha

Sundhara, Lalitpur, Nepal

I Know that You know everything and that You are everywhere. But still I want Your love and more love. Swami, please fill my heart with so much love that I may never forget that You are within me, and with everyone and everything. Be my best friend and a guide at every step. Swami, I have done many mistakes but still You have shown a lot of love for me. Swami help me study hard and love my family, especially my grandmother. I want to thank You for everything and pray that Your 88th divine Birthday be the day for the transformation of my heart. God, I love You and I don't want to loose this feeling ever in my life. This life is Yours. I am all Yours. Let me see You in every step of my life. I miss You Swami. I love You forever.

Suma Madhu



Kerala, India

Swami, I am giving my word that I will learn Sri Rudram and get it by heart before 23 November.

Walter Henry

Bay View, WI, USA

Like Sai Baba, I pledge to always 'Be Happy'.

Prem Adheesh Lekhi

Perak, Malaysia

I wish to love all, serve all, help ever and hurt never, and be alike to all in all my undertakings. I take a pledge to show my filial piety to my revered, beloved parents to whom I owe my blood, food and money. I wish to pay rent to my parents, dutifully without any grudge so I can look into the eyes of my Lord - Bhagawan Sri Sathya Sai Baba.

I promise to care for and share with all those whom I come across, and sanctify my life.

I hope to make my Master in heaven smile through my unity of thoughts, words and actions, and by cutting my ego on the cross and finally merging with Baba.

Suchitha Shetty



Sunderland, UK

This Birthday I resolve to remember Mother Sai constantly throughout the day, surrender all thoughts, words and deeds to Her.

I resolve to see Her sitting resplendent in my heart, and extend this awareness to all who I come across. I resolve to see Her, only Her in everyone who presents before me, no matter how they behave, how they treat me. I resolve to see my most Loving Mother Sai through all Her various disguises, for She is the All in All, there is no other.

Deepali Chaku

New Delhi,
India


You can start sending in your entries to

[email protected]

. Do not forget to mention your name and country.