| | | | | | | |
| --- | --- | --- | --- | --- | --- | --- |
| | 'Like' us on Facebook | Follow us: | | | | |
Posted on: Apr 19, 2014
HOW DO I NOW CONNECT WITH MY SWAMI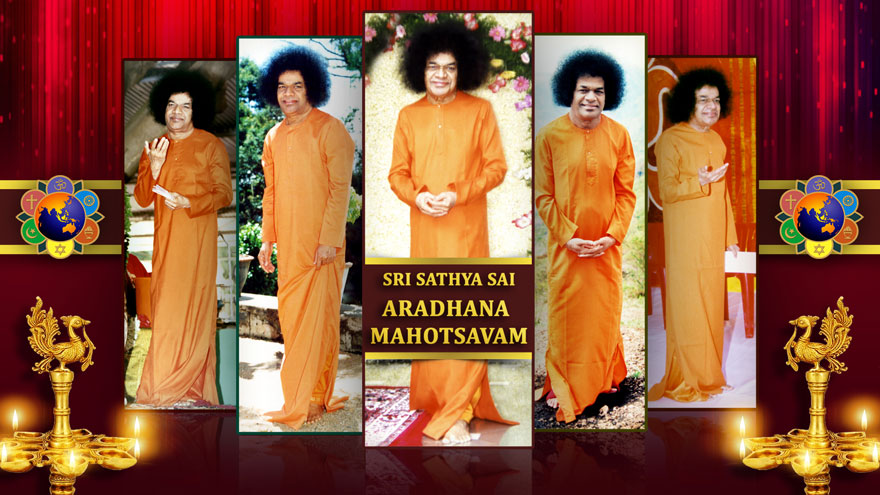 When April 24, 2011 happened it was earth-shattering. Especially for those who had developed a fond kinship with the beautiful physical form of Sai. That they cannot give one more letter to Swami, that they cannot touch His lotus feet one more time, that they can no more go to their Sai and heart-fully present their personal and professional problems, that there is none now whom they can hold on to in times of their need and adversity, that bewitching smile of their Lord can never be seen again with their eyes, that they can never again sit in the Sai Kulwant Hall anxiously and expectantly waiting for their beatific Sai to glide in, that they have now become orphans, that they have nowhere to go to and no one to turn to, that existence had suddenly become meaningless and helplessly hollow.... these thoughts and feelings made the event of Bhagawan bidding farewell to His bodily vesture absolutely cataclysmic for some. Let us call this category of devotees 'The Near Ones'.

Then there were others, most probably living in places far away from Puttaparthi and most of whom have never seen the physical form of Baba, for them the news of April 11 had negligible impact. They wondered, 'What do they mean He is gone? Why are they grieving saying He is not there anymore? Why, isn't He there with us even now just like before? He is helping us, guiding us and protecting us like He always did all these years... our Sai is certainly with us now and will be with us forever. This is how another group felt. Let us call them 'The Dear Ones'.

There is a third group who knew in their hearts of hearts that Sai's form may have disappeared but Sai remains, Baba's voice may have become silent but still His message reverberates, Swami's movements may have stopped but His mission moves on... they were convinced of all this, however at times unable to bear the sudden exit of their Beloved Master who was their mother, father, friend and everything, they broke down helplessly, they cried like a child. Every time they came to Prasanthi and sat in the relatively empty Sai Kulwant Hall, they just could not stop their tears. They knew He is there, still they terribly missed Him. They knew He is beyond the physical, still they pined for His physical darshan. They knew He is everywhere, still they longed to touch Him. We could call these people 'The Near and Dear Ones'.

Three years have gone by since Sathya Sai chose to once again be accessible only as Cosmic Sai, and all these different categories of devotees too have made strides in their personal journeys to Swami. There is only one choice. Be it 'The Near Ones' or 'The Near and Dear Ones', all have to ultimately reconcile to the stage of 'The Dear Ones' so that each one can once again experience that nearness and dearness with the Divine. Each devotee everywhere is on this path now.

We in Radio Sai sought to capture this spiritual journey of atleast a few long standing devotees, and that is what is presented below. This however is only the starting point. Now, we request you dear brother/sister to share with us your reflections. All you have to do is answer this one question:

How Do I Now Connect with My Sai

We would like it if you can send us an audio file of maximum 2-3 minutes. If not atleast a written paragraph not more than 150-200 words.

Also do send a picture of yours which we would place next to your thoughts.

The Aradhana Day is just a week away. So send in your mails at the earliest please!
We will update this page everyday with your entries.
Let us 'Sai'fy our lives and share His love all around.


How Do I Now Connect with My Sai is something like how to live without breathing! Bhagawan is always connected to me through inner Net. He is always our guiding source in all endeavours. He has assured that He will take care of welfare as well as farewell. I recall the day when He saved me from a train accident when I was going to get treated for stammering problem at Mumbai. I was then in class XI. Thus he gave me this jivandaan (second life). Since 1980 He prompted me to attend Nagar Sankirtans, which is still continued. I then not only started speaking normal but singing bhajans too.

I recall that unforgettable moment during last padnamaskar (probably 1999) for seva dal when I stood on my knee and requested Him that "Swami! I want to change my job" (as the company where I was serving at Kota was not doing well), Bhagawan promptly replied with three friendly pats on my cheeks and in a melodious voice said "Very Very Very Happy". I got a new job and resigned in 2002. As the notice period ended, CMD of the company did not agree to relieve me and asked me to continue here. I had packed my full house except gas stove, fridge & double bed. My wife Shraddha was very much upset. We unpacked the whole. I had only one thought in my mind (which HE had only put) - Swami has better plans for me. I continued and suddenly one day in 2006 my wife during his daily prayer prayed to Bhagawan "Either condition of this company be improved or get us job in DCM at Kota (where presently I am serving)". Prayers were heard and within 3 months vacancy came and I was selected there. Swami wanted me to serve Rajasthan, might be looking to Sai culture in the family we would have not got adjusted in the private job at Delhi and would have not got time to attend Sai bhajans and other seva activities... He only knows.

On 31st Aug'2007 in All India Conference of office bearers at Puttaparthi, Swami with HIS divine hand gave robe. I requested for admission of my son & daughter in HIS institutes. He nodded. My son is presently PG student at Puttaparthi. He did his UG from Brindavan campus.

In HIS physical absence also daily routine starts with Omkar, Suprabhatam etc. First job is to then see Sai Inspires- a daily message from Radio Sai and also to transmit to my friend. Spend atleast an hour daily to go through discourses, messages and experiences. Pen down some of them on papers and make preparations for spreading HIS message in various organisation programs. I pray Swami to make every work as HIS work and thus perfectness reflects as we get brand name "Sathya Sai Baba's man". We have to be very careful in our all actions also to remember HIS message Daiva Preeti, Papa Bheeti & Sangha Neeti".

After been entrusted the responsibility as Trust Convenor in Aug,2013, initially thought came to me "How I will do this work as I do not have experience of such kind and then suddenly thought came - Who am I to say this, HE is the only doer". For every work, I pray Him to guide and show path. He has extended help in various ways. Even working in private job, Bhagawan gets me enough time to carry responsibility of the Trust. He has always said "You show me your availability I will give you ability". Each of one us are HIS chosen instruments. We have to faithfully discharge the duty assigned to us.

I have experienced at difficult times "You call HIM and HE is there".

How can I forget my beloved Lord who hears every prayer of ours? We have to feel and experience HIM.


DR. SARA PAVAN
Puttaparthi
India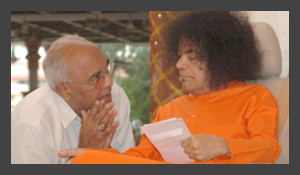 People adore and worship God who is inscrutable. Swami is the Supreme God of Love, who took the human form to set us free from ignorance and bondage. He let us experience His Divine Love, Omniscience and Omnipresence. The soil of my heart was ready 35 years ago when He planted the seed of Divine Love and removed some of my addictions and worldly ways, even before I came to see His physical form.

He told us in our first interview that we would leave Australia and live with Him. We have lived in Prasanthi Nilayam for 21 years. Swami put me through His inescapable spiritual refinery to transform me. The divine Alchemist persistently kept me in the fire to shred my waywardness. The sweetness of sugarcane can be realised only through the crusher! He trained me to be fearless and selfless and dedicate everything to Him.

Swami told me in my first interview in December 1980 that He would give me everything. I kissed His Lotus Feet with gratitude as I washed them with my tears. He still continues refining me in subtle ways and I perceive Him! I am fully aware that Swami is making every thing happen, whichever way He sees fit through whomsoever. He is the living presence in my life and His Grace enables me to submit to His will. I have experienced synchronicity of changes in my life and the forerunning events.

Swami made me realise long ago that He was not that body which He dwelled in for 86 years. Hence, I was not unduly sad when He left His body three years ago. I felt Swami's presence in all my extensive travel. He made impossible things happen on many occasions even after He had left His body. How can God cease to exist? The more selfless I am and willing to make sacrifices, the more He reveals Himself to me. He has prevailed over my tendency to blame others for my misfortunes. Pure love has no borders and I enjoy boundless love and kinship with people of all lands, races and religions.

When He is installed in my heart, where is the need for a picture or an external symbol? His form can never disappear as long as His Name is on my tongue. I have always strived to live His Message of Love and Universality uncompromisingly even risking worldly relationships.

I have had innumerable conversations with Swami within me. Just to mention a couple:
Late last year I was concerned about my wife's inability to continue serving at the General Hospital and me no longer giving spiritual talks at the conference hall. Swami consoled me in Singhalese language from within – translated:

Nothing matters; Never mind
Be still, Do nothing
Be quiet

On His last birthday He gave me His definition of the word, 'Attachment'.
"Attachments are Addictive Relationships with People, Events, Things, even Beliefs."

There is no further need for me to expand about His Living Presence. The proof is that Swami still continues to touch the hearts of thousands of people around the world who have heard about Him only after He left His physical body. His Universal Message of Love is bound to spread and embrace the entire world community to bring Peace and Harmony.



MS. JOTHI RAMANATHAN
Hamilton,
New Zealand




Interesting!

How did I connect to Sai before? Well, before 2011 I connected to Him through daily prayers and frequent trips to Parthi. Seeing Him in His physical form, Swami receiving my letters and granting me Padhanamaskar was a 'good feeling', now I miss that. Today I only have photos to remind me of my close physical proximity with SAI.

My trip to Parthi in Feb 2011 however, was a totally unexpected one but when it happened I knew for sure that Swami was aware of my intensity of wanting to go to Parthi (in my mind I thought it was not possible) and only HE could have made it happen. I was there for only 4 days and was granted one Divine Darshan out of the 4 days. This trip had a great impact on me. During the 4 days I felt that Swami was conveying a lot of messages, one for sure was "Go beyond My Form",  "Learn to understand my Uncertainty",  "You may think I am not seeing you But I am with you" and the like. And that's it, who would have known that He made that trip possible for me only because HE knew my intensity and He knew that He was leaving in April. I went back to Parthi in June again when Swami's Mahasamadhi was being constructed… this time I felt Swami wanted me to experience His Omnipresence and Omniscience. He showed me that He knew my thoughts when I had a 'complain' in my mind, He put me through an experience to show that He was aware of my thought!. That's it, the connection struck. He knows our every thought, word and deed, He is with us all the time, an Eternal Witness. I realised that I just needed to tap the Cosmic Energy anywhere I am. But that did not stop me from going to Parthi just because Swami wasn't there physically. I went again in July 2011… (3 trips that year, all for a reason) when The Mahasamadhi construction was ready, to take in as much Energy from His Divine Abode. And I will continue to do so as and when I can.

To connect to Sai is easier now than before, I truly feel. He is everywhere, I am constantly talking to Him, calling Him or just saying "Sai Ram, Sai Ram, Thank You Swami, Thank You Swami", enough pictures of Swami in every nook and corner at home for me to have His Darshan! And when I watch Radio Sai Videos or Souljourns and Swami is shown walking I literally touch the screen to get His Pada Namaskar! So there are many ways of connecting to Sai, one other is my daily conversations with Sai during my meditation where my Light is Swami, He is in me as much as I am in Him… there is no end in this Journey with SAI! I must confess however, that I do miss His Physical form so so much. The only consolation is I can connect to HIM wherever I am.



DR. NARENDRANATH REDDY
Chairman, Prasanthi Council
California, USA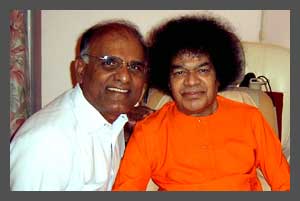 I had the good fortune to enjoy the Divine Darshans, Sparshans, Sambashans of Swami for many decades. It was a blissful experience to see His beautiful form in the close quarters, listen to His Divine nectarous words and experience His enthralling Divine leelas.

So it was easy to be connected to Swami at that time but it was a shock and I felt great pain and void when He left His physical form on April 24, 2011. Soon after by His boundless Grace He revealed to me that still I can continue to live in His presence and be connected to Him if I have faith and love. Swami said when a letter is mailed it will be received only when the envelope has the address and the stamp. Faith and love are the stamp and address to communicate to the Lord.

Faith is the life breath for a spiritual seeker. First is to have faith in the Divinity of Swami and remember His Divine proclamation that He is the Divine entity in which all Names and Forms attributed by man to God are manifest. Come what may I resolved to dedicate this life to Swami and hold on to Him till my last breath.

Secondly, to have faith in His Divine protection. I experienced many instances of His protection in my personal life and that of my friends and family. I always remember His promise 'Why fear when I am here'. This gives a state of abhaya that is fearlessness. This Sai Avatar gave the unique benediction to mankind with His double abhayahastha, with both hands raised assuring us both spiritual and material welfare.

Thirdly to have faith in His Divine guidance and wisdom. Bhagawan is the source of all wisdom and He has guided Vedic scholars, scientists, agnostics, architects, physicians, philosophers and musicians. When I rely on His guidance in all aspects of my daily life every act becomes His worship. Then I have joy and peace knowing fully well that whatever happens, happens by His Will and it is for my good. And this gives the realisation that everything is a sign of His Grace.

Fourthly faith in His Divine teaching. His teachings are the quintessence of all scriptures. His every word is a mantra, every conversation is a Gita, and every discourse is a Veda. He addresses us in His Divine discourses as Divya Atma Swarupalara, Prema Swarupalara (Embodiments of Divine Atma and Embodiments of Divine love).

The goal is to realise this truth and this is done through love which is the undercurrent of all human values. Swami says one can see moon only through moonlight and not by a candle or a lamp similarly God who is love can be experienced only through love.

Swami's life, His Message, His ideals and humanitarian work can all be enshrined in one word LOVE. Swami has shown me the ways how to live in love, how to nurture love and how to share this love with all.

Firstly the easiest and best practice is repetition of His sweet Divine Name which is the panacea for all ills. That is the essence of all Vedas and this helps us to reach the goal very easily. Secondly to recollect, ruminate and relive the Divine experiences I had. This puts me right away into His Divine presence. Thirdly to live in the company of devotees who love God, serve God and are dedicated to God. This ignites and enriches the love for God. All the great Masters emphasise the value of the holy company to be in tune with God.

Finally the best way to nurture love for God is to do His work. Swami in the early days said that wherever His devotees sing His glory He is manifest. But in later years Swami said that He is present wherever His work done. It is a great blessing and good fortune to serve in the Divine Mission. I myself and many devotees around the world have experienced His Divine Presence while doing His work.

We are connected to Bhagawan when we have faith in His Divinity, faith in His Divine protection, faith in His Divine guidance and faith in His Divine teachings. And have pure love for Him which can be nurtured through the repetition of His Name, remembrance of His leelas, company of the devotees and most importantly serving Him and His Creation.

I pray to Bhagawan to bless all of us with absolute steady and unconditional faith and pure selfless Divine love so that we are always connected to Him and live in His Divine presence at all times and in all places.


The way we connect now is a bit different from the way we used to connect when Bhagawan was physically present with us. There's been now three years and the way I connect with Him has been evolving as such.
The way I am now stabilised is that whatever I do I place a great deal of reliance on prayer. I pray to Bhagawan for guidance not only about what to speak but also what we should be doing in the Organisation. Any project whether it is small or big it first commences with prayer to Him even at the conceptual stage.
To put it in a nutshell for me now there is no difference between Bhagawan and His work. I feel Bhagawan's work is Bhagawan. So by doing Bhagawan's work we are worshipping Bhagawan, we are serving Bhagawan and we are loving Bhagawan. So this is the message which is now percolating throughout the Organisation - that for us
Bhagawan's work is Bhagawan and that is the way I relate to Bhagawan today.
The directions from Bhagawan are coming now more or less on an intuitive basis. Ideas come to me when I am sitting in
bhajan
, when I am sitting in
Darshan
. Sometimes even when I am sleeping. So the only rational explanation which I can give is that it seems to be an intuitive feeling within me, it is an intuitive communication direct from Bhagawan. I don't want to appear bombastic by saying that but honestly that is really what is happening.
What I have said up to now applies to me, I cannot take upon myself as a spiritual guide for anybody else, I am not competent to do that. So always I tell people who come to me with this kind of problems to pray to Bhagawan for guidance. And if they have to make a choice to put some chits before Bhagawan and then after prayer whatever is the solution which comes forward, to follow it. But I don't feel I have the competence to tell somebody what to do.
Because in the quality I now feel most important for all Sai office bearers, for Sai devotees is humility. Humility is the most important qualification that each one of us must have. We should never feel that we are being raised to any kind of eminent position. We are all the same and each one of us has a direct relationship with Bhagawan. This is their heart to heart relationship that Bhagawan always had even when He was physically present with us. Because He always told all of us that my relationship with every devotee is heart to heart. There is no intermediary necessary for receiving Bhagawan's communications.
It's very easy and simple.

I recite in my mind Suprabhatam at 0500 hrs everyday, after 21 Aumkars, and thank him for giving me one more golden chance to live.

At 0800 hrs, I sit in front of him in Sai Kutir and remember and visualise the divine darshan, from His divine abode, until He reaches interview room and all along His most loving smile.

At 1300 hrs, I recite the food prayers and I connect myself with Him for feeding me.

At 1900 hrs, I once again sit with Him in mandir and tell Him all about what I have done throughout the day. For me, my Swami is not a concept He is living and very alive.

At 2200 hrs, I offer the night prayers and rest in His lap.

Sounds very very simple!!! Yes, that's true. God is really very simple, and connection with Him is also very simple and direct.

I have found this connection very effective. It's based on my own experience. No other sadhana is required.

My constant prayer is:

"Oh Lord, purify my vision, sanctify my intentions, clarify my thoughts, verify my actions, solidify my sadhana and above all simplify my life."

Love and regards,
Puppet
When Swami was in His physical form, we spoke to Him, saw Him and heard His voice. Now, things are different. I can see Him in my heart and hear His voice through Radio Sai discourse stream and I speak to Him privately in my heart. Everyday, when I turn on Radio Sai, hearing His voice in that decibel range with His sweet tone and words is a message for my day.
I therefore connect with Swami in my heart using the tool of Radio Sai. I prefer this to videos because when I watch videos my monkey mind looks at all the people surrounding Swami. I look for myself. When I listen to the discourse stream of Radio Sai, I can close my eyes and picture Him. My connection is Swami is simple and practical through all my energy and concentration. It all began with His discourse in 1959 when I first heard Him and until today in 2014, it is the same sweet voice and discourse that connects me to Him.
How do I now connect with Swami? Exactly the same way that I used to connect with my Swami before the Maha Samadhi. One must always know and remember that Avatar has a physical aspect of it and a spiritual aspect of it. When Swami was here with us physically few of us were blessed and privileged to have a great deal of interaction with Bhagawan at a physical level. For anything and everything we could go and had opportunities to place before Bhagawan our thoughts and take guidance from Him in matters of personal nature, family issues and otherwise relating to the Trust and its administration.
But now that Bhagawan has chosen to become omnipresent and leave the physical form we have to depend on the spiritual connection that we had with Swami.
Even during Swami's physical presence here on many occasions when we could not actually take instructions from Bhagawan physically we were praying to Him and silently sitting and requesting Bhagawan to answer our prayer and guide us. So many occasions when Bhagawan was with us physically He still chose to communicate through the spiritual medium, listen to our prayers. And before we could actually open our mouth and utter those words Swami had answers for us and guidance for us. Now the same thing is happening today, we ask Swami for blessings.
And I remember that when we were doing the
Griha Pravesham
for our Delhi house on Vijaya Dashami day in 2012 at
Brahma Muhurta
we started with a big picture of Swami kept in the altar and there was a garland around it. Exactly at the time that we are about to perform the oblations in the fire the garland just came down and clearly showed us what exactly was happening was that Swami was physically with us. He was answering our prayers, the prayer to bless the house.
In the same way I now find that in many, many issues which relate to the Swami's Trust and Administration all that we need to do is sit quietly and look at Swami and pray to Swami and He always answers.
So personally speaking I do not have much of a problem in continuing the connection that Swami has blessed us with. And that spiritual connection, a connection which has nothing to do with the physical world but Swami is there hovering around all the time listening, carefully looking and answering every single question that we have.
I mean this kind of experiences we have all the time and it is for us to tune in and take that. And take the relationship forward and always be thinking how blessed we are that Swami has chosen to communicate with us irrespective of whether He is here in His physical Form or is in a spiritual cosmic form.
Swami said He has gone nowhere and this for me means that He's everywhere. I connect with Him the same way I always did speaking to Him, feeling that He's by my side listening to every word I utter. I think we should, we should always feel His constant presence in our life, lives we should never forget Him.
Shirdi Sai used to say 'If you look to me I will look to you'. This for me is an important divine teaching. It also implies the same message if we just remember His presence He will be there for us. He's all the time there but we are not aware of it because we don't remember, we only remember the world.
To connect with Him is so simple as that to remember His presence by our side, in our hearts, with us all the time. We start by imagining that He's there very near to us sleeping by our side, seated close to us when we eat, when we work, when we come back from our work. And one day when we realise that it was not our imagination but He really is all the time with us.
He did not separate for us even from a second, for a second.
To give a simple answer to your question I would say that I connect with Him by thinking about Him as often as I can. Then I talk to Him because He's there listening to me. Usually we do that in times of need it is important to do it in times of happiness and even more important it is to do it as often as possible. If we remember His constant presence by our side not only we will behave, act, think and feel much better but also we will express more love in all we do, think, speak and feel. And one day we will reach the constant integrated awareness and realise what He came to help us to realise - that He and us are one and the same.
How do I connect with Sai? I would say, as always because even when He was there in His physical Form it was not for everything that we wanted we went to Bhagawan. Of course being the Convenor of the Sathya Sai Trust there could be official works for which we come to Him. Very rarely we would give a letter or something to Swami but most of the time the connection had been now as it was earlier. Swami comes in dreams, Swami guides us in many ways, He gives us signs if we want something.
So if you pray to Him for something He immediately shows it in some form which will be known only to the person who has asked.
That means it's very special for that person to whom it is, who has asked for it.
Of course when you pray and in deep meditation sometimes His answers come. Sometimes they come when you open Sathya Sai Speaks and read that particular line that would have been the thought that you had the previous day and you'll read it the next day. So Swami answers it in that form.
Very rarely I use the technique of using chits. If it's a decision, yes or no for some particular event or a incident, or a particular thing that you want to take a decision and it's like a road dividing into two and you are there and you really don't know whether to take this one or that, and you need a specific answer, then I put the chit and pray to Bhagawan. Put the chit in front of Him and then take only one. Not taking many chits until you get whay you want, no cheating. But tell Swami 'I am putting equal number of chits I'll take only one Swami, guide me'. And every time He has guided in the right way.
So I think different people connect in different ways but ultimately it's a holy communion, it is a prayer. So when you open your heart and pray to Bhagawan, I have never ever had an occasion when Swami has not responded and told me what to do or what not to do or guided me or blessed me.
And I'm sure this is not something unique to me because there's nothing very unique about me as a person but I think, to everyone this is very, very important.
What happens is sometimes people become very ritualistic, they start doing their mantras or their puja but it becomes very ritualistic and they are not connecting deep enough. Swami says although my heart is like butter I still need some warmth to melt it.
So all He expects is that we sit in silent meditation, pray to Him and connect to Him and He is very much there right now as He was there in His physical form.
So I find absolutely no difficulty at all in connecting to Bhagawan when we need it.
At home we also have a Paduka and when we did the Paduka Puja here Swami put the
akshadha
(yellow grains) on that and blessed it and said, "Any time you really want, after my physical form is over, you touch the
Paduka
and then you pray to Me and you are directly connecting to Me." So in my prayer I always do that, we do the Paduka puja and then I connect to Him.
So there are different methods in which we do but ultimately it's a holy communion, a silent prayer and that will definitely reach Swami.
How I connect to Swami is a very important questionto think in the current times. What I'm reminded about is two interviews or discussions we had with Swami which actually answers this question.

The thing is in the past there were times when we can sit in the first row or something and then pray to Swami for whatever we wanted and He would guide us. And that's how we feel that we are connected. But in current times what we have to remember is the classic story which is a part of Bhagavatam, the anecdote of Krishna Tulabharam.

I think I have been hearing it from my childhood more as an entertainment but over a period of time we get that enlightenment. And most of all, now when Swami was talking about it when asked, "How can just a tulsi leaf make the difference when Sathyabama put all her ornaments and gold and everything, and the scales didn't change."
Then Swami said, "Rupa and Naama (Form and Name) are one and the same. They are like two sides of the coin which cannot be separated. As much rupa is there equal power or force is in the naama." And then Swami said, "Rukmini, while putting the tulsi leaf said 'Krishna' and placed it. So the rupa of Krishna and the naama of Krishna were equal to each other and the weight of the tulsi made the difference and then the scale tilted in the balance." Swami added, "That is what you should be able to understand in context of the Form. That name is as powerful as the Form itself."

So when I really look at it, in the current times we don't have to worry about not physically seeing Swami. With name itself you get a lot of things, I'll give you illustrations. Before that another time when we were having a discussion with Swami, Swami said, "Like in the ether, in the atmosphere so many radio frequencies are there. And you tune your radio to a particular frequency that particular station comes to you. You want to change and listen to some other station you can do so."
In the same way Swami was telling what our eyes are able to see currently is what is called visible band. Whereas in frequency there are much more on either side of this particular band. I personally feel that Swami now is in all those bands. It's for us now to tune ourselves to those frequencies and receive things which we want from Swami.

So one question which people might ask me at this stage is how do we set our own selves for a particular frequency to receive Swami?

Again we go back to the first one incident where Swami was talking about rupa and naama. That means by chanting a name we are actually tuning ourselves to that particular frequency of the Lord. So by saying 'Sai Ram, Sai Ram, Sai Ram' with intensity and bhaava we are tuning ourselves to that particular frequency of Swami. Wherever, whichever Form He is and whichever format He is, He is going to come to us. This is what we should be able to understand in the current terms.

Now when you go forward with this, how do we actually look at situations and see that we are actually capturing Swami. Like in a radio we get lot of noise, lot of distortions so the message is not normally very clear if the distortions are there. Same is the case with us because of our vishaya vasanas (desires) we are not able to receive the signals from Swami even though we are trying to tune in.

Again through this particular process of namasmarana (chanting the Divine name) we are actually purifying ourselves. Removing all those distortions so that we are able to clearly listen to Swami and see Swami in that particular format in which He is at that particular moment of time by only chanting Swami's Name.

I think these two clearly tells us for all times to come we don't have to think that Swami is not there. Swami is there with every one of us at any time we want.

Personally I feel which I have practiced because after hearing this from Swami I said to myself, 'Look, if I don't internalise this teaching of Swami, it is just going to get dissipated'. I have been one of those fortunate people who was sitting there to listen and these messages are for my own transformation and improvement.

What I normally used to do is, and some of you would have seen that early in the morning itself I go to Mandir, irrespective of when Darshan time is. Whenever the puja is there I sit there, whenever Mandir doors are kept open I sit inside. Whatever problems I have, whatever situations we have, whatever, when I want the solace from Swami I just sit there quietly and just pray to Him. By just chanting His Name and not telling 'Look Swami I have this particular problem please solve my problem'. What I have been able to observe over a period of time is that in due course of time Swami started responding.

When we say we are missing Swami, we are missing Swami because I have got an issue, I want to give a letter in which I have a prayer and I want Him to answer my prayer. That is what is currently we are missing.

So when I start tuning myself and Swami comes and gives me guidelines saying that 'Look, handle this this way, this is where the solution is. You are not going to solve now wait for some time'. He starts giving you clearly those instructions. Obviously He's there standing by my side and doing all the things which I wanted. For which I am looking for His Form within and within is getting reflected from without. From outside it is coming in and I'm able to receive and keep it stored inside me.

Those were the days when Swami was still there. He was still staying in old Mandir, He had not yet moved into Poorna Chandra. I'm talking from those days now this particular exercise I have been doing.

Let me tell you even today after so many years if I have something, I just go and sit in Bhajan Hall and low and behold Swami comes and tells. Now I have also seen, I mean people may not think that something is happening to me, but Swami has also come physically to assure me that 'Look, this is what is to be done'.

So I don't see for myself, okay that Darshan timings are not there when you can see the Swami in that Robe gliding and then coming and smiling, and then radiating that glow of early morning Sun which used to happen those days. Maybe that is missing but are we missing Swami? I personally feel that I am not missing Swami at all. That's why some of you would have seen that my enthusiasm is still the same.

And the way I am able to take up the activity it is same. I am able to dedicate to Swami everything in the same way because I don't see Him different. He's not gone anywhere He is there with me, around me, every time. And more so I feel it when I am desperate for Him.

And I can see, like that story of two sets of footprints which are on the sand where suddenly there is only one. Those days, those times when I really need Him I know He is actually carrying me. I am able to personally experience that feeling of He is actually carrying me. So I mean if you ask me I have just practiced whatever Swami has told me and I am getting the benefits.

I also personally feel that Swami has given to every individual in some form or the other an instruction which is tailor-made, customised for him/her for their spiritual growth. I think all we have to do now is just go back in our memory lane and connect ourselves to those time periods. Those points that Swami talked to us or was standing in front of us and if you remember those words have a particular message for us. And all that we have to do is live those messages. Like Swami says "My life is My message." Then Swami said "Your life is My message." That means whatever message He has given, that has already gone inside us and all that we have to do is live that particular message and then we can go forward.
Ever since the Maha Samadhi of Swami I have the desperate desire to connect with Him as the case with other devotees I am sure.
Whenever I have any professional or personal problems and I want Swami's guidance and help to accept whatever is in store for me Swami Himself connects with me.
There are instances when vibhuti has come in my house from His pictures as well from the walls. I have had many times special fragrance coming in my house and at that time I get a strange feeling of peace in my mind which I feel is connecting to Swami.
At times I have seen that there are areas when I am thinking and my mind is with Swami and I find a solution to my problem. In the professional field many cases where patients I thought we may lose, with reverent prayers and Swami's assurance have gained and gone back healthy.
There have been remarkable instances where vibhuti has appeared. One was such on 26th of January when I was praying to Swami's chair to give me strength to bear the burden of this Institution so that His Mission goes on as He desired. Swami blessed me by sending vibhuti on His chair. And I was reassured that whatever maybe the reason He'll always stand by me.
I have also seen that some kumkum (vermillion) appeared on my picture of Swami on the LCD screen of my phone when I was praying to Him for some personal reason. I normally pray to the Ganesha in the room and put occasionally these modak malas (garland of modakas). And one day when I was praying to Him again for a personal request for my family member I saw out of 108 modaks only one started dancing and giving me the assurance that my family will be taken care of.
Swami often comes when I dream, not only always to assure me but at times where He thinks that I need some guidance and I am not doing as He would wish to.
The best was, we celebrated the day of Swami's last visit to our Hospital and Swami physically came leaving small footprints on the stairs of the room going up to the red carpet. Those marks could be seen for a long time. It was an indirect appearance of Swami and assurance saying that He's not only with me but He is with our entire staff of the Hospital and we felt very encouraged by His presence.
And we were doubly assured to do our work well and carry out His health mission.
On the Easwaramma Puraskaram Day when we were awarding the Puraskar on the awardee Swami blessed us by sending nectar through His picture and also from the Saraswati idol. Often through these instances Swami connects to us whenever we deserve and we pray hard to Him.
Sai Ram! If God exists devotees will also be there and where devotees are it is the clearest proof that the Divine exists. The Avatar comes to prove to humanity that He is always there. If the devotee wants to connect to Him rest assured that the Lord is more eager to connect to the devotee.

The question that has been posed to me is how do you connect to Swami now? How did you connect to Him earlier? In the same way you can connect to Him even now. Only one dimension of Bhagawan's personality, the physical dimension which we used to see, with which we used to interact with, is for the time being not available. But if you want to connect to Him there are hundreds of ways.


The easiest way I find to connect to Him is to recall the precious moments that we have spent with the Lord. The advice He gave, the interactions we had, the guidelines He gave to us for our own life. To live up to those words, to recall those words, to share those words with everybody that itself connects you to the Lord immensely.


Not only this if you feel you are not connected then maybe others in your vicinity who are connected, if you connect to them you also get connected. In our own students Hostel at Brindavan, students have found this wonderful way of praying to the Lord and seeking His guidance. They have put in their rooms and in a central place in the Hostel various messages of the Lord. And when they pray to the Lord, the Lord has such amazing ways of sending His messages through the form of the chits to the students.

If we have the desire to connect to Him He can connect to us from any quarter including within your own self. Swami has not gone anywhere, He has just gone inside us, this is my experience. I will conclude by what I share with the students often. What question did the renowned clock of London Big Ben ask of the leaning tower of Pisa in Italy? It said, 'If you have the inclination I have the time'. If the devotee has the inclination for the Lord, the Lord has all the time for devotees.

MR. RAMANA RAO
Editor, Sanathana Sarathi (Telugu)
Puttaparthi, India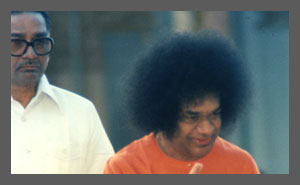 First thing is we don't miss Swami because so many of our reminiscences with Swami are ingrained in us so much that we always feel His presence. When somebody says, "Are you alone? How are you able to spend your time alone?" I always tell them, "Look I am not alone, I am with Swami, Swami keeps company with me." So to feel that Swami is not physically present is a wrong notion because we don't say Rama is dead, we don't say Krishna is dead, we don't say Lord Venkateshwara is dead. Even so in the case of Swami it's only a transition period where people are misguided.

Before they were seeing Swami physically and now they miss Swami in the physical form, so there is a little confusion. They are not able to reconcile with themselves with the physical absence of Swami. But literally if you say sorry and accept that He is God with a capital G then there cannot be any kind of doubt or apprehension of Swami not being present. He's always there with us, the moment you pray He responds, that has been my experience all along.
Everyday in the early hours of the morning I chant the Gayatri Mantra for a period of time. Thereafter I engage myself in the practice of Jyothi meditation followed by the practice of Soham - the watching of the breath. As a result of this process I connect with the inner Swami. I feel His love and Divine energy flooding my entire being. I am then able to carry this energy and connection with Swami throughout the day without being affected by the ups and downs of everyday life.
During the day, this awareness allows me to consciously dedicate all that I do to Swami. So that mundane worldly activities and duties become transmuted into worship, work then becomes worship. During the course of my daily duties especially travelling long distances I chant the Gayatri Mantra and sing devotional songs maintaining that connection with the inner Swami.
At the end of the working day I engage once more in chanting the Gayatri practicing Jyothi meditation and observing the breath. So as to achieve what Swami says Start the day with love, spend the day with love, fill the day with love, end the day with love, that is the way to God.
When you ask how do I connect with my Swami, two particular incidences come to my mind. First one is I always left Los Angeles and came straight to Parthi but that one time I had to break my journey in Bangalore and operate on a 71-year old mother of one of the physicians in Los Angeles. And I ended up coming to Parthi on a Monday, and it so happened that Monday and Tuesday I was totally ignored by Swami. On Wednesday morning I was trying to get His attention by getting up during the Darshan, and He immediately replied, "If you want to go, the gate is there." I apologetically said, "No Swami, I came three days ago." Before I finished the sentence, Swami said, "No, you only came two days ago, your team came three days ago." He was 100% right. And then He walked about 10 feet, turned around and in clear tone for everybody to listen said, "Chaudhury, come two weeks and you're going to leave me, but I will never leave you." That was a very, very powerful statement.
Another one is this. I used to work only in Puttaparthi but one time I was supposed to go for almost three weeks to Whitefield. The evening before I was leaving I took Swami's Pada namaskaram and said, "Swami, for three weeks I won't be able to see You, I am going to Whitefield." Immediately Swami grabbed my left chest with His hand, and said, "Why do you worry, I will always be there."
So with this kind of experiences and reassurances from the Divine Himself I see no point in not connecting with Swami. We are always constantly in connection with inner Swami. And the easiest and simplest for me is chant 'Sai Ram, Sai Ram'. And of course to help me I have Swami's photographs in most of the important areas whether it is my office, my house, or in the car. Even my camera has a small Swami's photo stuck on it. So these are all the ways in which we should be able to connect with Swami. He's all around, think of Him that's about all that is needed.
- Radio Sai Team

What do you think about this initiative? Please let us know by writing to

[email protected]

. Do not forget to mention your name and country.